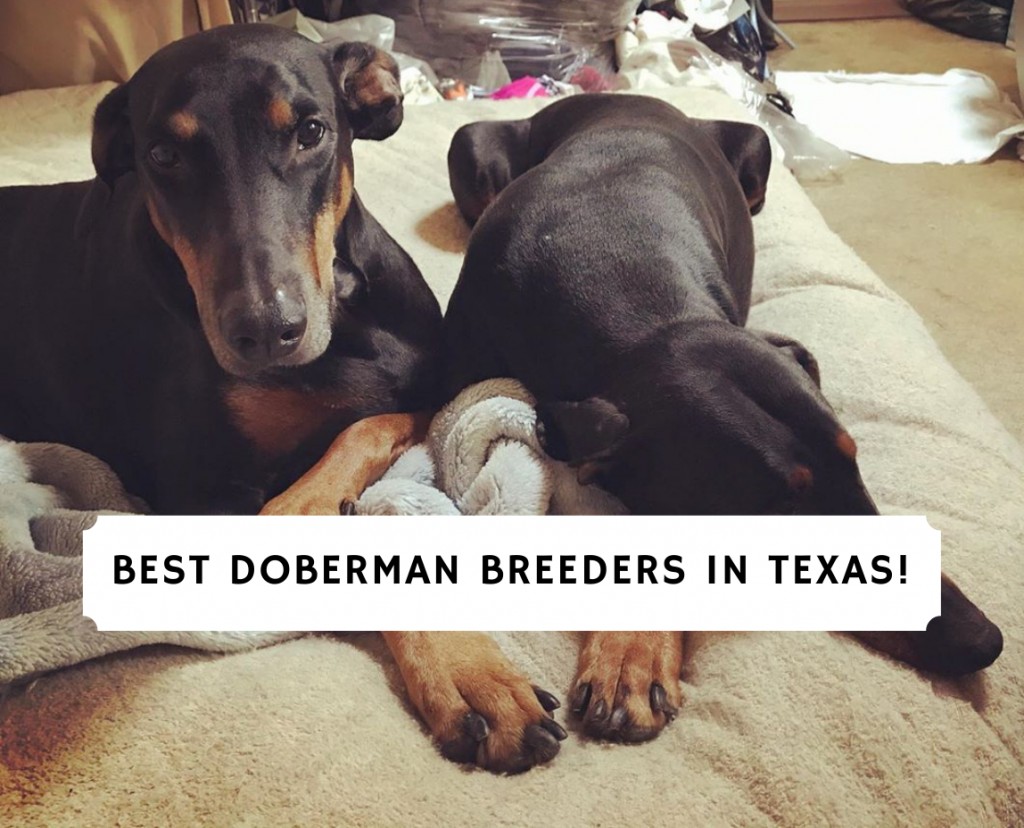 Fast, powerful, and muscular, the Doberman is one of the finest dog breeds in the world. This dog breed is famous for its acute intelligence, incredible loyalty, and vigilance.
Although Dobermans seem intimidating, their personality rarely fits the bill. Modern Doberman breeders, unlike past breeders, create Dobermans with toned-down aggression and ferociousness traits.
They shape their breeding process to give you an ideal companion who can form a close bond with you and become your family's best friend. Just like similar breeds, Dobermans need consistent training and a strong alpha figure to lead the pack.
Dobermans do well as working, show, or companionship dogs. They are suitable for growing families, couples, and singles. If you're looking for Doberman breeders in Texas, we have the right list for you. We've done our own research to find breeders who are reputable, do health checks, and care for their puppies.
Other articles you will like: Golden Retriever Breeders in Texas and Boxer Breeders in Texas.
If you want a Doberman puppy and to avoid the long waitlist process, then PuppySpot should be your go-to option. With PuppySpot, you can connect pre-vetted Doberman breeders after creating an account. You'll also have the option to filter out what you type of Doberman puppy want in a marketplace. For instance, if you want a certain color female Doberman companion, then using PuppySpot's filter will show everything you want in a companion.
If you're worried about encountering puppy mills, then keep in mind that every breeder with listed puppies in the marketplace is screened and their process is backed by the American Kennel Club. There are strict requirements to join, which is why PuppySpot is the number one option on our list if you want a Doberman puppy. If you find a Doberman puppy and it's not located in Texas, they will safely fly it out to you using their airline carrier.
PuppySpot has given our readers $100 off your next puppy when you use coupon code "WLD100".
Doberman Breeder Contact Details:
2. Taillac Dobermans Texas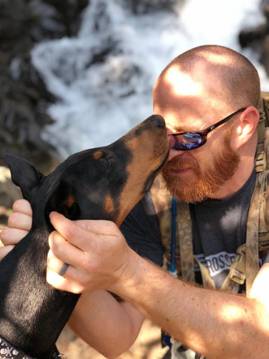 Taillac Dobermans have been breeding AKC Dobermans for over 10 years. Their mission is to breed Doberman puppies in Texas that you will love and cherish for a lifetime.
Taillac Dobermans blend top-notch American and European Doberman lines to preserve the finest and most desirable genetic traits. In their breeding program, they prioritize excellent health, superior quality, companionship, character, intelligence, temperament, and workability.
The breeder raises their parent dogs and litters just east of Dallas, Texas, with plenty of room to roam. They introduce their Doberman puppies to basic training, such as crate training to ease the puppy's transition into your home.
This Doberman breeder in Texas raises their puppies in the best way possible with daily socialization, regular veterinarian care, a nutritious diet, and exercise. Every puppy goes home with an AKC registration and comes with a 12-months health warranty. This is one of the most reputable Doberman breeders in Texas.
Doberman Breeder Contact Details:
Location: Rockwall, Texas
Website: Taillac Dobermans Texas
Telephone: 214-709-3467
Email: taillacdobermans@gmail.com
3. Texas Sizes Dobes
For Texas Sizes Dobes, quality trumps quantity. The small-scale Doberman breeder in Texas has been breeding AKC Dobermans for over 20 years and counting. Over the years, the breeder has maintained breeding 1 to 2 litters every year even as their demand rises.
The breeder marries American and European lines into their breeding program to eliminate any instances of inbreeding. As a result, you may notice their bloodlines have more European influence and the Dobermans are slightly above the average size of American Dobermans.
Their male Doberman puppies in Texas range from 28 to 30 inches tall with 90 to 120 pounds and the females range 26 to 28 inches tall with 70 to 90 pounds. These are large dogs that are true to their breed.
The breeder prices their Doberman puppies in Texas at $1250. The average wait time varies from 6 to 13 months as per the waiting list. When the list has reached the required quota, the breeder will no longer accept applications.
The Doberman puppies come with a health warranty and with basic training such as obedience and crate training started. For a spot on the list, you will need to contact the breeder and put down $250 as a deposit.
Doberman Breeder Contact Details:
Location: Beasley, Texas
Website: Texas Size Dobes
Telephone: 281-733-7319
Email: hthrfox@gmail.com
4. Double J Dobermans Texas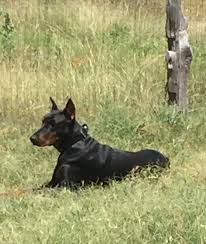 For the past 30 years, Double J Dobermans has bred superb AKC Dobermans in central Texas. The breeder only produces European Dobermans selected for their health, structure, and temperament. For what it's worth, they are one of the oldest Doberman breeders in Texas.
In addition, they don't breed Z factor or dilute colored dogs. They take their parent dogs through extensive health tests to ensure top-notch quality and breed after the dogs are 2 years old when they are fully mature.
They raise the Doberman puppies in Texas in a loving indoor environment with 24/7 monitoring and handling. At a young age, they expose the Dobermans to different environments and people to ease them into their future lifetime homes.
A Doberman puppy goes for $2000 with full AKC registration, age-appropriate vaccines, microchips, and veterinarian checks. The breeder will also have your Doberman puppy declawed, ear cropped, and tail docked.
The breeder requires a deposit of $300 to lock down an upcoming litter. If at any point in your Doberman's life you can't take care of your dog, they will take them back, regardless of the circumstances. They do not want their Doberman puppies to end up in a dog rescue.
The breeder prides itself on being approachable and easy to talk to. They are open to talking to any aspiring Doberman owner who is interested in purchasing a puppy.
Doberman Breeder Contact Details:
5. Touchstone Dobermans Texas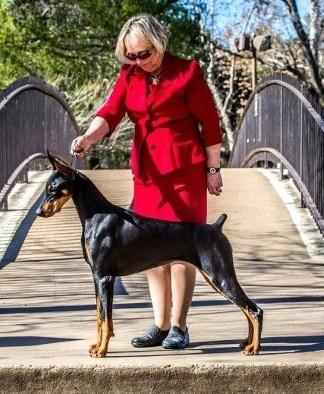 Alisa Brotherhood, the owner of Touchstone Dobermans, began her love affair with the dog breed in 1976 at 19 years old. The love affair grew to produce over 65 champion Dobermans in America and Internationally.
Her Dobermans have won Best In Show, Doberman Pinscher Club of America (DPCA) Top producing Dam, and Grand Champions among others. You can view all their championships on their website and DPCA website.
Alisa, who's now clocking 44-years in breeding Dobermans, is a member of the Doberman Pinscher Club of Houston, DPCA, and the AKC. This breeder is one of the most reputable breeders in Texas with deep roots in the Doberman breeding community. Buying from her is akin to getting the best Dobermans in the market.
She is approachable for any questions and willing to take you through her breeding process. You can also visit her home, with an appointment, to see the dogs and puppies.
Doberman Breeder Contact Details:
Location: 19556 Alford Rd, Magnolia, Texas 77355
Website: Touchstone Dobermans Texas
Telephone: 281-989-3130
Email: touchstone0525@att.net
6. Stellar Dobermans Texas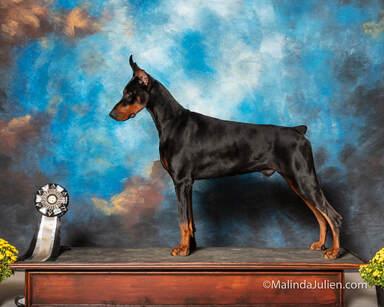 The first step to finding the perfect Doberman is to find a reputable breeder you can trust. The AKC makes it easier through the "Bred with H.E.A.R.T program". Only breeders who uphold AKC principles and advance the health and welfare of dogs can get in.
Stellar Dobermans is one of the few Doberman breeders in Texas who hold the highly coveted Bred with Heart title. The breeder goes over and above to ensure the health and well-being of their dogs. They have their dogs certified healthy by AKC, DPCA, OFA, and the Doberman diversity project.
They also have additional diagnostics done annually to ensure the health of their parents' dogs. You can view the results on the OFA website or request the records from the breeder.
The Doberman puppies are raised under the breeder's watchful eye. The breeder also has puppy nannies who help in the nursery. They socialize the puppies from an early age and provide basic training to ease them into their future home.
Every Doberman puppy comes with a limited AKC registration, 2-year health guarantee, up to date worming, vaccinations, cropped ears, docked tails, microchips, declawed, and veterinarian checks.
Each of their Doberman puppies in Texas goes for $3310. They require a deposit of $750 when the pups are born. The breeder doesn't believe in learning by mistakes for first time Doberman owners. They take each interested and new owner through a knowledge staircase before the puppy is born. This is to ensure they properly prepare the new owner for the challenges that lay ahead. Shipping is available on request and is per discussion with the breeder.
Doberman Breeder Contact Details:
How to Choose a Doberman Breeder in Texas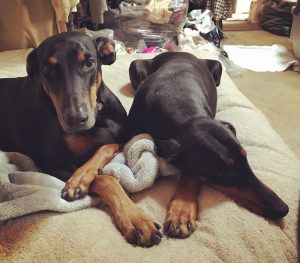 Check the breeder's reputation: Is the breeder affiliated with organizations like the American Kennel Club? Do they show their dogs in various competitions? How long has the breeder been in business? There are all essential questions that you know the answer to or ask the breeder. It's also important to check past reviews and testimonials.
Health and Genetic Testing: Just like humans, dogs can pass down genetic diseases if the parents carry these traits. Make sure that the Doberman breeder in Texas you choose provides some sort of health testing on their dogs.
Conclusion for Doberman Breeders in Texas
Dobermans are excellent dogs for active families, couples, and singles. The energetic dogs are a sight to behold and a joy to have. To find reputable Doberman breeders in Texas, start with our list. If you don't like the breeders, you can check with organizations such as AKC, DPCA, and DPA of Houston.
These organizations uphold Doberman breeders to the highest breeding standard for Dobermans to ensure your pup is healthy. If you consider adopting a dog at a rescue, we recommend you check out these organizations in Texas;
Doberman Rescue of North Texas – This rescue has been helping Dobermans and Doberman lovers like you match since 1994. While adult Dobermans are more common, you can also find puppies under 1 year.
Last Hope Doberman Rescue – This rescue helps Dobermans in shelters across Texas, rehabilitates them, and adopts them to interested folks in Texas and Michigan
Other articles you will like:
Garrett loves animals and is a huge advocate for all Doodle dog breeds. He owns his own Goldendoodle named Kona. In addition, he volunteers at the Humane Society of Silicon Valley, where he fosters dogs and helps animals. Garrett enjoys writing about Doodles and believes that dogs can teach humans more about how to live than humans can teach a dog.
Why Trust We Love Doodles?
At We Love Doodles, we're a team of writers, veterinarians, and puppy trainers that love dogs. Our team of qualified experts researches and provides reliable information on a wide range of dog topics. Our reviews are based on customer feedback, hands-on testing, and in-depth analysis. We are fully transparent and honest to our community of dog owners and future owners.