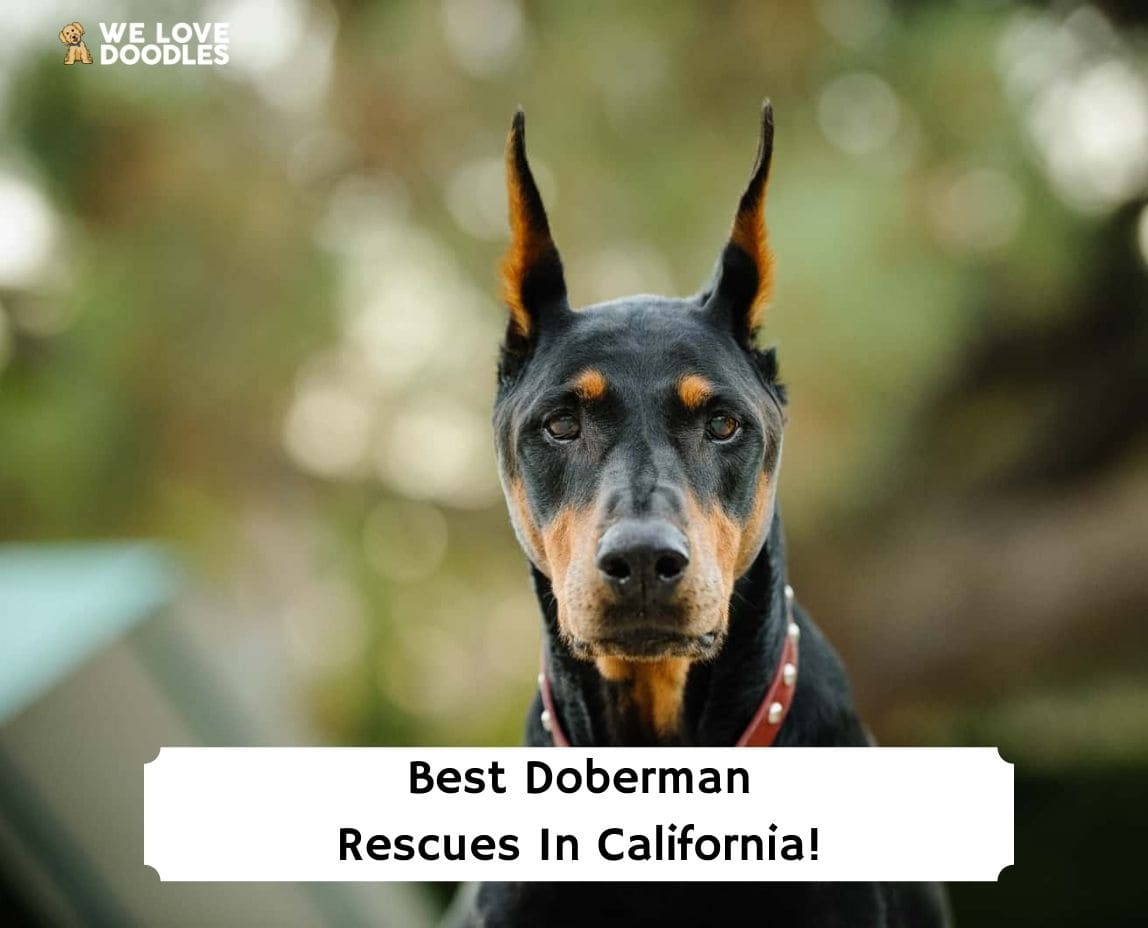 The Doberman is a widely misunderstood dog. The pups are sleek and muscular, and they can be quite aggressive when trained to be! For that reason, many Dobermans find themselves in Doberman rescues in California, just waiting for a loving new family like yours.
If you're considering adopting a Doberman into your home, we'd love for you to check out this guide! We've researched and included some of the best in the state, and you can rest assured that your Doberman will be coming from a safe and reputable shelter.
Before you adopt a Doberman, you'll want to do your research. First and foremost, find out more about the breed. Dobermans can be quite a bit to handle! They'll need proper training, plenty of exercise, and their diet must be considered.
Secondly, you'll want to learn about your specific dog's history. Dobermans come from all sorts of sticky situations, and this can affect their temperament. Finally, do your due diligence and research the rescue from which you're adopting. Ensure they're legitimate by visiting and meeting the staff in person.
Once you're ready, take a peek at our list of the best Doberman rescues in California! Then, look forward to bringing your new-to-you fur baby home. Here are the best rescues in the Golden State.
Before scrolling down this list of Doberman rescues in California, you can check out these other recommendations from our team at We Love Doodles: Best Pitbull Rescues in California and Best Husky Rescues in California.
Find a Doberman Rescue Near Me in California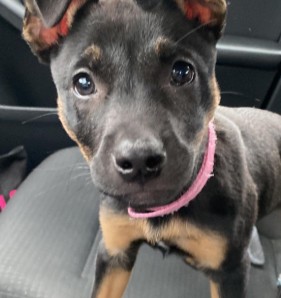 Doberman Product Recommendations: Best E-Collar For Working Dogs and Best Dog Fitness Trackers.
1. Dobies and Little Paws Rescue
First on our list of the top Doberman rescues in California is Dobies and Little Paws Rescue. This kennel is located in Fillmore, California, a rural little community in Ventura County. If you live near Thousand Oaks, Santa Clara, or even Los Angeles, you're convenient to this kennel!
Dobies and Little Paws Rescue specializes in Dobermans, but little dogs come across the shelter's path from time to time, too! You can select "Dobermans" or "Little Dogs" to view the available babies, and you can also choose whether you'd like to adopt a male or a female.
View the pups' pictures and, if available, videos of the dogs in action! Once you've found the dog you'd like to adopt, it's time to begin the application.
Let the Dobies and Little Paws Rescue know about your preferences, but tell them about your lifestyle, too! The team will match you with a pup that's right for you. If you'd prefer, DLPR can speak with you over the phone to complete the application process.
Once you're approved, you can visit the rescue to meet your dog in person. If all goes well, you can expect to pay between $300 and $350 for your dog. Dogs are spayed or neutered, vaccinated, and given a clean bill of health before they're adopted out!
Dobies and Little Paws Rescue Details:
2. Dog Mountain Rescue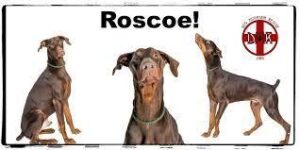 Dog Mountain Rescue is next on our list of the best Doberman rescues in California. They don't solely rescue Dobermans, but the breed is their focus and they typically have several available to adopt! Check the website for the most current list of available dogs, then begin the application process to bring your new baby home.
The adoption fee to bring a pup into your home is typically around $500, but this may vary based on your dog's health, age, and other considerations. The fee is non-refundable, and it covers the costs of medical and other care incurred while your pup was with Dog Mountain Rescue.
Dog Mountain Rescue Details:
3. Doberman Pinscher SOS
Doberman Pinscher SOS is committed to the rescue and rehoming of abandoned doberman pinschers and educating the public about the Doberman pinscher breed and canine care. The majority of their Dobermans are rescued from high-kill shelters in southern and central California.
Some are surrendered by their owners, while others come from state-run or other high-risk shelters. Many Dobermans require medical, behavioral, or both types of rehabilitation before they may be adopted. Every Doberman at Doberman Pinscher SOS undergoes a thorough veterinarian examination and receives any necessary medical treatment.
Many dogs arrive with inadequate social skills, and they'll need months of interaction with humans and other canines. The shelter provides a quality-of-life refuge for Dobermans who are unlikely to be adopted, such as those with severe cardiac or spinal disorders.
The minimum adoption fee for your Doberman is $250. However, this may be tax deductible! Doberman Pinscher SOS is a non-profit organization, so speak with your tax adviser for more information.
Doberman Pinscher SOS Details:
4. Doberman Pinscher Club of America
The Doberman Pinscher Club of America is next on our list of the best Doberman rescues in California. They're actually a club that sets the standards for breeding and raising Dobermans, but they maintain a list of resources for those who wish to rescue these sleek dogs, too.
Check with the website to learn of new kennels; these non-profits and other organizations are added frequently.
In addition to providing resources for those who wish to adopt a Doberman, the DPCA offers educational materials for those wishing to learn more about the breed! Check out their website for videos, articles, and other materials; you can use these resources to ascertain whether a Doberman is right for you.
The shelters listed on the DPCA website may or may not be non-profit organizations. You'll need to check with the shelter to determine more specifics about your adoption fee and whether it's tax-deductible for you.
Doberman Pinscher Club of America Details:
5. Adopt A Pet
If, for some reason, you can't find Doberman rescues in California that are convenient to you, please check out Adopt A Pet! This organization is a nationwide service that connects shelters and individual owners with loving families who are looking for a dog.
Dobermans are included in the adoptable pets, but you'll find many other breeds on the site as well!
It's always important to "vet" your new dog's owner, but that's especially true with sites like Adopt A Pet. Find out what you can about your dog's history, and obtain copies of his vet records. Learn about why the dog is being rehomed before you commit to adopting him.
Usually, dogs are in rescues through no fault of their own. However, some dogs have been abused or mistreated, and these pups may need a little extra TLC before they're ready to play with children or other animals. Interview the adopting family to learn exactly what your dog will need.
Adopt A Pet Details:
6. Jameson Animal Rescue Ranch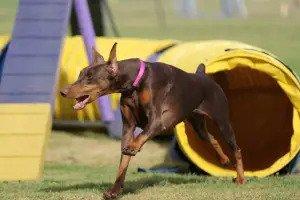 Like some other Doberman rescues in California, Jameson Animal Rescue Ranch doesn't focus solely on Doberman pinschers. Instead, they're committed to improving the lives of homeless, abandoned, and abused animals in the Napa Valley area of the state.
Cats, dogs, horses, rabbits, and other animals are housed within this rescue's facility, and you can help make a difference in a number of ways. Apply to foster or adopt a deserving animal, or just donate your time or money to the cause.
All help is appreciated; the shelter is volunteer-run and relies heavily on support from the community to maintain the high standards of care they've set.
Check the shelter's calendar, too! From time to time, the team hosts fun events like wine tastings and meet and greets. These events offer opportunities to support the organization as well as to meet the animals that are in need of a home like yours.
Jameson Animal Rescue Ranch Details:
7. NorCal GSP Rescue
NorCal GSP Rescue specializes in German shorthaired pointers, but Doberman pinschers come through their doors from time to time. Check back frequently at the photos of the available dogs to find purebred and mixed-breed dogs that are looking for a new forever home like yours.
The adoption process for NorCal GSP is simple – you'll fill out a questionnaire first. Let the volunteer team know about your pup preferences, and tell them about your experience with dogs. Once you're approved, you'll schedule a home visit.
This is just a straightforward step in which the team will check that your home is puppy-proof. If you need help, they can offer tips to make your surroundings safer for dogs!
Once you're approved, you'll pay the adoption fee to bring your new furry friend home. Fees range from $250 (for seniors) to $600 (for puppies) and training is required! Speak with the shelter team if you have questions or need a referral for obedience classes.
Dogs are spayed or neutered, vaccinated, and wormed before going home with a new family. Breeding rights are not available under any circumstances.
NorCal GSP Rescue Details:
8. Petfinder
Petfinder is another nationwide service that connects dogs with loving homes. Shelters, individuals, and rescues are permitted to post animals available for adoption, and each shelter is vetted by Petfinder before dogs are listed.
The adoption fee for Doberman rescues in California will vary from place to place. In most instances, your pup's fee will be listed on his biography. However, you may need to call the shelter to confirm whether the fee is tax-deductible. If necessary, speak with a financial professional for specifics.
To find your dog, search by breed and enter your zip code. Dogs will be listed in order of proximity to you; some will be offered by individuals while others will have been listed by shelters. As always, you'll want to do your research to ensure that your shelter is legitimate before handing over your hard-earned money!
Petfinder Details:
Frequently Asked Questions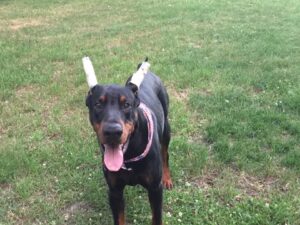 If you're thinking of adopting a Doberman for the first time, or if you've never owned the breed before, you likely have questions! Here are some of the most frequently asked questions by our readers in California.
Why is my Doberman in shelter care?
Dobermans may be in shelter care for a number of reasons. Some have been bred to fight while others may have been abused. Still other dogs may have been surrendered by an owner who "bit off more than he could chew."

While it's true that most Dobermans aren't at fault for their capture, many do have behavioral issues that will need to be addressed. Take your time in learning about your dog before you make the commitment to adopt a forever friend. Shelter dogs will thrive in the care of owners who know what they're getting into!
How do I know my shelter is reputable?
You can check the legitimacy and the reputation of Doberman rescues in California by using a third-party site like CharityWatch. If you're still not sure, you can check reviews that others have posted online about the shelter you've chosen!

When possible, visit the shelter in person! You'll want to make note of what you see (and smell) in the shelter. Are the dogs clean and happy? Does the facility smell clean and fresh? Are staff or volunteers welcoming and friendly? Trust your gut as you choose your shelter – if anything feels "off" it's perfectly fine to choose a different rescue.
How much will I pay for a rescued dog?
Each individual shelter chooses their own adoption fee. Usually this is based on the cost of care of your dog while he's in the facility, but other factors affecting the fee may include his health, age, and even pedigree.

In many cases, your adoption fee will be tax deductible. Speak with a tax professional if you have questions about your eligibility.
Are Dobermans hard to care for?
In a word, maybe. Your rescued dog will come from a history that's unique to him. He may have been loved and snuggled, or he may have been abused or mistreated. Speak with the volunteers at your shelter to learn more about your dog's past, and about the care you'll need to provide.

Dobermans need a lot of exercise – we're talking hours each day. Only adopt a Dobie if you're committed to providing this. Dogs that don't get enough exercise may find themselves in trouble!
The breed is also known for compulsive behaviors. You may find your pup chewing, licking, or barking more than you'd like.

Obedience school is always beneficial to dogs, regardless of the breed, and this is especially true for Dobermans.

Finally, you'll want to pay special attention to your pup's vet schedules. The breed is known to have a few health conditions, including hip dysplasia, heart issues, clotting disorders, and more. Regular trips to the vet are essential to caring for your fur baby.
Conclusion For The "Best Doberman Rescues in California"
There are many Doberman rescues in California, and the best shelters are committed to the rescue, rehabilitation, and rehoming of the breed. Because Dobies are so often bred for fighting, you may find that rescued dogs need a bit of extra attention that only a loving adoptive parent can provide.
Research the Doberman breed before you commit to adopting a dog, then check out the shelters on our list! Your new Doberman baby is probably just a few miles away!
For more guides similar to this list of Doberman Rescues in California, you can check out:
Before you adopt a Doberman companion from a rescue shelter in California, you can learn more about this dog breed by watching "6 Ways Dobermans Are Different From Other Dogs" down below:
Garrett loves animals and is a huge advocate for all Doodle dog breeds. He owns his own Goldendoodle named Kona. In addition, he volunteers at the Humane Society of Silicon Valley, where he fosters dogs and helps animals. Garrett enjoys writing about Doodles and believes that dogs can teach humans more about how to live than humans can teach a dog.
Why Trust We Love Doodles?
At We Love Doodles, we're a team of writers, veterinarians, and puppy trainers that love dogs. Our team of qualified experts researches and provides reliable information on a wide range of dog topics. Our reviews are based on customer feedback, hands-on testing, and in-depth analysis. We are fully transparent and honest to our community of dog owners and future owners.