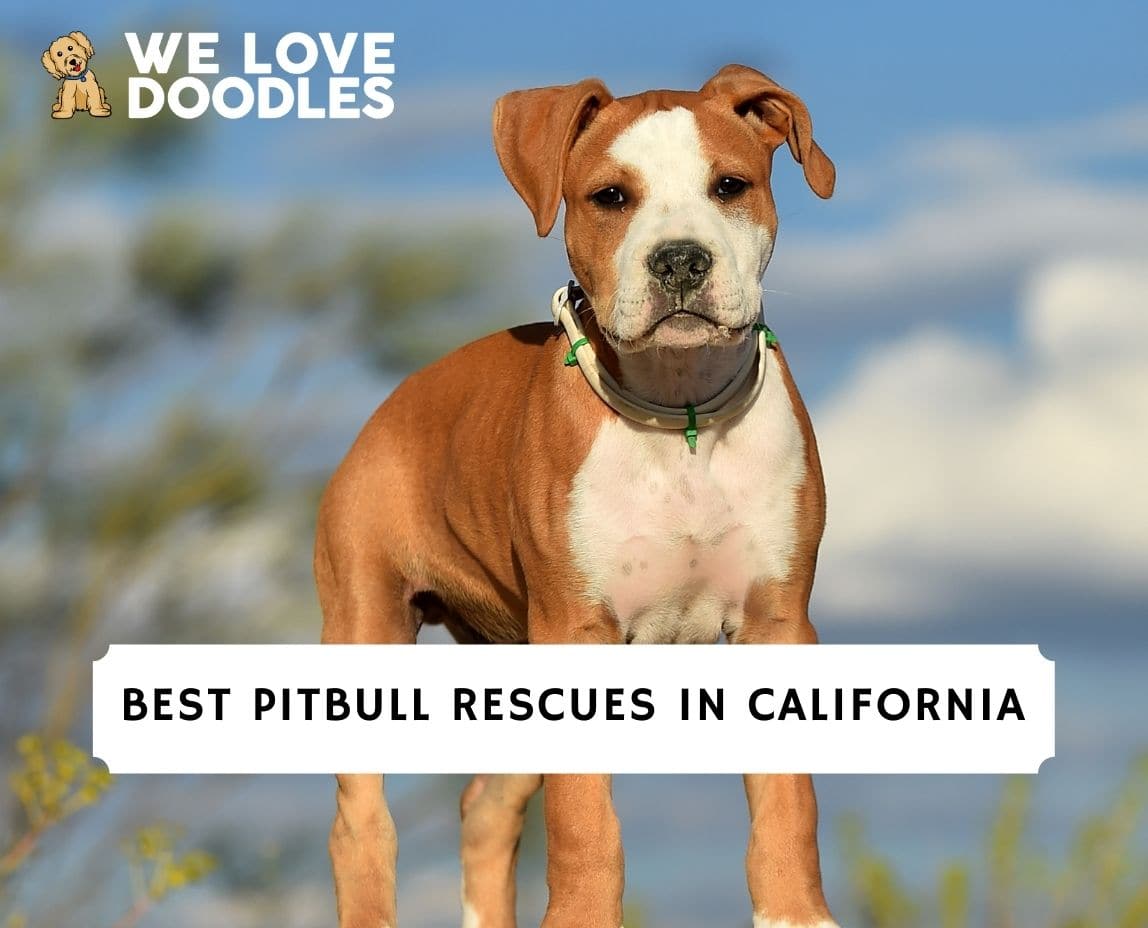 Here's what you need to know if you're searching for the best Pitbull rescues in California. Pitbulls are often a highly misunderstood breed due to their size, brutish body, power, and of course, people with bad intentions.
The truth is that Pitbulls can be awesome pets. They are natural protectors, but they are also loyal, loving, and compassionate breeds that deserve love and respect.
Before scrolling down this list of Pitbull rescues in California, you can check out these other recommendations from our team at We Love Doodles: Best Chihuahua Rescues in California and Best Havanese Rescues in California.
Find a Pitbull Rescue Near Me in California
Fortunately, if you are looking to give a Pitbull a fur-ever home, many rescues in the Sunshine State can help match you with the perfect pet for your lifestyle. Here are the best Pitbull rescues in California.
Pitbull Product Recommendations: Best Shampoos For Pitbulls and Best Dog Beds For Separation Anxiety.
1. Fresno Bully Rescue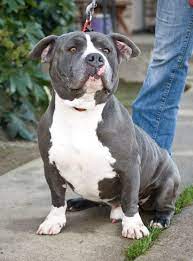 Fresno Bully Rescue, located in Sanger, California, started on May 1, 2008, to rescue Pitbulls (or Bully breeds) as they are affectionately called. Since its founding, this organization has rescued over 2,500 dogs. There are 40 dogs present at the rescue facilities at any given time.
These dogs are surrendered, rescued from the community, taken out of abusive homes, and rescued from county shelters. The Fresno Bully Rescue wants every Pitbull to have a loving fur-ever home, and they are working hard to achieve that goal.
Fresno Bully Rescue Details
2. Norcal Bully Breed Rescue
The Norcal Bully Breed Rescue is located in Roseville, California, and dedicates its efforts to finding loving homes for Pitbulls and all Bully breeds.
Sadly, life in a shelter forces dogs to put on a show they never trained or prepared for during the worst time of their lives. Thus, some dogs do not "show" well, which leads to them remaining in the shelter until they are rescued or euthanized.
Some of the reasons a dog does not show well include:
A major medical injury that needs immediate medical attention
A pregnant mama dog
They could be fearful
Knowing this, Norcal Bully Breed Rescue works to rescue these dogs and provide a friendly, safe environment through which they can flourish. This rescue runs entirely on donations, volunteers, and the proceeds from their merch store.
Norcal Bully Breed Rescue Details
3. D.R. Doghouse Bully Crew Rescue
The D.R. Doghouse Bully Crew Rescue is a 501c3 Non-Profit Dog Rescue located in Los Angeles, CA. Robin Russell and Damon Andres founded this rescue to shed light on the often misunderstood Bully breeds. The D.R. Doghouse Bully Crew rescues neglected, homeless, and abused dogs.
Then, they work diligently to place those dogs in loving, compassionate forever homes. Additionally, this rescue works diligently to spread awareness and educate people on Pitbulls and other Bully breeds to end the discrimination they unjustly receive.
Pitbulls are loving animals that can be amazing pets and companions. All they need is the right, positive reinforcement, love, affection, and the chance to shine, all of which The D.R. Doghouse Bully Crew strives to give them.
D.R. Doghouse Bully Crew Rescue Details
4. Hopalong Animal Rescue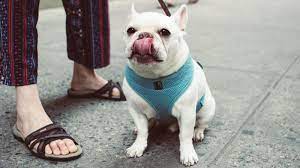 Hopalong Animal Rescue started in 1993 to eliminate the euthanasia of adoptable animals throughout Northern California. This rescue is not Pitbull specific, but they have a unique focus, including all Bully breeds.
This animal rescue works with dogs and cats of all ages to help them live their best lives, no matter how much time they have left. The unique aspect of Hopalong Animal Rescue is its commitment to "pet survivors."
These are pets whose owners have passed away or need to go into nursing homes. In many of these cases, these are older pets with nowhere else to go. While their faithful companion never meant to leave them alone, these pets still find themselves in shelters and other unfortunate situations without knowing why.
Fortunately, Hopalong Animal Rescue has dedicated nearly three decades to rescuing, fostering, and rehoming these and other adoptable animals throughout the Sunshine State.
Hopalong Animal Rescue Details
5. Rocket Dog Rescue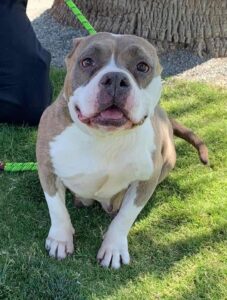 Rocket Dog Rescue finds foster and forever homes for non-aggressive dogs deemed unadoptable. Among these dogs are all Pitbull and Bully breeds. This rescue is an all-volunteer network of people throughout the Bay Area who work diligently to ensure these beautiful dogs get the second chance they deserve. In the last twenty years, Rocket Dog Rescue has helped over 9,000 dogs find their forever home.
Rocket Dog Rescue Details
6. Priceless Pet Rescue
Priceless Pet Rescue is known for rescuing pets and its dedication to helping the community learn about proper pet care and respect for animals. This rescue offers a kid's camp, where participants will learn how to take care of different types of pets of all sizes while having fun during summer's long hot dog days.
Plus, the Priceless Pet Rescue hosts events close to all three of their locations throughout California and offers a merch store where you can help support their efforts no matter where you live.
Priceless Pet Rescue Details
Website: Priceless Pet Rescue
Address / Location: 2587 Chino Hills Parkway, Unit C Chino Hills, CA 91709, 665 E. Foothill Blvd. Unit E, Claremont, CA 91711, 1536 Newport Blvd.Costa Mesa, CA 92627, and 15350 Fairfield Ranch Road Suite I Chino Hills, CA 91709
Phone Number: (909) 203-3695
Email:

[email protected]
7. Karma Rescue Inc.
Last on the list of the best Pitbull rescues in California is "Karma Rescue Inc." Karma Rescue Inc., founded in 2003, started as a regular pet rescue. While that is great in itself, over the years, Karma Rescue Inc. has evolved into a dynamic operation with programs that battle the issues that drive pets into shelters and euthanasia.
This effort encompasses educational awareness and financial help for low-income families to spay and neuter their pets. While families of all income brackets should have a love of a pet, it is sometimes difficult for families to get the necessary treatments for those pets.
That is where Karma Rescue Inc. shines, providing help and information about the importance of spaying and neutering family pets. Additionally, Karma Rescue Inc. facilitates fostering and adoption services and programs that help with other medical procedures and training.
Karma Rescue Inc. Details
How to Choose a Pitbull Rescue in California
From the list above, it is clear that many different Pitbull rescues are operating throughout California. So, how do you choose the best Pitbull rescue to support?
The Reputation of the Rescue Shelter
Check out the reviews and interactions that the rescue has with people, associates, volunteers, and other pet-related professionals in the area. When an organization runs a successful rescue, they make connections with a wide network of people. So, there should be plenty of people in and around the community with good experiences with these people.
If not, there's an issue, and you might want to stay away from that rescue. If you find people who have positive interactions with the rescue, you should be able to learn all you need to know.
Selecting a Shelter
Before engaging with a rescue, either for support or adoption, ensure that they support the type of dog you want. If you are looking for Pitbull rescues in California, make sure the rescue you choose rescues that help Pitbulls primarily and Bully breeds.
That offers an array of options for your rescue, but it also ensures that the people running the rescue understand how to care for Pitbulls. This understanding should be a source of information and reference when raising your Pitbull.
Related: How Long Do Pitbulls Live and Top Blue Pitbull Names.
Conclusion For The "Best Pitbull Rescues in California"
The best Pitbull rescues in California ensure that their rescues get placed in loving homes with families that understand the Pitbull breed. Pitbulls can be amazing pets with warm hearts and loyalty beyond measure. Use this list of the best Pitbull rescues in California to choose the right rescue for you.
For more guides similar to this list of Pitbull rescues in California, you can check out:
Before you bring home a Pitbull companion from a breeder in California, you can learn more about this dog breed by watching "Pitbull Dog Breed Information" down below: