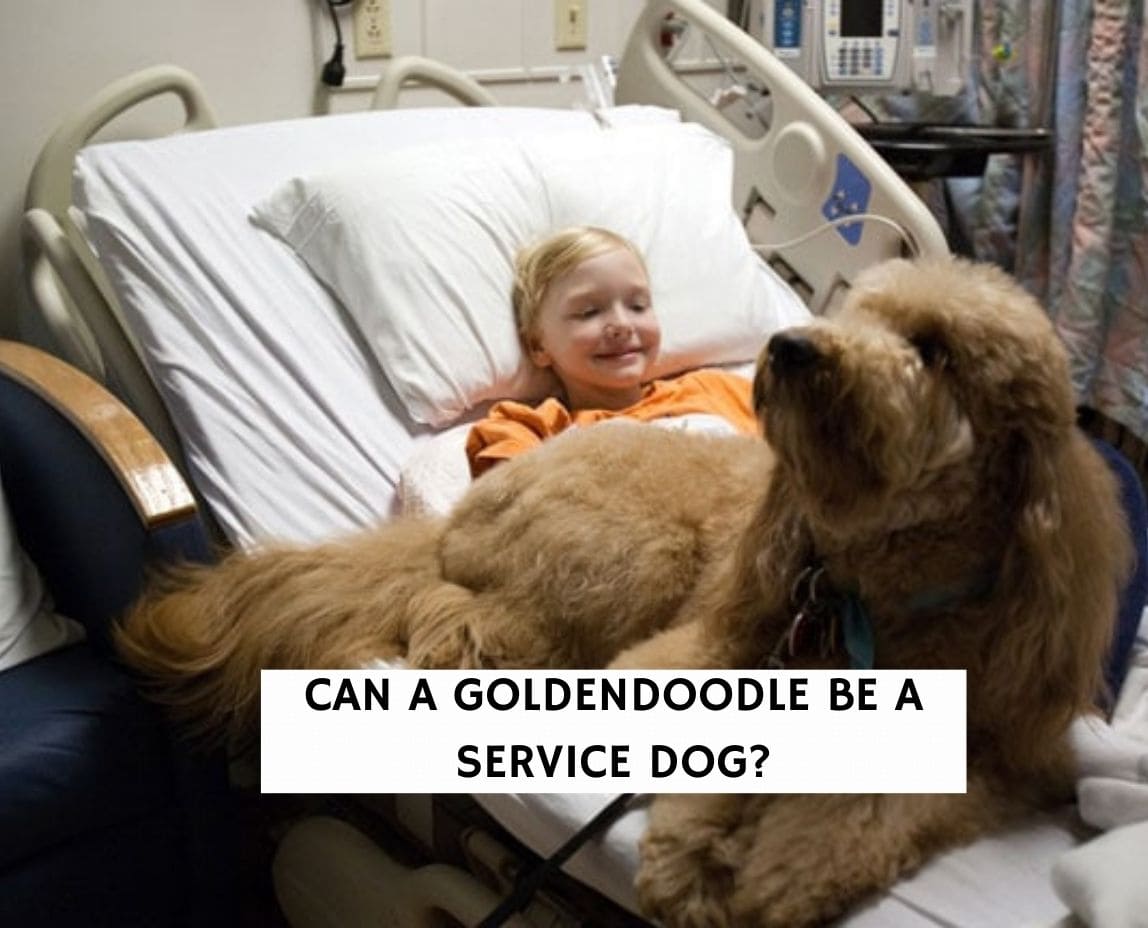 Service dogs are an incredibly important tool for people who suffer from chronic disabilities. They help their handlers to mitigate their specific ailments through important task work. It allows their owners to live fuller and more well-rounded lives. Because these dogs accompany their owners everywhere, they have to be a well-rounded breed that is great in public and in high-stress situations.
This leads many people to wonder whether Goldendoodles can be service dogs. Choosing the right breed for your service dog is extremely important. Let's take a closer look at whether Goldendoodles will make the right choice for your capable canine companion. If you're looking for a quick answer, then yes, Goldendoodles can be a service dog because of their high intelligence, mild temperament, and hypoallergenic traits. In fact, the Goldendoodle was originally bred to be a nonshedding service dog for people who have pet allergies.
What Are Service Dogs?
Before you investigate what breeds are right for service work, it helps to know what service dogs actually are. Service dogs are specifically task-trained to help their handlers mitigate the effects of their disability. They are granted full public access rights to accompany their owners in stores, restaurants, and other public spaces where dogs are not generally allowed.
The process to train a service dog can be quite lengthy. Many people spend two years or more refining their dog's training and tasks. Some owners choose to train their service dogs on their own or with the help of a local trainer. Others send their dogs to special programs that work with the dog to teach certain tasks and skills. There is no right or wrong way to do this as long as you are keeping detailed records of your dog's training.
Service dogs are different from emotional support animals and therapy dogs. Emotional support animals are there simply to provide comfort to their owners. They offer companionship to help with a disability, but they do not perform any specific tasks to help. For example, they might snuggle up with you in bed when you're feeling depressed, but they don't remind you to take your medication. They also do not have full public access rights though they are allowed to travel with you and are covered under the Federal Fair Housing Act.
Therapy dogs are something different altogether. They go into schools, hospitals, and even libraries to offer comfort to others. They must be calm and well-behaved in public. Despite being granted access to some of these specific locations, they still do not have full public access rights. You cannot take a therapy dog to a store or restaurant with you like you can with a service dog.
Can Goldendoodles Be Service Dogs?
Many people spend hours searching the literature to find out which breed is the best for service work. The good news is that any dog can be a service animal. There are no breed restrictions on which dogs can and cannot be granted full public access rights to accompany you anywhere you need to go.
Keep in mind that just because a dog can be a service animal does not mean that it should be. Some breeds tend to be better options than others. Goldendoodles are an excellent candidate for service dogs because of their size and temperament.
This breed tends to be very intuitive, which makes them ideal for service dogs. They tend to recognize when something is off about their handler and can quickly respond in any given situation. With the proper time and training, Goldendoodles can alert you to potential changes and offer up assistance just when you need it most.
If you are interested in training a service dog to help you with a physical disability, Goldendoodles tend to be a great fit. They have a larger size and a sturdy build that will allow them to assist with size-related tasks such as bracing to help you sit down and stand up or climb the stairs.
Remember that this kind of work can be quite hard on a dog's joints. You want to ensure that you choose a larger breed that can help distribute your weight across its shoulders for this type of task work. Goldendoodles that are bred from a Standard Poodle and Golden Retriever parents are well built for this type of task work. They have the height that is needed and a strong bone structure.
Their temperament also lends itself well to their use as psychiatric service dogs. For those who suffer from mental health issues such as anxiety or post-traumatic stress disorder, this breed has the calm temperament that you want to help see you through a panic attack or an episode. They are docile, and it takes a lot to ruffle the feathers of a typical Goldendoodle.
Why Are Goldendoodles Good Service Dogs?
The Goldendoodle is an ideal candidate for service work because of its temperament. Their happy disposition is the reason why so many people adore the breed. Both Golden Retrievers and Poodles have the right mindset to make an excellent working dog.
First and foremost, Goldendoodles are extremely quick to learn new things. This makes the training process move much more quickly. Training dogs for service tasks can also be quite complex and can consist of many steps. For example, you might train your dog to search rooms for someone with PTSD, teach them to retrieve items, or alert them to seizures and diabetes. All of these tasks are rather difficult to teach, but Goldendoodles make them look easy.
Goldendoodles also have a natural inclination to love people. They are affectionate toward their owners and love to spend time with others. It is rare to see a Goldendoodle overwhelmed by a crowd of people as you might find in the supermarket. Even in these high-pressure scenarios, Goldendoodles tend to stay focused on their handler and what their owner might need from their dog at any given time.
They are eager to please and will work hard to earn your praise. This breed is loyal to a fault and will always want to be by your side to support you in whatever way they can. You never have to worry that your dog will get tired of spending so much time with you. If anything, your Goldendoodle is likely to soak up all that extra attention to work even harder on your behalf.
In addition to their temperament, Goldendoodles are also great because they are bred to be hypoallergenic. They shed very little, if at all. This makes them great for people who have allergies and worry about having excess dog hair in their homes. However, it is also great for going out on the town so that you never have to worry about someone having a bad reaction due to your service dog.
Conclusion for Can a Goldendoodle Be a Service Dog?
Service dogs are some of the most hardworking dogs in our community. Much like police dogs or search-and-rescue dogs, these canines have an important role when it comes to helping their owner handle their daily life. Goldendoodles are an exceptional choice for service work because of their easy-going temperament, intuition, companionship, and their physical size.
Always talk with your healthcare provider first to see if getting a service dog is a good fit for you. If it is, you might want to consider investing in a Goldendoodle to get your training started!
You should also check out:
Garrett loves animals and is a huge advocate for all Doodle dog breeds. He owns his own Goldendoodle named Kona. In addition, he volunteers at the Humane Society of Silicon Valley, where he fosters dogs and helps animals. Garrett enjoys writing about Doodles and believes that dogs can teach humans more about how to live than humans can teach a dog.
Why Trust We Love Doodles?
At We Love Doodles, we're a team of writers, veterinarians, and puppy trainers that love dogs. Our team of qualified experts researches and provides reliable information on a wide range of dog topics. Our reviews are based on customer feedback, hands-on testing, and in-depth analysis. We are fully transparent and honest to our community of dog owners and future owners.