Boxers are a powerful and beautiful breed of dog. They are well-known and easily recognizable for their brown, white, and black colors. The popularity of the American and European Boxer has led to backyard breeders popping up all over the place. In a state the size of Texas, it may seem like there is a Boxer breeder on every corner. That begs the question, "how do I choose the right Boxer breeder in Texas?" If you live in Texas, we are here to help you find a happy and healthy Boxer puppy.
We have done our own research to find the most reputable and ethical Boxer breeders in Texas. These breeders are more dedicated to the preservation of the dog breed along with the health and advancement of the breed. The four Texas Boxer breeders that have made our list all seem to be very dedicated to the health of their dogs. While the internet doesn't tell us everything, we feel confident that no one on this list is a puppy mill.
However, if you decide to move forward with any of these breeders, ask to view their facility. Don't be afraid to ask about licensing, registration, health care, and where the dogs live when they aren't having puppies. Exercising due diligence when searching for your Boxer puppy will benefit you in the long run.
Other articles you might like: Golden Retriever Breeders in Texas and French Bulldog Breeders in Texas.
1. Mer Bar Boxers Texas
This Boxer breeder in Texas has been breeding dogs for as long as she can remember. Her grandmother was a Boxer breeder and participated in dog shows. This allowed the owner of Mer Bar Boxers to carry on her grandmother's work ethically and reputably. She has even kept the name of her grandmother's original Boxer kennel. Her legacy lives on by name and care of the dogs.
All of the breeding females are treated as a member of the family and stay in the home with the breeder. This allows them to be well socialized by being around children and other pets. This can only mean positive things for the future owners of the Boxer puppies.
Unlike other Boxer breeders, this owner doesn't require a contract to breed their dogs. Instead, Mer Bar Boxers in Texas wants to mentor those interested in breeding Boxer puppies in Texas. They believe that mentoring owners with proper and ethical breeding practices is better than backyard breeders popping up overnight.
Another thing we love about this Boxer breeder is that they offer a lifetime return guarantee. They know that there are sometimes situations that arise that don't allow you to keep your dog. An unexpected move, children with allergies, or other situations can arise where you don't want a dog in the house. They don't want the dog to end up in a shelter or rescue so they will welcome the dog back no matter the age.
There is a questionnaire for potential owners to make sure that they are matched with the perfect Boxer puppy for them. Once you are approved you will need to submit your deposit to secure your place on the list.
Their Boxer puppies in Texas range from $1500-$3500 depending on color and quality. Show quality puppies are going to be on the higher end of the price range while the white companion puppies are the least expensive.
Boxer Breeder Details
2. DS Boxers Texas
DS Boxers are what we would consider a small family hobby breeder. With that being said, they do have several females and have just added a second male to the roster. They have full European and half European Boxer puppies that are in the line-up as well as a full American Boxer female.
They currently don't have any Boxer puppies in Texas available but you can contact them by phone or email to find out when another litter is coming and how to reserve a spot for the litter. The pricing on the puppies varies depending on bloodline, color, and registration. The cost of one of their dogs starts at $1250 and goes up to $2250.
DS Boxers also offers stud services if you want to breed with any of their Boxers. If you are interested in diversifying your Boxer bloodline you can contact them and discuss the terms of the contract. They also offer to ship puppies if you do not live in the Central Texas area.
However, shipping is an added cost on top of the price of the Boxer puppy. Along with tails, dewclaws, vaccines, and deworming their Boxer puppies in Texas come with a limited health guarantee against genetic conditions.
Boxer Breeder Details
3. Ram Boxers TX
Ram Boxers TX is not a breeder that is simply in it to have as many puppies as possible and make a quick buck. They truly love the Boxer breed and it is a long-running business. Their mother had a boxer as a child and kept that going with her own family when she was an adult. For what it's worth, this was one of the oldest Boxer breeders in Texas that we could find.
This is a family endeavor that is not just breeding Boxers but showing them as well. They are active on the show circuit and have many champion Boxers that have come from their breeding operation.
These dogs are truly members of the family. They don't have many litters a year so making sure you get on the waiting list early is imperative. They have a puppy application on their site which has to be filled out before they will even talk to you about a Boxer puppy. This is the first step to making it onto the list for their next planned litter.
Make sure before you apply that you have a fenced-in yard. This is non-negotiable and they won't sell you a Boxer puppy without this requirement. Boxers are high energy and love being outside with their people running around the yard. If you don't have a yard, they won't place a puppy with you because you won't be a good fit.
There is also the option of being a show family for them with one of their Boxer puppies.  If that is something you are interested in then make sure you mark that on your puppy application.
Boxer Breeder Details
4. Boondocks Boxers Texas
Boondocks Boxers is a family-owned and operated Boxer breeding operation that puts the health of the dogs above anything else. When they started breeding in the late 1980s with their one male they had some bad experiences with "reputable" breeders.
These experiences led to the deaths of a few of the females they purchased due to undisclosed health conditions. After these devastating experiences, Boondocks promised to be a different Boxer breeder in Texas. They did this for the sake of the dogs as well as the owners. Losing a pet too early for any reason is terrible but when it is due to the responsibility of the breeder the sting is worse.
All of the Boxer breeding dogs are checked for health and genetic conditions as are the puppies. Boondocks will never knowingly sell a sick puppy or a puppy with a genetic condition.
If a genetic condition arises or a health condition is found at the 72-hour veterinarian check after purchase, contact the breeder and they will come to a mutually beneficial solution that has the puppy's best interest in mind.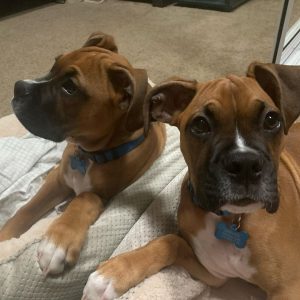 If you are interested in getting a puppy from Boondocks Boxers Texas the best thing to do is to contact them by their website contact form or the phone number on their website. They will tell you what litters will be coming up and what you need to do to get on the list.
When the breeding adults are at the point of retirement they are adopted out to loving homes where they will be spayed or neutered and live forever as a beloved family pet.
While they were always a member of the breeders home and treated as family, a home with so many dogs is not good for any of the pets. Adopting the retired adult Boxers out to family friends and members of the community is best for the dogs.
That is one thing we love about Boondocks Boxers Texas. They truly love this dog breed and only want them to be healthy and happy. They also want the owners to have a fulfilling life with their Boxer. This can only happen if breeders are ethical and care about the health and wellbeing of their dogs.
Boxer Breeder Details
Conclusion for Boxer Breeders in Texas
Boxers are other 11th most popular dog breed according to the AKC. It's no surprise that Boxers puppies in Texas are growing in popularity. However, this causes a rise in puppy mills and backyard breeders that won't sell you healthy puppies. You will end up paying more money in health costs later on in life. Thus, you should make sure that you buy a puppy from a reputable Boxer breeder in Texas! 
Other articles you might like:
Garrett loves animals and is a huge advocate for all Doodle dog breeds. He owns his own Goldendoodle named Kona. In addition, he volunteers at the Humane Society of Silicon Valley, where he fosters dogs and helps animals. Garrett enjoys writing about Doodles and believes that dogs can teach humans more about how to live than humans can teach a dog.
Why Trust We Love Doodles?
At We Love Doodles, we're a team of writers, veterinarians, and puppy trainers that love dogs. Our team of qualified experts researches and provides reliable information on a wide range of dog topics. Our reviews are based on customer feedback, hands-on testing, and in-depth analysis. We are fully transparent and honest to our community of dog owners and future owners.