Before you begin to look for Doberman breeders in Ohio, you should first understand the perception people have toward this breed, and a bit about its history. Dobermans, or Doberman Pinschers, are not always a top choice for first-time pet owners or young families. 
The breed has been branded as vicious and scary; they do not have a positive and loving reputation! Of course, when untrained the Doberman can be aggressive, so it's important that you know what you're doing when you begin to train your dog! However, Doberman puppies in Ohio grow to be great guard dogs are are actually quite popular in the dog community. It's imperative, though, that you choose a reputable breeder. 
Steer well clear of puppy mills and backyard breeders to ensure that you'll be adopting a healthy dog that's not been abused. Before you're ready to adopt, research trainers and the general scope of owning a Doberman. Then, place a deposit with one f the top breeders on your list and begin your new journey with a Doberman today!
Other articles you might like: Labradoodle Breeders in Ohio and Goldendoodle Breeders in Ohio.
Doberman Puppies For Sale in Ohio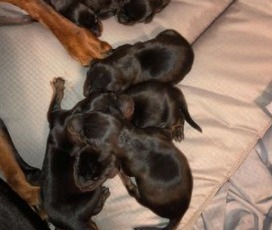 If you're purchasing from unfamiliar Doberman breeders in Ohio, we recommend that you do your research before putting down a deposit. There are many Doberman puppy mills and backyard breeders throughout the United States. Spotting red flags and visiting each potential breeder in person will help prevent you from adopting from unethical breeders. With that in mind, here's your list of the best Doberman breeders in Ohio:
1. Premier Dobermans Ohio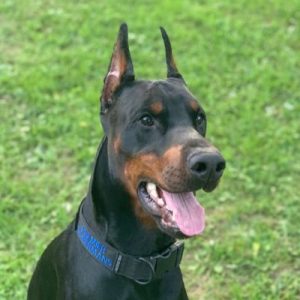 First on the list of Doberman breeders in Ohio is 'Premier Dobermans.' Established in 2005, Premier Dobermans breeds top-quality AKC registered Dobies. Premier Dobermans pays full attention to every puppy's temperament, working ability, health, and conformation.
Potential new puppy parents can rest assured that they will get a top-quality Doberman, as these breeders are well-educated about the breed. All the Premier Doberman dogs are health-tested with the latest methods that ensure that genetic health risks are at a minimum. This breeder takes pride in the fact that they have never produced a puppy with any typical Doberman health conditions.
This breeder loves all their Doberman puppies in Ohio, and they are socialized early. Some of the dogs are imported from Russia, Serbia, and Belarus, and their details and health certifications are available on Premier Doberman's website. Their Doberman puppies for sale are microchipped and get a two-year health warranty before they are handed over to their human parents to go to their forever homes. These eight-week puppies also get an AKC limited registration. This means you can't breed or show your dog. 
Premier Dobermans Details
2. Ohio Dobermans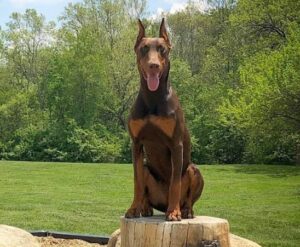 You won't get a breeder as customer-oriented as Ohio Dobermans. Don and his family personally guarantee that their dogs are of the highest quality, from puppy to adult. They love their dogs with such passion that they invest their time and spare no effort to breed Dobermans that are health-tested, basic-trained, and with excellent temperament.
Finding the initial weeks and months overwhelming, new Doberman parents might not know what to do with their new family member. They need not worry because Don's provide continuous support and love much after the puppy's adoption. More than Doberman's quality, you will be impressed with this breeder's love for the dogs and his support for you. Ohio Dobermans happily share their breed knowledge and training techniques with the new pet parents to help them settle with the new furry babies.
Their Doberman puppies in Ohio have proven good health, temperament, and social skills. Furthermore, the breeder offers lifetime support for new pet parents, assisting them in maintaining friendly, calm Doberman dogs. 
Ohio Dobermans Details
3. Van Dutches Dobermans, LLC
Last on the list of Doberman breeders in Ohio is 'Van Dutches Dobermans, LLC.' Getting your new Doberman pup from Van Dutches Dobermans, LLC is like getting it from family. They are known for their puppies' exceptional quality and guaranteed health.  If you wanta high-quality pup, interview with this breeder.
When you adopt Van Dutches Doberman puppies, they come with a limited AKC registration and cropping by Wapakoneta, Ohio, Dr. Anne Midgarden. All the Doberman puppies in Ohio are age-appropriately vaccinated, dewormed, cropped, declawed, and docked unless the new parents have other preferences. You can also meet the sire and the dam.
Although this breeder prefers you to pick up your puppy from their facility, they will ship it under special circumstances. Find out for yourself that Dobermans are not as intimidating as they look; get in touch with Van Dutches Dobermans, LCC through the following contact details:
Van Dutches Dobermans, LLC Details
More Information About Doberman Puppies in Ohio
Dobermans are sometimes fondly called Dobies, who originated in Germany in the late 19th century, were bred to become guard dogs. There is no accurate ancestry for this breed, but it is believed that they are a mixture of several dog breeds, including the German Pinscher, Black Terrier, Tan Terrier, and Rottweiler. These dogs sport a regal appearance with their athletic build, excellent posture, and sleek coat. This aristocratic-looking dog is compactly built.
Standing between 24-28 inches at the shoulder and covered with their shiny coat of blue, black, fawn, red, some rust markings, and a wedge-shaped head, Dobermans have also earned the reputation of being royalty in the canine world. Doberman puppies are fast, powerful, and muscular, not to mention smart, alert, extremely loyal, and highly energetic. Most Dobermans are employed in military and police work and love engaging in canine sports. These working dogs can weigh up to 60-80 pounds and have an expected life span of 10 to 12 years.
As intimidating as they look, they can also be reliable and courageous family dogs and companions. They're dreaded by people who don't know them and are usually stereotyped as extremely aggressive. Though they are forbidding protectors, they are also gentle and watchful. Dobies don't go looking for trouble, but they're brave and will protect their family and territory if they sense any danger or threat.
To set proper expectations, Doberman puppies in Ohio are not for everyone. They're big and 100% mentally and physically active dogs. Additionally, they need a strong alpha, or they will self-proclaim themselves as the pack leaders. That could be too much for most people to handle. Not everyone would have the guts to be stronger and more confident than a fierce-looking, growling Doberman. 
If you decide and know that you can handle this dog, fall in love with Doberman's sweetness and unfailing loyalty. If you live in Ohio, make sure to get a healthy dog from reputable Doberman breeders there. Skip irresponsible breeders, pet stores, and the puppy mill. If possible, check your local rescue centers and shelters; there might be a Dobie waiting for you there.
Doberman Dog Breed
Nutrition
You must feed your Doberman the best quality dog food. Take care to feed the pup and adult a diet that's right for its age and one that comes vet or breeder recommended. Before you give your Doberman table scraps, find out which human foods are dangerous for your dog. The occasional treat is okay. It's best to ensure that your Doberman does not become obese, as it can cause health issues. Keep clean and fresh drinking water for your dog all the time.
Grooming
The Doberman does not require extensive grooming; many call it a "wash and wear" breed. So, it requires minimal grooming to stay in the best condition. You do not need to bathe your Doberman often. The occasional bath will do. Also, a quick daily brush will suffice and keep your dog's coat shiny. However, he needs to get his monthly nail-clipping and frequent teeth-brushing sessions to stay healthy. You should consult your vet to understand how to clean your Doberman's ears carefully.
Exercise
Being an athletic dog with lots of energy, the Doberman needs plenty of exercise, coupled with free play. This breed thrives on long daily walks, hiking with its owner, and running until he's expended his energy in your fenced backyard. Because this breed is athletic and agile, it participates in obedience, agility, and other canine sports.
Training
Dobermans are stubborn, yet they love to please. The latter trait makes training them not so difficult. Moreover, being intelligent, they understand training commands quickly, and being eager to make their owners happy, they learn fast for that praise and that treat! Additionally, Dobermans need to expend their energy regularly, and if that is neglected, they tend to become aggressive. Therefore, along with training them in obedience, socializing with them is of the utmost importance.
If you cannot train your Doberman, taking him to puppy-training classes is recommended. These steps will ensure that you are raising a well-adjusted and loving Doberman and not one that is unpredictable and given to aggression. Lastly, this breed should preferably stay indoors and should not be left alone outdoors. 
Health
Dobermans care typically healthy dogs, but they're susceptible to a condition called bloat. This is a life-threatening issue that affects their digestion system. Therefore, if you own a Doberman or plan to get one, you should acquaint yourself with the symptoms of bloat for early detection and timely action.
Also, responsible breeders screen their Dobermans through medical tests for genetic conditions like hip dysplasia, enlarged heart, von Willebrand's Disease (a blood clotting disorder), progressive retinal atrophy, albinism, and hypothyroidism. Therefore, you must buy or adopt your Doberman puppy or adult only from breedersor shelters that have conducted these tests. 
Frequently Asked Questions
Are Dobermans legal to own in Ohio?
Ohio used to have a state-wide ban on certain breeds like the Pitbull, but now those restrictions are left to the discretion of more local communities. In northeastern Ohio, in particular, you'll want to check with your local regulations to determine whether you're permitted to own a Dobie. 
Likewise, check with your HOA and your landlord to make sure the breed is permissible. While it's not illegal to own a Dobie in Ohio, your community may discourage or even disallow it. 
Is it true that Dobermans turn on their owners?
There are a lot of myths surrounding the Doberman breed, and one of these is that as the dogs grow, they'll become more aggressive. Some even claim that these dogs will turn on their owners. 
While any dog can turn on its owner, that doesn't mean he will. With proper training and socialization, your Dobie can be as loving a family member as any other breed.
Why do Dobermans have such a bad reputation?
In most cases, it's because of irresponsible owners. Every dog needs training and social skills, and the Doberman's strength and protective nature make this even more necessary for the breed. Additionally, the dogs have a long history in military and police work and this, too, has given them a reputation for being "mean" and "aggressive."
Enlist the help of a professional trainer who's had experience with the breed to help ensure that your pup is a well-adjusted member of your family.  
Conclusion For Doberman Breeders in Ohio
We hope this list of Doberman breeders in Ohio will help you bring home your beloved companion. It takes a lot of courage to raise a Doberman, unlike the cuter and fluffier puppies. You might find that some family and friends are scared of your dog. That is a natural reaction for them, but so long as you become a stronger and more confident alpha, your Dobie will be a reliable watchdog who would do anything to protect his human family and territory. Just the mere thought of you having a Doberman around is enough to spook any burglar.
Be sure to get your Doberman from a breeder who cares, knows the breed, and values the importance of a healthy canine in a family.  If traveling to these Doberman breeders in Ohio is too far for you, we have recommendations from other states you can check out:
To learn more about the Doberman dog breed, watch "6 Ways Dobermans Are Different From Other Dogs" from Doberman Planet down below: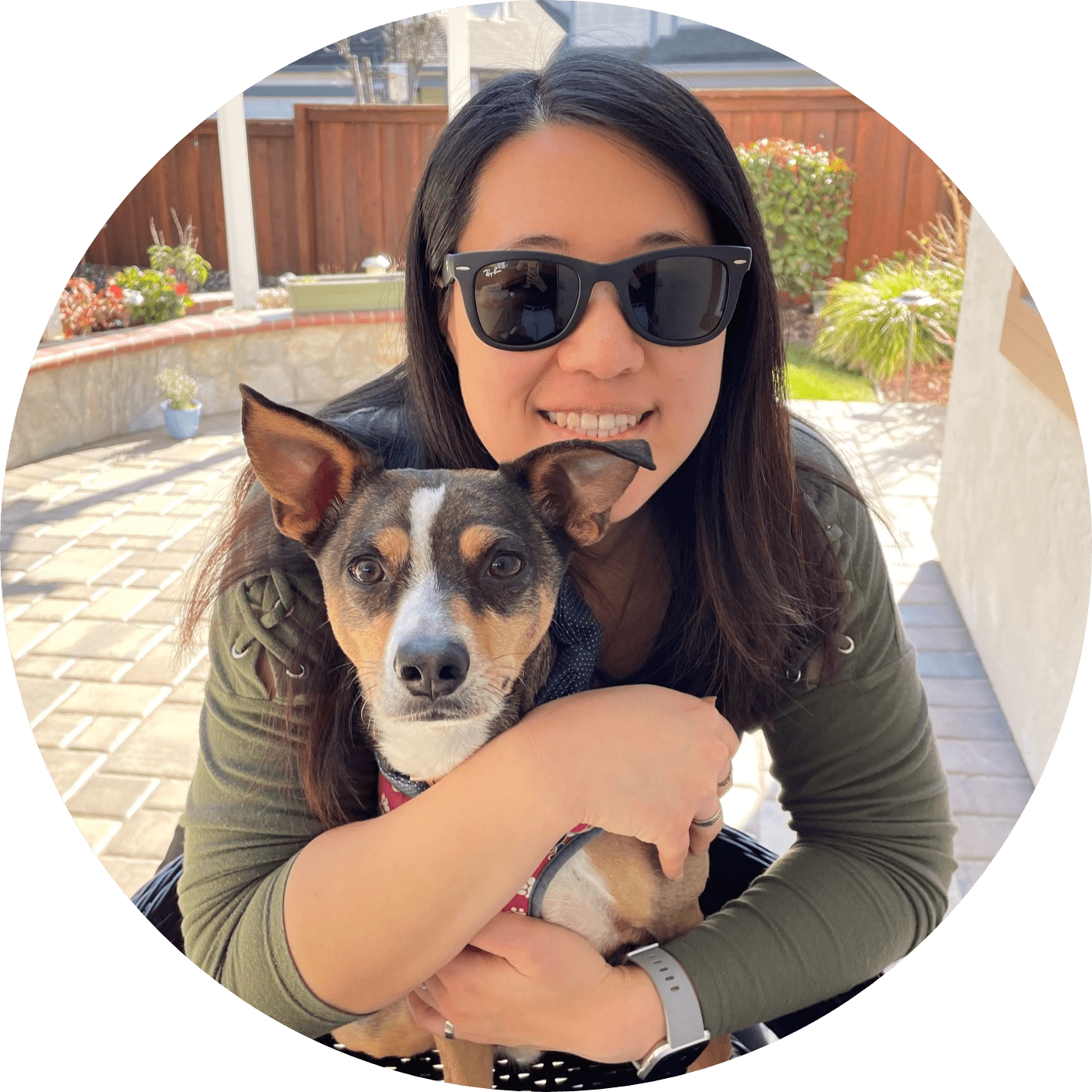 Dr. Sabrina Kong graduated from the Royal Veterinary College in England in 2016 and has been working at a small animal clinic in Northern California since then. She grew up in the Bay Area and got her bachelor's degree from Cal Poly San Luis Obispo. She also became a Certified Canine Rehabilitation Practitioner through a program at the University of Tennessee.
When she isn't in the clinic taking care of her four-legged patients, she enjoys traveling and trying new foods with her friends and her three-legged dog, Apollo. She adopted Apollo from her clinic when he was a puppy with numerous health issues. Dr. Kong truly cares about taking care of animals.