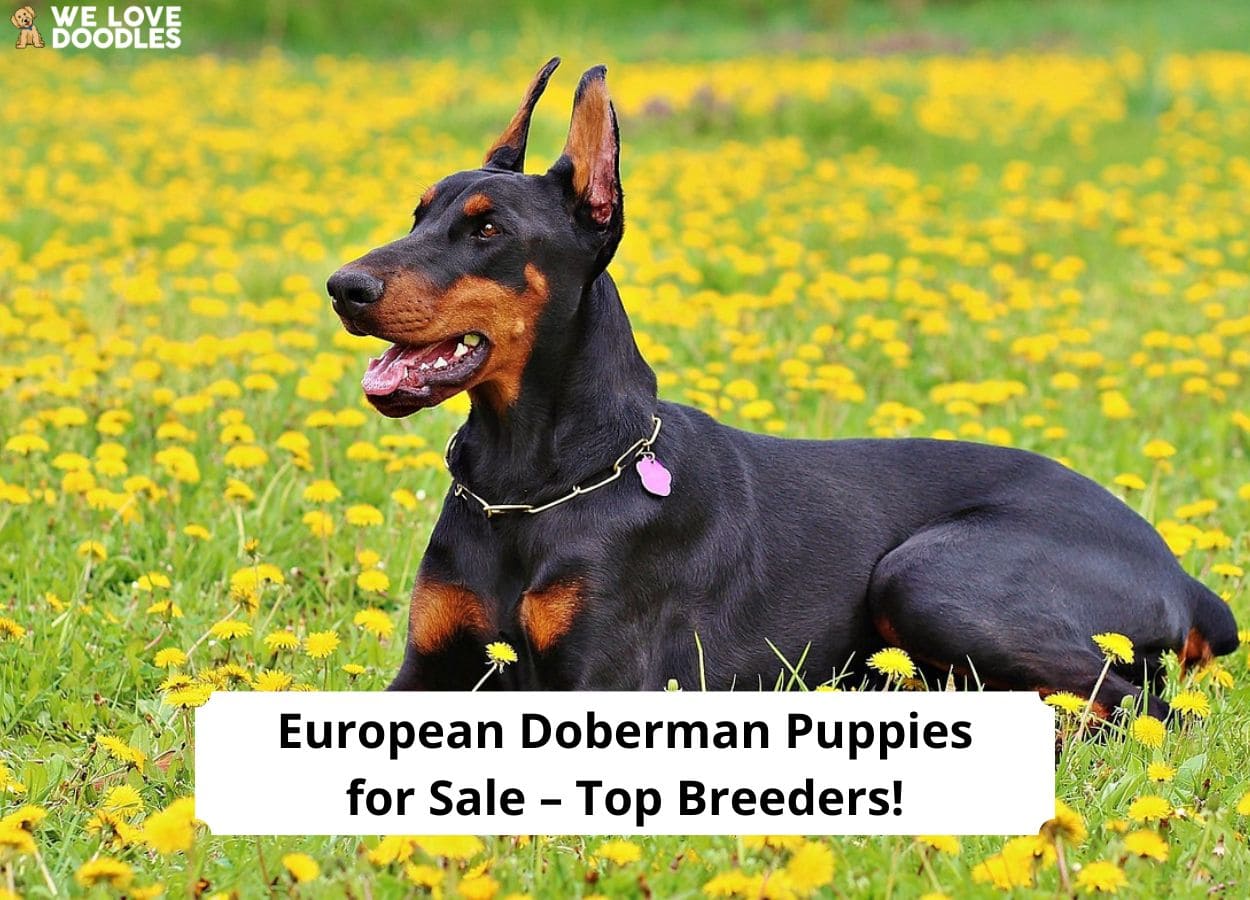 If you are searching for European Doberman puppies for sale, you have come to the right place.
There are several noteworthy Doberman breeders in the United States, which can make it hard to whittle them down. To help you out, we've created a list of top breeders where you can get high-quality Dobermans of European lineage.
Dobermans are the noblemen of the canine world; they are nothing less than royalty with their muscular bodies, strong bone structures, and beautiful coats. Dobermans can appear intimidating, but they are incredibly loyal and affectionate toward their owners. They make excellent guard dogs and are always ready to defend their owners when needed.
The European Doberman is better suited to be a working dog than the American Doberman, but they can still be kept as pets by experienced owners. So, if you have decided to get a European Doberman, check out our list of European Doberman breeders in the United States below.
Before scrolling down this list of breeders with European Doberman puppies for sale, check out these articles: 11 Best Doberman Breeders in the USA! (2023) and How to Make Doberman Ears Stand Up! (2023).
1. Kevlar Dobermans
Kevlar Doberman is an FCI and AKC registered breeder that aims to improve the health, frame, and temperament of the Doberman breed. As a licensed breeder, you can be sure you are buying a puppy from a reputable and ethical breeder. It breeds imported European bloodlines so that you can get a Doberman puppy of the highest quality.
The breeder does not adopt out its dogs on a first-come, first-serve basis. Instead, they screen each application thoroughly to find the best match for you and the best home for their puppies.
Furthermore, the breeder requires a $500 nonrefundable deposit to reserve puppies to ensure that only serious buyers contact them. You can adopt a puppy with limited AKC registration from Kevlar Dobermans for $3,750.
If you live outside New York and cannot collect your puppy personally, Kevlar also provides safe transportation within the United States. The breeder will charge you a reasonable additional fee, and you can discuss the details via email or phone.
Moreover, as Kevlar is a private kennel, you can visit by appointment only. Schedule an appointment before visiting the kennel if you want to see their pet parents or puppies.
The breeder also gives a health guarantee of 12 months. If your puppy passes away due to Hepatitis, Leptospirosis, or Distemper before they are 12 months old, the breeder will replace them for free.
In addition, the breeder also gives a lifetime guarantee against diseases such as parvovirus and hip and elbow dysplasia. The breeder also asks clients to return the puppy if they cannot keep it, instead of giving it away to a shelter.
Visit their website to see if they have a litter available for adoption and other details.
Kevlar Dobermans Details:
2. Valor Dobermans
Valor Dobermans, located in Virginia and North Carolina, is a top-class breeder that strives to breed majestic and intelligent European Dobermans. The breeder ensures that they only breed healthy, smart, and beautiful puppies.
To browse European Doberman puppies available for adoption, visit Valor Dobermans' website. They display their available puppies on their website along with a detailed profile that will tell you everything you need to know about the puppy.
The breeder also shows the puppies' vaccination records so you can be sure you are getting a healthy dog. Moreover, details about the puppies' parents are also listed on the website; you can see the dam and sire for a litter and read corresponding information about their health.
So, if you like a puppy, you'll have to reserve it by submitting an adoption application with a $25 nonrefundable application fee and a $1,000 refundable deposit. The total cost of the puppies is between $4,000 to $5,000, including the reservation fee.
Valor Dobermans Details:
3. Imperium Dobermann
Imperium Doberman is a small Doberman kennel based in Ohio. Their dogs are imported and come from 100% European champion bloodlines.
The breeder aims to breed dogs that can live long, happy and healthy lives. They breed quality Dobermans for conformation, physical fitness, workability, and temperament.
If you are looking for a Doberman that will make a great family dog and a great show and working dog, Imperium Dobermann is the perfect breeder for you. The breeder is an active participant in conformity show rings and dog shows.
In addition, they conduct regular health tests on their parent dogs to ensure their champion dams and sires are in perfect health before being bred. Healthy parents make for a healthy litter.
Apart from this, the breeder ensures they raise well-socialized puppies that can fill their new owner's life with lots of love and happiness. When you buy a puppy from Imperium Dobermann, you become a part of their family forever.
Furthermore, the breeder offers lifetime support to all the families that adopt their Dobermans. If you ever have a problem with your dog, contact Imperium Dobermann for guidance.
To maintain the quality of their puppies, Imperium Dobermann only has a few litters every year. To get high-quality, 100% European Doberman puppies in the United States, visit Imperium Doberman's website and submit an adoption application.
Imperium Dobermann Details:
4. Von Hohenhalla Dobermans
Von Hohenhalla Dobermans is a family-owned breeding program based out of Atlanta, Georgia. The breeder raises their dogs as a part of their family and spends almost every moment with their beloved puppies.
Von Hohenhalla breeders love Dobermans, and the aim of their breeding operation is to share the joy of loving a Doberman with everyone. They breed AKC-registered European Doberman dogs with well-balanced temperaments, excellent conformation, and a high working drive. All their dogs come from both working and show European bloodlines.
Von Hohenhalla Dobermans believe that a Doberman is only content when it has a family to love and loved ones to protect. And they raise their Dobermans with the same belief in mind. When you get a Doberman from Von Hohenhalla, it will love you unconditionally and be ready to protect when the situation calls for it.
All puppies have their ears cropped and tails docked to ensure conformation with the breed's standards. All dogs are health-tested, vaccinated, microchipped, and dewormed. In addition, the breeder only offers black and rust or red and rust Dobermans.
The price of the puppies varies with each litter. Contact the breeder with the information given below for more information.
Von Hohenhalla Dobermans Details:
5. Treasure Seeker Dobermans
Treasure Seeker Dobermans is a small family-owned kennel in North Carolina. They follow the United Doberman Club Code of Ethics and the Doberman Pinscher Club of America Code of Ethics in their breeding practices.
The breeder only has limited litters every year to ensure the quality of the puppies and their parents' health. In addition, all their dogs belong to the highest-quality European and American bloodlines. However, the breeder distinguishes European and American litter, so you can rest assured that you will get a 100% European Doberman if required.
In addition, all puppies also undergo extensive health screening to ensure they are physically fit. The puppies are also socialized in a home environment and given initial basic training before adoption.
On top of that, the breeder aims to raise dogs that can participate in conformation rings and dog sports and make excellent family pets. So, if you are searching for a European Doberman for sale, you can head to their website and fill out an application.
Treasure Seeker Dobermans Details:
6. Sunny Hill Dobermans
Are you in search of European Doberman puppies for sale by experienced breeders? Sunny Hill Dobermans is the right choice for you.
The breeder, Ronnie Arnold, belongs to a family that has been breeding dogs since 1989. Although Ronnie started breeding Dobermans in 2011, he has the knowledge and experience to breed the finest dogs. Now, the breeder offers some of the most regal and loyal European Dobermans for Doberman lovers.
The breeder focuses on quality over quantity. He breeds only one or two litters a year, and the focus is on raising the puppies correctly. Each puppy is raised at home, where it receives tons of love, care, and attention which is crucial for a growing puppy.
In addition, the breeder ensures that all puppies are healthy by screening all dams and sires for health issues. The puppies also start their vaccines when they are two weeks old.
Visit the breeder's website to see if they have any puppies up for adoption. If you find one you like, you can complete an application and start the process.
Sunny Hill Dobermans Details:
Frequently Asked Questions
How much do European Doberman puppies typically cost?
Depending on the breeder's experience and reputation, you can pay anywhere from $3,500 to $5,000 for a healthy European Doberman puppy.
Are European Dobermans better than American Dobermans?
It depends on your needs. European Dobermans are bigger and better suited as protective working dogs, while American Dobermans are sleeker and have a temperament more conducive to family life. European Dobermans are generally more expensive than their American counterpart.
How long do European Dobermans live?
European Dobermans have a life expectancy of 10 to 12 years.
Conclusion for "European Doberman Puppies for Sale – Top Breeders"
Dobermans are dog royalty — they are incredibly loyal, alert, and one of the most intelligent dog breeds. Although their looks can be intimidating, these dogs make excellent family pets. They love their owners more than anything and are ready to protect them.
When searching for European Doberman puppies for sale, choose breeders who are upfront about the lineage of their dogs, conduct health testing, and provide health guarantees. How a dog is bred contributes significantly to its health and temperament; therefore, you must choose a reliable breeder.
The list of European Doberman breeders mentioned above has some of the most prominent breeders in the county, and it is a good start to your search. Good luck!
For more guides similar to this list of European Doberman puppy breeders in the US, you can check out:
Before bringing home a European Doberman puppy from a breeder in the US, you can learn more about this dog breed by watching "American vs. European Doberman: Which is Better?" down below:
Garrett loves animals and is a huge advocate for all Doodle dog breeds. He owns his own Goldendoodle named Kona. In addition, he volunteers at the Humane Society of Silicon Valley, where he fosters dogs and helps animals. Garrett enjoys writing about Doodles and believes that dogs can teach humans more about how to live than humans can teach a dog.
Why Trust We Love Doodles?
At We Love Doodles, we're a team of writers, veterinarians, and puppy trainers that love dogs. Our team of qualified experts researches and provides reliable information on a wide range of dog topics. Our reviews are based on customer feedback, hands-on testing, and in-depth analysis. We are fully transparent and honest to our community of dog owners and future owners.