If you're looking for Doberman breeders in Oregon, you should know a few things about this beautiful breed before you decide to bring one home. These large dogs average just over two feet tall at the shoulder, weigh anywhere from sixty to one hundred pounds, and live for an average of ten to twelve years.
They are quite affectionate with friends and family and are excellent with children. These vigilant and brilliant dogs make terrific watchdogs and will happily keep their families safe from any outside threats.
Before scrolling down this list of Doberman breeders in Oregon, you can check out these other recommendations from our team at We Love Doodles: Best German Shepherd Breeders in Oregon and Best Corgi Breeders in Oregon.
Doberman Puppies For Sale in Oregon
Read on to find the breeder that can match you with your perfect puppy.
Doberman Product Recommendations: Best Dog Football Toys and Strongest Shock Collars For Dogs.
1. PuppySpot's Dobermans For Oregon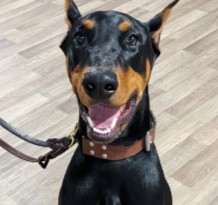 Since you're searching for Doberman breeders in Oregon, we recommend checking out PuppySpot's online platform. PuppySpot is a trusted dog marketplace where you can find a compatible Doberman puppy right from the comfort of your home in Oregon.
It would help if you also kept in mind that all Doberman breeders must undergo a strict screening process, so you can rest assured that your companion will arrive safely in Oregon. Before continuing on your search for a Doberman puppy for sale in Oregon, check out the link to the marketplace below.
PuppySpot Details
2. Jessica Bell
Breeders Josh and Jessica Bell aren't professional breeders, but they take all the necessary precautions regarding bloodlines, health testing, and genetic health guarantees for the litters they produce every two years.
Their dam and sire are both AKC registered dogs, and the sire is from European bloodlines. These breeders raise their Dobermans to guard their property lines and defend their children while maintaining a gentle approach during playtime with the family. The Doberman puppies offered by this breeder are black.
Each puppy comes with first shots and a deworming record. It will also have dew claws removed and its tail docked. Ear cropping is available for an extra fee. The cost to purchase a puppy from this kennel is $2,500.
Jessica Bell Details
3. Di Altobello European Doberman Pinscher Puppies
Owner and registered AKC breeder, Angela Higgins, takes great care when placing her puppies. If you want to buy a dog from her, she'll get a little background history via email. If she thinks you are a good fit for one of her puppies, she'll send you a questionnaire and application.
Her thorough vetting process ensures that each puppy she raises will go to a good home. Angela cares deeply about every puppy in her care, so if you purchase a puppy from her and can't keep it, you can return it to her.
Angela gives her breeding dogs all the applicable health screenings for this breed and provides a health guarantee for the Doberman puppies she sells. She also provides a bill of sale that details the responsibilities of the breeder and the buyer. All puppies come with first shots and a deworming record as well.
It costs $2,500 to purchase a puppy from this breeder, regardless of gender or markings. If you reserve a puppy but don't find the perfect fit in the first litter that's born, you can choose to roll over your deposit to a future litter, paying only $50 for a testing fee for the second litter.
Di Altobello European Doberman Pinscher Puppies Details
4. Unique Dobermans
Unique Dobermans is a small, in-home facility run by retirees Bruce and Jan. This breeder doesn't register their Doberman puppies with the AKC because their puppies are for companionship and protection rather than breeding or showing.
The sires and dams on-site at this breeder are imported Federation Cynologique International (FCI) European Dobermans, not American Dobermans. Each puppy from this breeder comes with its tail docked, first shots, deworming record, a microchip, and health inspection. It costs $3,500 to purchase a dog from Bruce and Jan, regardless of the sex or color of the animal.
Unique Dobermans Details
5. Heartwood Dobermans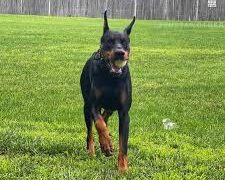 The owners of Heartwood Dobermans have been breeding Doberman puppies for 26 years. They are committed to developing dogs with sound temperaments, making them great companions and therapy animals. They raise the puppies in the family home, where the breeder focuses on training them to be strong, loyal, and intelligent creatures.
All puppies come with limited AKC registration with a spay and neuter contract and their tails docked and ears cropped. Demand for Doberman puppies is high, so sometimes, the waitlist can be as long as two years into the future.
Getting on that list is the only way to be considered for future litters, so if you want to purchase a puppy from Heartwood Dobermans, send them an email as soon as possible. Puppies from this breeder cost $3,500 regardless of gender or color.
Heartwood Dobermans Details
6. Elite Family Dobermans
If you purchase a Doberman puppy from Elite Family Dobermans, you'll purchase a hand-raised puppy from a family environment that's confident and ready for its next adventure. These puppies are well-socialized both by exposure to all sorts of situations and by receiving guidance from well-trained adult Dobermans who show the puppies how to react in each situation.
Each puppy comes with its ears cropped and tail docked, as well as first shots and a deworming record. Puppies go to their new families between twelve and sixteen weeks. At this age, they're housebroken, ready to sleep through the night, know how to sit and stay, and come when called.
Elite Family Dobermans Details
7. Day Hill Dobermans
Kennel owner Kimberlee Dorr strives to improve the quality of dogs she produces and continues to grow her knowledge with every litter. Each puppy comes with a two-year health and hip guarantee, cardiac clearance, two vet exams, removal of dewclaws, docked tail, cropped ears, first shots, a deworming record, and AKC limited registration paperwork.
Buyers must sign a spay and neuter contract when purchasing a dog from this kennel. The purchase price for these puppies is $3,000. All animals sold are pet quality only; if you want a show or breeding quality animal, co-ownership is possible on a case-by-case basis.
Day Hill Dobermans Details
8. Sunset Dobermans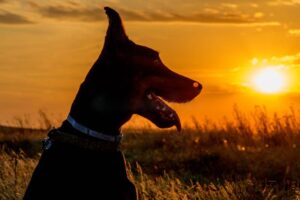 Last on our list of the best Doberman breeders in Oregon is Sunset Dobermans. Licensed veterinary professional, and Doberman Pinscher Club of America (DPCA) mentor, Dawn Danner, has over 30 years of experience breeding Dobermans. Her primary focus is to improve the breed by carefully selecting potential sires and dams, focusing on temperament, health, and structure.
Each possible breeding animal undergoes Orthopedic Foundation for Animals (OFA) testing for hips and elbows, genetic testing for heart health, blood tests for thyroid and liver function, and DNA testing for Von Willebrand's disease.
All puppies from this breeder are home-raised in a caring environment, handled extensively from birth, and well socialized. Dawn also lays the foundation for crate training and introduces the puppies to an agility playground to build confidence.
Each puppy comes with first shots, deworming record, cropped ears, docked tail, a microchip, and a one-year health guarantee. All buyers must sign a spay and neuter contract, as this breeder only offers limited AKC registration papers. If a new pet owner can't take care of their dog at any time, they can return them to the breeder.
Sunset Dobermans Details
How to Choose a Doberman Breeder in Oregon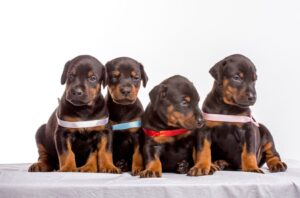 When you're looking for a Doberman breeder in Oregon, make sure you choose one knowledgeable about the breed and one who cares about their animals. Weeding out the good breeders from the bad ones can be a challenge, so here's some advice straight from the AKC.
Meet the breeder
Ask thorough questions
Meet the puppy's parents
Get a complete medical history
More Information About Dobermans in Oregon
It's essential to buy Doberman puppies from reputable breeders because although anyone selling dogs can get vaccinations and vet check-ups, only someone with an extensive background in breeding will know the genetic history of both of the puppy's parents. Buying a puppy without this information could set you and your new pet up for a lifetime of health or behavioral issues.
Conclusion For The "Best Doberman Breeders in Oregon"
Here at We Love Doodles, we know how important it is to make sure the Doberman puppies that each kennel offers are healthy and well-cared for. When you decide to make a Doberman puppy the newest member of your family, you should buy one from a reputable breeder like the ones featured on our list.
For more guides similar to this list of Doberman breeders in Oregon, you can check out:
Before you bring home a Doberman puppy from a breeder in Oregon, you can learn more about the breed by watching "8 Things Only Doberman Pinscher Dog Owners Understand" down below: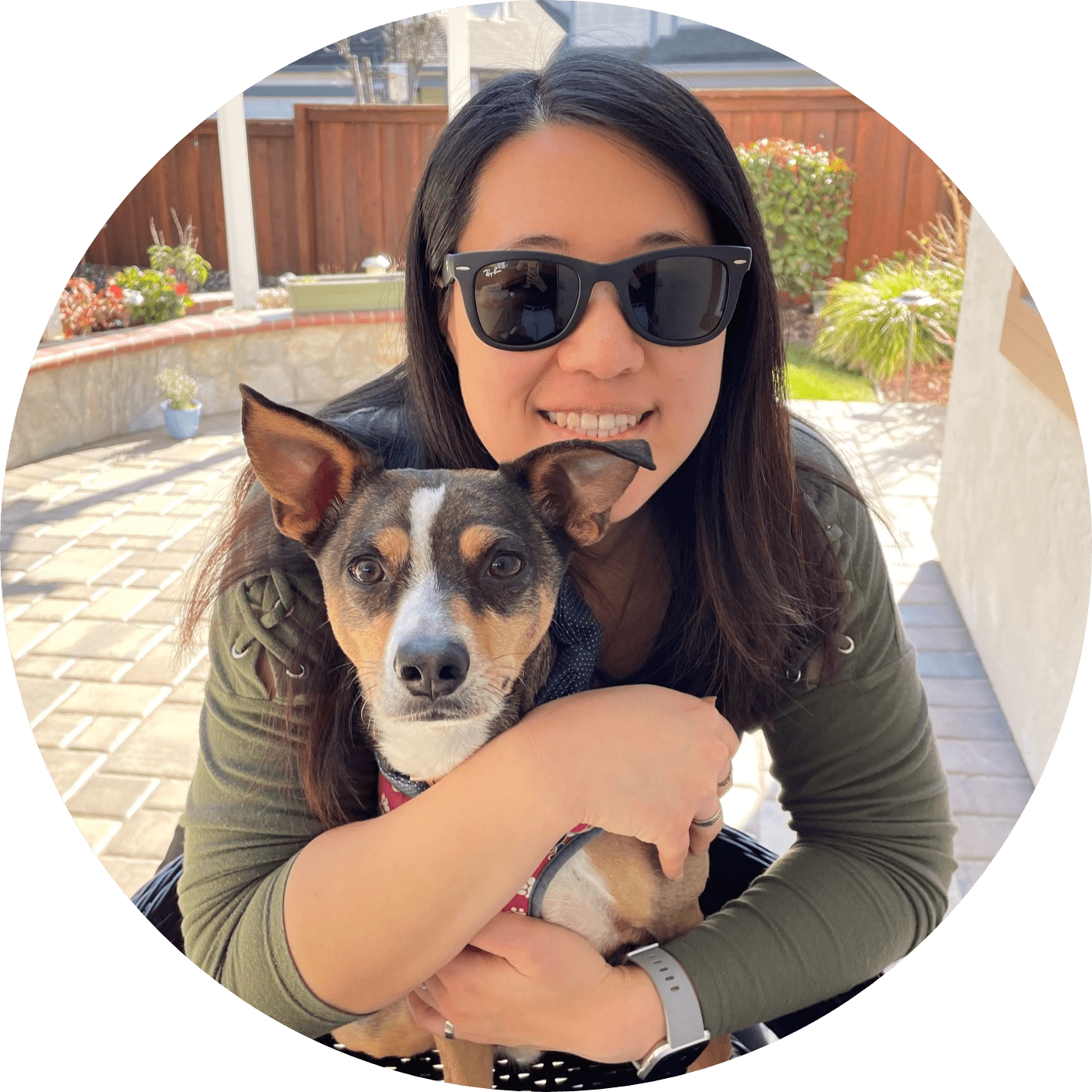 Dr. Sabrina Kong graduated from the Royal Veterinary College in England in 2016 and has been working at a small animal clinic in Northern California since then. She grew up in the Bay Area and got her bachelor's degree from Cal Poly San Luis Obispo. She also became a Certified Canine Rehabilitation Practitioner through a program at the University of Tennessee.
When she isn't in the clinic taking care of her four-legged patients, she enjoys traveling and trying new foods with her friends and her three-legged dog, Apollo. She adopted Apollo from her clinic when he was a puppy with numerous health issues. Dr. Kong truly cares about taking care of animals.