Here's what you need to know if you're searching for Doberman breeders in Maryland. The tenacious and elegant-looking Doberman, also known as German or Doberman Pinscher, is a medium-sized dog from Germany. Doberman is categorized under the working group by the American Kennel Club and is described as an alert, loyal and fearless canine.
The vigilant and fearless personalities plus affection for children make Dobermans excellent family pets and guard dogs. Dobermans have a fast and sleek movement as they carry their muscular and compactly built bodies that weigh between 60 to 100 pounds graciously.
The weights of the Doberman depend on the gender and are about 24 to 28 inches tall. Find committed, ethical Doberman breeders in Maryland listed in this article when you make up your mind about one.
Before scrolling down this list of Doberman breeders in Maryland, you can check out these other recommendations from our team at We Love Doodles: Best Australian Shepherd Breeders in Maryland and Best Boxer Breeders in Maryland.
Doberman Puppies For Sale in Maryland
According to American Kennel Club, the Doberman Pinscher has a life expectancy of 10 to 12 years old. However, this depends on how this canine is bred and nourished as responsible breeders ensure their stud dogs are cleared of any inheritable illnesses before mating. Below are the details of some Doberman breeders in Maryland with ethical standards and commitment to excellence.
Doberman Product Recommendations: Best Dog Training Shock Collars and Best Shock Collars For Dogs Barking.
1. PuppySpot's Dobermans For Maryland
Since you're searching for Doberman breeders in Maryland, we highly recommend checking out PuppySpot's online platform. PuppySpot is a reputable dog marketplace where you can browse and find available Doberman puppies right from the comfort of your home in Maryland.
Keep in mind that all Doberman breeders with puppies listed must go through a strict screening process, so you can rest assured knowing that your companion will be safely shipped to your home in Maryland. Before you continue on your journey for a Doberman puppy for sale in Maryland, you can check out the link to the marketplace below.
PuppySpot Details
2. Blue Moon Dobermans
Madison Tilley is the owner and breeder behind the Blue Moon Dobermans, a small breeding program located in Huntingtown, Maryland. Blue Moon is renowned for breeding top-quality Doberman Pinschers from European lines that excel as loyal family companions.
They aim at producing the best and healthiest Doberman puppies possible and match clients with the best pet that fits their lifestyle. Good Dog recognizes blue Moon Dobermans for responsible breeding as health testing is on the top of their priority list.
Blue Moon's parent breeds are all from European bloodlines and are tested and cleared of genetic illnesses before mating. Their health testing is good with the Good Dog as they test their parents for hip dysplasia, vWD1, and cardiac evaluation.
Blue Moon puppies are part of their loving family as they are born and raised indoors among families and friends. Madison handles her dogs daily to ensure they are well-socialized and prepared for their new homes. Their Doberman's puppies are ready at eight weeks to join their new families after being dewormed, vaccinated, and vet checked.
Blue Moon Dobermans are covered with a three-year health guarantee against DM, DCM, and VWD. The adoption process at the Blue Moon Doberman is transparent and straightforward, with Madison offering the best support to all her clients. Although Blue Moon has no puppies up for adoption at the moment, you can contact them to get on their waitlist or get a referral to another ethical breeder.
Blue Moon Dobermans Details
3. Autumn View Farm And Kennel
Stanley and Sandra Burdette are the owners, ethical breeders, and operators of the Autumn View Farm and Kennel in Mt. Airy, Maryland. They specialize in breeding the highest quality Doberman Pinschers, Poodles, Cocker Spaniels, Cockapoos, and Boer goats.
Autumn View Farm and Kennel has a breeding experience of over 20 years and aims at breeding the best dogs and goats available. Breeders from Autumn View breed majorly for excellence in health, temperament, beauty, and quality in all their animals.
Their breeding program is planned following each breed's ethical standard for premium quality, overall wellness, and structure. Autumn's stud dogs are from top-quality bloodlines and are thoroughly screened to clear breed-specific illnesses before mating.
Autumn View's puppies are a vital part of their family as they are whelped and raised indoors on their beautiful and spacious farmland. Their Puppies are handled daily by every family member to enhance their people-oriented skills and blend well into their new homes.
Autumn View cares about all their puppies, so they look to place them with committed families that will love them forever. Autumn View Farm's dogs are dewormed, vet checked, and dewormed regularly before leaving for their new homes after eight weeks old.
All puppies including the Doberman's'sare covered with a health guarantee for wellness and support from Stanley and Sandra Burdette. Their reputation and commitment to premium quality are reflected in the testimonial of their clients, referrals, and returning customers.
Purchasing a puppy at the Autumn View Farm is easy and hassle-free as the adoption procedure is seamless with experienced hands available to help. Visit the Autumn View Farm website or contact Stanley and Sandra Burdette for more inquiries.
Autumn View Farm And Kennel Details
4. Jambolou Doberman Pinschers
Jambolou Doberman Pinschers is a small breeding program located in Gardners, Pennsylvania, a few miles drive from Maryland. They are a member of the Doberman Pinscher Club of America and the York Kennel Club of York, Pennsylvania.
The goal at the Jambolou Doberman Pinschers is to breed dogs with high intelligence and excellent temperaments. Jambolou breeding program is planned following the breeds standard for a health and well-structured dog. They do not breed Europeans, as the dogs come from American/Argentinian bloodlines and are cleared for health and quality before mating to produce healthier Doberman litter.
Their parents are tested for thyroid, Von Willebrands, liver panel, kidney panel, retinal atrophy, Cardiac auscultation, DCM1 DNA testing, and many others. All Jambolou's dogs are never kenneled; they are born and raised inside their home nestled in a 15-acre woodland.
Jambolou ensures the proper socialization of all their dogs are they are people-oriented and blend well into their new homes. Their dogs are updated on age-appropriate vaccinations, regularly dewormed, and vet checked before joining their new families.
Please note that they do not ship their dogs by air and will only consider ground transportation depending on some unavoidable situation. Jambolou prefers to meet their customers in person as they only want to place their dogs with committed families.
Also, they want their dogs returned to them when a client can no longer keep them. The adoption procedure at the Jambolou Doberman Pinschers is transparent, with detailed processes highlighted on their puppy adoption page. Contact Jambolou by mail for a quick response or visit their site to fill out an adoption form.
Jambolou Doberman Pinschers Details
5. Christina Abner
Christina Abner is the breeder and brain behind the Christina Abner small-scale breeding program in Mardela Springs, Maryland. They are renowned for breeding healthy and top-quality Doberman as Good Dog recognizes them for a responsible breeding program.
Christina breeds for sound health and temperament, and their dogs are primarily low drive excelling as therapy work and service dogs. Christina Abner is a passionate breeder; she ensures her breeding plans are designed to follow Doberman's'sthical standards.
Her dogs are tested and cleared of breed-specific illnesses before ben used as stud dogs to produce healthy puppies. As a stay-at-home mum, her puppies are born and raised indoors with our children and other family members. Christina Abner handled her dogs daily to aid great socialization and people-oriented skills ahead of their new homes.
Their entire puppies are dewormed regularly, vet checked, and current on all first shots before going to their new homes. They also come with a blanket and toys with littermate and mum scent and lifetime support from Christina. Christina Abner's adoption process is headache-free and direct with tips for an easy transition. Visit the Christina Abner page on the Good Dog website for a detailed adoption procedure.
Christina Abner Details
Address: Mardela Springs, Maryland
6. Adara Dobermans
Last on the list of the best Doberman breeders in Maryland is "Adara Dobermans." "dara Dobermans is a responsible breeding program located in Monkton, Maryland, operated by Judy Dobler, a reputable and trusted breeder. They are renowned for breeding structurally sound and top-quality Doberman puppies that excel as conformation show prospects and fantastic pets.
Good Dog recognizes them for a responsible breeding program as their parent health testing is excellent. Adara's'sreeding program is designed following the breed club's ethical standards for health and quality. Their Sires and Dams are selected from the best bloodlines and are tested for health before mating.
Parent stocks test for Hip Dysplasia, Eye Certification, Cardiac Evaluation, Thyroid, Working Aptitude, and vWD I. Adara Dobermans's'uppies are whelped and raised underfoot using the Puppy Culture enrichment method and nourished with the best puppy meal available.
Adara's puppies join their new families eight weeks after being vet checked, vaccinated, dewormed, and covered with a health guarantee. All the puppies at Adara's family members; hence, they look to place them in loving homes forever. The adoption procedure at the Adara Dobermans is transparent and straightforward, with no hidden wellness concerns. Visit the Adara page on Good Dog's'sebsite today for more information about available puppies.
Adara Dobermans Details
Conclusion For The "Best Doberman Breeders in Maryland"
The Doberman Pinscher serves a two-in-one role when you have one in your house, as it makes an excellent pet and guard dog. There are highly loyal and affectionate with both young and old; however, they will not accommodate any intruder around their own.
To avoid ill-bred pets, we encourage you to purchase your Doberman puppy or adult dog from reputable and ethical breeders. Find the contacts of ethical breeders in Maryland committed to premium quality and excellence in all their dogs.
For more guides similar to this list of Doberman breeders in Maryland, you can check out:
Before you bring home a Doberman puppy from a breeder in Maryland, you can learn more about the breed by watching "6 Ways Dobermans Are Different From Other Dogs" "own below: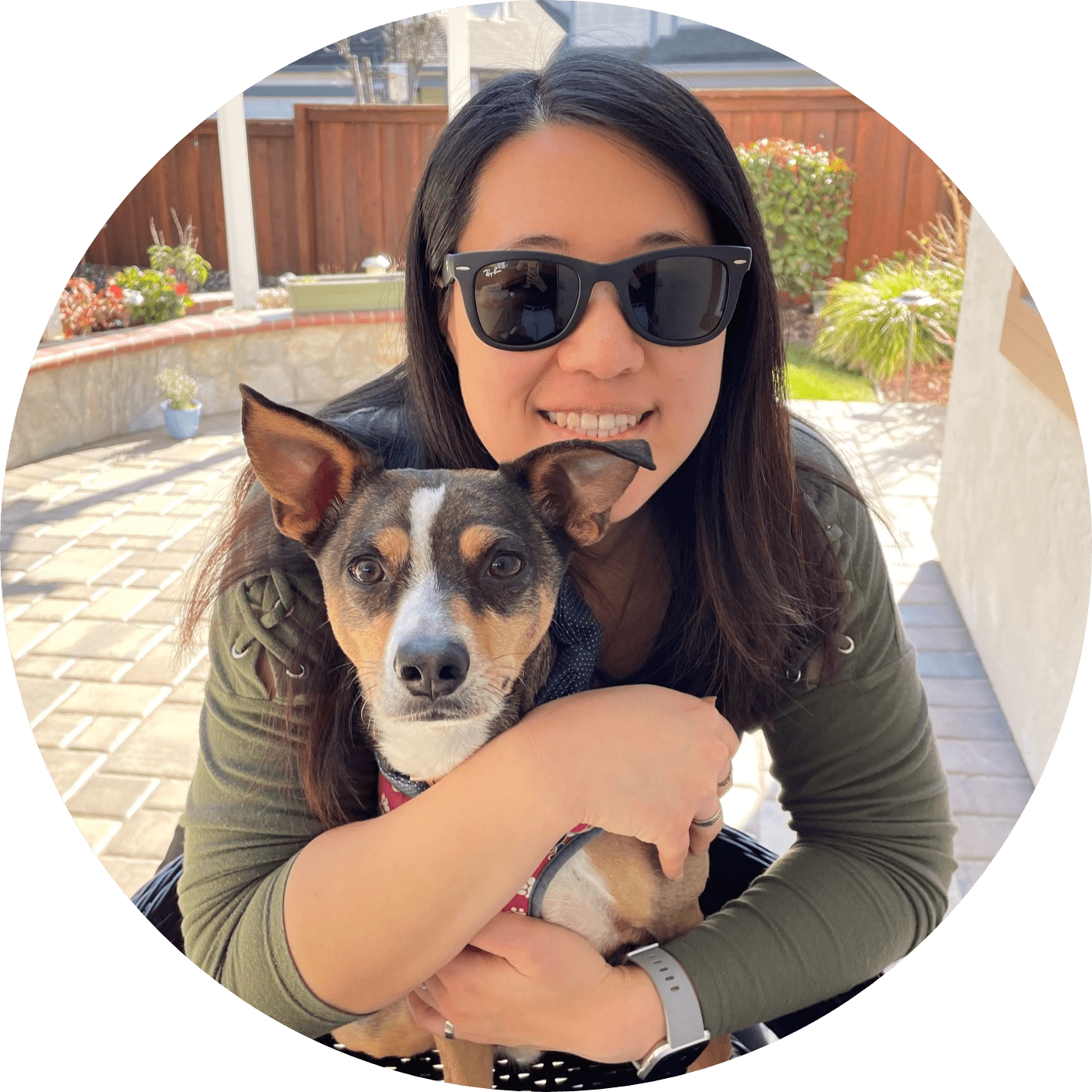 Dr. Sabrina Kong graduated from the Royal Veterinary College in England in 2016 and has been working at a small animal clinic in Northern California since then. She grew up in the Bay Area and got her bachelor's degree from Cal Poly San Luis Obispo. She also became a Certified Canine Rehabilitation Practitioner through a program at the University of Tennessee.
When she isn't in the clinic taking care of her four-legged patients, she enjoys traveling and trying new foods with her friends and her three-legged dog, Apollo. She adopted Apollo from her clinic when he was a puppy with numerous health issues. Dr. Kong truly cares about taking care of animals.