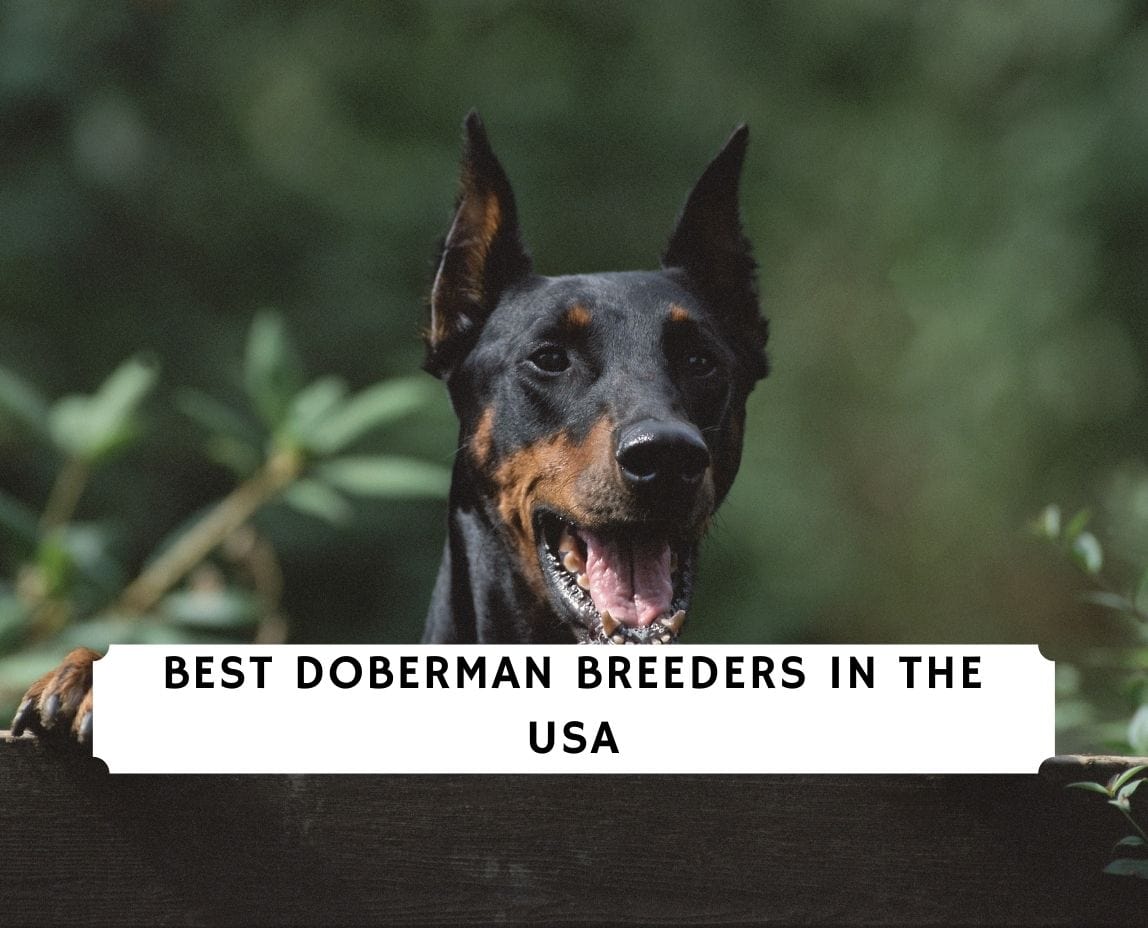 If you're searching for the best Doberman breeders in the USA, then you've come to the right place. The Doberman can be traced back to the 1890's and German tax collector, Louis Dobermann. He wanted a formidable guard dog to protect him as he walked around with a lot of money, but he also wanted a good companion dog. These dogs became to be regarded as fierce and sometimes vicious and scary, used for fighting and guarding.
Like all dogs, Dobermans want to be companions, part of a pack, and long to love you. Doberman's are tough-looking dogs; large, with sharp teeth and are very muscular. It's important to know that they are susceptible to the cold because of their low body fat. This breed has other common health issues that include an enlarged heart (cardiomyopathy) and Wobblers Disease, which affects the vertebrae in the neck.
This is just one of the reasons it's essential to get your pet from a reputable breeder. It's also important to know that Doberman Pinschers are very loyal, friendly, protective, and are loving companions. According to the American Kennel Club, Dobies are the 5th most intelligent dog breeds, thus needing a lot of training and mental stimulation, so they don't get bored, and they are one of the most misunderstood dogs. 
Before scrolling down this list of Doberman breeders in the USA, check out other similar breeds: Best English Golden Retriever Breeders  and Best Australian Shepherd Breeders.
Doberman Puppies For Sale in the United States
If you plan on making a Doberman Pinscher a part of your family, do your research and make sure this loveable dog breed will be a good fit and that you are up to the task. In case you're unsure which breed is right for you, check out our list of giant doodle breeds and big dogs that don't shed.
You can prep in advance for the arrival of your Doberman companion with our recommendations: Best Stainless Steel Dog Bowls and Best Dog Food To Build Muscle.
PuppySpot is the #1 breeder on our list because you can easily get a Doberman puppy today without having to screen tons of breeders. This is because PuppySpot is a network of super reputable breeders that are screened with 100 point inspections that comply with the USDA and AKC. Less than 10% of all Doberman breeders who apply will get accepted. This saves you tons of time from having to contact many different breeders.
Additionally, PuppySpot makes it easy to find your next puppy because you can sort by color, gender, price, and size. This means you can pick your ideal Doberman Pinscher puppy and get it really quickly. They don't list puppies until they are born, so you also won't have to wait on an extremely long waitlist for a litter. PuppySpot has their own pet-approved airline so they will quickly get you your puppy anywhere in the United States.
We got one of our puppies from PuppySpot and had a really great experience. They even contact us today to ask how our puppy is doing and if we have any questions. All dogs come with a health guarantee, health inspection, and AKC certified papers. We highly suggest you check them out.
PuppySpot Doberman Details
2. Shelian Dobermans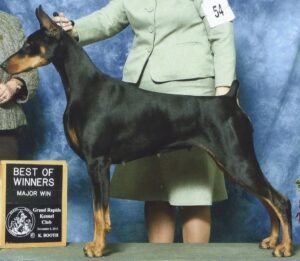 First on the list of Doberman breeders in the USA is "Shelian Dobermans." The breeder has had Doberman Pinschers since 1968, and the dogs compete in AKC events including obedience and conformation.  Shelian Dobermans are members of the Doberman Pinscher Club of America, part of the Bred with H.E.A.R.T program, a full member of the Better Bred program AKC Breeder of Merit. 
Shelian Dobermans require you to have a fence to adopt a dog. All family members must be present to pick up the pet (they do not ship). All dogs will have their ears cropped, and the breeder offers lifetime support for all dogs adopted. Puppies are raised as part of the Puppy Culture Program.
They don't raise their dogs in a kennel; Shelian Dobermans are grown in the home. They will be crate trained, started on a leash and potty training, and are screened for many health risks. The breeder uses a raw diet in combination with holistic kibble. The dogs will also be vaccinated, dewormed, microchipped and will come with puppy starter packs and 30-day insurance.
Shelian Dobermans Details
3. Emerald Eire Dobermanns

Julie Westphal is a licensed veterinary technician, an AKC Good Citizen Evaluator, a Dog Behavior Consultant, and a Fear Free Certified Professional. Emerald Eire utilizes the ENS protocols and the Puppy Culture Program, which includes household desensitization, task training, leash obedience, and crate training, among other things. Puppies can go home when they are about 9-10 weeks old.
They will go home with blankets, toys, vaccination and health records, a puppy starter kit that includes a leash, collar, and food, plus they will be microchipped. They will undergo an Embark health test before being released to you. Emerald Eire Dobermanns can be found on Facebook or click on the link below to see the full description of all the protocols, programs, and training this breeder offers. 
Emerald Eire Dobermanns Details
4. Quartet Dobermans
Quartet Dobermans is registered with the AKC, the Doberman Pinscher Club of America, and is a Good Dog's Good Breeder Badge recipient. Wendy has been working with Dobermans for over 20 years. She mainly breeds for show dogs but has an occasional litter. Quartet Dobermans are bred for health, form, trainability, and temperament. Puppies will be kept with the breeder for up to 11 weeks. 
Wendy is a natural breeder, meaning she feeds her dogs a raw and natural diet and gives minimal vaccinations. The puppies will be microchipped and come with a 2-year health guarantee that covers hips and elbows. The breeder uses the Puppy Culture method and ENS protocols. Quartet Dobermans will have some leash, crate, and potty training. They will be used to being groomed and will have gone on car rides. 
Quartet Dobermans Details
5. Andella Kennels

Founded in 2013, Andella Kennels competes in AKC and UKC events, focusing on temperament, conformation, and sound structure. They are part of the Good Dog Good Breeder Program, and the puppy will be kept with the breeder until nine weeks of age. Andria utilizes a thorough enrichment and desensitization program that includes grooming, body handling, noise desensitization, multiple socialization exposure exercises, and rudimentary training.
Dogs adopted from Andella Kennels will be sent home with toys, a food starter bag, a leash, vaccination records, a certificate of health, their AKC registration paperwork, and will be microchipped. The puppy application is long and specific, so be prepared to answer a lot of questions. Andella Kennels also offers training and boarding. These services are limited, though. The breeder also sells and breeds unique dogs.
Andella Kennels Details
Breeder: Andria Carpenter
Location: Charlotte, MI.
6. Wizard Dobermans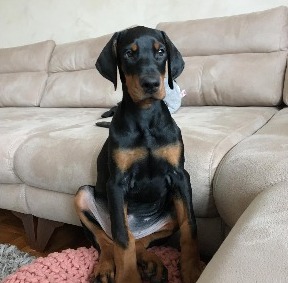 Wizard Dobermans are breeders of European Dobermans, and they are a partner of the Baxter and Bella Online Puppy School. They have a Good Breeder Badge from Good Dog. Puppies are kept with the breeder until they are ten weeks. They will be microchipped, vaccinated, docked, and will have a health certificate from the vet. They will come with a 1-year health guarantee and be sent home with a toy or starter dog food pack.
Viana uses the Puppy Culture method of raising her Dobermans and breeds within the standards for the breed. It's important to read the application and contract thoroughly. The Wizard Doberman application specifies safe outdoor space and that you're required to contact them if you can no longer care for your dog. Wizard Dobermans can be followed on Facebook and their website.
Wizard Dobermans Details
7. Rockhill Dobermans

The Rockhill Dobermans compete in AKC events, including obedience, conformation, and performance. They also do therapy work, barn hunts, and trick dog events. Linda's Dobermans are AKC registered with many clubs, are part of the H.E.A.R.T program. Although the breeder does have family dogs for adoption, show and performance homes get priority. However, there are no breeding rights for companion puppies. 
The breeder does have a health guarantee that is good for three years. Their Puppy Culture program includes exposure to various noises, interactions, socialization with kids and other dogs, exposure to grooming, and basic crate and potty training. Dogs adopted from Rockhill will be dewormed, vaccinated, will have had their ears cropped, and will have a health check from a vet. Rockhill Dobermans can be followed on Facebook and can be found on Gooddog.com and the AKC Marketplace.
Rockhill Dobermans Details
Breeder: Linda Vinson
Location: Caledonia, MN 55921
Phone: (507) 450-1715
8. Ravensown-Ko
Kim Owen is a licensed veterinary technician of 30 years who shows Dobermans and occasionally has a litter of puppies for sale. She breeds in line with the AKC and the DPCA standards for the breed: energetic, watchful, obedient, loyal, determined, alert, and fearless. Ravensown-Ko is part of the AKC and an AKC Breeder of Merit. All puppies adopted from Ravensown-KO will be docked, cropped, microchipped, and will come with the proper AKC registration.
Dogs are sold as companion or family dogs, so that the contract will include a spay or neuter clause, and you will have no showing rights. On the site, the breeder lists what to know about a Doberman, has a list of FAQs, and links to several resources that come in handy when raising a dog. Her dogs are raised in the home, and the breeder offers support throughout the lifetime of your pet. Ravensown-Ko can be followed on Facebook; the link for email is on the site.
Ravensown-Ko Details
9. Viridian Dobermans

Ashley specializes in show Dobermans, and although she has been in the show ring for just five years, her Dobermans have made the NOHS (National Owner-Handled Series) 3 years in a row. She follows the breed standards set by the DPCA and is an AKC Breeder of H.E.A.R.T, and has received the Good Breeder badge from Good Dog. Dobermans adopted from Viridian Dobermans will be kept up to 12 weeks. They will be sent home with a puppy starter kit, a collar, and their AKC registration paperwork. They will also be microchipped, examined by a vet, dewormed, vaccinated, cropped, and docked.
Viridian Dobermans utilizes the full spectrum of Early Neurological Stimulation techniques, including sound, grooming, socialization, and introduction to various toys, textures, and environments. The puppies are also exposed to crate, car, and conformation training. The breeder also works with her Dobermans on impulse and bite control. Keep in mind that they are puppies, so it will be up to you to continue this training. Viridian Dobermans offer a 1-year health guarantee, and you have 72 hours to get your puppy examined by a vet once you adopt it. To contact Ashley, follow the link on Good Dog.
Viridian Dobermans Details
Breeder: Ashley Townsend
Location: Spring, TX
10. Rougaroux Dobermans
It's important to know that Rougaroux Dobermans are show dogs, and the breeder only has litters occasionally. If a Doberman puppy is up for adoption, Kourtney uses an exhaustive list of protocols and training. Some include ENS, car training, bite inhibition, recall training, exposure to grooming, crate training, sound stimulation, plus several others. Puppies adopted from Rougaroux Dobermans will come home with a certificate of health, vaccination and health records, registration, toys, a puppy starter kit, a blanket, a leash and collar, and their personality test.
The puppy will be microchipped, dewormed, docked, cropped, and their dew claws will have been removed. The breeder offers a two-year guarantee and lifetime support for her dogs. Kourtney is a Puppy Culture Breeder, part of the AKC Breeder of H.E.A.R.T., a professional trainer, a Good Dog Breeder badge recipient, and is a Canine Good Citizen Evaluator. You can visit her site below to message her, but since she doesn't always have puppies for adoption, the link for Good Dog is below for a reference of all her breeding protocols.
Rougaroux Dobermans Details
Breeder: Kourtney Bradshaw
Location: Robert, LA
11. Poesia Dobermans

Last on the list of Doberman breeders in the USA is "Poesia Dobermans." Bred for structure, temperament, and alignment with the breeding guidelines for Dobermans as set by the AKC, Alexandria raises her Dobermans for show and has been doing so since 2006. She will occasionally have puppies for adoption as pets or show dogs. If Poesia Dobermans has a puppy or dog for adoption, the contract stipulated you must return your dog to her if you cannot care for the dog any longer.
You have one week to get your puppy examined by a vet, and she will give you a refund if the puppy is unhealthy. A puppy adopted from Poesia Dobermans will be available at ten weeks. They will be vaccinated, dewormed, will have been genetically tested, and will have been examined by a vet. Alexandria raises her puppies using the Puppy Culture Method and will encourage you to continue those protocols. On the website, there is a page dedicated to the Doberman standards. There is also a puppy questionnaire and one to evaluate if a Doberman is right for you.
Poesia Dobermans Details
Conclusion For The Best Doberman Breeders in the USA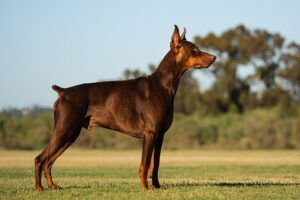 Dobermans are wonderful family companions, but they can be reserved with strangers, very protective of their family, and dominant around other dogs. It's vital that training is done early, regularly, and extensively. If you are going to own a Doberman, you need to be able to dedicate yourself to the exercise, training, and socialization needed to raise a happy, well-adjusted Doberman. If you have small children, these things are essential, making sure they are properly bred. 
It's believed that Dobermans are a genetic mix of the German Pincer, the German Shepard, or the Great Dane mixed with Black Greyhound. Breeders will still dock a Dobermans tail because it is frail and breaks easily, and their ears are usually docked to help prevent infection that floppy eared dogs are more prone to. However, not everyone agrees with this practice, and in the U.K. and Australia, this practice is outlawed. Dobermans are beautiful, intelligent, and loyal, so if you are up to the task, it's a great idea to make these loveable and playful pooches part of your family!
For more Doberman information, check out:
You can learn more about this breed by watching "What it's like owning a Doberman" down below:
https://youtube.com/watch?v=ojUEOBsZn_U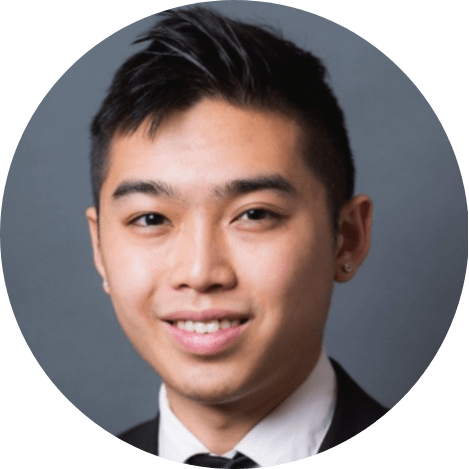 Andy is a full-time animal rescuer and owner of a toy doodle. When he's not saving dogs, Andy is one of our core writers and editors. He has been writing about dogs for over a decade. Andy joined our team because he believes that words are powerful tools that can change a dog's life for the better.
Why Trust We Love Doodles?
At We Love Doodles, we're a team of writers, veterinarians, and puppy trainers that love dogs. Our team of qualified experts researches and provides reliable information on a wide range of dog topics. Our reviews are based on customer feedback, hands-on testing, and in-depth analysis. We are fully transparent and honest to our community of dog owners and future owners.