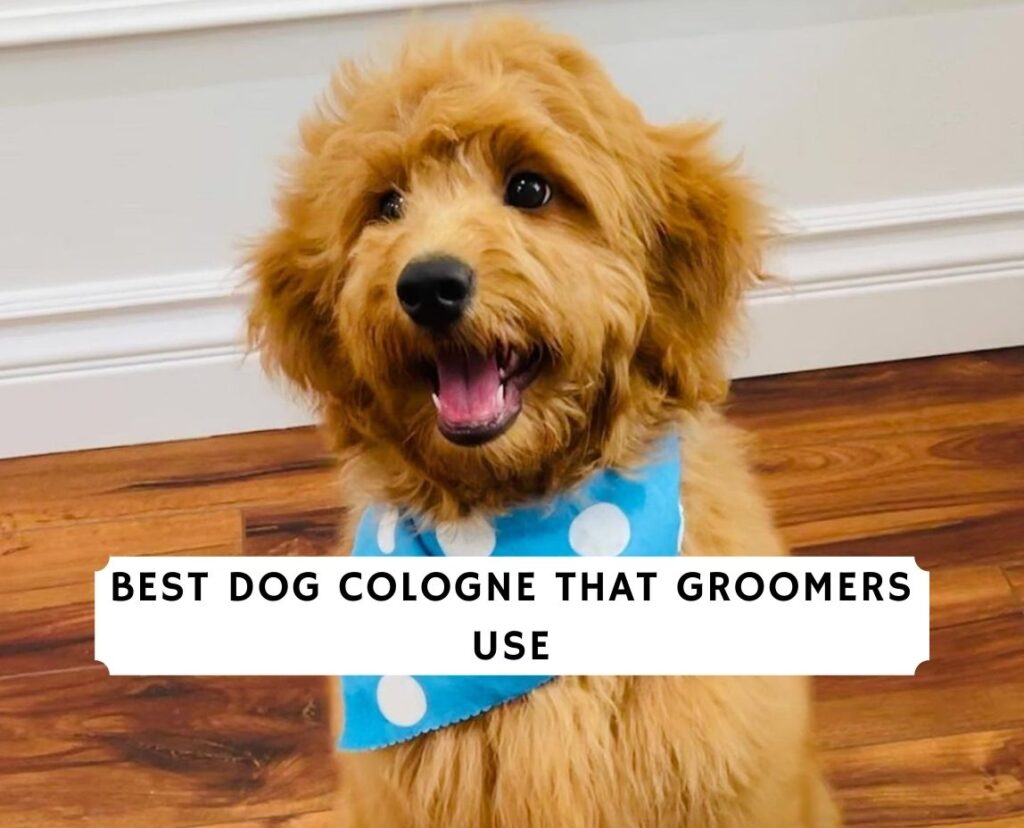 We love the way our dogs look and smell when they're fresh from the groomers. The dog cologne the groomers use makes them smell so good!
Sadly, the fresh scent of dog cologne used by the groomers doesn't last as long as we might like it to. All it takes is a few walks, a few incidents of rolling in the dirt (or worse), and our dogs are back to smelling like dirty dogs. 
The thing about dogs is, they don't care if they smell bad. They love to roll on the grass and digging in the mud. The worse they smell, the better they like it.  
Most dog owners take their dogs to the groomer on a schedule and have to cope with grooming at home in between visits. The good news is that you can have the same fresh-smelling dog cologne used by groomers for at-home grooming. We've reviewed and tested the best dog cologne that groomers use.
With the best dog cologne used by groomers on hand, your dog will smell fresh and clean at home. In a rush? Here are the top picks!
Product
Best Overall
Pawfume Premium
Runner-up
Sugar Cookie Cologne
Budget Pick
Natural Dog Cologne
Image
The PawFume Premium Grooming and Finishing Spray is an overwhelming favorite with customers. They enjoy the long-lasting scents and the soft and conditioned feel of their dogs' fur even up to 5 days after application. 
Just a couple of sprays are needed, so the bottle lasts for many applications. It's recommended that you rinse the spray nozzle periodically to avoid clogging.

Both short and long-haired dog breeds will have soft and shiny coats with PawFume Premium. Owners appreciate that it's paraben-free, cruelty-free, and alcohol-free, so it is not a skin irritant for most dogs. Be sure to avoid over-application with short hair dogs as this cologne spray is relatively strong.
This product is the best dog cologne we found on the market today. That's why Paw Fume Premium Grooming and Finishing Spray is our number one choice for the best dog cologne that groomers use to give your puppy that "Just Groomed' scent.
We tried two main scents: Show Dog (white lily, powdery musk, and amber) and Blue Ribbon (fresh melon, pear, and raspberry). Our personal favorite was the Show Dog cologne.
Our Runner Up for the best dog cologne used by groomers is the Seamus Sugar Cookie Pet Daily Spritz-Cologne-Deodorant. This product is a favorite with dog groomers and owners alike for its warm sugar cookie vanilla scent. 
It's especially popular with groomers around the holidays. This spray is a natural deodorizer and can be used on multiple pets, dog beds, crates, and more. At first, we were slightly skeptical of the sugar cookie dog cologne scent, but it actually smells like a fresh batch of cookies out of the oven.

SEAMUS Sugar Cookie does require daily application, and it's not as long-lasting as some of the other options on our list. It leaves the dog's coat soft and sweet-smelling for hours.
The product is capable of deodorizing even the stinkiest of dogs. We applied it directly to our dog's coat and then used a slicker brush to spread it out. We recommend the SEAMUS Sugar Cookie spray, as it works for not only dogs but also other small animals in your home. If you're looking for a unique smelling dog sugar cookie cologne, this should be your choice!

The Bodhi Dog Natural Pet Cologne boasts all-natural and pet-friendly ingredients. The fresh baby powder scent is never overpowering, and it's just strong enough to be noticeable.
This product is made in America by a family-owned company with natural and locally sourced ingredients. We noticed many of our local groomers using this Cologne because the smell isn't too strong and mostly neutral smelling.
If being eco and pet-friendly is important to you, then the Bodhi Dog Natural Pet Cologne is the one for you. This product keeps your dog smelling sweet in between trips to the groomer, and you only need to re-apply every few days to keep your dog feeling soft and smelling great. 
This product is recommended for pet owners of multiple species as it is good for small animals and bedding in addition to dogs. Bohdi Dog Natural Pet Cologne comes in a small bottle, so you do need to replace it rather frequently.
Coming in at number four is the SPA By TropiClean Fresh Aromatherapy Spray for your dog. This product contains all-natural ingredients and boasts a fresh, clean aroma that also softens your dogs' coat and conditions the skin. This is a professional dog cologne used frequently by places like Petsmart and Petco.
SPA products are made in the United States. They are a  pet and eco-friendly blend of botanical to give your pet a fresh and clean feel and smell between trips to the dog groomer. 
The SPA spray comes in several fragrances to suit your taste, all of which are beneficial to your dog's skin and coat. We personally think this is one of the best smelling dog colognes on the market today. It's a neutral smell of slight cucumber, but it's not overpowering.
Additionally, the SPA Spray offers a one-gallon refill bottle to ensure you never run out. Some customers commented on the need to reapply the spray too frequently as the lighter fragrance disappears rather quickly. 
The last dog cologne on our list is the GotDog Timmy Holedigger Luxury Designer Pet Perfume. Customers love the manly scent and the play-on-words for a designer fragrance.
The signature scent is a strong dog cologne spray that lasts for days. It's a powerful scent and if you're a dog owner that's sensitive to perfumes and colognes, this may not be the product for you. The dog fragrance is slightly overpowering and it may take some time to get used to.
That being said, this dog cologne will keep your puppy smelling crisp and clean between visits to the groomer.
Be sure that you follow directions, as the GotDog product specifies that you should avoid applying anywhere the dog can lick it off. It comes in a 4 oz bottle that should last you a while. You'll have the best smelling dog in the room with this cologne!
How to Choose a Dog Cologne
Now we've come to the Buyer's Guide, where you can find out more about what you should be looking for when you're shopping for the best dog cologne that groomers use.
Smell
The main reason you shop for a dog cologne is a smelly dog. Let's face it, you want your dog to smell like they just came from the groomers every day. You have to purchase something that you can happily live with, that isn't going to irritate you, or your family. Choose scents that are not overpowering or too light. You want something that smells fresh and lasts a while.
Sensitive Skin
Look for the product that is easy on your puppy's skin. You don't want a product that contains irritants that might hurt your dogs' skin. Several of the products we're reviewing here are naturally sourced and eco-friendly. Hypoallergenic or UV protection is a plus when it comes to the best dog cologne. There are also some dog colognes used by groomers that will help moisture your dog's skin.
Can you put cologne on a dog?
Dog cologne is not the same as human cologne. If the cologne you use on your dog was formulated for humans, stop using it. Dog cologne is made for canines and other small pets. It should be free of alcohol parabens or other irritants that human fragrances contain. Dog's may lick human cologne, and it could hurt them if ingested.
If you're unsure, check with your groomer or veterinarian and take a look at the reviews above. Those products that are eco and pet-friendly usually contain ingredients that are beneficial to the dogs' skin and hair. Beware of products that don't make these claims and do a spot test on your skin before applying to your entire dog's coat. We want the best for our pets, so be careful to use only cologne for dogs.
What dog cologne does PetSmart use?
PetSmart offers a dog grooming service in their stores. If you take your dog to be groomed there, you may want to use the same products they do. PetSmart uses the Chi brand shampoos and also deodorizing spray. 
Chi has an entire line of dog grooming products that we did not review. Talk to your dog groomer to see what they use, and you might want to use it as well. Some PetSmart's will also use other dog cologne brands.
Is baby cologne safe for dogs?
The short answer is no. Not everything that is safe for human babies is safe for our fur babies. Many human products contain alcohol or are petroleum-based. Nothing that contains parabens or alcohol, or any petroleum base is healthy for your dog.
There are plenty of canine formulas available out there for you to make your dogs (and other furry friends) smell like they've just come from the groomer. You don't need to risk allergy or irritation by using some colognes that are not properly formulated to your dogs' needs. 
Conclusion for the Best Dog Cologne that Groomers Use
The bottom line is, if your dog smells bad and you want to do something about it, choose the fragrance that appeals to you. Ideally, you want a product that conditions and softens skin and coat. Additionally, you don't want the smell to be overpowering. Professional groomers will often have various dog colognes, so feel free to test a few out and decide which one you like best!
Other articles you will like:
Garrett loves animals and is a huge advocate for all Doodle dog breeds. He owns his own Goldendoodle named Kona. In addition, he volunteers at the Humane Society of Silicon Valley, where he fosters dogs and helps animals. Garrett enjoys writing about Doodles and believes that dogs can teach humans more about how to live than humans can teach a dog.
Why Trust We Love Doodles?
At We Love Doodles, we're a team of writers, veterinarians, and puppy trainers that love dogs. Our team of qualified experts researches and provides reliable information on a wide range of dog topics. Our reviews are based on customer feedback, hands-on testing, and in-depth analysis. We are fully transparent and honest to our community of dog owners and future owners.