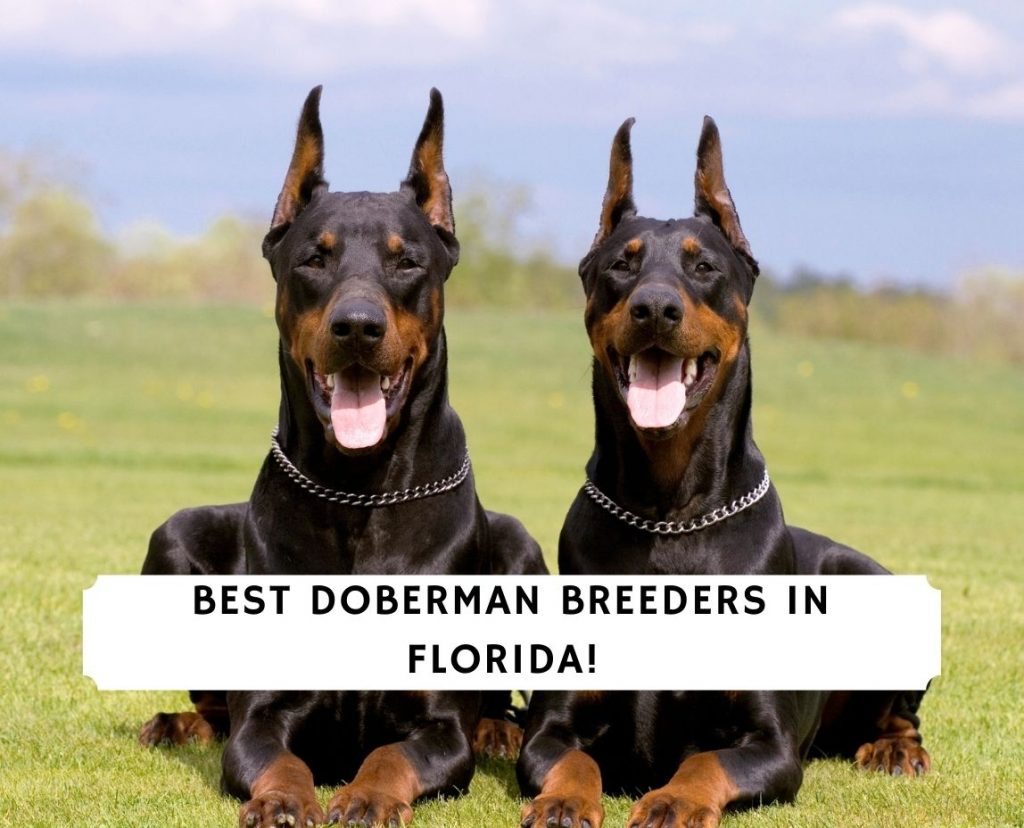 If you're looking for the best Doberman breeders in Florida, then you should learn a bit about this dog breed's neat history. Dobermans are originally from Germany. While their precise ancestry is unknown, they're thought to be a combination of numerous dog breeds, including the German Pinscher, Black and Tan Terrier, and the Rottweiler. These smart dogs are highly energetic, perform well in canine sports, do military and police work, and are also good family guardians. It's no surprise that Doberman puppies for sale in Florida are growing.
Breeding these dogs is rather easy because the breed is physically strong, adaptable, and very obedient. Moreover, they're low maintenance and typically have healthy litters. If you're looking to be a pet parent of this smart dog, check out this list of Doberman breeders in Florida.
Other articles you might like: Great Dane Breeders in Florida and Husky Breeders in Florida.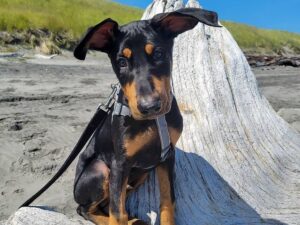 PuppySpot is a vast marketplace dedicated to future dog owners and a variety of ethical and reputable dog breeders. If you're searching for a Doberman puppy in Florida, then we highly suggest checking out PuppySpot. One of the reasons we recommend PuppySpot is its efficiency and how reliable it is. You'll save time from contacting breeder by breeder and asking them if they have puppies for sale. Additionally, chances are if you go with an individual breeder, they will have a long waitlist for one of their puppies
At PuppySpot, you can find a Doberman puppy you're comfortable with and the process is quick. You can utilize PuppySpot's features to find what you want for your Doberman. Whether you want a darker-colored coat or a brown-colored coat – the website is easy to navigate. You'll find what you're looking for with a search and a few clicks. We recommend checking out PuppySpot and checking out the currently available listings before continuing on your journey through each breeder.
We bought one of our puppies from PuppySpot and really enjoyed the entire process. We didn't have to wait a long time and PuppySpot flew our puppy out to us. All of the Dobermans that they sell come with a health check, health warranty, and a "no puppy mill" promise. 
Update: You can get $100 off a new Doberman puppy using our exclusive promotion code "WLD100". This code is only available to our blog readers.
PuppySpot Dobermans Details
2. Got My Back Dobermans Florida
This breeder focuses on breeding Dobermans of European heritage with continual emphasis on longevity, health, and temperament. Located in north-central Florida, the breeder concentrates on producing quality puppies for pet owners. The breeder's dogs are part of the family and serve as house companions.
They're also farm dogs who have sufficient room to run throughout the day while offering the needed moral support to get through the breeder's daily activities. Here, litters are kept to a respectable minimum, giving the adult dogs the attention and time required. It's also a chance to socialize their Doberman puppies in Florida appropriately.
The Doberman puppies are well trained not to fear loud or unusual noises and are exposed to other cats and dogs. Furthermore, the dogs have the freedom to play in a crate before being exposed outdoors when they're approximately four weeks old. From this point forward, they enjoy supervised outings and begin their journey to becoming confident and well-balanced Dobermans.
Got My Back Dobermans Details
3. AJT European Dobermans Florida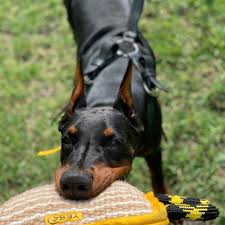 AJT European Dobermans breed Doberman puppies in Florida that excel at all kinds of activities meant for group dogs, including personal protection and conformation shows. The Doberman puppies from the breeder also serve as good family companions and therapy dogs. Here, dogs form part of the breeder's family from birth. The breeder raises the dogs in their home together with their young children. As such, Dobermans from this breeder are very social and tolerant when it comes to the pressure and demands of children and toddlers.
Whether you're seeking a dog because you want a guard dog for your personal or business protection, the breeder can provide a Doberman that will suit your needs. Expert temperament testing, crate training, socialization, and confidence-building take place at AJT before dogs leave for new homes. Additionally, their Doberman puppies in Florida obtain a solid foundation and as much exposure to enjoy a smooth transition into their new home.
AJT offers extra socialization and training, which include potty training, crate training, confidence building, and socialization. During training, the dogs learn necessary obedience commands and various obedience principles. Their Doberman puppies further learn name recognition and commands such as sit.
Additionally, their puppies are also exposed to various distractions while training so they can discover how to generalize some commands in whichever environment. In the Head Start program, all their Doberman puppies interact with new dogs and puppies daily. This is vital for their mental stability, confidence, and development. The program costs $6,600 and runs for 6 weeks.
AJT European Dobermans Details
4. Providence Dobermans FL
Situated in central Florida, this Doberman breeder strives to enhance the Doberman Pinscher breed as delineated by the American Kennel Club (AKC). The dogs live at the breeder's family home instead of kept in kennels. The breeder does this to ensure each dog feels like part of the family. The dogs have backyard access to play and run as this prepares them for their new homes. All the breeding Dobermans at Providence undergo full health testing which helps ensure you'll get a healthy puppy. 
All their Doberman puppies in Florida remain with the breeder until they become 12 weeks of age as this is necessary for their development. The time puppies spend with their mother and littermates prepares them for interaction with other dogs. Their Doberman puppies also face exposure to various stimuli, such as noise, and undergo various types of training, such as crate and potty. Early exposure helps desensitize the dogs. The breeders also test puppies for eyes, hips, kidneys, and heart.
Providence Dobermans Details
5. Wizard Dobermans Florida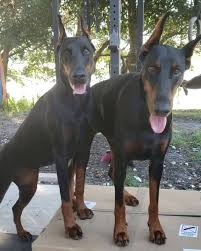 Founded by Viana Mollinedo, Wizard Dobermans breeds dogs for family homes or sport. The dogs train every Saturday and hike every morning. The Doberman breeder also offers various options to get your puppy home. You can visit in-person to pick up your puppy in Florida.
Another option involves transporting your puppy in a van or car. Alternatively, the Doberman breeder can bring your puppy to the nearest airport safely. In terms of health, the breeder sends puppies to new homes with a one-year health guarantee. Typically, the veterinarian microchips a puppy and you can take the health certificate, which comprises all shots.
The health guarantee covers that your Doberman puppy in Florida won't have any genetic defects. The breeder selects dogs carefully and imports them for purpose-breeding. It will cost you between $1,200 and $1,800 to get a dog within an approximated waiting period of six months.
Wizard Dobermans Details
6. Love of Dobermans Florida
The breeder keeps AKC-registered Dobermans in Central Florida, next to Orlando. Their puppies find new homes locally in Florida. The breeder raises puppies in a home setting where they make an excellent addition to the family. Love of Dobermans' owners, who have more than 10 years of breeding experience, breed Dobermans for longevity and love.
That's why the breeder raises the Doberman puppies in their home as a family member instead of in a kennel. The breeder also feeds puppies with quality food to make sure they leave the breeder's home healthy. The breeder's goal is to produce quality Dobermans with wonderful temperaments and outstanding health records.
Love of Dobermans Details
Website: Love of Dobermans FL
Location: Winter Springs, Florida
Phone: 407-461-5093
Contact: sharon@loveofdobermans.com
7. New England Dobermans
The family-owned breeding business breeds Dobermans for Florida residents. The breeder raises and trains quality puppies with protection skills, ambitious drive, and loving companions to Florida families. Their AKC-registered Dobermans come with a 2-year health guarantee. Working with this breeder implies you're guaranteed a healthy puppy that suits a Florida family. This Doberman breeder is licensed, passionate, and experienced. The breeder also prioritizes the safety and health of their puppies.
Whether you seek a dog as a family protector or simply a new family member, the breeder follows a thorough selection and screening process to ensure you get a suitable puppy and that it gets a loving Florida home. With over 15 years of experience, the breeder selects great sires and dams to obtain quality pedigrees. The breeder also socializes the puppies with adults, children, and other dogs.
Training
During training, rewards are given when dogs perform well or taken away when dogs show undesirable behavior. Their trainers work with a dog rather than command it. Animals learn the desired behaviors using rewards and, at the same time, learn that undesirable behaviors aren't tolerated. Trainers adopt positive reinforcement without implementing negative reinforcement. Dogs also undergo obedience training to allow communication between the would-be pet owner and the dog.
Obedience Training
Dogs learn fundamental commands such as sit, stay, come, and down. They also undertake E-collar training, which functions as an alternative for a leash. The training aims to enable the new pet owners to take part in off-leash events, knowing that the dog will stay at their side, follow commands, and remain under control.
Puppy Training: Dogs tend to be formative throughout their early months. This means the period is vital and is the best chance to develop good behaviors. It's equally the chance for owners to assert themselves as the Alpha. The program provides potty training, crate training, socialization with other people, as well as obedience basics.
and those training for different competitions. If you're keen on having a protection dog, the initial step should involve scheduling an appointment for an assessment, where decoys function to evaluate the dog's capacities.
Behavioral Modification: This program can work in tandem with obedience training or could stand alone and be accessible to dogs with a superior level of anxiety, aggression, or fear. Dogs undergoing this training will undergo socialization with the external world and exposure to other people, dogs, and the like. Canine professionals from New England Dobermans monitor the dogs to make sure the environment is safe for other dogs, the public, and the trainer. By integrating real-world training in numerous circumstances, a trainer will discover triggers while concurrently rectifying them. This program permits reliable results with a high success rate. Moreover, it benefits both the canine and the owner.
New England Dobermans Details
Conclusion For the Best Doberman Breeders in Florida
While various breeders exist, you must take care to choose a quality one that raises quality Dobermans with a great temperament. If you're seeking the best Doberman breeders in Florida, then this guide is a good place to start. In case you plan to purchase a Doberman puppy from a breeder without any reputation, we highly advise that you do your research. There are many puppy mills out there and we'd like to help prevent these types of unethical business from running.
If you're unsure of which dog breed to bring home as a companion, there are other Florida guides you can check out:
Sometimes, traveling can be out of the way for some people. If Florida seems like a long distance, there are other states you could check out:
To learn more about whether the Doberman dog breed is perfect for you, watch this video: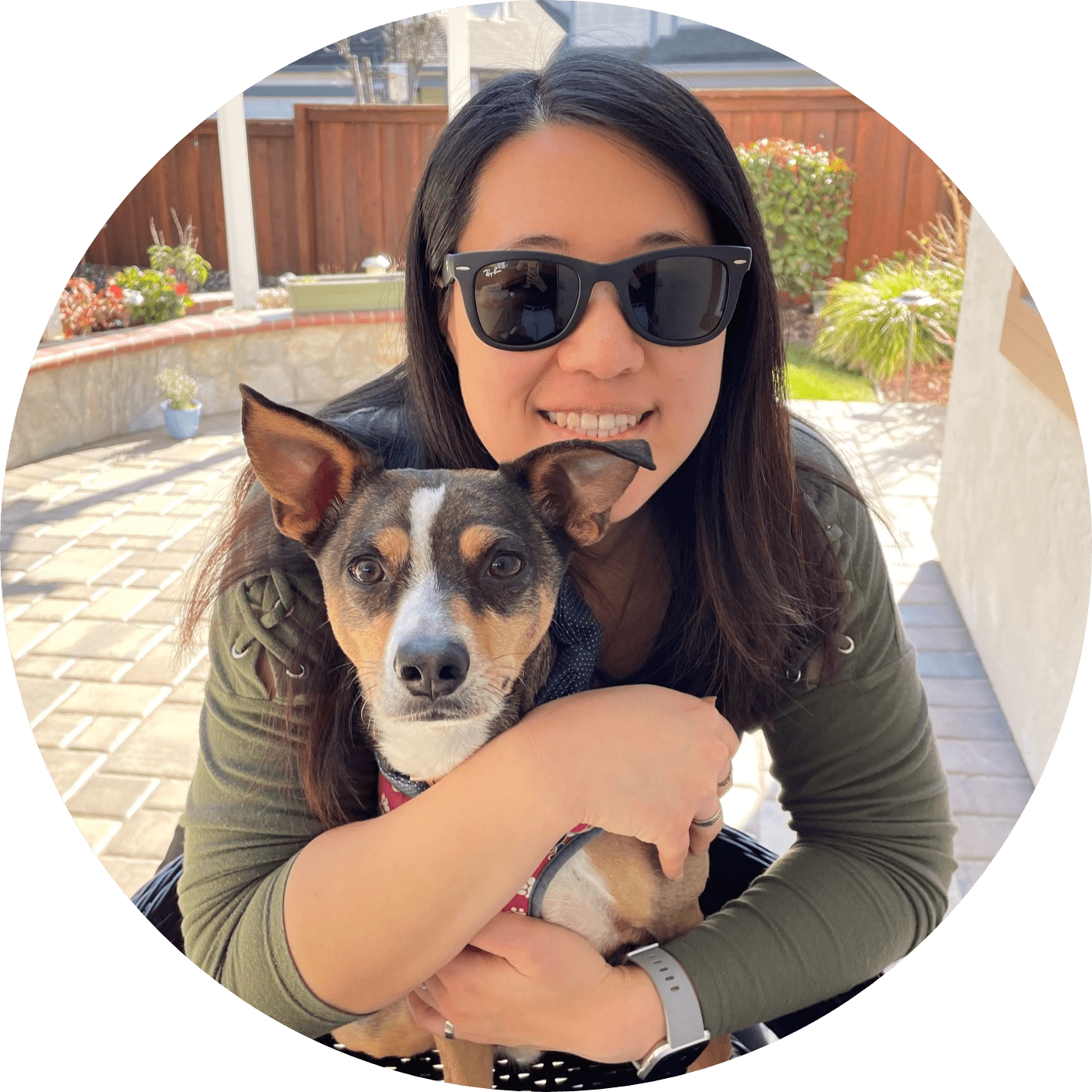 Dr. Sabrina Kong graduated from the Royal Veterinary College in England in 2016 and has been working at a small animal clinic in Northern California since then. She grew up in the Bay Area and got her bachelor's degree from Cal Poly San Luis Obispo. She also became a Certified Canine Rehabilitation Practitioner through a program at the University of Tennessee.
When she isn't in the clinic taking care of her four-legged patients, she enjoys traveling and trying new foods with her friends and her three-legged dog, Apollo. She adopted Apollo from her clinic when he was a puppy with numerous health issues. Dr. Kong truly cares about taking care of animals.