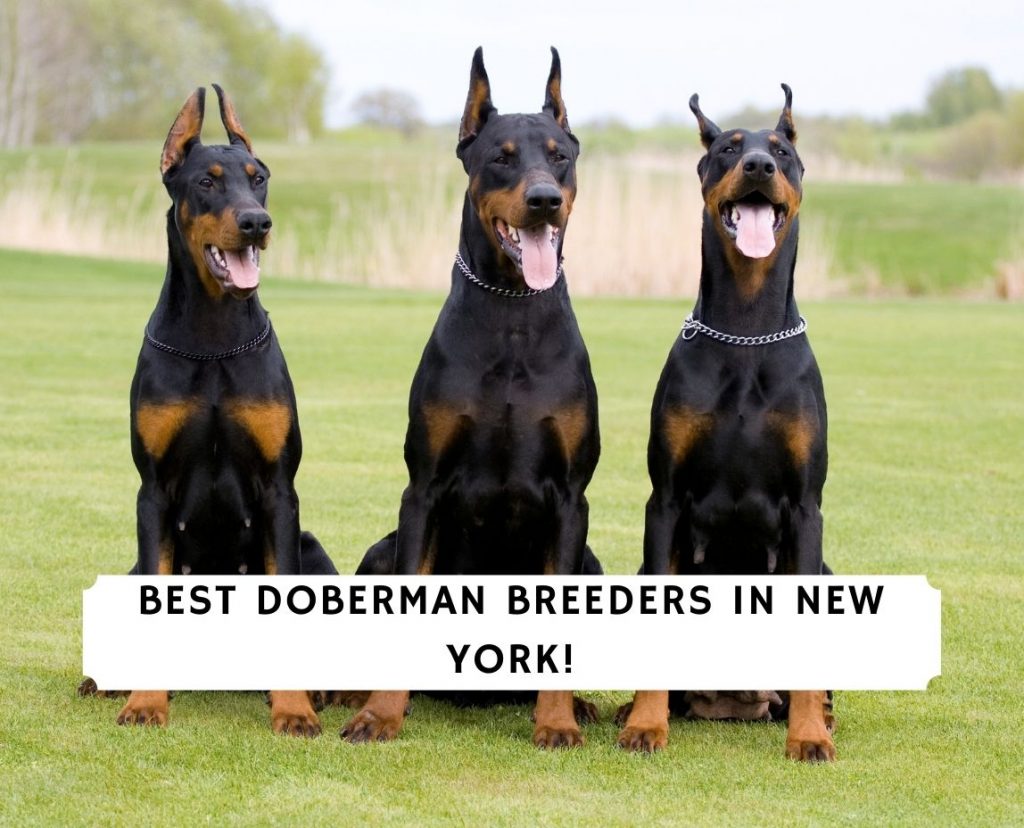 Before scrolling down this list of Doberman breeders in New York, here's a little knowledge about this dog breed to help you decide if you want one. The Doberman or Doberman Pinscher dog breed originated in the 1890s. The Doberman isn't a hypoallergenic dog but their affection and energy will rub on to you. Don't let its size fool you! Even though the Doberman can be a great guard dog for your home, it'll flood you and your family with never-ending love.
Check out these other articles: Dachshund Breeders in New York and Rottweiler Breeders in New York.
Doberman Puppies For Sale in New York
If you're planning to purchase a puppy from unknown Doberman breeders in New York, we recommend that you do your due diligence before putting down a deposit. There are many Doberman puppy mills and backyard breeders out there breeding dogs in unethical ways. You'll want to find a breeder you can trust who will sell you a healthy and happy puppy free of genetic diseases and well socialized.
1. Kevlar Dobermans New York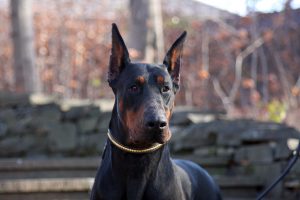 The first on the list of Doberman breeders in New York is Kevlar Dobermans. Kevlar Dobermans is a top breeder of show quality Doberman puppies located in the Saratoga area of New York. Kevlar Dobermans are bred for health, temperament & conformation. Their puppies produce beautiful show quality offspring and excellent family companions with impeccable 100% European breeding from a long line of Multi International Champions.
Kevlar fully healthy tests all of their dogs. Their mission is to improve the Doberman Pinscher breed and follow the DPCA Code of Ethics. Their Doberman puppies in New York are part of their family and are born and raised in their personal home with constant socialization from birth. One-third of a Kevlar Doberman dog's purchase price may be refunded if the Kevlar Doberman receives a Championship, CD, or CDX, or any of the 1, 2, or 3 Schutzhund titles. If three titles are earned, a 100% refund of the purchase price is available.
If the Kevlar Doberman purchased for the show is shown with concerted effort and proper handling and does not finish by the age of two-and-one-half years, return the dog and the AKC certificate kennel, and he will be replaced at no additional charge. If a Kevlar Doberman dies or is crippled by Distemper, Hepatitis, or Leptospirosis within twelve months of age, then you can return the AKC certificate and death/euthanasia certificate with microchip number documented on it. Kevlar will replace the puppy at no additional charge.
All their Doberman puppies for sale in New York leave Kevlar Kennels with Parvo and Distemper vaccinations. If an adopter allows a veterinarian to give any shots, except Rabies and Kennel Cough, it voids all guarantees in the first six months. Puppies have all its puppy shots except possible rabies and kennel cough. For full pricing, information on upcoming litters, or any other questions that may arise, contact Kevlar Dobermans directly via their email or phone.
Kevlar Dobermans Details
2. Raindance Dobermans New York
Raindance Dobermans is a breeder located in Windham, New York, dedicated to preserving the correct temperament, health, and conformation in the Doberman. They are not a kennel and their Doberman puppies live with them as members of their family. Raindance is active in Conformation with their Dobermans and is a member of the Doberman Pinscher Club of America. Each breeding decision is taken very seriously with Raindance and is discussed at length.
They consider everything about the dog breed and health is first and foremost. Temperament is their second priority, and confirmation comes in third as their three major pillars. Once Raindance has narrowed down suitable candidates, they then study conformation within pedigrees – not only of the potential stud dog but also of parents, grandparents, and beyond. Raindance wants to make sure they are not doubling on weak points and are realistic about knowing what can be fixed in one generation and what would take generations to fix.
Having a good grasp on pedigrees is invaluable. All Raindance Doberman puppies in New York have health testing done regularly, regardless of if breeding them or not. To adopt a Raindance Doberman, a questionnaire must first be filled out on their website. This helps make sure their dogs are going to the best possible homes they will be properly cared for. Once this is done, an adopter will be contacted with more information about deposits and waiting lists. Full pricing of Raindance Doberman puppies for sale depends on many things, including gender and parents. For more information, contact Raindance Dobermans via their website.
Raindance Dobermans Details
3. New England Doberman Puppies
New England Dobermans is a family-owned and operated breeder located in Massachusetts but servicing the New York area. They have experienced European Doberman breeders who take pride in their work that they have done for over 15 years. Not only do New England Dobermans choose great dams and sires for high-quality pedigrees, but they also take great care to socialize their puppies with children, adults, and other dogs.
New England Doberman dogs are family members who live in their personal house, roam, play in a large backyard and participate in family time where they get plenty of love and attention.
New England Doberman puppies look forward to being anyone's European Doberman breeders and helping find the perfect Doberman. Their top priority is the health and safety of their puppies. Whether an adopter wants a Doberman as a family protector, a show quality dog, or just a loving new member of the family, New England Dobermans follow a rigorous screening and selection process to make sure adopters get the puppy that is right for them, as well as the puppy, is going to a loving and caring home.
New England Dobermans puppies are AKC registered and come with a two-year health guarantee. To adopt a puppy from New England Dobermans, an interested party must contact them via the website or contact site. From here, New England Dobermans will contact the potential adopter with the next steps in the adoption process. For more information on pricing and upcoming litters, contact New England Dobermans via their website or call to make an appointment.
New England Dobermans Details
4. Dagobah Dobermans New York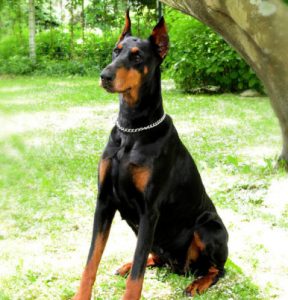 The last on the list of Doberman breeders in New York is Dagobah Dobermans. Dagobah Dobermans have been breeding Dobermans for almost 40 years. They are not big breeders and may only have one litter a year. They are members in good standing with the Doberman Pinscher Club of America and are long-time members of the local obedience club where each dog has gone for training.
Dagobah dogs have participated in obedience, rally, agility, tracking, therapy visits, dog walks to raise money for local shelters, and many other 4-H dog activities. Dagobah Dobermans love the Doberman breed for its versatility, loyalty, athletic ability, intelligence, temperament, and even the "protection dog." Dagobah Dobermans does numerous testing on their breeding dogs and puppies, including OFA for hip dysplasia, test for von Willebrand (vWD), thyroid, Canine Cardio BNP further Cardio testing on their breeding dogs.
Dagobah has participated in the ProjectDog for DVDob (Dings) in the breed. They have no "Z" factor (albino/white) in their lines or Wobbler's Syndrome. There is no guarantee, but Dagobah does as much to assure their next generation will be healthy.
Dagobah Dobermans are committed to maintaining communication with everyone who has purchased a puppy from them. They want to share their years of experience with new owners regarding health, training, ear posting, or any concerns that may come up for the dog's life. Dagobahasve arranged puppy reunions, play dates, dog walks, and training sessions either for groups or individuals to keep in touch with their puppies. They also offer to board for their "family" of Dobermans. Additionally, they enjoy having their puppies come back to stay with them.
Dagobah's Kennel has six dog pens so that the dogs can go outside as often as they like. The runs are covered and open into large play yards. The kennel is heated for winter boarding. Dagobah pups are born and raised in their personal home. They are carefully observed and handled daily in a clean, safe environment. In addition, they will be exposed to normal home sounds, the radio, vacuum, and many other noises.
All their Doberman puppies in New York are weighed weekly and have their nails trimmed. As they get to be 5-6 weeks of age, the puppies have lots of space to run and interact with each other. New objects are put in our puppy area for them to climb on or under and explore. At 7 weeks, each pup is given the Volhard Puppy Aptitude Test. This test helps make sure that each puppy is going to the home that best matches its energy level. Every puppy that leaves Dagobah has support from them for its lifetime.
Dagobah Dobermans want their adopters to feel free to call with any concerns, training issues, or ear posting help. If a potential adopter is interested in a puppy from Dagobah Dobermans, they must contact them via their website. With having only one litter a year, not many puppies are available. For more information on upcoming litters, pricing, deposits, and waiting lists contact Dagobah Dobermans directly via email or phone.
Dagobah Dobermans Details
Conclusion For The Best Doberman Breeders in New York

We hope this guide will help you bring home a companion from this list of Doberman breeders in New York. Here's a reminder to keep an eye out for Doberman puppy mills. Without a doubt, bringing home a companion introduces a whole lot of responsibilities. In the end, your Doberman will provide affection and protection and that's priceless. 
If traveling to these Doberman breeders in New York is a distance, you can check out recommendations from other states:
To learn more about the Doberman dog breed, watch "The Doberman – Fully Trained Protection Dog" from Animal Watch down below:
Garrett loves animals and is a huge advocate for all Doodle dog breeds. He owns his own Goldendoodle named Kona. In addition, he volunteers at the Humane Society of Silicon Valley, where he fosters dogs and helps animals. Garrett enjoys writing about Doodles and believes that dogs can teach humans more about how to live than humans can teach a dog.
Why Trust We Love Doodles?
At We Love Doodles, we're a team of writers, veterinarians, and puppy trainers that love dogs. Our team of qualified experts researches and provides reliable information on a wide range of dog topics. Our reviews are based on customer feedback, hands-on testing, and in-depth analysis. We are fully transparent and honest to our community of dog owners and future owners.