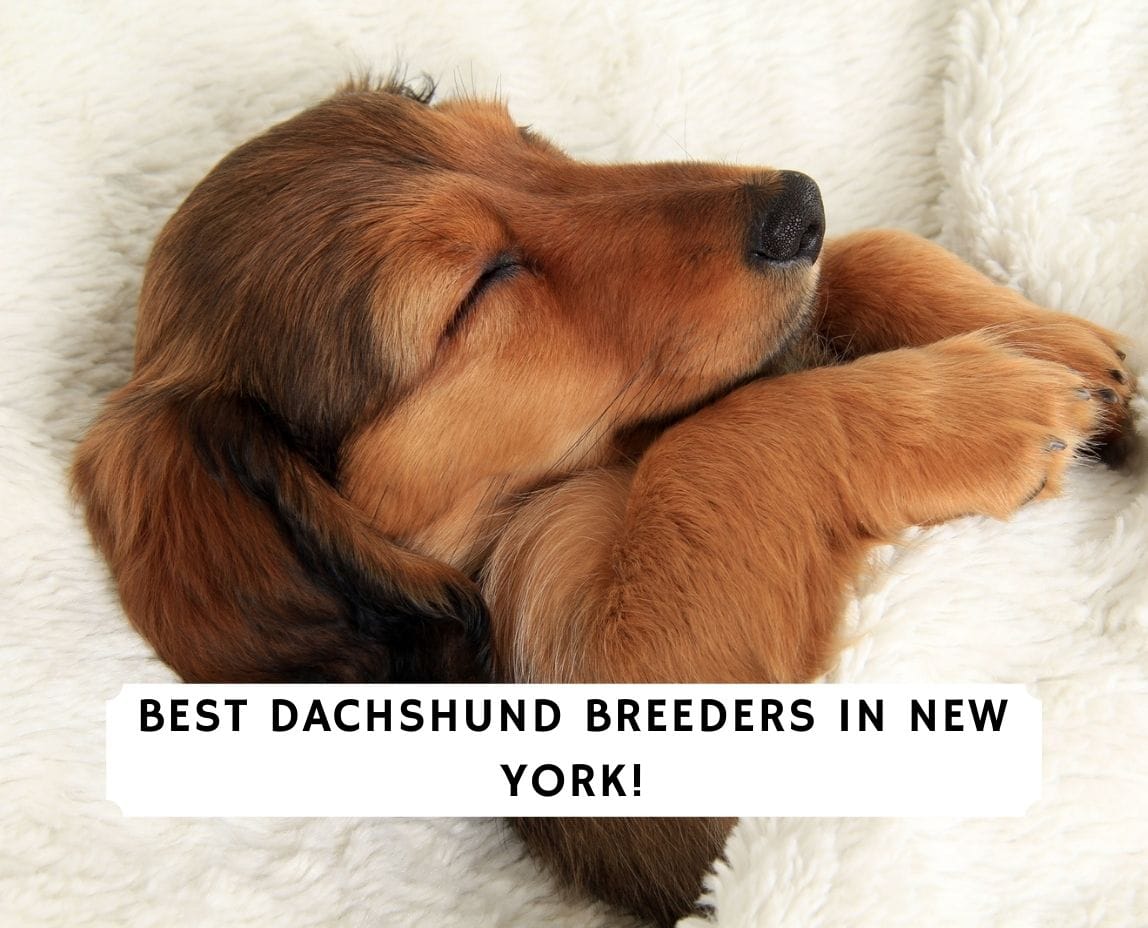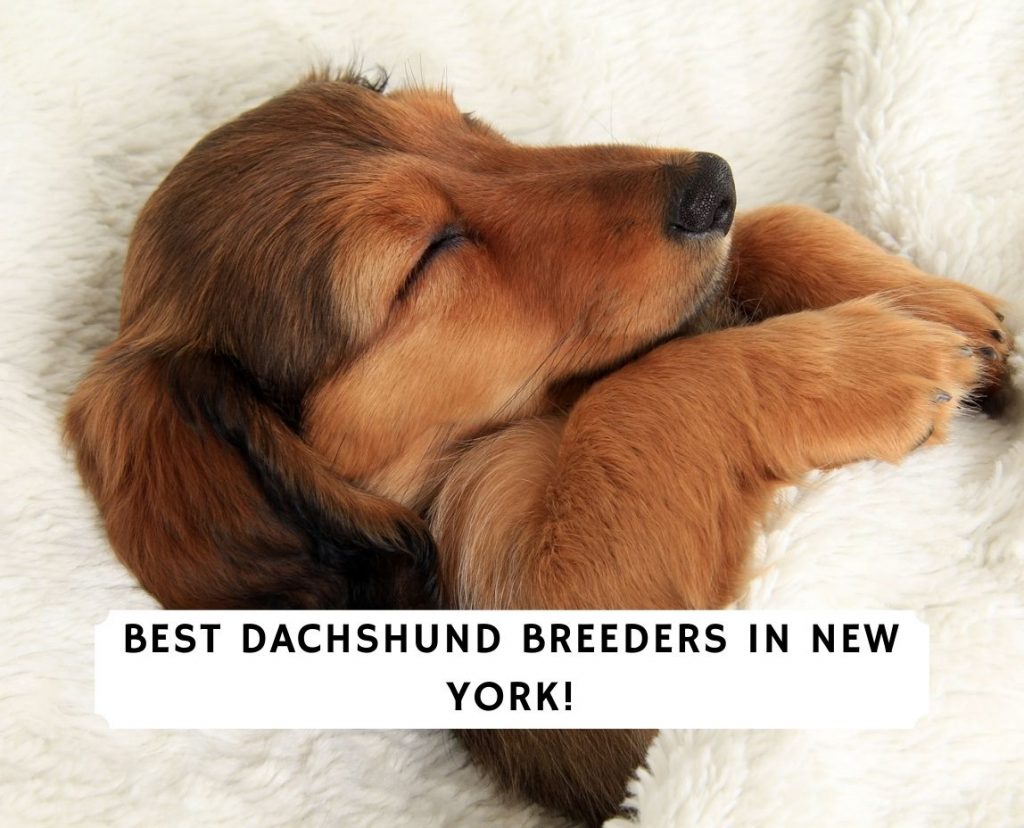 Are you looking to find Dachshund breeds in New York? If so, you have come to the right place. Dachshund puppies are some of the cutest, relaxing, and beautiful multi-color dogs in the world. It's no surprise why the American Kennel Club ranks the Dachshund as the 12th most popular purebred dog!
We understand that there are many Dachshund puppies for sale in New York and you will need to do a lot of research to find a reputable breeder. Hopefully, our list can help narrow down your choices! Without further ado, here's our list of the best Dachshund breeders in New York.
Other articles you might like: Labrador Breeders in New York and Corgi Breeders in New York.
PuppySpot is the top Dachshund breeder on our list because they are revolutionizing the way people buy puppies. You no longer have to wait on a puppy waitlist to get a dog and you won't have to screen through dozens of different breeders. PuppySpot has Dachshund puppies for sale today and they screen all the breeders for you.
Since PuppySpot is a community of ethical dog breeders, you can sort for your perfect Dachshund based on coat color, age, price, and gender. You can also purchase a puppy today and PuppySpot will fly them out to you in New York.
PuppySpot screens all breeders with a 100 point inspection and weeds out over 90% of the applications. They verify that all Dachshund breeders are USDA and state-approved which helps weed out all puppy mills. It's one of the most strict compliance and screening processes to help ensure that you get a healthy and happy Dachshund puppy.
We got one of our puppies from PuppySpot and highly recommend them. They have sold over 220,000+ puppies and are supported by the American Kennel Club. We have nothing but great things to say about them.
Dachshund Breeder Details
2. Dikerdachs Kennels New York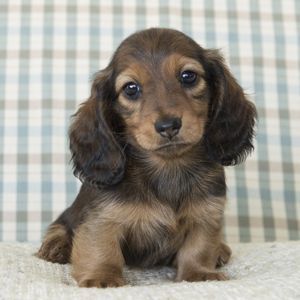 Started in 1991, Dikerdachs Kennels is an American Kennel Club (AKC) registered breeder located in New York City, New York. They are known for breeding show Dachshund puppies and selling miniature long-haired Dachshund puppies.
Dikerdachs believes in careful breeding, precise care of the mother in whelp, and professional care of the new puppies from the time they are whelped until they are weaned and placed in specially chosen homes or prepared for a show.
Their reputation has been built on breeding for perfect health, outgoing, affectionate personalities, and exceptional conformation Dachshund puppies in New York. Because of this, they have earned the title of AKC Breeder of Merit which ensures that they are a reputable breeder. Their Dachshund puppies are raised by hand, well socialized, and paper-trained by the breeder in their personal home.
To adopt a Dachshund puppy from Dikerdachs Kennels, an application must be filled out on their website. If they see that one of their puppies is a good fit, they will be in touch with the potential adopter. Dikerdachs wants their puppies only going to the best possible homes which is why they are rather selective. For pricing and more information, contact Dikerdachs directly via their website.
Dachshund Breeder Details
3. Adirondack Miniature Dachshunds NY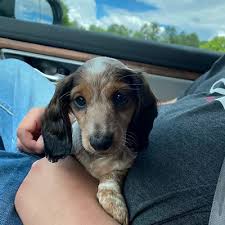 Adirondack Miniature Dachshunds is a breeder located in a small town in the countryside of upstate New York. It is here where they raise dapples, piebalds, sables, dilutes, solids, brindles, English creams, and red Dachshund puppies of show quality.
All their Dachshund lines have been champions in the show ring in their past. They breed to improve the doxie breed and only do so after extensive research, DNA testing, paneling, and checking pedigrees. Thus, you can ensure that your Dachshund puppy for sale in New York will be healthy.
Adirondack Miniature Dachshunds offer a 1-year genetic health guarantee on every single puppy. They know and trust their lines to know they are breeding healthy doxies.
All their dogs are registered with the American Kennel Club as is every single litter. Although they do not provide full registration papers to everyone, limited registration is provided with all of them including a spay and neuter contract.
All Adirondack dogs are pedigreed, and DNA tested, so adopters know they are receiving a purebred Dachshund. Additionally, all puppies leave Adirondack and head to their new homes with current vaccinations, worming, and started on heartworm and flea prevention if age-appropriate.
The health of doxies and puppies is of the utmost importance to Adirondack, and they do everything they can to keep them healthy while they are in their care.
Adirondack Miniature Dachshunds reserves the right per their contract to repossess any puppy at any time following the sale if the buyer is discovered to be in violation of the contract after taking possession of the puppy.
Adirondack reserves the right to refuse to sell any adopter a puppy. They only accept deposits from those who have contacted them, filled out an adoption application, has been approved to adopt, and have signed a sales contract. They like to make sure that each family will be a good fit for their Dachshund puppies in New York.
All deposits made are to hold a puppy and go towards the final purchase price of a puppy. They begin taking $400 non-refundable deposits for their Dachshund puppies for sale once they are priced at 2-3 weeks of age. It is also $200 for those on the waiting list. Full pricing of Adirondack Miniature Dachshunds may vary so contact them directly for pricing and any other information.
Dachshund Breeder Details
4. Walton's Dachshunds New York
Walton's Dachshunds is located in rural Western New York. They are breeders of AKC miniature and small standard Dachshunds in most colors and patterns and all three coat types. Walton's puppies are raised in their personal home in a warm, loving environment with lots of attention and affection from all members of their family.
They strive to provide adopters with an adorable, healthy, playful puppy that will be a treasured member of their family for many years to come. Walton's is fully compliant with the American Kennel Club, and they are licensed by the New York State Department of Agriculture and Markets.
Walton Dachshunds believe what sets their dogs apart is the great lengths they go to with making sure the parent dogs are of the highest quality. They look for great temperament and excellent conformation that mom and dad can pass on to the puppies.
In that endeavor, Walton's have retained several generations of their original line in addition to bringing in excellent lines that other conscientious breeders have developed.
All Dachshund puppies in New York leave the Walton home with a health certificate provided by an NYS licensed veterinarian, vaccinations of Progard 5 at age-appropriate intervals, and have been dewormed with a mild puppy wormer.
Their Dachshunds in New York also leave with a puppy food starter kit provided by Royal Canin and a soft toy or blanket that carries the scents of their littermates and their mother to help ease the transition into their new home.
Puppies are sold with limited AKC registration and Walton's does not ship their dogs. Thus, if you're out of state, you will need to come to pick up your puppy in New York. Sales tax is included in the price of each puppy. The current purchase price of one of their Dachshund puppies for sale in New York is $900.
Dachshund Breeder Details
Address: 4738 Wolcott Rd.Gainesville, NY 14066
Phone: (585) 322-7712
Email: kim@waldox.com
Website: Waltons Dachshunds NY
5. Harlequin Dachshunds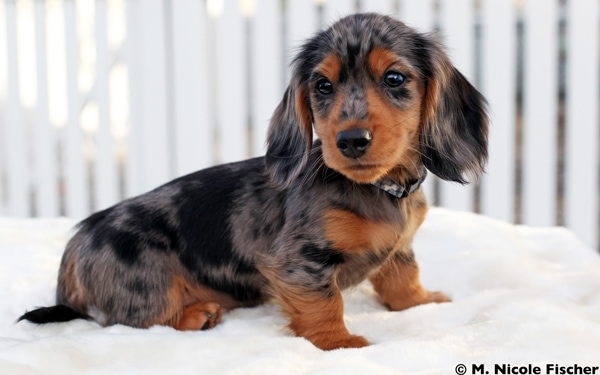 Though not located in New York (they are close by in New Jersey) Harlequin Dachshunds have been breeding beautiful and healthy AKC miniature long-haired Dachshunds for over 20 years. For what it's worth, they are one of the oldest Dachshund breeders on our list and service the New York area. They strive to produce the best quality doxies in conformation, intelligence, and temperament.
Their dogs are outgoing and eager to please, as they have been socialized in a home environment from the earliest days of their lives making sure the dogs have excelled not only in AKC Conformation events but in performance competitions including agility and obedience.
Harlequin Dachshunds, in addition to sporting award-winning bloodlines, also have had several of their Dachshunds certified by Therapy Dogs International as therapy dogs. Not only are these dogs well-behaved for petting and handling but they have successfully presented elementary school and senior daycare assemblies, using their skills from agility and obedience to thrill audiences. Harlequin doxies have also enjoyed participating with children in "Paws to Read" programs offered at local public libraries.
To be considered for adopting one of their Dachshund puppies, a deposit must be paid to be placed on a waiting list. They are choosey about adopters and will ask many questions to make sure their dogs are going to the best possible homes where they will be properly cared for.
For more information about Harlequin Dachshunds, pricing as well as upcoming litters, visit their website or contact them directly via email.
Dachshund Breeder Details
6. The Left Paw New York
Located in New Hyde Park, New York, The Left Paw sports many puppy breeds available, including Dachshunds. They take care to make sure adopters are getting the best possible pets and have a veterinarian come in weekly to ensure each dog has appropriate vaccinations and is kept healthy until they head to their new home. The Left Paw keeps records on each of their dogs, documenting every vaccination and whatever else is given to their dogs.
Adopters can visit The Left Paw in-store to see their pets, though it is by appointment only. Pricing for their Dachshund puppies in New York depends on size, color, and gender. They do offer a financing option to help their dogs find new homes. For full pricing and any other information contact The Left Paw via their website or phone. It should be noted that they aren't a Dachshund breeder, but instead source their puppies from around the state.
Dachshund Breeder Details
Address: 411 Jericho Turnpike, New Hyde Park, NY 11040
Phone: (516) 305-4220
Website: The Left Paw
7. AKC Dachshund Puppies
Note (2/8/2023): We can no longer recommend this dog breeder. Please see the statements here and here.
AKC Dachshund is a breeder from Orange County, New York. They believe every puppy is unique and deserves to be treated as such. They see it as particularly important to speak with each potential adopter to make sure one of their Dachshund puppies will be a good fit.
All their dogs and puppies receive the best in-home health care and veterinary care. Their Dachshunds all receive appropriate vaccines and all drink from an eight-thousand-dollar water purification system, helping to make sure they grow in the healthiest conditions possible.
AKC Dachshund provides their puppies with a three-year health guarantee in writing, two sets of vaccines, and deworming. All their Dachshund puppies in New York will go to their new home with a custom puppy kit that includes all the basic supplies aside from a crate.
Approved owners can also get AKC papers for their puppies if they are approved breeders. AKC Dachshund is a private home-based breeder who is not a kennel. They specialize in the quality of their puppies and not the quantity. All their Dachshunds are special because they all come from AKC champion bloodlines. Their dogs are their life and will take them back at any time for any reason.
AKC Dachshund does not ship their puppies but will deliver them around the New York area. For full pricing, delivery, and any other information, contact them directly via their email or by phone.
Dachshund Breeder Details
Conclusion for Dachshund Breeders in New York
Dachshund puppies in New York are on the rise. This small dog breed works well in smaller environments like an apartment or condo which is why you'll see these dogs all around the city. We know that one of the hardest steps is finding reputable Dachshund breeders in New York. Dogs are a big investment and their health starts at the breeders. We hope that we helped you make a choice!
Other articles you would like: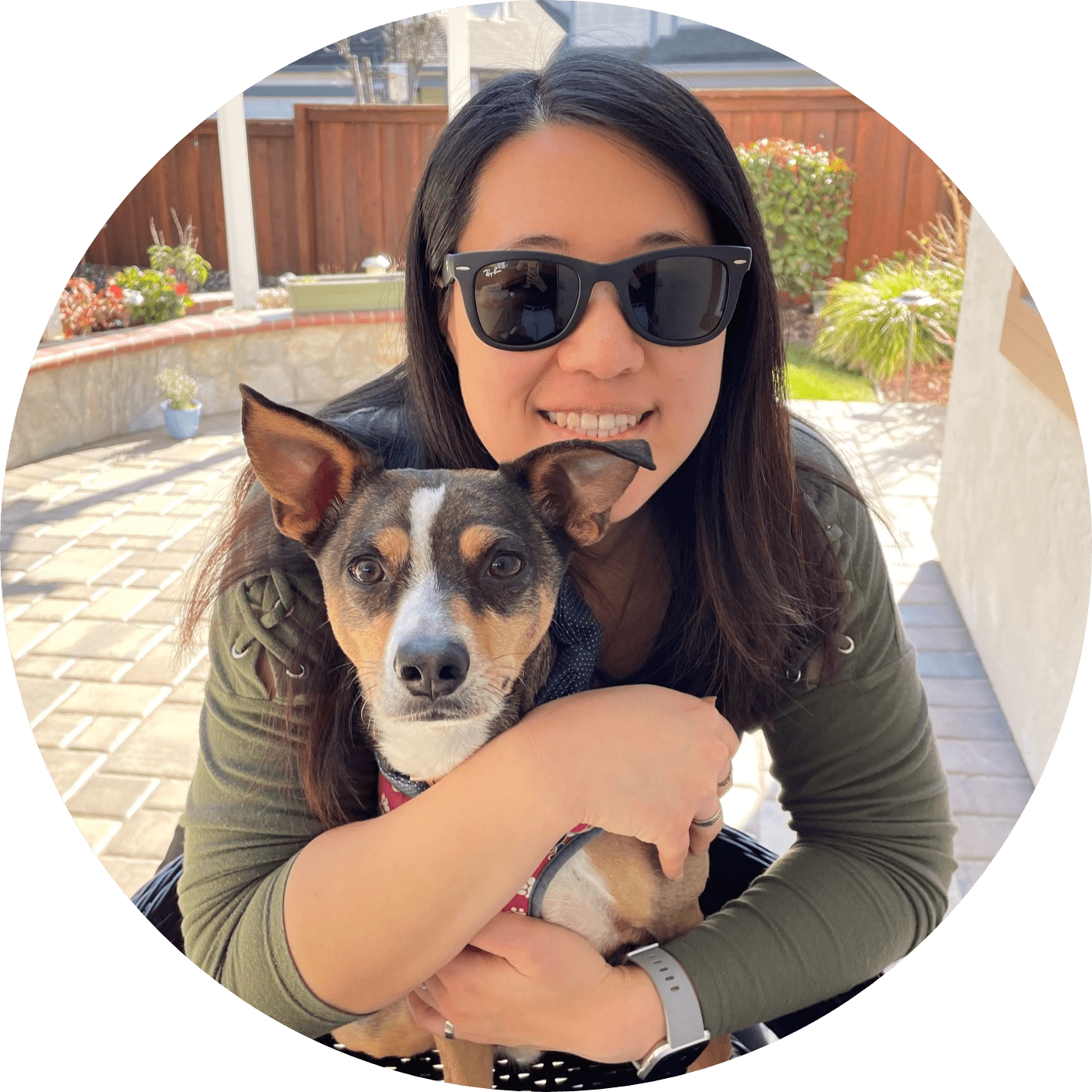 Dr. Sabrina Kong graduated from the Royal Veterinary College in England in 2016 and has been working at a small animal clinic in Northern California since then. She grew up in the Bay Area and got her bachelor's degree from Cal Poly San Luis Obispo. She also became a Certified Canine Rehabilitation Practitioner through a program at the University of Tennessee.
When she isn't in the clinic taking care of her four-legged patients, she enjoys traveling and trying new foods with her friends and her three-legged dog, Apollo. She adopted Apollo from her clinic when he was a puppy with numerous health issues. Dr. Kong truly cares about taking care of animals.