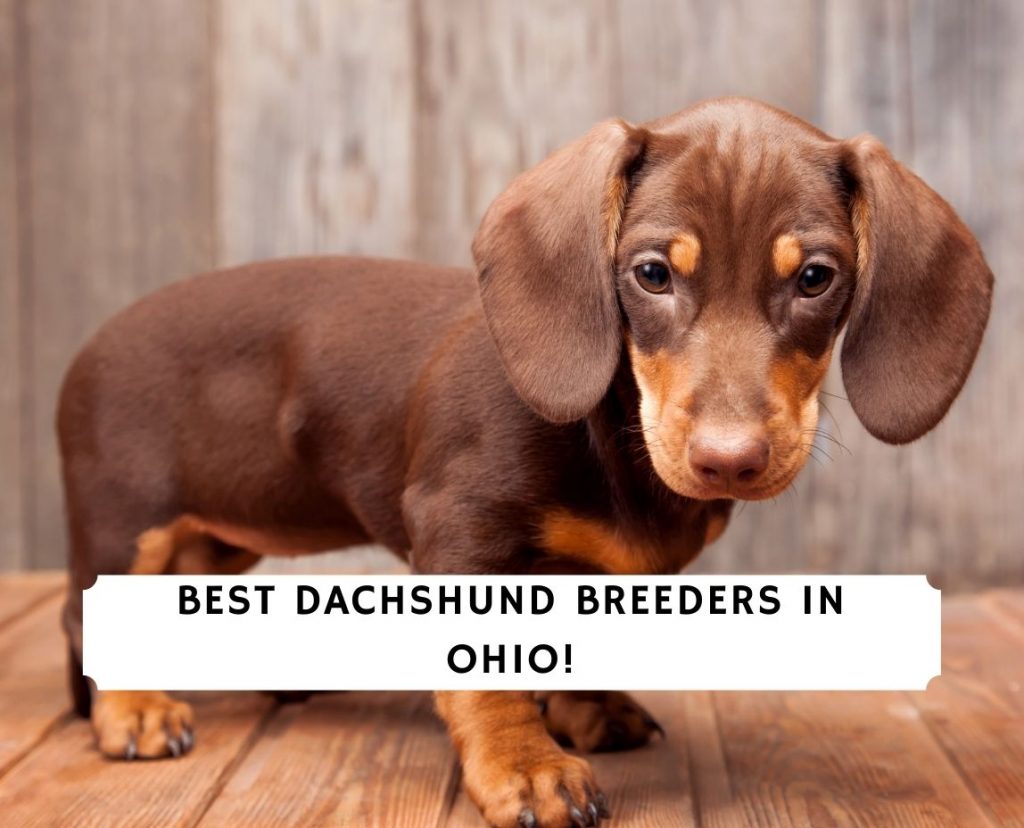 If you're looking for Dachshund breeders in Ohio, then you probably know that the pups are also known as 'Sausage Dogs.' Dachshunds are famous for their long bodies and short legs. These bold, low-to-the-ground creatures walk with confidence and are extremely intelligent, with facial expressions that always seems alert. A Dachshund puppy packs a lot of spunk and has a huge personality for such a small hound dog. It's no surprise that you'll see tons of Dachshund puppies for sale in Ohio.
Looking for a Dachshund puppy and caring for one can be super exciting, but you'll need to do a ton of research to make sure that the breeder is trustworthy and reputable. We created a list to help you narrow down some of your options.
Other articles you would like: Poodle Breeders in Ohio and LabraDachshund Breeders in Ohio.
Dachshund Puppies For Sale in Ohio
If you're purchasing from unknown Dachshund breeders in Ohio, we recommend that you do your due diligence before making any financial decisions and putting down a deposit. We saw many backyard breeders and puppy mills that are selling cheap puppies that aren't going to be healthy or socialized. With that aside, here's your list of the best Dachshund breeders in Ohio compiled by our team.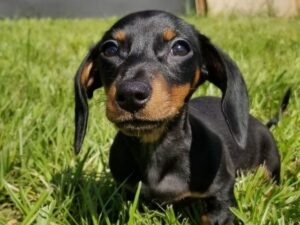 We understand that finding the perfect Dachshund puppy in Ohio can be challenging. You're likely not sure where to start or how to approach breeders. With PuppySpot, the process is simplified and everything is much easier. You'll avoid the unnecessary long waiting lists and will have your Dachshund puppy running around your home very soon! That's because PuppySpot relies on a network of reputable breeders that are backed by the American Kennel Club.
With PuppySpot's search tool, you can filter out breeders with puppies that are 8 weeks old or older. Additionally, you can filter out certain genders, coat colors, and find Dachshund puppies that are ready to travel. If you're still opened to different types of dog breeds or you're unsure you want a Dachshund, you can also take a quiz that'll help you find a compatible puppy companion.
With over 8,000 five-star reviews from families around the country, we highly suggest checking out the website to see for yourself. If you can't find what you're searching for after clicking on the link below, feel free to continue down this list of Dachshund breeders in Ohio. We had a great experience with them when we got our first puppy.
PuppySpot Dachshunds Details
2. Mom's Dachshunds Ohio
Next on the list of Dachshund breeders in Ohio is Mom's Dachshunds. These breeders are known for raising beautiful and smart AKC miniature, short and long-haired Dachshund puppies. They are a great resource when you're looking for puppies with distinct patterns and colors, including cream-colored Dachshunds. This breeder is particular about its puppies' and adult dogs' overall well-being. Potential owners can check for puppy availability on Mom's Dachshunds website.
As the puppies and dogs are bred, prioritizing good temperament and health is the top priority. They live with the owner, MaryAnn, and receive TLC from her and her family, making them social and happy puppies.  Mom's Dachshunds usually allows visitation for the puppies so long you make an appointment ahead of time. Talk to them about whether policies have changed.
At the time of your visit, you will receive a two-year genetic health assurance with a nine-week-old Dachshund puppy who's been vaccinated and dewormed by a trusted veterinarian.
In case your veterinarian discovers any fatal illness, the breeder can provide another Dachshund puppy of the same sex and type, which is subject to availability, as soon as the buyer shows a letter from the veterinarian about the puppy's case.
Mom's Dachshunds Details
3. Creekside Doxies OH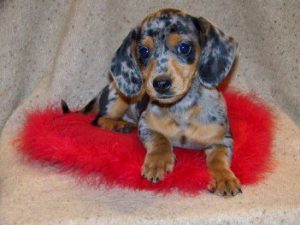 Located in Chillicothe, Ohio, Creekside Doxies has a wide variety of miniature Dachshunds puppies for sale with long and short hair. The colors range from piebalds to solids to dapples to dapple piebalds and English Creams. If you are interested in getting a particular color, chances are Creekside Doxies has it!
When you get your new Dachshund from this breeder, you will also get a health guarantee, assuring you of your new family member's well-being. All their Dachshund puppies for sale in Ohio are checked by their trusted veterinarian, dewormed, and are UTD vaccinated. They also have their dew claws removed.
Creekside Doxie's priority is breeding for excellent quality and not for quantity. Their puppies get due attention to temperament, health, conformation, and lots of love and care. They are ready to socialize in their forever homes with their new families and their friends. 
Creekside Doxies Details
4. Doxiepaw Kennel Ohio
Doxiepaw Kennel is one of those smaller kennels that have few litters every year. Because of their small size, they can give a lot of TLC to each puppy and ensure that each is healthy and of the highest quality. This kennel raises miniature long-haired Dachshund puppies in Garrettsville, Ohio, that have great personalities and excellent temperaments. The dogs are raised in the owner's home and are personally handled by her from birth until the release day comes.
This small home breeder is located in Northeastern Ohio, between Warren and Cleveland. Since there are a limited number of puppies each year, it would be good to check Doxiepaw Kennel's website to check if puppies are available. Get in touch with Doxiepaw Kennel today using any of these communication channels:
Doxiepaw Kennel Details
5. Honeyman's Miniature Dachshunds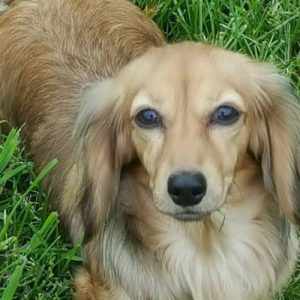 The last on the list of Dachshund breeders in Ohio is Honeyman's Miniature Dachshunds. When you get your future miniature Dachshund from Honeyman's, you can buy with confidence. Their Dachshund puppies are 100% well-bred, beautiful, healthy, and well-socialized. That ensures that your short or long-haired Dachshund will thrive in his new home.
Honeyman's Miniature Dachshunds is a small, family-oriented hobby and show breeder in Ohio. Focusing on their puppies' overall quality, they have only 2-4 liters annually, as they are keen to share the joys of owning a quality dachshund with other families.
Dachshunds from this breeder have wonderful temperaments and are bred for a lifetime of love and cuddles! Because they grow up in a loving home, surrounded by children and their dogs, they are socialized early. They are also fully housebroken. To further boost your buy-in, Dachshund puppies from Honeyman's received their age-appropriate vet examinations, deworming, and vaccinations before they get released to their new parents.
Adult Dachshunds also get their annual vet exams and all necessary vaccinations, including the monthly heartworm preventative doses. This breeder understands that a Dachshund joining your family is not just a pet but also a new family of your member who will be with you every step of the way. If you are ready to have your very own Dachshund, connect with Honeyman's!
Honeyman's Miniature Dachshunds Details
Dachshund Dog Breed Info
Food and Nutrition: You must ensure that your Dachshund puppy does not put on excessive weight. The Dachshund's long back makes him prone to back issues, and extra weight will exacerbate this risk. For instance, ruptured, herniated, or slipped discs can occur. Feed them only veterinarian-recommended food and keep table scraps away. The occasional treat is okay.
Grooming: How you groom your fur baby depends on your dog's coat type. The short-haired Dachshund puppies in Ohio need little more than a toweling down, whereas the long-coated ones require regular brushing to keep their coats shiny and mat-free. Hand-stripping or plucking the wire-haired ones' coats as many times as you can in a year is recommended. All Dachshunds' nails need to be trimmed or clipped every month.
Exercise: Two daily walks will ensure that your pet builds strong muscles, needed to support its long back. Mind the exercise you choose, though.  Prevent them from jumping off furniture and running up and down the stairs, as these can cause them spinal injuries.
Training: The Dachshund's intelligence, stubbornness, and independence make training a challenge. They do not respond well to angry commands or punishments. Be patient and reward them while training.
Health: Dachshund puppies are a healthy breed and can live from 12 up to 16 years with good care.  Supervise their activities and keep them in the breed's ideal weight to protect their backs from getting injured. As they have floppy ears, they need regular ear cleaning to keep infections at bay. The health tests for Dachshunds are patella evaluation, ophthalmologist's evaluation, and a cardiac exam. 
More Information About Dachshund Puppies
This breed's name, Dachshund, means 'badger dog' in German. It has a rich and long history in Germany, going back as far as 600 years. As the name suggests, Dachshunds were developed to eagerly dig through and make their way to badger burrows and get rid of the occupants. The breed's long and low body is meant to do this muddy subterranean work. Aside from shooing away badgers, Dachshunds are well known for their noses and superb hunting spirits, being hound dogs. Small and low-built canines are well-suited for below-the-ground tasks and for beating down small bushes.
Muscular and with pliable, elastic skin, you can count on this little rascal with its deceiving big-dog bark to be your home's reliable watchdog. Dachshunds come in two sizes and have three coat types. You have the standard that usually weighs 16 to 32 pounds and the miniature that is 11 pounds or less. Dachshunds can either be smooth, long-haired, or wire-haired and red is the most common coat color. The other colors they come in are various tan combinations, cream, and black
Dachshunds' future pet parents must bear in mind that the dogs aren't built for strenuous activities like leaping, distance running, or swimming. Other than these, they are a game for anything. Bred to be independent hunters of different prays – dangerous ones included – you can expect your short fur baby to be 100% brave to the point of impulsiveness and stubbornness. But with its enduring nature and cute looks, many dog owners fall in love with this breed, and potential dog owners shortlist it when considering adding another member into their families.
Conclusion For Dachshund Breeders in Ohio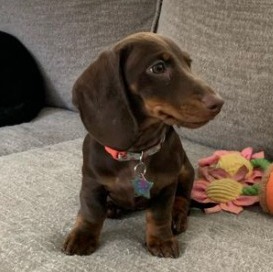 Now that you know what to expect when you adopt a Dachshund, be it a standard or a miniature, short or long-haired, choosing one as your first or next puppy could be the right decision. We hope this list of Dachshund breeders in Ohio will help you bring home a new companion to begin a new chapter in your life.
If traveling to these Dachshund breeders in Ohio is a distance for you, we have recommendations from other states that you should check out:
To learn more about the Dachshund dog breed, watch "Owning a Dachshund: The Pros and Cons" from Holly Obee down below: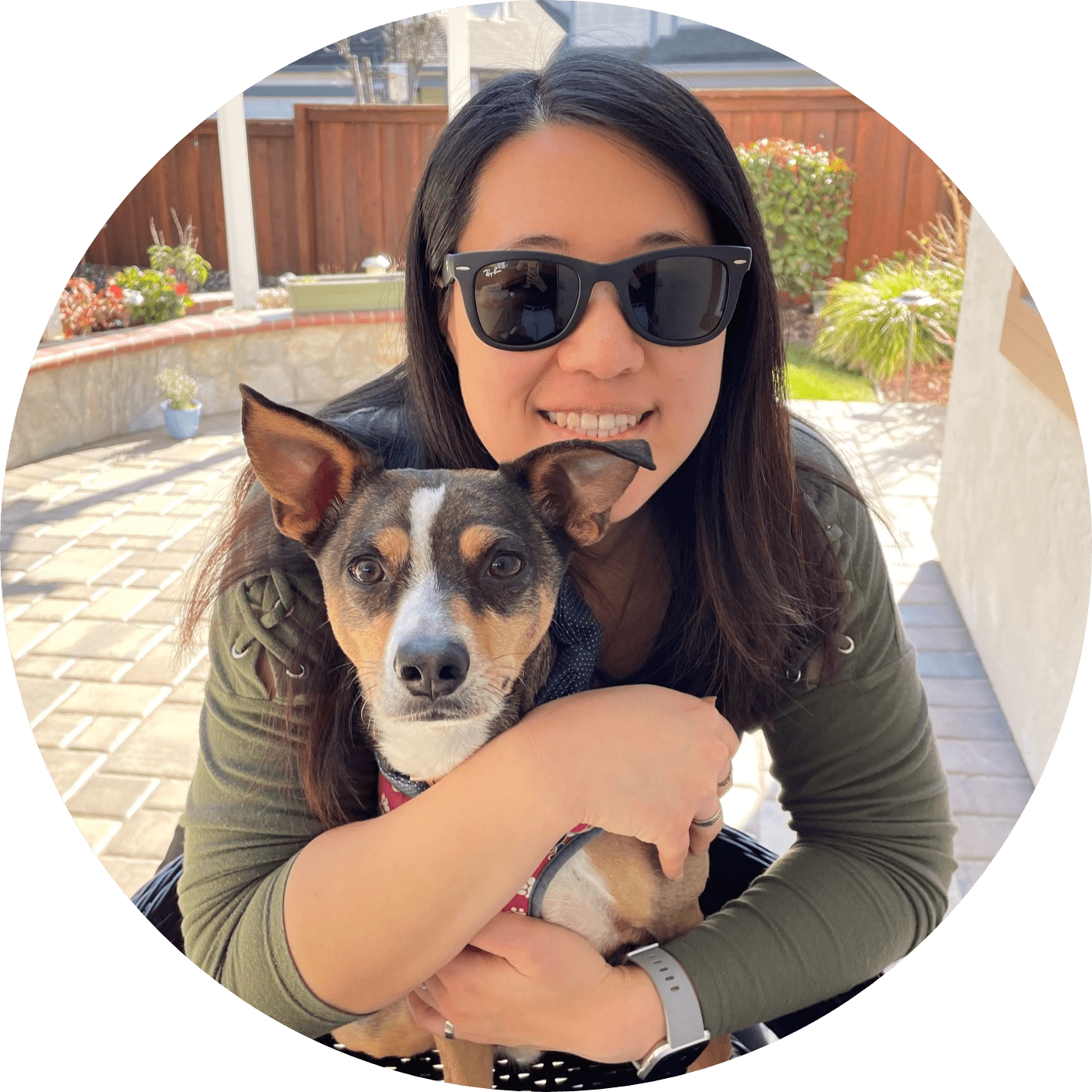 Dr. Sabrina Kong graduated from the Royal Veterinary College in England in 2016 and has been working at a small animal clinic in Northern California since then. She grew up in the Bay Area and got her bachelor's degree from Cal Poly San Luis Obispo. She also became a Certified Canine Rehabilitation Practitioner through a program at the University of Tennessee.
When she isn't in the clinic taking care of her four-legged patients, she enjoys traveling and trying new foods with her friends and her three-legged dog, Apollo. She adopted Apollo from her clinic when he was a puppy with numerous health issues. Dr. Kong truly cares about taking care of animals.