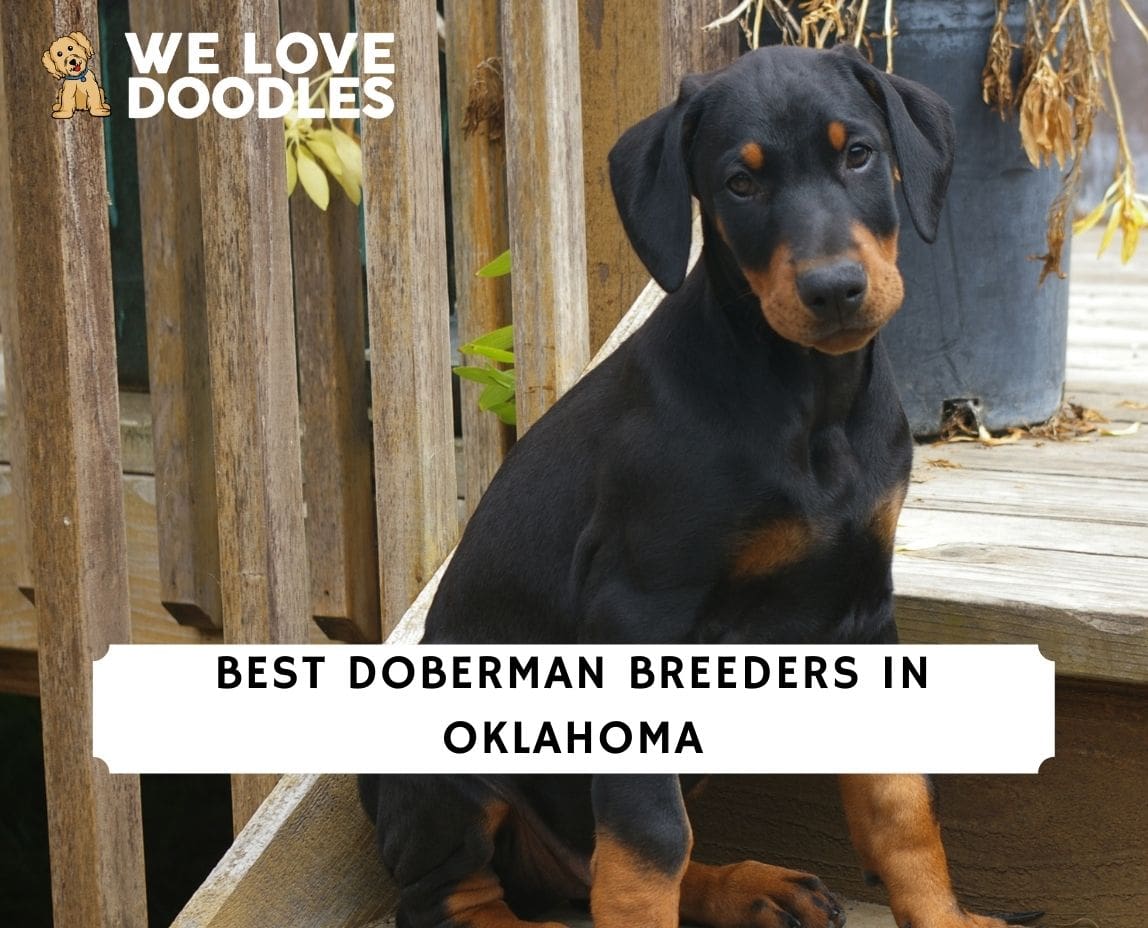 Here's what you need to know if you're searching for Doberman breeders in Oklahoma. A Doberman Pinscher can be a great breed is you're looking a family pet and is equally suited to working. They're hardy, healthy, intelligent, and ready to learn. However, if you choose a dog from the wrong breeder, you're liable to end up with a dog with too much drive for your purposes, or even worse, an aggressive dog.
Dobermans tend to become dog-aggressive at a certain age or start to attack humans. Doberman Pinschers can be a very intimidating breed when on edge, and the last thing you want is an unsafe dog that scares everyone around you. To help you choose the right breeder for your new puppy, we've created this guide to the best Doberman Pinscher breeders in Oklahoma.
To avoid these kinds of problems, it is always best to do your research into the breeder you are considering buying from. A responsible breeder will have looked extensively into the bloodlines of the dogs they are breeding from to ensure that the puppies they produce will have the right temperaments and will raise and socialize their puppies to prepare them best for any situation.
Before scrolling down this list of Doberman breeders in Oklahoma, you can check out these other recommendations from our team at We Love Doodles: Best Sheepadoodle Breeders in Oklahoma and Best Schnoodle Breeders in Oklahoma.
Doberman Puppies For Sale in Oklahoma
If you have any doubts as to how your breeder is raising their puppies, you shouldn't buy a dog from them. Always make sure to meet the puppies' parents to ensure that they are friendly, calm, and confident. To help you narrow down your search for the right breeder for you, here's a list of the best Doberman breeders in Oklahoma.
Doberman Product Recommendations: Best Flea Collars For Dogs and Best Tug Toys For Dogs.
1. PuppySpot's Dobermans For Oklahoma
Hailed as a game-changing company, PuppySpot offers a unique way to acquire a Doberman puppy, through the comfort of your couch, in Oklahoma and as simple as clicking your computer's button a few times.
They are well known for offering high-quality puppies and for having one of the toughest hiring processes in the industry; only 10 percent of all applicants are accepted. The process includes over 100 different points of emphasis to ensure the investigation is as thorough as possible.
Mission
PuppySpot is committed to breeding happy and healthy puppies and helping them find a place and a family where they can lead a happy life. They are looking to ease the process of getting a puppy because they know your life will be better with a puppy in it.
Vision
PuppySpot brings the best of all worlds, they offer both quality and comfort at the same time, which is a rare combination in and of itself.  They work hard to keep making it as easy as possible for you to adopt one for yourself.
Puppies
Every puppy bred by PuppySpot is an example of the quality and care they invest in them.  Of all priorities, health is the most important. Without health, there will be no puppy to enjoy. To keep the puppy healthy, breeders take the best care of them, assuring they grow strong and fit.
Before being sent to you, the puppy will go through a final check-up, from nose to tail. Finally, your purchase will include a 10-year health guarantee  PuppySpot doesn't believe in puppy mills. Instead, they believe in giving every puppy the attention they deserve to develop emotional and mental development.
Every PuppySpot puppy is bred following AKC guidelines, which are some of the best in the industry. They are also bred humanely and lovingly. PuppySpot offers a lot of conveniences when you buy your puppy with them. You can easily use their webpage to find the puppy you want, and no matter where you are, they'll you your puppy right on your doorstep.
PuppySpot Details
2. D'Rays Doberman Pinschers and Miniature Dachshunds
D'Rays Doberman Pinschers and Miniature Dachshunds is a long-established and well-respected breeder of both Dobermans and Miniature Dachshunds and belongs to the Doberman Pinscher Club of America, National Miniature Dachshund Club and the Doberman Pinscher Club of Indian Nationa. They are a show breeder, and their dogs have had great success in the show ring, whether handled by the breeder themselves or by a professional.
They care deeply for the well-being and continued preservation of the Doberman breed. As all of D'Rays Doberman Pinschers and Miniature Dachshunds puppies are registered with the American Kennel Club, you can be certain that their parents have undergone all of the necessary health tests that can ensure the physical health of the puppies they produce.
Though Doberman Pinschers look like one of the hardiest breeds out there, they are unfortunately susceptible to a variety of hereditary conditions that can severely affect your dog's quality of life. As a large breed, Doberman Pinschers are prone to hip dysplasia, a condition that can cause pain and malfunction in a dog's hips that can lead to disability in severe cases.
Fortunately, there is an easy way to check for this condition: hip scoring. In short, the parents of every litter of puppies produced by a breeder should have undergone a simple x-ray that shows the condition of their hips, and then these scans should have been assessed by a professional. The lower the score, the healthier the dog's hips will be.
If either parent has a score over twenty-five, you should ask the breeder why they are breeding from this dog when it poses a risk to the puppies they produce. If a breeder has not had their dogs' hips scored, then you should not buy a puppy from them under any circumstances.
Fortunately, this isn't something you'll need to worry about at D'Rays Doberman Pinschers and Miniature Dachshunds, as they breed from some of the best dogs in America. As a breeder dedicated to the well-being of their dogs, D'Rays Doberman Pinschers and Miniature Dachshunds thoroughly socialize their puppies with both humans and dogs of different breeds.
This ensures that they will remain calm in any situation, and will be confident and secure in situations that might make any other dog react with aggression. If you're looking for a calm and intelligent dog to stick by your side through anything, then D'Rays Doberman Pinschers and Miniature Dachshunds could be the right breeder for you.
D'Rays Doberman Pinschers and Miniature Dachshunds Details
3. Meenly Doberman Pinschers
Meenly Doberman Pinschers first began to breed Doberman Pinschers in 1978, when they got their first ever Doberman. From there, they kept the same bloodlines through every dog they bred. They rarely buy new dogs, preferring instead to keep the best female puppies of every litter and hire out stud dogs.
They are passionate about producing Dobermans who can take on any area of the dog world, from companionship to working to show, at affordable prices. All of the puppies from Meenly Doberman Pinschers are registered with the American Kennel Club and receive age-appropriate vaccinations.
They also have their ears cropped. Meenly Doberman Pinschers are confident in the healthy bloodlines of their puppies, so offer a one-year health guarantee with all of their puppies. You can be certain that a puppy from Meenly Doberman Pinschers will have been bred with the health and wellbeing of the dog in mind.
Puppies from Meenly Doberman Pinschers are all raised in a family home, so they are socialized with small children and other pets. Any puppy from Meenly Doberman Pinschers will be perfect for a family with young children, or as a service dog who might encounter children on a regular basis.
In addition, Meenly Doberman Pinschers also offer puppies at an older age than most breeders, meaning you can buy a dog of several months of age who is already trained with basic commands. If you're looking for an intelligent, calm, and ready-to-work dog, then Meenly Doberman Pinschers could be the breeder for you.
Meenly Doberman Pinschers Details
4. Valorosa Dobermans
Last on the list of the best Doberman breeders in Oklahoma is Valorosa Dobermans. This breeder is dedicated to the improvement and perfection of the breed and strives to produce the best Dobermans they possibly can. Valorosa Dobermans is a breeder that produces quite active Doberman Pinschers, so if you're looking for a quiet family pet then this might not be the breeder for you.
However, if what you're searching for is a working dog or a high-energy pet then this could be the place to go. They are a member of the United Doberman Club and the United States Mondio Ring Association— a form of agility and obedience.
As they are so passionate about the health, longevity, and function of the breed, all of the breeding dogs from Valorosa Dobermans are given all of the recommended health tests and more, so you can be sure that their puppies will be in the best of health.
Valorosa Dobermans breed for health and temperament above all, so any puppy from this kennel is going to live a long and active life. This breeder knows how important the first few weeks of a puppy's life are, so Valorosa Dobermans make sure that your puppy's early days are filled with as much activity and enrichment as possible.
Their puppies take on obstacle courses and spend much of their time outside. They also begin training at an early age, so if you're looking for an intelligent, athletic, healthy, and loyal dog then Valorosa Dobermans is the right place to go.
Valorosa Dobermans Details
How to Choose a Doberman Breeder in Oklahoma
To make sure you choose a great breeder, you should always check that they have put their dogs through all of the recommended health tests to ensure the health of their puppies.
You should always make sure to meet the parents of the litter you are considering a puppy from, to make sure that they are descended from calm and affectionate dogs of the right energy level for your purposes.
A good breeder should be prepared to answer any questions you have about the puppies, the breed, or the breeding process. If they skirt around the answers, you shouldn't buy a puppy from them.
Conclusion For The "Best Doberman Breeders in Oklahoma"
Taking on a Doberman is a big responsibility, and the breed isn't recommended for first-time dog owners. Their instincts can lead to disastrous consequences if not handled properly. To make sure that you end up with a dog that's right for you and your lifestyle, you should always wait for the right puppy from the right Doberman breeder.
For more guides similar to this list of Doberman breeders in Oklahoma, you can check out:
Before you bring home a Doberman puppy from a breeder in Oklahoma, you can learn more about this dog breed by watching "6 Ways Dobermans Are Different From Other Dogs" down below: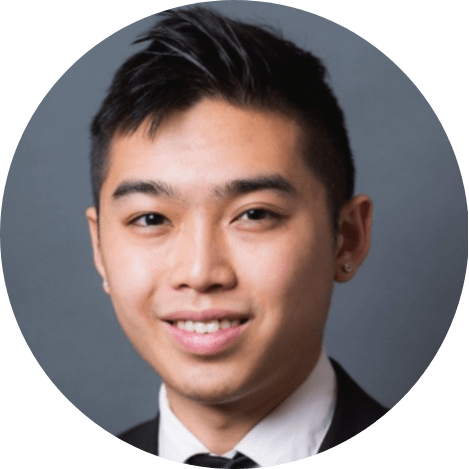 Andy is a full-time animal rescuer and owner of a toy doodle. When he's not saving dogs, Andy is one of our core writers and editors. He has been writing about dogs for over a decade. Andy joined our team because he believes that words are powerful tools that can change a dog's life for the better.
Why Trust We Love Doodles?
At We Love Doodles, we're a team of writers, veterinarians, and puppy trainers that love dogs. Our team of qualified experts researches and provides reliable information on a wide range of dog topics. Our reviews are based on customer feedback, hands-on testing, and in-depth analysis. We are fully transparent and honest to our community of dog owners and future owners.