Are you searching for Doberman breeders in Alberta, Canada, who can promise you healthy and top-quality puppies?
Lucky for you, many breeders registered with Alberta Doberman Pinscher Club (ADPC) follow the club's breeding standards and produce healthy Doberman puppies in the province. In this article, we discuss some of the best ones.
Doberman Pinschers are people-loving dogs; they love to please their owners and are generally very sweet and affectionate. They're gentle with children and older people if trained and socialized correctly from a young age. Usually, they form a bond with one person, but they're loyal to the family they live with.
If you bring a Doberman home, provide them ample outdoor time and a lot of exercise hours because they're not lazy couch potatoes. They need time to stretch their legs, or else they will become restless, and you may face the consequences in the form of behavioral problems.
To avoid any of that, choose a breeder wisely. Let's have a look at some of those who have Doberman puppies for sale in Alberta:
Before scrolling down this list of Doberman breeders in Alberta, check out these related articles: Best Dog Rescues in Ontario and A Complete Guide to the Doberman Poodle Mix.
1. Valhalla Dobermans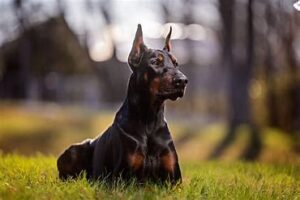 Valhalla Dobermans is located on a 40-acre farmland in Alberta that is surrounded by woods and trees, a perfect place to raise puppies. This kennel has been breeding purebred dogs since 2007 and Dobermans since 2016. Needless to say, they have extensive experience and knowledge about breeding puppies.
Valhalla Dobermans breeds for intelligence, high energy, and agility. Their dogs have excellent temperaments and reasonably fit physical forms, reflected in the kennel's participation in agility and obedience rallies, conformation, and barn hunting competitions with their Dobermans.
To get on the waitlist, check their website for announcements and fill out an application form. The more relevant information you provide, the higher the chances they will shortlist you.
After evaluating your application, they will conduct an interview, home check, and veterinary clinic check while using your references. If you live outside Alberta, you must visit them to collect your puppy because they don't ship through cargo.
To reserve a puppy from an upcoming litter, you will have to pay a deposit of $1500. The price of the puppies starts at $3500, which you will pay when you pick up your puppy. All the puppies are closely supervised and provided a safe, comfortable, homely environment to grow, eat, sleep, and play.
They are handled, cleaned, and played with every day. The breeder uses Early Neurological Stimulation and AVIDOG protocol to socialize them and help them desensitize to everyday noises like cars, walks, pets, and people.
When you take the puppy home, it will be docked, dewormed, declawed, and checked by a veterinarian. They will also have received their microchip and first vaccinations.
In addition, they will bring along their CKC registration paper, health certificates of their parents, pedigree information, and sample food with a collar, toy, and blanket from home. Moreover, the breeder offers lifetime support to their clients.
Valhalla Dobermans Details:
2. Devonquest Registered Doberman Pinschers
Devonquest Registered Doberman Pinschers breed Doberman puppies in Alberta for optimum quality and excellent health. They try to improve upon each new litter, with good temperament and by health-tested parents from bloodlines with proven longevity.
They prioritize producing healthy, well-rounded, and sound puppies by ensuring the health of parent dogs. The parent dogs are health tested before breeding. Some necessary tests and screenings are vWD, DVDob (DINGS), DCM1 and DCM2, OFA Hips and Elbow, Holter, Thyroid, Kidney, and Liver.
Devonquest puppies socialize by being around children and learning to live around the many objects and situations at home. These puppies live in their home, growing up with their children until they're eight weeks old and ready to go with their new family. Moreover, they are tested for temperament when they're seven weeks old.
The puppies will live with the breeder until they're twelve weeks old. During this time, they will ensure the puppies are well-trained and behave according to national and international breed standards.
Drop them an email if you want to get a puppy from Devonquest Registered Doberman Pinschers. The puppies have their tails docked, ears cropped, and dew claws removed because it is still allowed by the law.
They will be vaccinated, dewormed, microchipped, and CKC registered. The breeder offers six weeks of free pet insurance, a health guarantee, and a lifetime of support. You will be asked to sign a non-breeding contract from CKC to ensure that the dog is spayed or neutered at the right age.
This breeder is registered with the Doberman Pinscher Club of Canada, ADPC, Doberman Pinscher Club of America, and CKC.
Devonquest Registered Doberman Pinschers Details:
3. Avid Dobermans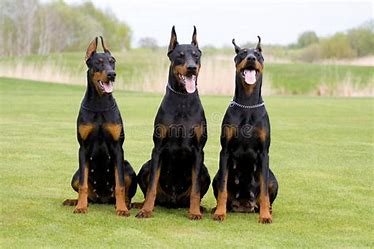 Next on our list of breeders with Doberman puppies for sale in Alberta is Avid Dobermans. They breed and raise dogs from the best bloodlines in the USA to produce reliable canine companions who are intelligent, witty, beautiful, sound, and healthy.
Their dogs are registered with CKC, and those who compete in US events are also registered with American Kennel Club.
The puppies are born and raised in the home of the breeder. They are treated just like family members, along with other dogs and pets in the house. Close monitoring ensures that they're healthy and well-fed.
For the first three weeks, the whelping box is kept beside the breeder so they can keep an eye on the puppies and handle them. Afterward, they use ENS to raise the puppies well-socialized and use AVIDOG and Puppy Culture protocol for their mental and physical stimulation.
The cost of breeding and raising a Doberman puppy is high, and Avid Dobermans only give their puppies to those with the financial capability to raise a dog. They have a list of expenses on their website that you can visit if you're interested in finding out more.
In addition, you can check their social media and email them for litter updates to get on a waitlist. Once the puppies are confirmed, fill out an application form and allow them to interview you, along with a home and reference check.
They don't ship puppies, so if you don't live near them and can't pick up your puppy in person, you'll have to arrange for someone to deliver it to you. All the puppies are micro-chipped and sold with a limited registration which means they cannot be used for further breeding and are adopted as pets only.
Avid Dobermans Details:
4. Di 'Limbazi European Dobermanns
Last on our list of Doberman breeders in Alberta is Doberman breeders is Alberta Di 'Limbazi European Dobermann. They're a small-scale kennel who have litters of Dobermans available at all times during the year.
The breeder is a Doberman enthusiast and comes from a family of Doberman breeders. She specializes in producing quality European lineage dogs and believes in preserving excellent bloodlines with proven health and longevity. Di 'Limbazi also breeds Rottweilers and Miniature Pinschers.
Di 'Limbazi Dobermans are active participants in dog shows for barn hunts, conformation, agility, and IPO. All of their dogs are trained according to show standards.
Moreover, all of the dogs live inside the breeder's home to ensure a friendly disposition. The breeder chooses pet parents after selective breeding practices prioritizing health, conformance, high-quality bloodlines, and temperament. Subsequently, the puppies born from these pairings are of excellent quality.
While physical merits are taken care of by selective breeding, the breeders utilize Puppy Culture and AVIDOG protocol, so they have a pleasant disposition and sound mental health.
All puppies are raised and trained to be excellent and loving family pets as they benefit from socialization programs, a homely environment, and lots of love from a young age.
Additionally, this breeder is a proud member of the Doberman Pinscher Club of Canada, Canadian Miniature Pinscher Club, American Dobermann Association, American Dobermann Association, Alberta Doberman Pinscher Club, and Canadian Kennel Club.
To purchase a Di 'Limbazi Doberman puppy, visit the website given below. The breeders will ask you to fill out an application form and inform you of when the puppies are available.
Di 'Limbazi only takes deposits once the puppies reach the right age. They don't allow home visits for the safety and protection of the dogs, so you can view their website and social media to see their dogs. For further information, contact them via email.
Di 'Limbazi European Dobermanns Details:
FAQs
Are Dobermans difficult to own?
Dobermans aren't necessarily difficult to own, but they require a lot of training. Training and socialization start early on with the breeder, so talk to them about how they train their puppies before sending them home. Once trained, they need regular interaction and plenty of exercise. With these needs met, they are great dogs and can are even good family dogs.
How much do Dobermans shed?
Dobermans shed a moderate amount of hair, but tend to shed more when stressed. Seasonal changes don't affect Dobermans as much as other dogs, and they may shed less in the summer. Regular grooming practices will manage shedding for most Dobermans.
What is the best color Doberman?
Dobermans come in black, red, blue, and fawn (Isabella), with rust markings on their face, chest, and legs according to CKC breed standards. The most popular color is also the most common, which is black and rust. Dobermans can also come in melanin black or white, but neither of these are a part of the breed standard, and white Dobermans may have more health issues.
Conclusion For "The Best Doberman Breeders in Alberta"
Muscular and brave, Dobermans were initially bred as police or guard dogs. People mistake them for intimidating and aggressive dogs, but that's not necessarily true. If bred, socialized, and trained well, Dobermans are gentle and loving protectors of their families.
Therefore, choose their breeder wisely to ensure you get a well-socialized and well-bred puppy. Scroll through the breeder's websites and social media pages, ask them relevant and essential questions about their breeding standards, training regimen, and socialization protocol, visit them on-site, and read reviews.
If you want to save yourself some time, choose one of the 5 breeders mentioned above. We wish you good luck in finding excellent Doberman breeders in Alberta.
For more guides similar to this list of Doberman breeders in Alberta, check out these guides:
Before you bring home a Doberman from a breeder in Alberta, you can learn more about the breed by watching "6 Ways Dobermans Are Different From Other Dogs" down below: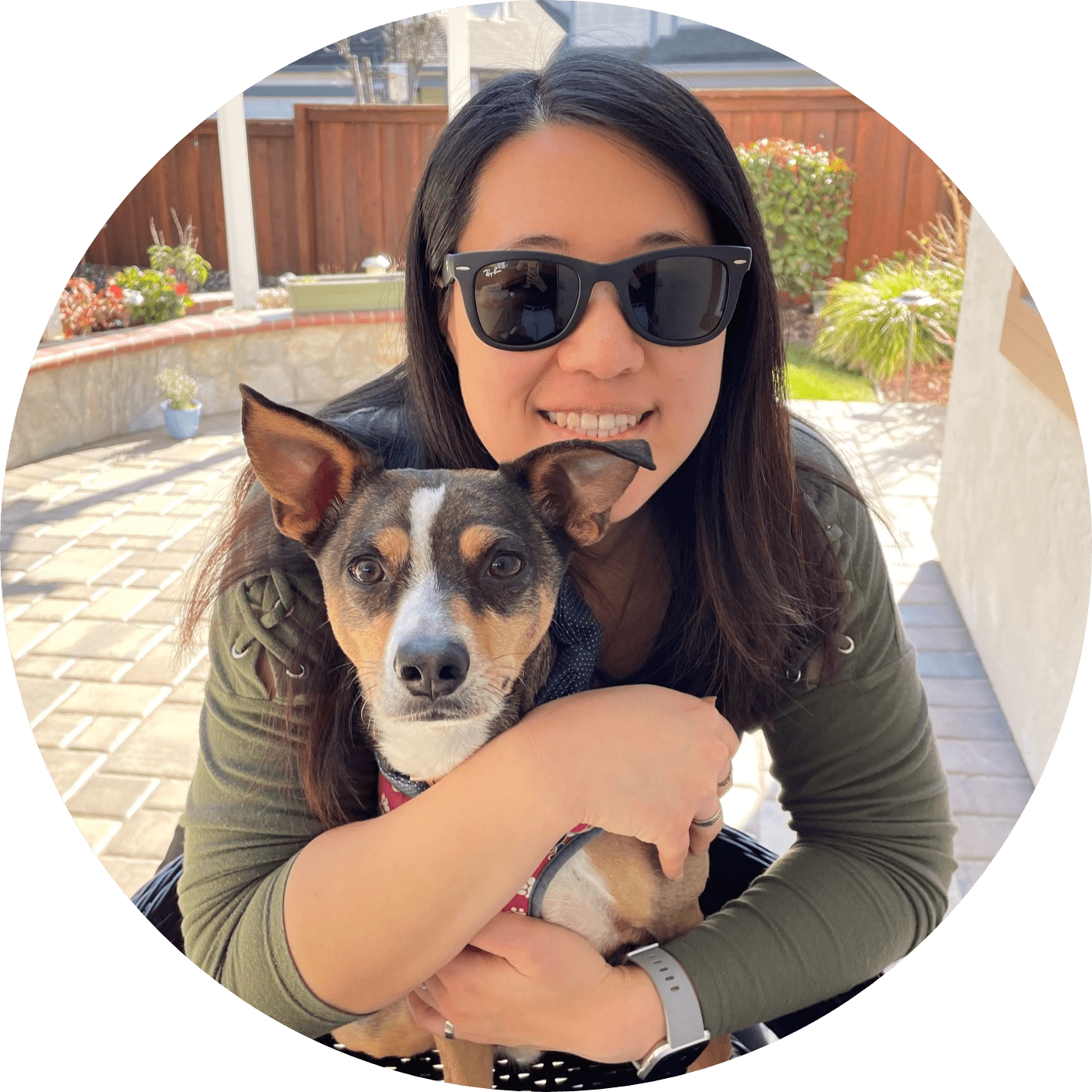 Dr. Sabrina Kong graduated from the Royal Veterinary College in England in 2016 and has been working at a small animal clinic in Northern California since then. She grew up in the Bay Area and got her bachelor's degree from Cal Poly San Luis Obispo. She also became a Certified Canine Rehabilitation Practitioner through a program at the University of Tennessee.
When she isn't in the clinic taking care of her four-legged patients, she enjoys traveling and trying new foods with her friends and her three-legged dog, Apollo. She adopted Apollo from her clinic when he was a puppy with numerous health issues. Dr. Kong truly cares about taking care of animals.