Here's a question we have for you if you're searching for dog rescues in Ontario. Looking to adopt a dog in Ontario? There are many dog rescues in Ontario that can help you.
Ontario is a land of contrasts, where urban chic mixes with natural splendor, and skyscrapers sprawl beside cottage country. It's home to beautiful provincial parks and the awe-inspiring Niagara Falls.
It's called the land of diversity, and rightly so. It has diversity in population, landscape, and infrastructure. Anthropologists call it the most multicultural place in Canada, where new immigrants are welcomed with open arms.
The cities are some of the most vibrant in North America while still offering peace by their many lakes. Its diverse population hails from all corners of the globe, each bringing its unique flavors.
One of the unique things about Ontario is its love for dogs. Dogs are welcome virtually everywhere, from the bus to the corner store. Moreover, Ontario has many dog rescue centers, which work tirelessly to help dogs get adopted.
Before scrolling down this list of dog rescues in Ontario, check out these other rescue recommendations: Best Dog Rescues in Washington and Best Dog Rescues in Los Angeles.
Find a Dog Rescue Near You in Ontario
With the abundance of dog rescues, it may become challenging to choose one, which is why we've created a list of the best big and small dog rescues in Ontario.
Dog Product Recommendations: Best Muscle Growth Supplements For Dogs and Best Pet Hair Resistant Bedding.
1. Ontario SPCA and Humane Society
The Ontario SPCA and Human Society is a registered charity that was established in 1873. The organization is a province-wide leader in services for pets and is considered one of the best dog rescues in Ontario.
In addition to providing rescue dogs for adoption, it also provides:
Community-based sheltering
Animal wellness services
Provincial animal transfers
High volume spay/neuter services
Currently, the Ontario SPCA and Human Society offer a limited contact adoption process due to the prevailing conditions of COVID-19. The process involves viewing the available animals on their website and filling out a 'Meet Your Match,' a comprehensive survey that gains insight not your lifestyle to suggest dogs that would be the perfect fit for you.
The 'Meet Your Match' process also allows you to learn more about your rescue dog. Their personality, likes, and dislikes. This results in better matches with dogs and owners. After you have filled out the application, you can call the rescue to learn more about the animal that you want to adopt.
The rescue then will contact you to schedule an online interview and e-greeting session. Any remaining paperwork will be completed digitally. You can then schedule to pick up your new family member.
Ontario SPCA and Humane Society Details
2. Freedom Dog Rescue
Freedom Dog Rescue is a registered non-profit charity, and one of the leading dog rescues in Ontario. Freedom Dog Rescue believes in providing a safe and loving home for dogs that have been surrendered, abandoned, and mistreated.
To achieve this goal, they work with an extensive network of volunteers, foster pet parents, and trainers. Freedom Dog Rescue follows a foster-based rescue system. This means that dogs are placed in the care of a foster family until a permanent home is found for them.
The adoption process for Freedom Dog Rescue is as follows:
Hopeful pet parents are required to fill out an application, available on the FDR website, and email to adoptions@freedomdogrescue.ca
Once your application is received, it will be matched with adoptable dogs in foster care. The adoption director will look at your application and the descriptions of dogs sent by foster families to make suitable matches.
The foster family will call you if you have been chosen and arrange a meet and greet.
If the foster family and you both feel it is a good fit, then the process goes forward. Before the adoption can proceed, you will need to submit 3 references, including a reference from a veterinarian.
Once the references have been approved, the foster family will reach out to you to set up a date when you can pick up your animal.
Adoption preference is given to foster families; a foster family has 7 days to decide whether they want to adopt the dog or not. Moreover, note that all FDR foster parents are located in and around Ottawa, and you must visit to meet and collect the dog. They do not ship dogs.
Freedom Dog Rescue Details
3. Refuge RR
Refuge RR is a registered charity that has been helping dogs since 1990. They operate the best dog rescues in Ontario and Quebec.
Refuge RR provides:
Refuge
Rescue
Rehabilitation
They serve to protect animals that have been abused, neglected, and abandoned. Volunteers of the charity often travel hundreds of miles to rescue animals. They have no paid employees and rely completely on volunteers and the generous donations of others who believe in their mission of providing refuge to vulnerable animals.
Refuge RR is one of those puppy rescues in Ontario that run on a foster-based system. They rely on foster homes to temporarily or permanently take in rescued animals. If you are interested in becoming a foster home to a rescued dog, you should know the following:
Foster homes are thoroughly evaluated before being signed on
Background checks are undertaken
Pet parents have to sign a contract before adoption
Random checks will be done in the future to make sure animals are being treated properly
If you are not ready to commit to fostering or taking in a rescued animal, you can always sponsor an animal. That is a great way to learn more about the process of taking in rescued animals if you are a first-timer.
You can sponsor an animal for a year at three different levels: Gold, Silver, and Bronze. The sponsoring program involves a monthly donation that will cover food, bedding, vaccines, and vet visits. You can also visit the animal that you are sponsoring.
Refuge RR Details
4. Kismutt Dog Rescue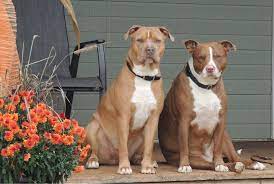 The Kismutt Dog Rescue is a boarding facility and rescue spread over 50 acres in Ontario. Dedicated to eradicating pet overpopulation caused by puppy mills, they are a not-for-profit that saves and re-home dogs in need. Their vision is to use innovative ways to provide a safe environment to vulnerable animals that are rescued from the community.
They aim to educate the community about compassion and respect for all animals. Kismutt Dog Rescue is an open-admission and no-kill shelter. That means they are open to all animals, and they can stay until they get adopted. They are the only open-admission dog rescues in Ontario.
If you are thinking of adopting from Kismutt, it is important to keep the following in mind:
Due to COVID-19, Kismutt Dog Rescue is operating on an appointment-only online booking system. You can access their online booking system to find a time that is suitable for you to visit the shelter.
When you visit the shelter, you will be asked to bring a wish list of animals that you want to visit.
All animals that are adopted are vaccinated, microchipped, and sterilized.
You must be 18 years of age to adopt from Kismutt Dog Rescue.
Potential adopters must not have any documented history of animal abuse or neglect.
Kismutt Dog Rescue will not provide animals for adoption to anyone who appears intoxicated or on drugs.
Moreover, you can also use their 5-star dog boarding services. They offer clean and comfortable kennels with Kuranda beds for all canine lodgers.
Kismutt Dog Rescue Details
5. Ottawa Dog Rescue
Last on the list of dog rescues in Ontario is "Ottawa Dog Rescue." The Ottawa Dog Rescue is the last on our list of dog rescues in Ontario. Established in 2013, it is another not-for-profit organization made up of dedicated individuals who are committed to saving vulnerable animals.
It is committed to:
Rescuing stray, abandoned animals from the community and finding them permanent homes
Providing programs for responsible pet ownership and preventing animal cruelty
Promoting spaying and neutering of animals to reduce unwanted litters
Just like Freedom dog rescue and Ontario SPCA, Ottawa Dog Rescue is also a foster-based organization that aims to help as many abandoned dogs as possible by putting them up with foster parents while they look for suitable forever homes.
If you want to adopt from Ottawa Dog Rescue, you need to know the following steps:
Fill out and submit the online application form
The rescue will call to schedule an interview if your application is shortlisted. This will give you an idea of what animals are available and the requirements to become a potential adopting parent.
If all goes well, then you will be invited to meet the foster parents and the rescue dog.
If the foster parent believes you are a good fit, then a home visit is arranged where the foster parent and the rescue dog will visit your home for a few hours.
A 24-hour cooling-off period is followed after this visit to give both parties some time to think about whether they want to go forward with the adoption process.
If both parties want to move forward, then the adoption process and fee are finalized.
Ottawa Dog Rescue ensures that the dogs they put up for adoption are fully vaccinated, trained, and dewormed. Moreover, they are also checked by an in-house vet to assess their health issues, if any.
Potential pet parents are informed of the dog's health condition before adoption. Dogs that are not suitable for adoption are provided a loving home on-site with the help of generous donations.
Therefore, you can expect complete transparency from Ottawa Dog Rescue regarding the health, temperament, and trainability of dogs you wish to adopt.
You even have the option to return an adopted dog if you don't find them a good match. However, the process encourages careful match and consideration, so the chances of returns are less.
Ottawa Dog Rescue Details
More Information About Dog Rescues in Ontario
You will get many options when choosing dog rescues in Ontario. Some of them follow a foster home system, whereas others follow the traditional boarding and adoption process. In both instances, you will be vetted by the foster family or the rescue's management to determine whether you're suitable to adopt a pet.
This may seem intimidating, but it is a great way to learn more about the rescue dog who may potentially become a member of your family. When meeting the foster family, you will get insights into the personality of the rescue dog and will be able to determine if it is a good fit.
While we recommend adopting a rescue, you must consider the following when selecting a dog rescue:
Is it registered as a charitable or non-profit dog rescue organization?
Can it provide vaccination and health records?
Does it provide comfortable lodging?
Does it enough space for dogs to train and run about?
Does it have a clear adoption process?
Is the staff cooperative?
Does it offer refunds and returns?
Related: Ways to Find Hypoallergenic Dog Rescues.
Conclusion For The "Best Dog Rescues in Ontario"
This list provides some great shelters that are making their communities better by providing safe refuge to vulnerable animals.
Not only are they a great choice for you to find your new furry friend, but they are important actors in raising animal rights awareness.
Finding your new dog from an animal rescue will allow you to see firsthand the great work that these organizations are doing for animals in Ontario.
For more guides similar to this list of dog rescues in Ontario, you can check out:
Before you adopt a dog from a rescue shelter in Ontario, you can learn more by watching "How to Prep For a Rescue Dog" down below:
Garrett loves animals and is a huge advocate for all Doodle dog breeds. He owns his own Goldendoodle named Kona. In addition, he volunteers at the Humane Society of Silicon Valley, where he fosters dogs and helps animals. Garrett enjoys writing about Doodles and believes that dogs can teach humans more about how to live than humans can teach a dog.
Why Trust We Love Doodles?
At We Love Doodles, we're a team of writers, veterinarians, and puppy trainers that love dogs. Our team of qualified experts researches and provides reliable information on a wide range of dog topics. Our reviews are based on customer feedback, hands-on testing, and in-depth analysis. We are fully transparent and honest to our community of dog owners and future owners.