Doberman Pinschers are one of the smartest, most loyal breeds out there. Not only do they make excellent watchdog companions with their protective instinct, but they're also known for being highly intuitive and easily trainable. If you are looking for Doberman breeders in Ontario, we've compiled the best choices.
With their striking black-and-brown coat, Dobermans can be a powerful yet graceful presence in any household. They take well to affection, are highly responsive to commands, and can learn complex behaviors quickly, making them ideal companions or professional working dogs.
However, like all dogs, they are prone to certain genetic diseases such as the dreaded hip dysplasia and eye conditions like dilated cardiomyopathy (DCM).
That's why it is critical to find responsible Doberman breeders in Ontario that are knowledgeable about the breed and regularly screens their adult dogs and puppies for these conditions.
Before scrolling down this list of Doberman breeders in Ontario, check out: 5 Best Sheepadoodle Breeders in Ontario! (2023) and The 5 Best Dachshund Breeders in Ontario! (2023).
1. Hilltophaven Dobermanns
Located in Thunder Bay, Hilltophaven Dobermanns are one of the best pure-bred Doberman breeders in Canada. They breed dogs with a strong focus on the nature, longevity, and health of Doberman dogs.
They work with show dogs, working dogs, and pets. Their website has clear details on which dogs are used for breeding, pictures of each dog, and their pedigree certificates.
Health is at the top of the agenda for Hilltophaven. All their dogs are tested for breed-specific health problems and are fed with nutritious products from the Healthy Paws Raw Pet Food range. The Raw range only includes human-grade meats and veggies. Since Dobermans are prone to Gastric Dilatation Volvulus (GDV), this is an excellent food brand to minimize risk.
Hilltophaven prioritizes their puppies' health and happiness, and all their puppies come with a health guarantee and a lifetime of breeder support. They live in the house as part of the family and are free to interact and socialize with each other.
The puppies do not sleep in outdoor kennels and only go to approved homes. They offer a Holter monitor rental, which owners can use to diagnose heart problems or pre-breeding screening. Hilltophaven Dobermanns have excellent transparency in their business relations and build trustworthy relationships with their clients.
Hilltophaven Dobermanns Details:
2. Ignite Dobermanns
Owner Pamela Peau works in collaboration with three other women: Rose Witteveen, Carolyn Cox, and Melanie Chin. They have all the skills and expertise to successfully breed Doberman dogs.
Based out of Fesserton, Ignite Doberman has successfully sold its 2022 litter and plans are underway for its 2023 litter. They breed Dobermann dogs based on health and temperament to make sure that each litter betters the breed.
They aim to breed genetically diverse Dobermanns with long lives and loving temperaments. The puppies they raise are loving, lovable, intelligent, and beautiful, not to mention extra cute! They recognize that Dobermans are prone to multiple health conditions, so they try to minimize them through their breeding practice.
They have a lovely testimonials section on their website where there are pictures of happy clients with their dogs. The dogs have a large area to play and run around in, and their Facebook page is often updated with their show dogs' achievements, day-to-day updates of their Dobermans, and photos of past litters.
If you would like to reserve a puppy for the 2023 litter, you will need to fill in their application form online. Be quick as puppies are sold in advance, and you may find yourself having to wait until next year's litter.
Ignite Dobermanns Details:
3. Gatehouse Perm Reg'd Dobermans
Based out of Owen Sound, Gatehouse Perm Reg'd Dobermans house champion Dobermans that have competed in Canadian, American, and international dog conformation shows. All the pictures and achievements can be read about on their website, in a separate Champions tab.
Potential buyers have access to all the information on past litters, current litters, and extensive information on the dogs which are bred.
To get a puppy from them, you need to complete their puppy inquiry form. This way, they have all the information they need firsthand from all those who wish to adopt a puppy, and they can choose the best owners for their puppies.
It is quite competitive as they are particular about their puppies and only want to find the best homes. All puppies go home with a one-year health guarantee and a starter pack with food, toys, and accessories. What a great way to start raising your own Doberman!
Gatehouse Perm Reg'd Dobermans Details:
4. Dobrich Dobermans
Based out of Belwood, Monica is a compassionate dog lover who builds trust and is transparent with her customers. You can find a testimonials page with excellent reviews of Dobereich Dobermans services.
In addition to Dobermans, they also breed Border Terriers. Their dogs are working dogs, show dogs, and of course, loving family pets.
If you decide to get a puppy from them, it will come with a CKC registration, a five-year genetic health guarantee as well as six weeks of pet health insurance. You can also let them know beforehand any specifics you would like your puppy to have, such as cropped ears or docked tail. Most of the dogs have docked tails to prevent the possibility of injury.
Some other things you will get when buying a puppy are a fourth-generation written pedigree, a starter pack with toys, food, and accessories, as well as a lifetime of support. They accept reservation deposits and have a puppy waiting list, but they give priority to people who pay a deposit for one of their pups.
They are just starting their range of dog products such as dog pajamas, winter clothes, fleece, and toys, all with their own unique design. Keep an eye on the website to see how they evolve.
Dobrich Dobermans Details:
5. Arket Dobermans
Kathleen Turner and her husband have been breeding Dobermans in Simcoe since 2008. They started their journey by breeding Scottish Terriers but have moved on to Dobermans.
They follow the Doberman Pinscher Club of America's Code of Ethics and adhere to the finest breed standard. With a particular focus on temperaments and health, they breed only healthy and good-natured Doberman dogs.
When you buy a puppy from them, it comes with a health guarantee, CKC/AKC registration, and a starter pack including accessories and toys. They will announce future litters on their website or Instagram account, which is frequently updated with pictures and awards.
Arket has a detailed puppy questionnaire so that adopted puppies go to the right families. They also have some cool videos about puppy development and everything you need to know when raising a Doberman.
There's plenty of information on their site for new owners, and Kathleen wants to make sure owners are well-informed and know what they are getting into when they get a Doberman. She puts loads of thought into matching the right family with each puppy.
Arket Dobermans Details:
6. Garshangan Kennels Reg'd
Located in Waterloo, Garshangan Kennels have been breeding Doberman Pinchers and Soft-Coated Wheaten Terriers since 1973. They have one litter per year and their dogs have a 33-acre organic farm with plenty of freedom to run around in.
All their dogs are health tested and sold with a six-year health guarantee. You have to fill in an application form if you would like to purchase any of their puppies, and they are expecting a new litter around summer 2023.
Garshangan Kennels Reg'd Details:
Frequently Asked Questions
How much does a Doberman puppy cost in Ontario?
You can expect to pay $2,000 to $3,000 for a healthy Doberman puppy from a reputable breeder.
Are brown Dobermans more expensive?
Black and rust coats are often cheaper than less common Doberman colors like red and rust or fawn and rust.
How long do Dobermans live?
The life expectancy of a Doberman Pinscher is 10 to 12 years.
Conclusion for "Best Doberman Breeders in Ontario"
Still can't find your new Doberman puppy from breeders in Ontario? You might have to check neighboring Quebec or Manitoba.
Picking the right Doberman breeder is a personal, important decision that requires time and research. It's essential to choose one that you trust has high breeding standards for health, temperament, and conformation.
A good place to start is to talk with your vet, who may recommend veterinarians in the area who specialize in the breed or know of reputable breeders they can reference. It's also smart to check in on local rescue groups and contact trainers who may know of reliable sources.
In addition, make sure to visit the physical premises of any potential breeder before making your plans official. This will allow you to meet the dog parents face-to-face and have an idea of their caretaking environment for your future pup!
For guides similar to this list of Doberman breeders in Ontario, check out:
Before you bring home a Doberman from a breeder in Ontario, learn more by watching "Doberman Puppy 101: What to Expect Each Month Raising a Doberman" down below: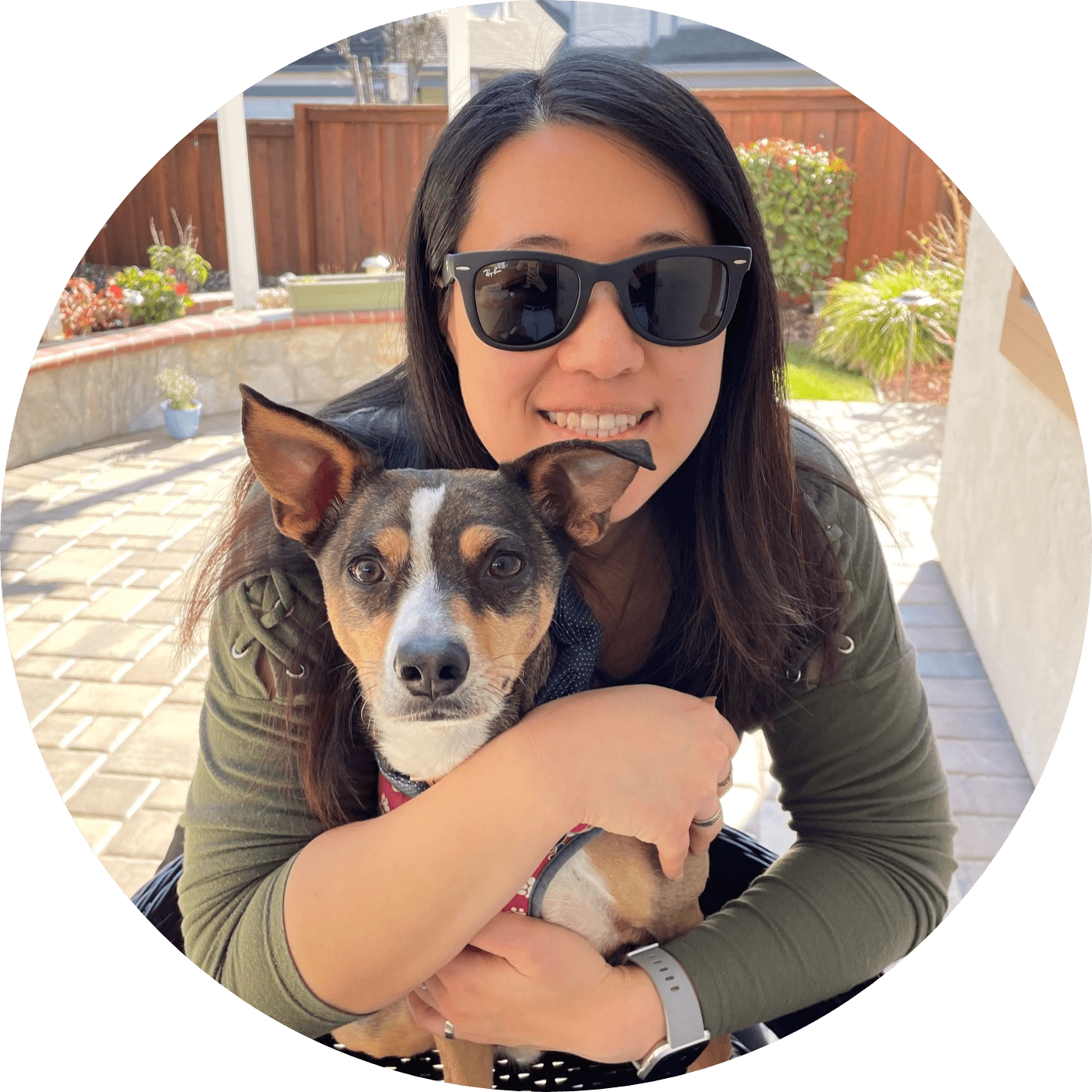 Dr. Sabrina Kong graduated from the Royal Veterinary College in England in 2016 and has been working at a small animal clinic in Northern California since then. She grew up in the Bay Area and got her bachelor's degree from Cal Poly San Luis Obispo. She also became a Certified Canine Rehabilitation Practitioner through a program at the University of Tennessee.
When she isn't in the clinic taking care of her four-legged patients, she enjoys traveling and trying new foods with her friends and her three-legged dog, Apollo. She adopted Apollo from her clinic when he was a puppy with numerous health issues. Dr. Kong truly cares about taking care of animals.