Dachshunds (commonly called doxies or sausage dogs) are small hunting canines beloved for their short, stout form. In Germany, the Dachshund was bred to kill its prey, standing much longer than it is tall.
Dachshunds are a great breed for people looking to add a new member to their family. Before getting a Dachshund, make sure they are the right dog for you by doing research. As an example, you may need to consider the Dachshund's coat type and size. A Dachshund puppy can come in three different coat types: short, wired, and long-haired. No matter what type of Dachshund or other dog breed you decide to bring home, you should make sure you research the breeder. This will ensure they are reputable.
If you're looking for Dachshund puppies in Ontario, you are in luck since there are many reputable breeders. Here are the 5 best Dachshund breeders in Ontario.
1. Windever Kennel
Windever Kennel was founded in 2009 and is a family-run dog kennel. The focus of this breeder is to produce healthy, high-quality Dachshunds that will make loving companions who are friendly, good-tempered, and adorable.
Bringing joy to families is what they live for. All of their dogs live with them and not in kennels.
As members of the Canadian Kennel Club and the American Kennel Club, they adhere to their codes of ethics. They are dedicated to supporting Dachshund puppies and their new owners throughout their lives.
All Dachshund pups are sent home with a lifetime take-back guarantee. They never want any of their dogs to need rescuing!
On their 45 acres near Port Rowan and Long Point, they also have horses, cats, and chickens. We consider them to be one of the best Dachshund breeders in Ontario.
Windever Kennel Puppy Information:
Size: Long-haired Miniature Dachshund puppies
Windever Kennel Breeder Details:
Location: 143 Concession 2 Road, Port Rowan, Ontario, N0E 1M0
Telephone: 519-586-9308
Website: https://windeverkennel.com/
Email: [email protected]
2. Bournecrest Kennels
Bournecrest Kennels is located at Shady Ril Farm. Breeders of Long and Smooth Coat Miniature Dachshunds, they have been in business for many years.
Their Dachshund puppies for sale in Ontario are absolutely gorgeous, playful, and very personable!
All of their dogs are available for visitors to see. They offer registered Dachshunds of the highest quality at an affordable price. Vaccinated, wormed and vet checked, their Dachshund puppies are registered with the Canadian Kennel Club. Their Dachshund puppies are microchipped and come with a Five Year Congenital Health Guarantee.
Bournecrest Kennels Puppy Information:
Size: Long & Smooth Miniature Dachshund puppies
Bournecrest Kennels Breeder Details:
3. Chetcote Dachshund Puppies Ontario
Chetcote breeds and shows miniature Dachshunds. The dogs are shown in the United States, Canada, and England.
Dachshunds at Chetcote are healthy, friendly, social, and have excellent temperaments.
A Dachshund puppy from this breeder comes without dewclaws. The puppies are also dewormed and vaccinated regularly. In addition to a health guarantee, every puppy is sold with a starter pack and begins puppy pad training right away.
These puppy starter packs include your brand-new puppy's vaccine records, food and treat samples, helpful tips, and deworming medication. The breeder can be contacted by phone or through their website under the contact us tab if you are interested in purchasing a Dachshund puppy. Applicants will be put on a waiting list.
Chetcote Puppy Information:
Size: Long and Smooth Miniature Dachshund puppies
Chetcote Breeder Details:
4. Disguise Dachshunds & Leonbergers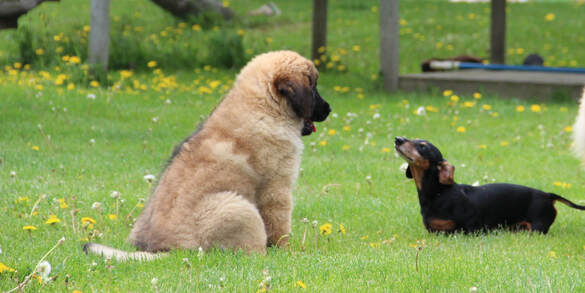 Tanya from Dachshunds & Leonbergers has owned Dachshunds for over a decade and has been competing with them since 2002.
Their Dachshund puppies in Ontario are handled a lot and exposed to exciting sights, scents, and sensations at an early age. On Day 3 of the puppy's life, the pups start with what is called "Early Neurological Stimulation." These are five exercises they do each day with them until they are a few weeks old. In addition, as soon as they are ready, they start the "Puppy Culture" program. The work is a lot, but who doesn't love to play with puppies?
There is no doubt in their minds that this has a profound effect on how each puppy develops and how he or she is able to adapt and grow into a well-behaved, well-rounded member of his or her family. By the time they are ready for their forever homes, their pups are generally already housebroken and clicker trained. Please email them if you are interested in receiving a copy of their questionnaire.
Disguise Dachshunds & Leonbergers Puppy Information:
Size: Smooth Dachshund puppies
Disguise Dachshunds & Leonbergers Breeder Details:
Location: R.R. #3, Wellandport, Ontario, Canada
Telephone: 905-920-3987
Email: [email protected]
5. Egbar Kennels Ontario
The Egbar family has grown quite a bit since 2008 when they became a CKC registered kennel. Having lived with these dogs for the past fourteen years, they have seen both their brisant highs and their tragic lows. What they have learned is that though they are small, they have the biggest hearts.
Each puppy is well socialized with children, adults, and other dogs. Puppies are dewormed, vaccinated, and given the recommended vet wellness visits as soon as possible. If you buy a puppy from this breeder, you will have to spay or neuter the puppy at the appropriate age.
Egbar Kennels Puppy Information:
Size: Long-haired Miniature Dachshund puppies
Egbar Kennels Breeder Details:
Dachshund Puppies in Ontario
A Dachshund is an adaptable breed that can be an excellent pet in nearly any home in Ontario (just be careful of stairs!). Although they love to run around, the Dachshund is completely content to hang out in the house as long as their owner is close by. Dog owners should encourage daily exercise for this breed since it is prone to laziness (obesity is a major problem for this small dog). Walking twice a day for a half-mile each is sufficient. When temperatures are low in Ontario, they will need to wear a coat if they will be outside for long periods of time.
While Dachshunds are excellent pets for apartment dwellers and the elderly due to their small size, there are significant things to consider before getting one. You need to provide them with special accommodations to avoid them jumping all over the place, such as steps or ramps up to furniture (if they are allowed). An overweight Dachshund can suffer from serious hip and back injuries, as well as requiring frequent lifting (again, keep that weight down!).
How to Choose a Dachshund Breeder in Ontario?
Are you interested in getting a Dachshund puppy? Check out these tips first.
Ask for a referral
A veterinarian or trusted friend can refer you to a responsible breeder, or you can contact local clubs or go to professional dog shows to find them. Breeders should always ensure that the puppy is a suitable match for your family. This is because you are the one who will give it a responsible, lifelong home.
If possible, you should always visit where it was born and raised
Before purchasing a puppy, you should make sure to visit the breeder's facility. Check where your puppies were born and raised. Your dog will thank you for the rest of his life if you spend time now finding the right breeder.
Where do you find a Dachshund breeder?
You should thoroughly research any breeder you are considering. Dachshund puppies shouldn't be bought from the first place where you see them listed!
Avoid puppy mills, pet shops, and online sellers who are inexperienced. When you're on a budget, adopt a pet rather than purchase one.
This guide will help you find the right puppy. The businesses listed are established Dachshund breeders in Ontario. Our research has identified the most reliable breeders who are experienced, ethical, and breed the most desirable Dachshund puppies across Ontario.
We urge you to walk away if the breeder you're working with doesn't meet all of the minimum requirements listed. Your dog is likely to live 10-20 years, so it's well worth the effort to work with a breeder who breeds loving, strong dogs in hygienic, humane conditions.
Conclusion for Dachshund Breeders in Ontario
Despite having highlighted the most relevant features each breeder offers, we strongly urge you to visit and contact them before selecting a Dachshund breeder.
Make sure that the breeder is credible before you buy a Dachshund. This practice helps prevent the unethical practices of puppy mills.
Dachshunds are excellent companions for many people. If you live in or around Ontario, you can find some great Dachshund breeders. Do your research before purchasing a dog from a breeder to ensure their reliability.
Other articles you would like: