Residents of Toronto, Ottawa, Thunder Bay, and other Ontario cities are falling in love with the dachshund. Fortunately, there are many reputable dachshund breeders in Ontario; you can find a quality puppy right in your own neighborhood!
The dachshund, or "doxie," is a playful little dog most well known for its long, wiener dog shape. They're affectionate and good with children, but they were bred to hunt! Your pup will need plenty of exercise to keep him healthy – and to keep him out of trouble.
Does a dachshund sound like a good fit for your family? Why not consider adopting from one of these reputable dachshund breeders in the Ontario area?
1. Windever Kennel
Windever Kennel was founded in 2009 and is a family-run dog kennel. The focus of this breeder is to produce healthy, high-quality dachshunds that will make loving companions who are friendly, good-tempered, and adorable!
Puppies are raised within the family's home, never in a kennel. Your dog will be well-socialized when it's time to go home with you! Best of all, Windever Kennel is a member of the Canadian Kennel Club and the American Kennel Club. Members of these organizations must pass inspections and adhere to strict breeding standards; you can be certain your pup was born in a healthy and safe environment.
During his stay at Windever Kennel, your puppy will learn and play alongside horses, cats, chickens, and other dogs on the 45-acre farm. In addition, your pup will have been handled by kids, and will be used to the sights and sounds of household life, like vacuums, the telephone, and the television.
All dachshund pups are sent home with a lifetime take-back guarantee. Should you and your pet not work out, please return the dog to Windever – do not surrender him to a shelter! The team will find a more suitable home for the dog so you don't have to.
Windever Kennel Puppy Information:
Windever Kennel Breeder Details:
Location: 143 Concession 2 Road, Port Rowan, Ontario, N0E 1M0
Telephone: 519-586-9308
Website: https://windeverkennel.com/
Email: jenbradbury@hotmail.com
2. Bournecrest Kennels
Next on our list of the top dachshund breeders in Ontario is Bournecrest Kennels. The breeder specializes in adorable little dachshund puppies, and they're members of the Canadian Kennel Club. Your puppy will come with all appropriate paperwork for registrations; ask the kennel team about the availability of breeding rights for your dog.
We love that Bournecrest Kennels offers a five-year guarantee against congenital defects. Your puppy, of course, will join your family only after his vaccinations and worming treatments are up to date, and your dog will be microchipped for safety.
You can view puppy availability on the Bournecrest website. A deposit is required to hold a puppy – this is typically $200 and will be deducted from the final cost of the dog. The price of dogs is set by the breeder based on your pup's characteristics, so be sure to get more information once litters are born.
Bournecrest Kennels Puppy Information:
Size: Long & Smooth Miniature Dachshund puppies
Bournecrest Kennels Breeder Details:
Location: 8435 Concession Road 8, Moorefield, Ontario, N0G-2K0
Telephone: 519-502-0642
Website: http://bournecrest.com/
Email: shadyrillcb@gmail.com
3. Chetcote Dachshund Puppies Ontario
Chetcote, located in Hampton, is another of our picks for the top dachshund breeders in Ontario. They specialize in miniature dachshunds, and their dogs are shown and bred so you can be sure you're getting a puppy from a beautiful pedigree! In fact, dams and sires are world travelers, having participated in shows in the United States, England, and Canada.
Chetcote will update its website when new puppies are available. Keep in mind, though, that they're a small scale breeder and only produce one or two litters each year. If you'd like to purchase a dog from them, contact them as soon as you've made that decision.
Puppies are vaccinated, wormed, and microchipped before going home with a new family. Speak to the kennel staff directly about whether breeding or showing rights are available for your dog – you may be required to sign a spay or neuter agreement as a term of your purchase agreement.
Chetcote Puppy Information:
Size: Long and Smooth Miniature Dachshund puppies
Chetcote Breeder Details:
Location: 7694 Solina Rd, Hampton, ON L0B 1J0, Canada
Website: https://chetcote.info/
Email: chetcote@live.com
4. Disguise Dachshunds & Leonbergers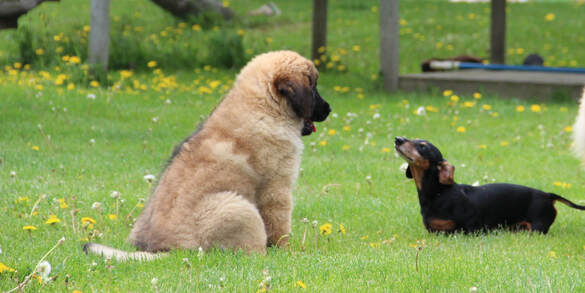 Disguise Dachshunds & Leonbergers specializes in – you guessed it – dachshunds and leonbergers! They're a small-scale, family breeder and they only have puppies available on occasion. While you can check the Disguise website for news about puppies, you're more likely to get current information by just calling the team.
Your puppy is guaranteed to come to your home as healthy as can be. Dogs are seen by a vet during their tenancy at Disguise, and your puppy will be current on his vaccines and wormers. Dogs are microchipped for their safety, and you'll receive all vet paperwork and registration paperwork when you bring home your new fur baby.
Disguise Dachshunds & Leonbergers begins training dogs early. Using the Puppy Culture system, they'll start getting your dog ready for everyday stimulation of household living. By the time your dog is ready to join your family, she'll be used to hearing everyday noises and activity.
Disguise Dachshunds & Leonbergers Puppy Information:
Size: Smooth Dachshund puppies
Disguise Dachshunds & Leonbergers Breeder Details:
Location: R.R. #3, Wellandport, Ontario, Canada
Telephone: 905-920-3987
Email: longears@yahoo.ca
5. Egbar Kennels Ontario
Egbar Kennels gained their CKC membership in 2008, and they've been raising quality, healthy little dogs ever since! Available puppies and news about upcoming litters is available to view on the Egbar website so check back from time to time. Alternatively, you can give the kennel team a ring to put your name on the waiting list for the next litter.
While your puppy is at Egbar Kennels, she'll have plenty of time to play and learn outside! Pups are supervised during this exploration, and your dog will have begun basic obedience training. Egbar will do everything they're able to do in order to ensure the transition into your home is as smooth as possible.
Do you live in the Brighton area? Consider using Egbar for your puppy boarding needs! This trustworthy kennel offers a safe place – and five acres – for your puppy to stay in comfort while you're away on your next dog-free adventure.
Egbar Kennels Puppy Information:
Size: Long-haired Miniature Dachshund puppies
Egbar Kennels Breeder Details:
Dachshund Puppies in Ontario
A dachshund is an adaptable breed that can be an excellent pet in nearly any home in Ontario (just be careful of stairs!). Although they love to run around, the dachshund is completely content to hang out in the house as long as their owner is close by. Dog owners should encourage daily exercise for this breed since the dogs can be prone to laziness (obesity is a major problem for the small breed). Walking twice a day for a half-mile each is sufficient. When temperatures are low in Ontario, they will need to wear a coat if they will be outside for long periods of time.
While dachshunds are excellent pets for apartment dwellers and the elderly due to their small size, there are significant things to consider before getting one. You need to provide them with special accommodations to avoid them jumping all over the place, such as steps or ramps up to furniture (if they are allowed). An overweight dachshund can suffer from serious hip and back injuries, as well as requiring frequent lifting (again, keep that weight down!).
How to Choose a Dachshund Breeder in Ontario?
Are you interested in getting a Dachshund puppy? Check out these tips first.
Ask for a referral
A veterinarian or trusted friend can refer you to a responsible breeder, or you can contact local clubs or go to professional dog shows to find them. Breeders should always ensure that the puppy is a suitable match for your family. This is because you are the one who will give it a responsible, lifelong home.
If possible, you should always visit where it was born and raised
Before purchasing a puppy, you should make sure to visit the breeder's facility. Check where your puppies were born and raised. Your dog will thank you for the rest of his life if you spend time now finding the right breeder.
Where do you find a Dachshund breeder?
You should thoroughly research any breeder you are considering. Dachshund puppies shouldn't be bought from the first place where you see them listed!
Avoid puppy mills, pet shops, and online sellers who are inexperienced. When you're on a budget, adopt a pet rather than purchase one.
This guide will help you find the right puppy. The businesses listed are established dachshund breeders in Ontario. Our research has identified the most reliable breeders who are experienced, ethical, and breed the most desirable Dachshund puppies across Ontario.
We urge you to walk away if the breeder you're working with doesn't meet all of the minimum requirements listed. Your dog is likely to live 10-20 years, so it's well worth the effort to work with a breeder who breeds loving, strong dogs in hygienic, humane conditions.
Conclusion for Dachshund Breeders in Ontario
Our list of the top dachshund breeders in Ontario features the kennels we love best, but it's by no means extensive! Do your own search with the AKC or CKC, or just ask around for referrals! When possible, visit the kennel in person so you can get an idea of how your dog was raised in the weeks leading up to adoption.
Once you're confident that the breeder you've selected is the right one for you, bringing a dachshund home is as easy as calling the breeder to place a deposit! Your new puppy will be ready for you in no time at all.
Other articles you would like: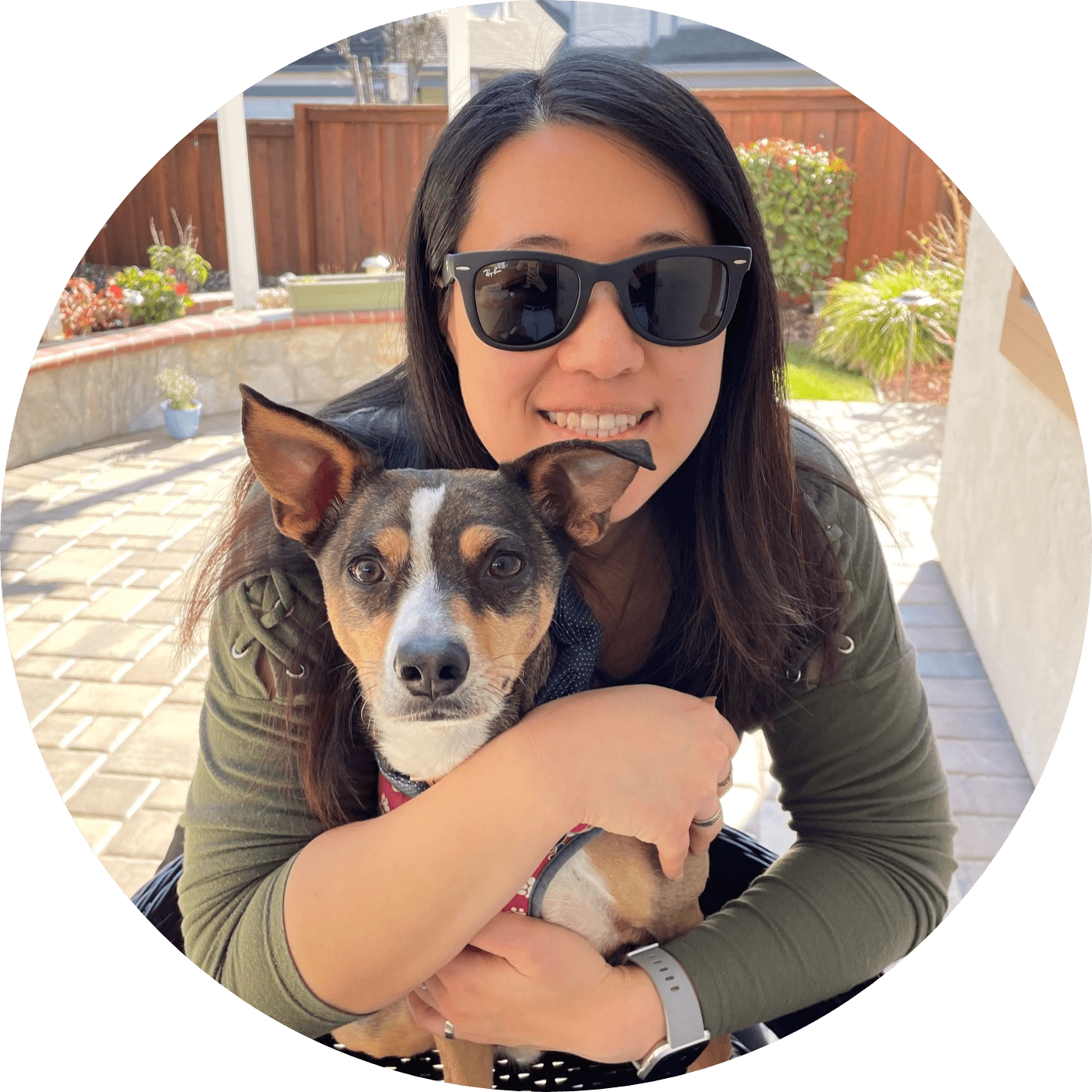 Dr. Sabrina Kong graduated from the Royal Veterinary College in England in 2016 and has been working at a small animal clinic in Northern California since then. She grew up in the Bay Area and got her bachelor's degree from Cal Poly San Luis Obispo. She also became a Certified Canine Rehabilitation Practitioner through a program at the University of Tennessee.
When she isn't in the clinic taking care of her four-legged patients, she enjoys traveling and trying new foods with her friends and her three-legged dog, Apollo. She adopted Apollo from her clinic when he was a puppy with numerous health issues. Dr. Kong truly cares about taking care of animals.