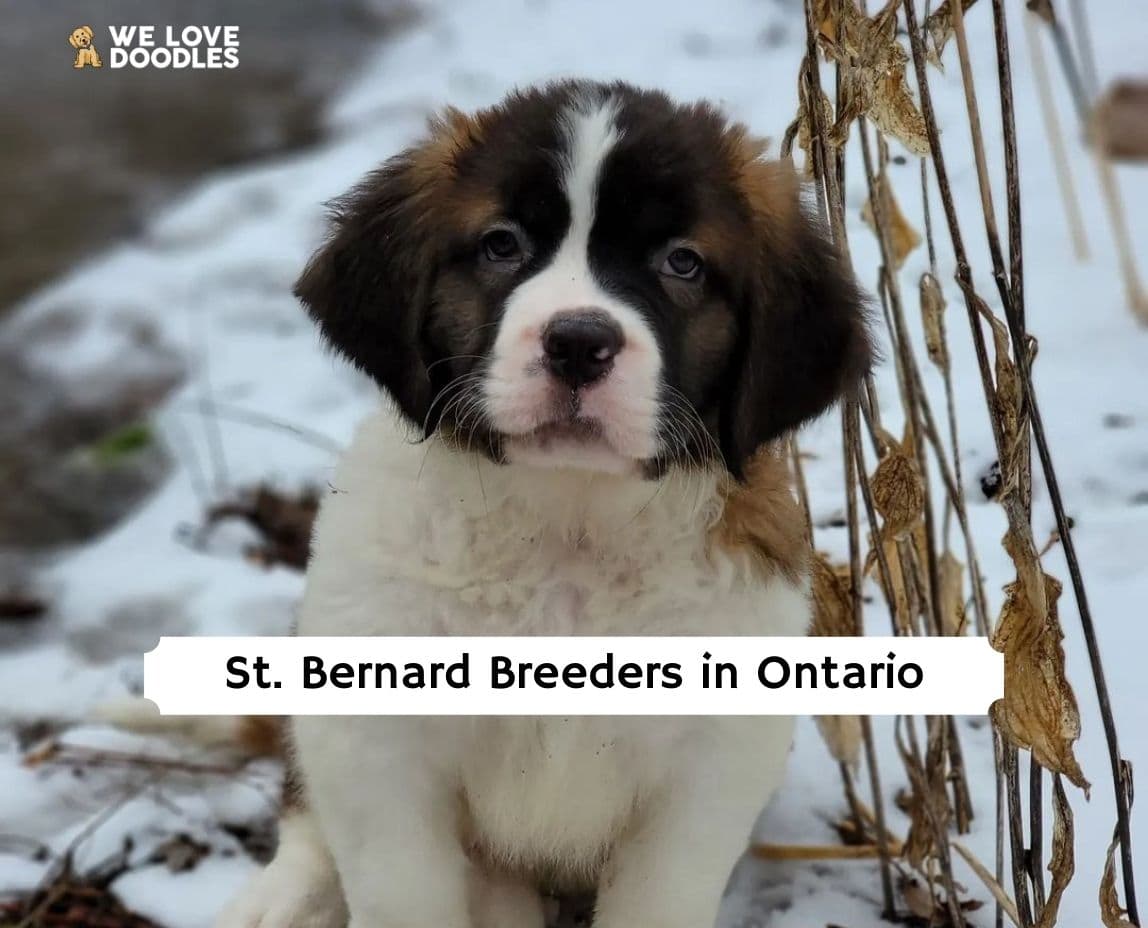 Named after a hospice in Switzerland, the Saint Bernard is the perfect breed for any home.
The Saint Bernard is well-known for its calm temperament among dog lovers. Additionally, it is sensible, relaxed, intelligent, and friendly. That's why it makes for a popular choice among new dog owners in Ontario. Especially those with children and other pets at home.
A fully-grown Saint Bernard puppy will weigh between 120 to 180 pounds and stand 26 to 30 inches tall. While it clearly classifies as a large dog, its exercise needs are relatively lower than other breeds in the same group. They have a life expectancy of 8 to 10 years.
Additionally, they don't require much grooming which makes maintenance relatively easy when compared to other dog breeds. What Saint Bernards must have is plenty of socializing, without which the breed tends to get destructive.
If you can provide all of the above, then you can think of bringing a Saint Bernard puppy home. All that's left now is to find the perfect Saint Bernard breeder in Ontario, Canada!
Other articles you would like: Labrador Breeders in Ontario and 100 Saint Bernard Names!
Top 5 St. Bernard Breeders in Ontario, Canada
Located in Boulter, Ontario, Canada, the Valley Ranch Kennel has a long-standing reputation of breeding giant breeds going back to 2002.
The puppies are raised in a loving and healthy family environment. They have nurseries with A/C, insulated dog houses with decks, and basements for the dogs to live and play.
The nursery where the puppies are born is fully air-conditioned to make hot summer days more comfortable.
That's not all! The nursery flooring is also prepared with paper bedding to ensure the pups receive maximum comfort for the first few weeks of their life. The insulated dog houses are spread all across their kennel property. This gives the dogs adequate space to play and roam around freely, which can contribute to their temperament.
The dogs bred at the Valley Ranch Kennels include:
St. Bernards
St. Pyrenees (St. Bernard and Great Pyrenees cross)
St. Bernese (St. Bernard and Bernese Mountain Dog cross)
St. Weiler (St. Bernard and Rottweiler cross)
Great Bernese
All the crossbreeds at Valley Ranch are F1, meaning the parents are full breeds.
They also breed smaller breeds at their kennels. You can find out the breeds they have at present by visiting their website or reaching out to them.
All the Saint Bernard puppies for sale in Ontario come with their complete vet records, are microchipped, thrice dewormed, declawed, and given their first vaccinations. The puppies are also washed and their nails trimmed before they are shipped or picked up.
Additionally, with every St. Bernard puppy, you also receive a Lifetime Large Breed Fish Meal And Oatmeal dog food sample (for large breeds) or a Lifetime dog food sample (for small breeds).
You are required to make a non-refundable deposit of $100 to get on the waiting list for a Saint Bernard puppy. This deposit fee is deducted from the price of your puppy later. You can also transfer the deposit to a different litter if you wish to. In rare cases, when the breeder is unable to provide a puppy for a year following payment, a refund is possible.
The price of the giant breeds is around $1500 for every pure and mixed breed. The price for the smaller breeds is around $1100.
This breeder restricts visits before pickup to make sure the puppies and their mother aren't stressed. Another reason for the restriction on visits is that puppies during their first few weeks are vulnerable to bacterial or viral infections.
Since they do not allow visits, they make sure to send pictures of the litter to all the owners on the list. You can also check out the parent dogs and their pictures on the Valley Ranch website.
Puppy choosing priority is given according to the deposit date and requirements of owners. Owners can wait until the puppies are six weeks old to make their choice. If you must visit the kennel to see the puppies in person, you can do so after the puppy turns 5 weeks old. However, you won't be allowed to handle the puppies until they've completed 6 weeks and all their vaccinations.
Once you've made your choice of a puppy, you can have them shipped or picked up as soon as they are 8 weeks old.
You can choose to have your St. Bernard puppies shipped via airlines across Canada and some destinations in the United States. Valley Ranch charges a $700 fee for the airfare and crate service. This fee may change based on the airfare costs at the time of delivery.
If you're planning to ship your puppy, make sure you're aware of the time when travel is authorized in your location.
If you're a first-time dog owner, the feeding schedules and maintenance instructions might overwhelm you. Well, with Valley Ranch you can rest easy. You can find detailed instructions on their website on best feeding practices, best puppy toys, how to prevent infections, and more.
Interested in Valley Ranch Kennel puppies?
Fill their information form to get started.
You can also check the details of the agreement on their website link given below.
St. Bernard Breeder Details
Mont Blanc Kennels is a reputable breeder breeding Saint Bernards since 1955. It is run by John and Hetty Vandermeer and has received the award for the Top Saint Breeder in Canada.
Their breeding program started with the help of other experienced breeders, healthy dogs, and quality education on canine breeding practices.
They focus on providing top-quality pups through a well-planned breeding program that records the history of dogs across generations.
They also often bring in males with good bloodlines from USA, Switzerland, and the Netherlands to ensure they have the best gene pool.
If you want to check out some of the dogs they've bred in the past, you can do so by visiting their website.
St. Bernard Breeder Details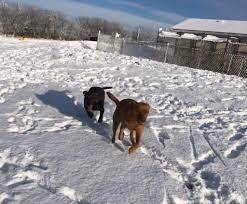 Run by Dionna and Patrick Wylde, Jurassic Bark Kennels is a fully licensed and insured boarding kennel. They are a reputed breeder also listed on the Canadian Kennel Club's (CKC) website.
Jurassic Bark provides not only breeding services but also boarding, daycare, and grooming services.
Located on 28 acres of forested land right outside Fenelon Falls, they provide their animals with the perfect place to live and play. Since they live on the property, they're able to provide 24-hour care to the animals. Their pet care professionals are fully insured with PROfur. They are also certified in pet first aid through Walks 'N' Wags, so you can rest assured they know what they're doing.
They used to breed only purebred Saint Bernards but have recently started to breed Golden Retrievers as well. If you're interested in owning a CKC registered puppy, you can make an inquiry here.
Thinking of getting your Saint Bernard puppy from Jurassic Bark Kennels?
You can call them to book a visit to their facility or write to them for more information on their processes. They are open Monday through Sunday from 9 a.m. to 6 p.m.
St. Bernard Breeder Details
Website: https://jurassicbark.ca/
Email: info@jurassicbark.ca
Contact number: 705-340-2925
Location: 18 Fell's Point Rd., Fenelon Falls, ON Canada K0M 1N0
4. Riverview Goldens And Saints
Run by Melissa Guerin, Riverview Goldens and Saints is a CKC registered breeder. They breed Golden Retrievers and Saint Bernards exclusively.
Riverview ensures their puppies' health by conducting thorough health and genetic tests on the parent dogs. This includes tests for OFA certification of the hips, elbows, heart, and eyes.
Interested in this breeder?
You can check out their Facebook page or reach out to them directly through their email address or phone number.
St. Bernard Breeder Details
Email: riverviewgoldensandsaints@gmail.com
Contact number: 705-632-8335
Location: Greater Sudbury, Ontario
5. PakoaNani Saint Bernards
Update: This Saint Bernard breeder is located in Tiverton, Ontario.
With a four-decade history, PakoaNani Saint Bernards is another breeder to go to when looking for a Saint Bernard puppy. They are located in Mississauga, Ontario.
Run by Pauline and David Manton, they provide quality bred Saint Bernards for shows or as companion dogs.
Unfortunately, this breeder does not have an official website. So, you'll have to rely on their email or phone number to get in touch. You can also visit the breeder at their location from Monday to Sunday. They are open from 9 a.m. to 7 p.m. on all days of the week.
Get started by contacting them via their email or call the phone number given below.
St. Bernard Breeder Details
Email: ptmanton@gmail.com
Contact number: 905-858-3853
Location: Tiverton, Ontario, L5N 2G1, Canada
Conclusion for St. Bernard Breeders in Ontario, Canada
When you're ready to adopt your Saint Bernard puppy, make sure to check the registration papers. Also, make sure the registration is with the Canadian Kennel Club and not the Continental Kennel Club. A good breeder will not only furnish all the proof but also conduct a thorough check on the owners adopting their puppies.
Getting a puppy from a reputable breeder can assure you of the health, temperament, and needs of the puppy. It also helps you take the right care of your puppy to prevent diseases.
With a trusted breeder, you get a Saint Bernard puppy with all the characteristics of the breed. This helps you safely introduce it to your family and your house.
We hope our guide will help you find a breeder that matches your requirements and helps you bring home the puppy you want!
Other articles you would like:
Garrett loves animals and is a huge advocate for all Doodle dog breeds. He owns his own Goldendoodle named Kona. In addition, he volunteers at the Humane Society of Silicon Valley, where he fosters dogs and helps animals. Garrett enjoys writing about Doodles and believes that dogs can teach humans more about how to live than humans can teach a dog.
Why Trust We Love Doodles?
At We Love Doodles, we're a team of writers, veterinarians, and puppy trainers that love dogs. Our team of qualified experts researches and provides reliable information on a wide range of dog topics. Our reviews are based on customer feedback, hands-on testing, and in-depth analysis. We are fully transparent and honest to our community of dog owners and future owners.