With their wrinkled brow and famously fluffy coat, it's hard not to fall in love with St. Bernards. They are one of the largest breeds, often called "gentle giants," because they are loving, social pups despite their imposing size.
Of course, they need the perfect loving name to go with their jolly personality. Below, we'll learn more about the breed, the top 100 names, and how to pick the perfect one for your gentle giant. To help you make this big decision, we've spent some time sniffing around for the top 100 St. Bernard names. Here's what we've dug up.
Other articles you might like: Best Saint Bernard Breeders in the United States and Brown & White Dog Names!
Swiss and Italian St. Bernard Names
Naming your puppy after their nation of origin often opens the door for eccentric, charming, and meaningful options you may have never thought of!
When it comes to good St. Bernard names, you have both the Swiss and Italian languages to inspire you, as these gentle giants originated at the border between the two nations. Choosing a name from either of these countries would be a fitting tribute to their heroic origins.
First up are the Swiss male St. Bernard names.
While the most popular names in Switzerland for boys right now are pretty standard– Liam, Noah, Matteo, Leon, and Luca are the top 5– these more "old-fashioned" options are a better fit for a dog that prefers lounging over chasing squirrels.
Swiss Male Saint Bernard Names
Sven: "Young man"
Dieter: "Army of the people"
Albin: "Fair"
Fabian: "Bean grower"
Mont Blanc: "White Mountain," also the tallest mountain in the Alps
Elvin: "Elf"
Alix: "Defender of the people"
Hugo: "Bright in mind and spirit"
Joerg: The German form of "George"
Hans: "God is gracious"
For the Swiss female St. Bernard names, we followed the same pattern. Mia, Emma, and Lina are lovely names for little girls, but the iconic barrel-toting pooch deserves a name as unique as they are.
Swiss Female Saint Bernard Names
Dagmara: "Day maid"
Geneva: "Juniper berry"
Minka: "With gilded helmet"
Brigit: "Exalted"
Yves: "Yew"
Aila: "Blessed"
Eva: "Giver of life"
Ebba: "Boar"
Bjork: "Birch tree"
Anika: "Gracious and merciful"
Just south of Switzerland lies Italy, which offers a bevy of masculine and feminine St. Bernard names that roll off the tongue.
Italian Male St. Bernard Names
Barnardo: "Brave bear"
Cesare: "Thick head of hair"
Constantino: "Steady and faithful"
Draco: "Dragon"
Fiorello: "Little flower"
Gustavo: "Staff of the Goths"
Maximiliano: "Greatest"
Pietro: "Stone"
Romeo: "From Rome"
Vincenzo: "Victorious"
Italian Female St. Bernard Names
Aria: "Solo melody"
Diva: "Celebrated singer"
Elia: Italian form of "Elijah"
Giuliana: "Youthful and downy"
Grazia: "Grace"
Mistico: "Mystic"
Orabella: "Beautiful gold"
Sarafina: "Seraphim"
Vita: "Life"
Viviana: "Life"
Ironic St. Bernard Names
As mentioned before, St. Bernards are by no means "diminutive." They are one of the largest breeds in the world, ranking right alongside other massive mutts like Newfoundlands, Great Pyrenees, and Bernese Mountain Dogs.
If you want to give your puppy an ironic name, you don't have to stick with something simple like "Tiny" or "Munchkin." Instead, try out these ironic names for your gargantuan buddy.
Rosetta: Italian, "small rose"
Ahuatzi: Aztec, "small oak"
Alona: Hebrew, "little rock"
Cathan: Irish, "little battler"
Germaine: French, "small sprout"
Egan: Irish, "little fire"
Newt: English, "small salamander"
Marceau: French, "little warrior"
Panya: Russian, "small"
Rubetta: Latin, "precious little jewel"
Ellete: Anglo-Saxon, "little elf"
Sweeney: Gaelic, "the little hero"
Yves: Celtic, "small archer"
Santino: Italian, "little saint"
Gimli: Old Norse, "small fire"
Odelia: Anglo-Saxon, "wealthy little one"
Vibeke: Danish, "little woman"
Lassie: Middle English, "little girl"
Bechette: French, "little spade"
Yazhi: Navajo, "little one"
Unique St. Bernard Names Based on Winter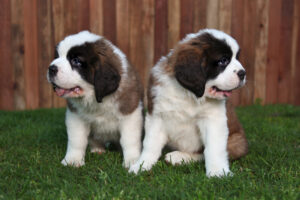 St. Bernards thrive in the frosty winter months, surrounded by snow and ice. A lovely name might reference their preference for cold weather.
Lumi: Finnish, "snow"
Whittaker: English, "white acre"
Nevis: Spanish, "Our Lady of Snow"
Fannar: Nordic, "snowdrift"
Quilo: Greek, "Northwind"
Aspen: American, "quaking tree," also the name of a popular ski vacation destination in Colorado
Noel: French, "born on Christmas day"
Edur: Basque, "snow"
Miyuki: Japanese, "deep snow" or "beautiful snow"
Gwyneria: Welsh, "blessed snow"
Haukea: Hawaiian, "white snow"
Andri: Old Norse, "snowshoe"
Wren: English, "small bird," in reference to the Winter Wren, a tiny, plump bird that lives in fir and spruce forests
Guinevere: Welsh, "white fairy"
Phelan: Irish, "wolf"
Jenara: Latin, "January"
Olwen: Welsh, "white footprint," a reference to a Welsh mythological heroine who was said to be so delicate-footed that white pea plants grew wherever she stepped
 Lixue: Chinese, "beautiful snow"
Merry: Middle English, "cheery and agreeable," a common greeting during the holidays
Wynter: English, a variation on "winter"
Cute St. Bernard Names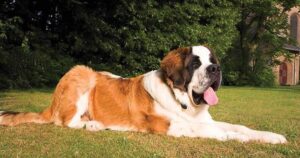 When you look past their size, St. Bernards are really just big ol' babies. They're playful and family-oriented, always eager to please the humans that care for them. Even their soft, silly faces, with drooping eyes and drool-covered jowls, are pretty charming.
Show your Saint how darling you think they are by giving them one of these cute St. Bernard names.
Anika: Nordic, "kind face"
Dawsey: Anglo-Saxon, "sweet and pleasant"
Hannan: Arabic, "compassionate"
Kyomi: Japanese, "pure beauty"
Naava: Hebrew, "beautiful"
Anas: Arabic, "friendly"
Habiba: Arabic, "beloved"
Shirin: Persian, "charming"
Amla: Hindi, "pure and sweet"
Darva: Slavic, "honeybee"
Brave St. Bernard Names
Saints were born to be brave, venturing out into avalanches to rescue stranded travelers from the snow. They are incredibly muscular dogs who thrive when caring for others, especially the families that love them.
Give your puppy a name that harkens to their courage and capabilities as rescue pups.
Ewan: Scottish, "young, brave warrior"
Wyatt: English, "strong and brave"
Gareth: Welsh, "gentle, modest, and brave"
Cedric: English, "courage"
Abir: Hebrew, "courageous"
Leander: English, "mighty"
Kenzo: Japanese, "strong and healthy"
Qadir: Arabic, "capable"
Narve: Dutch, "healthy, strong boy"
Emeric: French, "power"
Choosing Your St. Bernard's Name
Naming your St. Bernard is no easy feat! Your puppy's name is a personal choice you're committing to for at least a decade, so it needs to be unique and creative without being so strange that it loses its novelty after a few months.
Avoid Anything Too Common
Dogs don't understand the context the same way that humans do, so when someone shouts for "Rover!" at the dog park, all of the Rovers running around are likely to perk up and pay attention.
Don't pick something too common to avoid your Saint bounding off at different owners during your play sessions.
According to the AKC, the most popular female dog names are Luna, Bella, and Daisy. The most popular male dog names are Max, Cooper, and Charlie.
You may also want to avoid super trendy names, like popular television or movie characters. Those names are going to be more common for a while.
Make Sure You Enjoy Saying It
Your dog will love any name you give it, as long as you're saying it kindly and enthusiastically. Humans, on the other hand, are the ones who have to say it out loud over and over. So, before you settle on a name, ensure it's a word you actually enjoy articulating.
You may also want to avoid character names for this reason. We've all had a character we've adored eventually lose their luster as the show progresses, so you don't want to get stuck naming your Saint after someone you don't even like anymore.
Be Silly, But Not Offensive
As little kids, we may think giving our dog a silly name can be funny. As adults, we recognize why inappropriate names probably aren't a great idea to shout through the neighborhood after your St. Bernard breaches your backyard fence. 
Your dog's name doesn't have to be formal and serious, but it should also be something you're not ashamed to say in front of anyone. If you'd be embarrassed to say it at a nursing home or preschool, it's probably not a good idea. 
Avoid words that reference bodily functions. 

No slurs, both racial and cultural.

No curse words or variations of curse words.
About Saint Bernards
The breed we know and love today began as much smaller dogs, around the same size as German Shepherds, called Alpine Spaniels. The first accounts of the species come from the monks living at the Swiss-Italian Alpine border.
They lived and worked in a lodging center for travelers at the Great Saint Bernard Pass, utilizing hardy mountain dogs to assist in avalanche rescues. Unfortunately, they weren't as well-suited to the environment as the monks assumed, and the pack quickly thinned out.
In response, the monks began cross-breeding the original St. Bernard with Newfoundlands to increase their size, strength, and coat density. The resulting dogs are the hulking hairballs we recognize today.
Even as puppies, these Alpine canines weigh between 10-20 pounds. Males can grow up to 35-inches, tipping the scales at 180 pounds. Female St. Bernards are a fair bit smaller, reaching 31-inches and weighing up to 140 pounds.
With such an illustrious history and larger-than-life personality, it can be tough thinking up names that do your beloved best friend justice.
Conclusion For Saint Bernard Names
St. Bernards are lovable, snuggly, and low-energy, ideal for families with children who will shower the puppy with attention. You want your sweet dog to have a solid name that you'll enjoy saying, and hopefully, this list of 100 Saint Bernard names helped you find one you love!
Other articles you would like:
Garrett loves animals and is a huge advocate for all Doodle dog breeds. He owns his own Goldendoodle named Kona. In addition, he volunteers at the Humane Society of Silicon Valley, where he fosters dogs and helps animals. Garrett enjoys writing about Doodles and believes that dogs can teach humans more about how to live than humans can teach a dog.
Why Trust We Love Doodles?
At We Love Doodles, we're a team of writers, veterinarians, and puppy trainers that love dogs. Our team of qualified experts researches and provides reliable information on a wide range of dog topics. Our reviews are based on customer feedback, hands-on testing, and in-depth analysis. We are fully transparent and honest to our community of dog owners and future owners.