If you're searching for Doberman breeders in Michigan, then here's what you need to know. Dobermans are one of the greatest dog breeds, known for their sleek body, agility, and intelligence.
On the outside, Dobermans can be intimidating in their appearance. However, Dobermans are typically the most loving, loyal dogs in existence. A well-trained Doberman can make a great family pet, show champion, or service dog.
Before scrolling down this list of Doberman breeders in Michigan, check out these recommendations: Best Shepherd Breeders in Michigan and Best Labrador Retriever Breeders in Michigan.
Doberman Puppies For Sale in Michigan
In this article, we'll take a look at the top Doberman breeders in Michigan. We've also added in a few breeders from neighboring states.
Doberman Product Recommendations: Best Dog GPS Trackers and Best Smelling Dog Shampoos.
1. PuppySpot's Dobermans for Michigan
Since you're searching for Doberman breeders in Michigan, we highly recommend checking out PuppySpot. PuppySpot will make your search for a Doberman puppy easier because of how easy it is to use.
Once you get to the website, you'll find a wide selection of Doberman puppies after your search. These puppies are all available from trusted Doberman breeders across the United States.
Once you find a Doberman you're suitable with, the breeder will safely ship your puppy to your home in Michigan. However, before continuing your search for a Doberman breeder in Michigan, check out PuppySpot with the following link below.
PuppySpot Details
2. Lyndobe Dobermans Michigan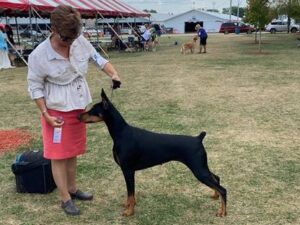 Lyndobe Dobermans has been breeding champion Dobermans since 1967. The kennel has produced 38 AKC Champions and 8 Grand Champions to date. Lyndobe breeders raise all their litter at home.
They make a conscious effort to socialize and expose the puppies to various sights, noises, and situations that they may encounter in the future so that they are prepared for their new life.
The breeders also conduct extensive health testing on all their breeding stock. So if you're looking for a healthy, attractive Doberman with the true Doberman disposition – Lyndobe Dobermans may be the breeder for you.
Lyndobe Dobermans Michigan Contact Details
3. Melrae Dobermans Michigan
Melrae Dobermans have been breeding Dobermans for over 20 years. Melissa Conrad, the owner, strives to produce Dobermans with excellent temperaments, beauty, and soundness.
She is heavily interested in her Juniors Program and has numerous dogs in the homes of juniors to assist ensure the future of the show world. In addition, she raises the puppies in her home to ensure they are well adjusted.
They are raised around Melissa's grandchildren and her cat. She tries to expose them to as much as possible while utilizing enrichment methods such as crate training, conformation stacking, among others.
Melrae Dobermans provides a health guarantee for 12 months. The health guarantee covers any hereditary abnormalities or flaws, and in such cases, a replacement Doberman puppy is provided.
The Doberman puppies will be delivered to you with their dew claws removed, tail docked, ear cropped, vaccinated, and microchipped with a limited AKC registration. A Doberman puppy from this breeder costs $3000, with a three-month waiting period.
Melrae Dobermans Michigan Contact Details
4. Andella Kennels Michigan
Andria Carpenter, the owner of Andella Kennels, traces her love for dogs through 4H as a child. Throughout her childhood, Andria loved dogs and felt drawn towards purebred dog sport.
As a breeder, Andria offers purebred companions and show prospect puppies from fully health-tested champion lines. She competes in AKC and UKC competitions. Her dogs are bred for health and temperament while adhering to breed standards.
Like the breeders on the list, Andria raises all her puppies in her home in a loving environment to give them the best start in life. The puppies are started on crate and potty training.
They are also socialized with several enrichment methods such as car training, grooming desensitization, and sound stimulation. Finally, the puppies are placed in the best possible families or with good handlers passionate about the breed.
Aside from breeding Dobermans, Andria also breeds Whippets. The puppy's price starts at $3000 and has a waiting time of 3 to 6 months. The puppies are covered by a 24-month health guarantee that covers any genetic health issues.
Andella Kennels Michigan Contact Details
5. Jensen Dobermans Michigan
Amber Jensen and her husband are the owners of Jensen Dobermans. The Jensens try to provide Dobermans and their families with lifelong companionship. In addition, their goal is for the healthiest Dobermans possible as they don't breed dilutes.
According to the breeders, the breeders have a low COI percentage of 33% and produce 25%. For nearly 20 years, the Jensens have been breeding Dobermans. They are primarily concerned with rearing well-socialized puppies in line with puppy culture.
They strive to offer each puppy the best start in life with the new family, beginning the day they are born. They use progesterone tests before breeding, ultrasounds to confirm pregnancy, and an x-ray to estimate the number of puppies.
They have an x-ray and an ultrasound after delivery to ensure that all puppies were delivered. They also remove Dewclaws, Dock tails and offer ear cropping for a fee.
The Jensens provide a Lifetime Health Guarantee on all known genetic disorders affecting the Doberman breed for all of their puppies. If one of their puppies is affected, a vet specialist verification must be submitted to them, and the puppy must be spayed/neutered before being replaced out of the next litter.
Puppies are given an AKC registration, a certificate of health, a food starter bag, a microchip, a puppy collar, vaccinations, and a blanket scented with the scents of their littermates and mom. The price of a Doberman puppy from this breeder starts at $2,500.
Jensen Dobermans Michigan Contact Details
6. Garjan Dobermans Michigan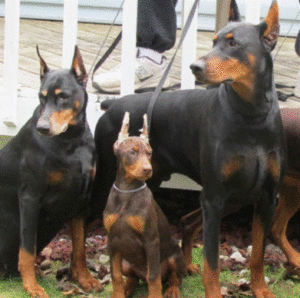 Garjan Dobermans is owned and run by the Oppedals. The Oppedals are preservation breeders who take great pride in the kind of Dobermans they produce and strive to improve the breed with each litter.
The breeders say they breed for longevity, temperament, and diversity without losing the Doberman structure. The Oppedals raise the puppies in their living area, where they learn and adapt to the hectic lifestyle of a busy home.
They utilize various enrichment methods such as potty training, biosensor training, sound stimulation, and grooming desensitization. In addition, the puppies are wormed and vaccinated according to their vet recommendations.
The puppy's tails, dewclaws, and ears are cropped at eight weeks by a licensed vet. The Oppedals provide a 3-year health guarantee and a replacement policy for puppies that acquire any genetic condition that the breeders could have avoided by selecting better breeding dogs.
Their puppies come with AKC registration, a food starter bag, a microchip, a certificate of health, a puppy collar, a toy with the scent of the littermates, vaccinations, and a blanket with the scents of the littermates and the mother. The starting price for a Doberman puppy from this breeder is $3,000.
Garjan Dobermans Michigan Contact Details
7. HQ Dobermans Wisconsin
Lauren Vail is the breeder and owner of HQ Dobermans. The Wisconsin-based breeder is a proud breeder of healthy show quality Dobermans with excellent temperaments according to breed standards.
Her goal is to breed well-structured Dobermans capable of excelling in various performance arenas while also being excellent home pets. Lauren says her life revolves around her Dobermans and meeting their needs both socially and medically.
Therefore, you can be assured of the healthiest and most well-rounded Doberman puppies. In addition, in Lauren's previous life, she was a professional Dobermans handler, so if you would like your puppy trained – she can do that for you at an additional cost.
She socializes the puppies around children and other dogs. When the puppies come home to you, they will have started basic crate training, puppy manners, and housebreaking.
She utilizes various enrichment methods such as biosensor training and Early Neurological Stimulation (ENS). In addition, the Doberman puppies come with a 5-year health guarantee. The guarantee covers genetic conditions commonly known to Dobermans.
The puppies are cropped and docked, dewormed, vaccinated, microchipped, declawed, and health checked before going home. The Doberman puppies cost $3,500, with an estimated wait time of 6 months.
HQ Dobermans Wisconsin Contact Details
8. Element Dobermans Wisconsin
Last on the list of the best Doberman breeders in Michigan is "Element Dobermans." Element Dobermans is owned and run by the mother-daughter team, Denise Kusey and Leah Kamppinen.
The duo began showing the Dobermans in the 1990s before breeding their foundational dogs a few years later. Experienced breeders say they keep a variety of factors in mind before breeding.
Some of these factors include health, temperament, pedigree, and complementary traits so that the puppies can inherit the best of both parents. The duo is very proud of their program and does their best to preserve the breed and only positively contribute. The Doberman puppies come with a 2-year health guarantee.
The guarantee covers hereditary problems that are prevalent in Dobermans. Before going home, the puppies are cropped, docked, dewormed, vaccinated, microchipped, declawed, and health examined. The Doberman puppies cost $3,500 and have a 6-month waiting list.
Element Dobermans Wisconsin Contact Details
Conclusion For The "Best Doberman Breeders in Michigan"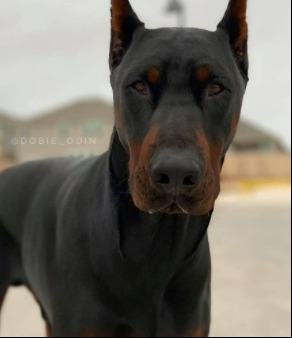 Choosing the right Doberman is one of the most important decisions you make, but it can also be one of the hardest. Strolling through the kennels or internet surfing for hours can wear down most people and leave them confused and disappointed.
Hopefully, this list will make your search for the perfect Doberman for you more manageable and better. Dobermans are one of the best breeds who genuinely care about their owners and do anything for them. So whether you're looking for a family pet, a guard dog, or a show prospect – a Doberman will be a great addition.
For more guides with mentions of the Doberman dog breed, check out these articles:
Learn more about the Doberman dog by watching "All About The Doberman Pinscher" down below: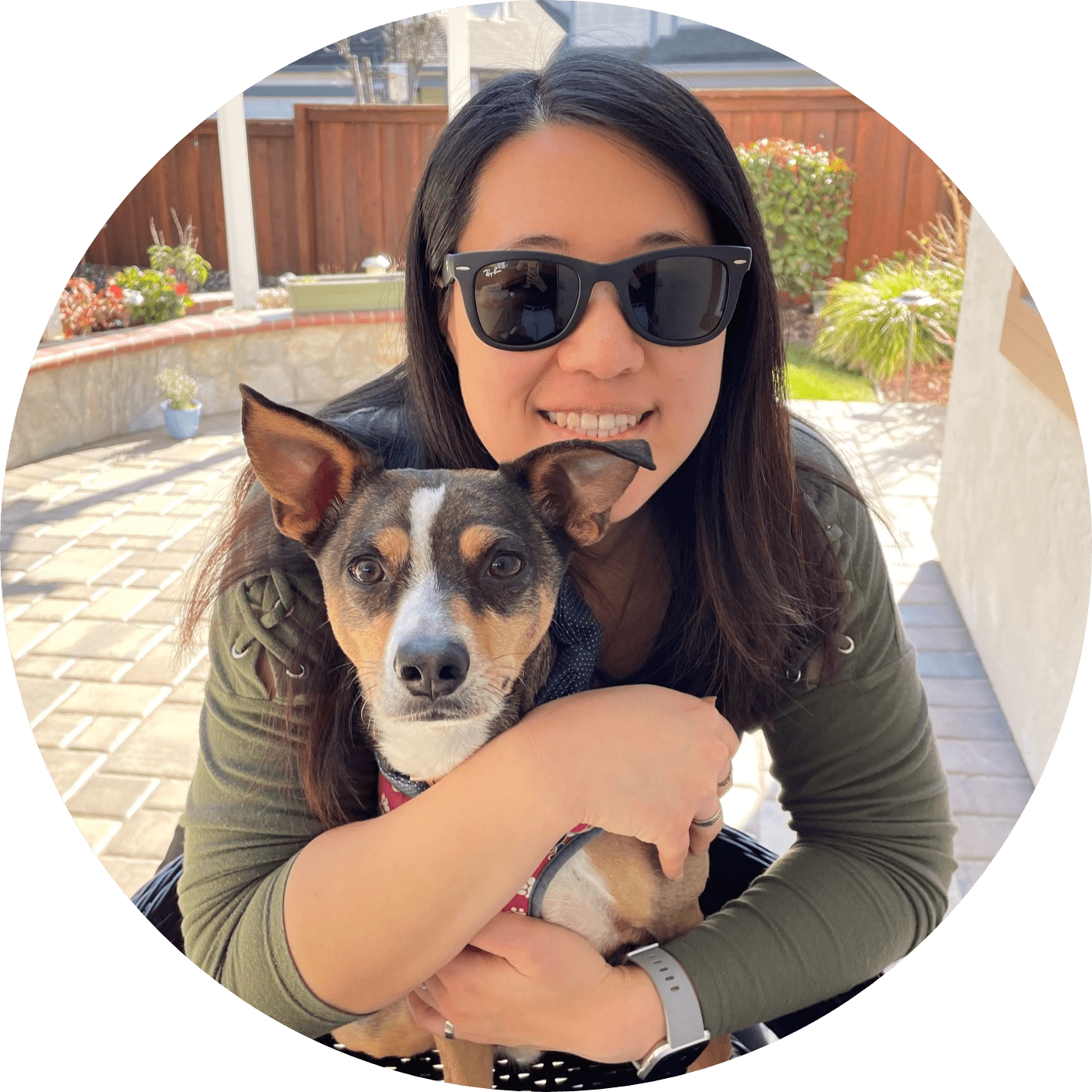 Dr. Sabrina Kong graduated from the Royal Veterinary College in England in 2016 and has been working at a small animal clinic in Northern California since then. She grew up in the Bay Area and got her bachelor's degree from Cal Poly San Luis Obispo. She also became a Certified Canine Rehabilitation Practitioner through a program at the University of Tennessee.
When she isn't in the clinic taking care of her four-legged patients, she enjoys traveling and trying new foods with her friends and her three-legged dog, Apollo. She adopted Apollo from her clinic when he was a puppy with numerous health issues. Dr. Kong truly cares about taking care of animals.