Dobermans are known for being excellent watchdogs and great companion animals. If you have been thinking about adding one of these dogs to your family, you need to know where the best Doberman breeders in Pennsylvania are. These top breeders will be certain to give you the dog of your dreams.
For more information on Pennsylvania breeders, here is everything you need to know. Remember to always try to purchase a Doberman puppy from a reputable breeder. You don't want to purchase a puppy from an unethical breeder because they may run into health issues later down the line.
Before scrolling down this guide, check out these recommendations for your dog: 11 Best Doberman Breeders in the USA!
1. Darla's Dobermans
If you want a breeder who has a lot of experience with this dog breed, then Darla's Dobermans may be a great fit for you. Darla has been breeding Doberman puppies in Pennsylvania for more than twelve years, but she has been involved in the business for far longer. Her own parents were breeders of both Poodles and Terrier breeds, so she grew up with puppies and learned how to breed them.
Her Doberman puppies are bred for health and temperament as well as structure. The goal is to create family-oriented puppies that will make wonderful companions for you throughout their lifetime. She also strives to keep the lines of communication open with the families who purchase her Doberman puppies. You can ask her anything about breeding, the breed itself, or general puppy care with no hesitation.
There is a return policy if your new puppy develops any genetic defects. Additionally, she is also willing to give a full one-year guarantee against any of these potential conditions.
All breeding stock is tested for DM, DCM, OA, and VWD. All her Doberman puppies for sale in Pennsylvania have their tails and dewclaws removed by a veterinarian between the ages of two and five days. You can purchase a puppy both with or without its ears done.
The only downside to purchasing a puppy with Darla's Dobermans is that she does not ship the puppies. She prefers to meet the families who will be getting her dogs, so you must travel to her for pickup when the puppy reaches the appropriate age. They are located in Clearville, Pennsylvania.
Doberman Puppy Information
2. Barnic Dobermans PA
Barnic Dobermans aims to create well-rounded family companions who can also excel in the show ring. Breeder Barb Valerio has been breeding and showing her Doberman puppies for more than 36 years. She has the experience you need from a top-quality breeder for your new puppy.
Valerio knows a thing or two about success in competition. She trains her dogs at least four days per week and travels to shows most weekends. Together, she and her dogs perform in obedience, rally, agility, and Mondio ring sport. Her dogs earn lots of ribbons and titles, and their offspring could be destined to do the same.
All her Doberman puppies for sale will come with AKC papers. The good news is that you won't have to worry about a thing when it comes to filing their registration. This Doberman breeder takes care of everything for you so that all of her puppies are certain to be registered. You do get to name the puppy. She charges a $40 fee on top of the price of the dog to accommodate for this service.
Barnic Dobermans has been recognized as a Breeder of Merit and Health with the AKC. Each puppy comes with their ears cropped, their first set of shots, tails, and dewclaws removed, and a negative fecal from the veterinarian. She offers a lifetime health guarantee on all of her dogs.
Doberman Puppy Information
3. Dobermann Lane Pennsylvania
At Dobermann Lane, they are determined to combat the stereotypes and stigma associated with this breed. While many people view them as violent or unreliable, this breeder does everything they can to ensure that your new puppy is healthy, has a great temperament, and is extremely trainable. Your dog will be your faithful companion for years to come.
Each puppy is raised inside of their home to ensure that they are well socialized. This Doberman breeder in Pennsylvania ensures that each puppy is handled daily by both adults and children. By the time they come to your home weeks later, your puppy will be well-adjusted to the hustle and bustle of normal family life and activity within your home.
This breeder also adheres to the Early Neurological Stimulation protocol. This contributes to the healthy development of well-rounded puppies. Some studies have shown that even improves the health of the dog in the long run.
In terms of health, Dobermann Lane is serious about making sure their litters are free of genetic defects. All Doberman breeding stock is tested by Embark and OFA to ensure they are as healthy as possible. They also adhere to the Bred with H.E.A.R.T. program which is sponsored by the American Kennel Club (AKC).
Doberman Puppy Information
4. Mueller Dobermans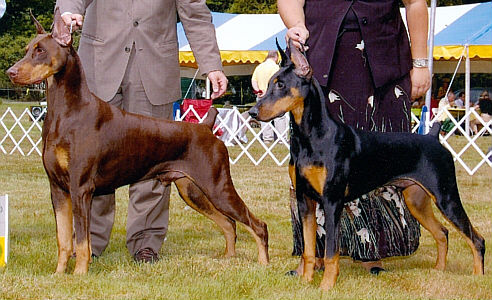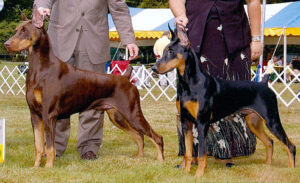 For those who want a puppy that will adhere to the breed standard, you may want to consider Mueller Dobermans. They put a lot of thought into each litter that they create. Roxann and Wayne Miller carefully consider the temperament of their breeding stock, their history of longevity, and soundness to create the ideal puppies.
They also consider performance titles and achievements in the show ring along with the dog's companionship qualities. The end result is a puppy who will make both a great family pet as well as a champion in the show ring.
All of their breeding stock have impressive pedigrees. They have three females and two males that are a part of their breeding program. Some of their dogs have won the Grand Prize Futurity, an extremely coveted title in the world of competition. Others are simply showstoppers in the ring. Their puppies experience an equal amount of success in the ring.
If you are hoping for a white or albino Doberman, you will have to look elsewhere. Mueller Dobermans does not support the breeding of this coloration because it is considered to be a genetic mutation.
Doberman Puppy Information
5. Jambolou Dobermans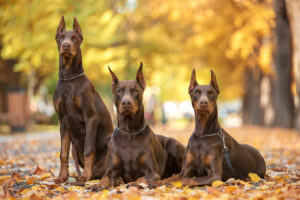 Many people want their new puppies to be raised in a home setting from day one. Fortunately, you can experience firsthand what this does for puppies with Jambolou Dobermans. They believe in raising their dogs to be as well socialized and loved as possible. The breed is known for being very people-oriented, and they do their best to keep them that way.
Most of the adult dogs in the breeding program are dual registered with both the AKC and UKC. They come from champion show lines, are AKC pointed, or have championship titles. While they have not shown in recent years, they used to be quite active in confirmation.
All of their Jambolou's Dobermans are American or Argentinian. They do not have any European Doberman puppies for sale.
Temperament and health are two of the most important qualities in this breeding program. Several of their puppies have gone on to become therapy and service dogs for their new owners. You can anticipate that your new Doberman will be your best friend for years to come.
One of the downsides to using this breeder is that you are not allowed to use your new puppy in your own breeding program. They do not allow for breeding rights with their puppies. If this was something that was important to you, then you will need to find a different breeder.
Doberman Puppy Information
Frequently Asked Questions
Adopting a Doberman isn't the best choice for every family. If you're considering taking this step, though, and still have more questions about the breed, please look through our list of the most commonly asked questions about Dobermans.
Are Dobermans restricted in Pennsylvania?
Currently, Pit Bulls are the only dogs on Pennsylvania's list of restricted or dangerous breeds. However, it's best to get more information about your local city ordinances. In addition, be sure you read the terms of your lease or HOA covenant to ensure that your family is permitted to own a Doberman Pinscher.
Is a Doberman right for my family?
Only you and your family can determine whether this breed is right for you. The dogs need plenty of attention, and between exercise and training you'll certainly have your hands full. Additionally, training, socialization, and exercise are important to your dog's mental health and, thus, to his behavior.
As with any dog breed, you'll want to make sure you have the time to commit. With Dobermans in particular, it may be worth the money to register your pup in an obedience class or another training class.
How do I choose from Doberman breeders in PA?
Trust your gut as you "shop" for dogs in your area. Visit the breeder in person, and get a feel for their personality. Ask yourself the following questions as you explore the kennel:
Again, it's important to trust your instinct. If you don't feel comfortable with a particular breeder, move on to the next!
Conclusion for Doberman Puppies In Pennsylvania
If you are determined to add a Doberman to your family, you need to know where to turn for a reliable new companion. These breeders in Pennsylvania will give you the puppy of your dreams that can excel in the show ring or just be a faithful friend. No matter what your goals are, these breeders can help you to achieve them!
You will also like: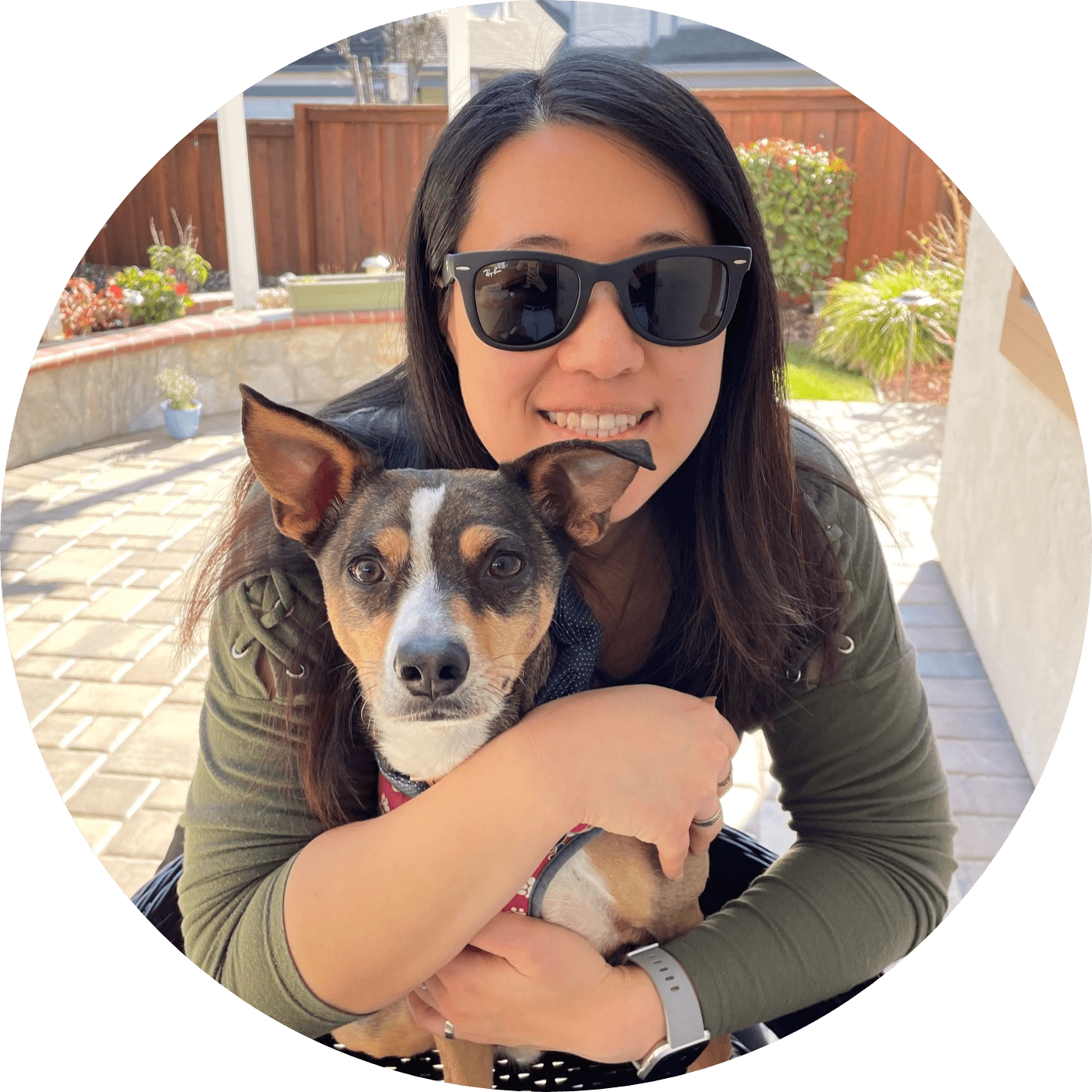 Dr. Sabrina Kong graduated from the Royal Veterinary College in England in 2016 and has been working at a small animal clinic in Northern California since then. She grew up in the Bay Area and got her bachelor's degree from Cal Poly San Luis Obispo. She also became a Certified Canine Rehabilitation Practitioner through a program at the University of Tennessee.
When she isn't in the clinic taking care of her four-legged patients, she enjoys traveling and trying new foods with her friends and her three-legged dog, Apollo. She adopted Apollo from her clinic when he was a puppy with numerous health issues. Dr. Kong truly cares about taking care of animals.