There is an old wives' tale that dogs can develop a taste for blood. This myth causes a great deal of anxiety and stress among dog owners, especially if they have more aggressive or larger dogs. Many owners wonder if a dog tastes blood, will it attack again?
This question is an important one for dog owners to consider. After all, if dogs develop a taste for blood, it could pose a serious danger to people and other animals. Keep reading to find out everything you need to know about this old wives' tale and if it holds any truth.
Before you scroll down to a more in-depth answer to this question, "If a Dog Tastes Blood Will It Attack Again," you can check out these other dog-related articles: Why Does My Dog Lick Me in the Morning and Why Does My Dog Sit Alone in Another Room
The Evolution of Dogs
Before answering the question, if a dog tastes blood, will it attack again? It is essential to understand the evolutionary history of dogs. This myth is rooted in the wild origins of dogs, and many people fear that dogs will return to these wild roots.
Dogs are descendants of wolves. Wolves are naturally aggressive animals and attack if they feel threatened or need to protect their pack. This behavior is natural in dogs, but time and domestication have diluted it.
While dogs have evolved and no longer live in the wild, they still have some of the same instinctual behaviors as their ancestors. These instinctual behaviors include natural aggression towards other animals (prey) and an instinct to protect their pack or family.
Understanding a dog's predatory instincts and how they have evolved can help to put this old wives' tale into perspective. It can also help dog owners better understand their pet's behavior.
Common Behaviors in Dogs That May Be Linked to Their Wild Ancestry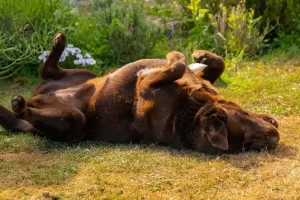 The wild ancestry of dogs is the link to many common behaviors in dogs. These behaviors can cause a great deal of fear and anxiety in dog owners. One such behavior is aggression. This behavior is instinctual and can be difficult for dogs to control.
Another typical behavior that connects to a dog's wild roots is biting. Dogs may bite if they feel threatened or want to protect their pack. This behavior can be dangerous and should be controlled. Other behaviors include howling, digging, and chasing. While these behaviors may be instinctual, dogs can control them with proper training and socialization.
In addition to behavior that has its roots in dogs' wild origins, it is essential to remember that humans breed dogs for specific tasks. For example, people bred herding dogs to herd sheep and other livestock. Dogs can struggle to control their urges if you do not give them the right outlets.
Similarly, hunting dogs have the urge to pursue certain animals. Hunting dogs may attack small game or birds, not because they are aggressive but because their reflexes tell them to do so. For this reason, dogs like Labrador Retrievers, Golden Retrievers, and Weimaraners may chase small animals that run away from them. This behavior is not blood lust but rather ingrained behavior.
Understanding a dog's natural instincts and how their breeding can impact their behavior can help put dog behavior into perspective. With this knowledge, you can better understand what causes dogs to be aggressive.
If A Dog Tastes Blood, Will It Attack Again?
You may have heard of the term "blooded dog," referring to a dog that has gotten a taste for blood, and wondered, what happens if a dog tastes blood?
The good news is that no evidence supports the claim that dogs can develop a taste for blood. If your dog has licked a cut or wound or even attacked a wild animal, you do not have to worry about your dog tasting blood.
The aggressive behaviors passed down from their wolf ancestors and their breeding is in no way impacted by tasting blood. The blood your dog tastes will not cause it to attack again. However, if you do not correct this behavior, it may continue. Their behavior is related to your positive or negative reinforcement of the behavior.
What Happens if A Dog Eats Blood?
If a dog eats blood, it will not kill them. Blood is not toxic to dogs; they will not get sick from eating it. As long as the blood is in small quantities, your dog should be just fine. If your dog swallows large amounts of blood, it can cause digestive problems.
Eating blood regularly could indicate an underlying health condition if your dog tries to eat blood regularly. Blood is high in iron. If your dog constantly tries to eat blood, it may indicate iron deficiency. If you are concerned about your dog's health, please consult your veterinarian. They will be able to determine if there is an underlying health condition.
What Happens if My Dog licks Other Dogs' Blood?
If your dog licks other dogs' blood, it is not a cause for concern. Dogs often lick each other's wounds to show care and respect. This behavior is instinctual and does not indicate a taste for blood.
This behavior is pervasive if your dog is friends with the other dog. This behavior is entirely normal. You do not have to worry about your dog becoming aggressive if it licks another dog's blood.
Why Does My Dog Like Licking Human Blood?
Dogs may lick human blood if they are trying to show empathy and love. Your dog is likely trying to provide care and help heal the wound. Licking cuts and wounds signifies that your dog considers that person a part of its pack.
Licking human blood can also be a sign of excitement. Your dog may have just gotten excited and started licking without thinking about it.
However, you should try and stop your dog from engaging in this behavior. The saliva from a dog can carry harmful bacteria that cause infections. If your dog licks a cut or a wound, you should wash it immediately and cover it with a bandage.
How to Prevent Aggression in Dogs
It's no secret that dogs have a wild side. Their ancestors are wolves, after all. And while most dogs today are domesticated and far removed from their wild roots, they still inherit some of the behaviors of their wild ancestors.
Dogs can become aggressive for a variety of reasons. They might be protecting their food, territory, or their pack. They might also be acting out of fear or feeling threatened. And in some cases, aggression is simply a result of poor socialization or training.
The good news is that you can help prevent your dog's aggression from becoming a problem with careful training.
Here are some tips:
Never punish your dog for being aggressive. Punishment will only make the problem worse.
Be consistent with your commands and praise. Dogs need to know what is expected of them to behave correctly.
Do not let your dog become isolated or left out of social situations. Isolation can lead to insecurity and fear, which can trigger aggression.
Be sure to give your dog sufficient. Tired dogs are happy dogs and less likely to be aggressive.
Consult a professional trainer or behaviorist immediately if you see signs of aggression, such as growling or snapping. They can help you identify the root of the problem and devise a plan to address it.
You can help your dog overcome its aggressive tendencies with patience and understanding. Creating a calm and happy home environment is the first step to preventing dog aggression.
How To Stop Your Dog From Biting
Another standard dog behavior that can cause problems with blood is biting. Dogs have very sharp teeth, and if they bite someone, that person can easily bleed.
It would be best to socialize early and often to prevent your dog from biting. Socializing means exposing your dog to different people, places, and situations so that they become used to them. If you think your dog will bite, give a loud, sharp "NO!"
If your dog does taste blood, it's essential to keep calm. Dogs can sense our emotions; if you're worried or scared, that will only worsen the situation. If you think your dog will attack again, keep them calm and relaxed and leave the situation as soon as possible.
You can also try using a muzzle if your dog struggles with biting. Muzzles prevent dogs from opening their mouths, but this is not a long-term solution.
Of course, the best way to prevent your dog from biting is to train them not to bite in the first place. You can teach your dog what is acceptable behavior and what is not. You can do this by using positive reinforcement, like giving your dog treats or praise when they behave well.
It would be best to avoid punishment, as this can worsen the problem. You can always consult a professional trainer if you need help. They know how to respond appropriately.
Frequently Asked Questions
These are some frequently asked questions about dogs and the consequences of eating blood.
What happens when a pitbull tastes blood?
Pitbulls are a type of dog that is often associated with aggression. However, if a pitbull tastes blood, it does not mean that the dog will automatically become aggressive and start attacking. Pitbulls are like any other dog; tasting blood will not make them more aggressive.
Why does my dog like the taste of blood?
Dogs have a strong sense of smell and can often smell blood before we can. The taste of blood may appeal to them because it is a new and exciting flavor. Additionally, blood is rich in nutrients and minerals like iron which a dog needs to survive.
What happens when dogs eat blood?
If a dog eats large quantities of blood, the dog may vomit or have diarrhea. Blood is not part of a dog's regular diet, and its digestive system cannot process it. However, if a dog ingests a small amount of blood, it is not likely to cause any problems.
Do dogs get a taste for blood?
No, dogs do not develop a taste for blood. This myth is a common one that holds no scientific backing.
A dog's taste buds are not the same as a human's, and their sense of smell is much stronger. Dogs may be attracted to the taste of blood because it is a new and exciting flavor, but they do not develop a liking for it.
Conclusion For "If a Dog Tastes Blood Will It Attack Again"
Now you know the answer to the question: if a dog tastes blood, will it attack again? The answer is a hard no. Dogs do not develop a taste for blood and will not become more aggressive if they consume it.
However, dogs are also complex animals with a long history. It's important to remember that when you're dealing with dog behavior. Dogs can be aggressive for various reasons, but you can help prevent it with patience and training.
If your dog does develop aggressive habits and behaviors, try to keep calm and consult with a professional if necessary. You can help your dog overcome behavioral problems with the proper knowledge and approach.
If you find this guide, "If a Dog Tastes Blood Will It Attack Again," helpful, you can check out these other dog-related questions answered by our team at We Love Doodles:
You can learn more about this topic by watching "Does the taste of blood changes your dog?" down below:
Garrett loves animals and is a huge advocate for all Doodle dog breeds. He owns his own Goldendoodle named Kona. In addition, he volunteers at the Humane Society of Silicon Valley, where he fosters dogs and helps animals. Garrett enjoys writing about Doodles and believes that dogs can teach humans more about how to live than humans can teach a dog.
Why Trust We Love Doodles?
At We Love Doodles, we're a team of writers, veterinarians, and puppy trainers that love dogs. Our team of qualified experts researches and provides reliable information on a wide range of dog topics. Our reviews are based on customer feedback, hands-on testing, and in-depth analysis. We are fully transparent and honest to our community of dog owners and future owners.