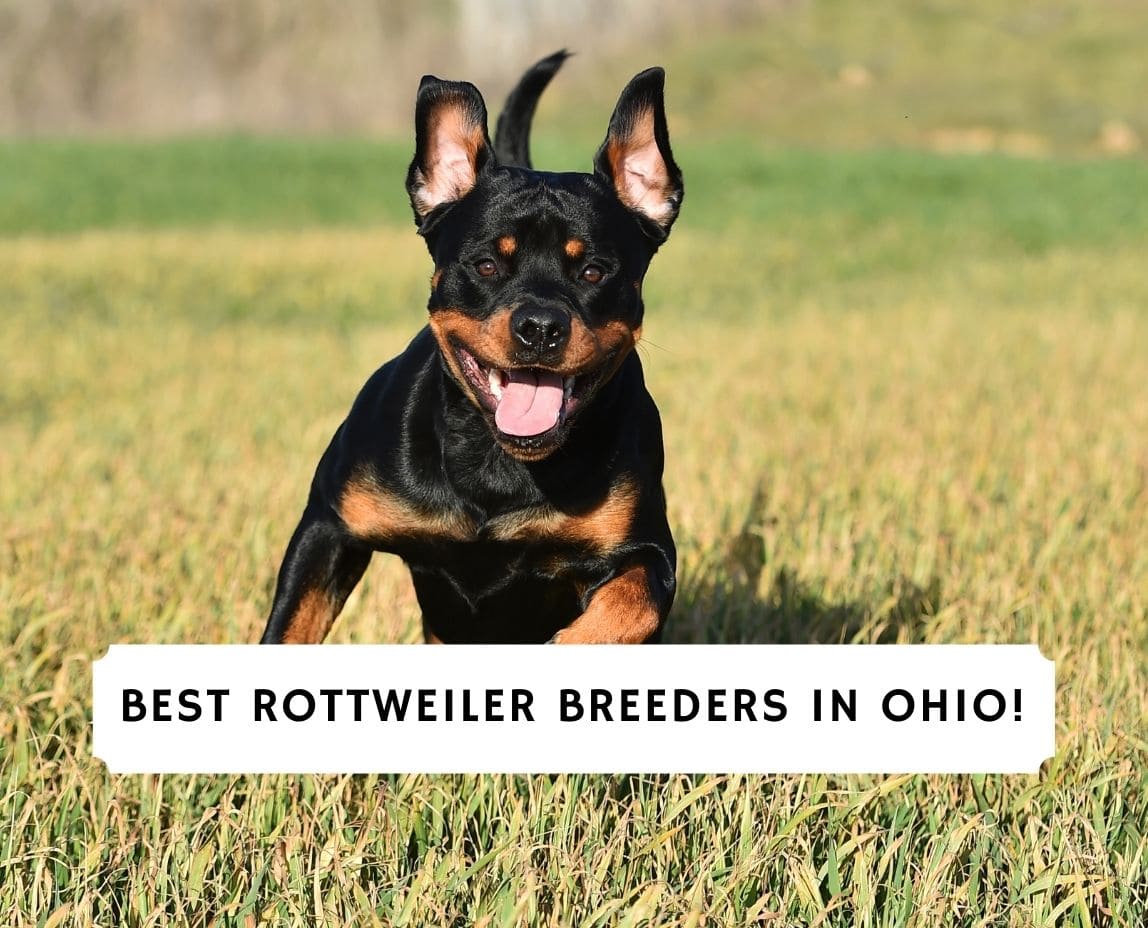 In this guide, we'll help you find the best Rottweiler breeders in Ohio. Rottweilers are amazing companions, and here's what you need to know about them. For a dog with unique temperaments, finding the best Rottweiler breeders can be tough for many people. The Rottweiler breed was originally bred to drive cattle to market, and they're smart and obedient domestic animals. It is a belief that the butchers used them to pull carts. They are fierce friends and popular family guardians.
However, they do require training, which ensures experience. If you are a constant and advanced pet parent, you will find a loving, faithful, and intelligent friend for life in a Rottweiler. Rottweilers are among the earliest police dogs, and they also serve with honor in the military. Rottweilers can be very affectionate and kid-friendly dogs. They are mentally keen and hence easy to train. However, they do tend to Bark or Howl loudly. Being a highly energetic breed of dogs, they need to have proper exercise and playtime.
An average male Rottweiler weighs around 110 lbs to 130 lbs (50 to 60kgs) and is about 2ft tall. However, an average female Rottweiler weighs around 77 lbs to 105 lbs (35 to 48kgs) and is approximately 1ft 8" in height. They are very self-confident dogs and are not easily influenced by new faces or changes in their environment. As mentioned above, they are very affectionate dogs, making them loyal and protective towards their family.
They are also instinctual guard dogs. Rottweilers need extensive socialization and training to avert their aggressive side. The breed dates back to the Roman ruling era. Rottweilers worked as messengers and service dogs during both the world wars, draught ambulances, and even guard dogs. The important thing is, with proper training and adequate precautions along with early socialization and obedience, you can adopt a Rottweiler in your home.
Before scrolling down this list of Rottweiler breeders in Ohio, check out these other recommendations: Best Cane Corso Breeders in Ohio and Best German Shepherd Breeders in Ohio.
Rottweiler Puppies For Sale in Ohio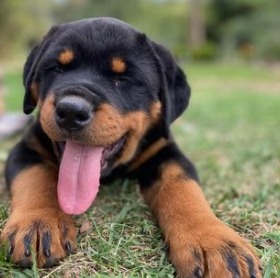 Remember to do your research if you're purchasing from unknown Rottweiler breeders in Ohio. Unfortunately, many puppy mills are breeding in unethical ways, and it's best to avoid them. Now that we got that out of the way, here's your list of the best Rottweiler breeders in Ohio.
Rottweiler Product Recommendations: Best Smelling Dog Shampoo and Best Dog Beds Not Made in China.
1. PuppySpot's Rottweilers for Ohio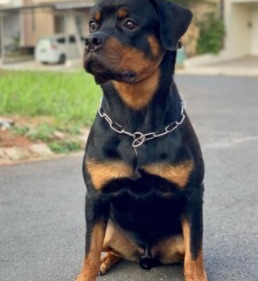 First on the list of Rottweiler breeders in Ohio isn't one breeder but an entire marketplace. We highly recommend everyone interested in raising a Rottweiler check out this platform. While we understand that there are numerous puppy mills to avoid, we recommend PuppySpot for a reason. PuppySpot screens every breeder on the platform to ensure that there aren't any unethical practices going on. To give you an idea of how strict PuppySpot is, they accept less than 20% of all applicants. There are numerous benefits to using PuppySpot for your Rottweiler companion, such as avoiding the waitlist and getting in touch with reputable breeders.
PuppySpot Details
2. Mountain High Kennels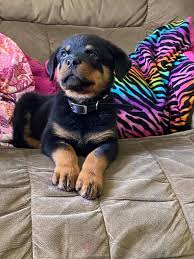 Mountain High Kennels raise quality AKC Rottweilers in their home as part of their family. They focus mainly on Temperament within the breeding program. Also, health is a point of focus for them. The site clearly states that the dogs they breed are non-aggressive and are not meant to guard dogs. The puppies are raised inside their home, and they completely frown upon hiring outside help to look after them. Mainly because they, as a family, enjoy breeding and caring for the dogs themselves. Having children around themselves is an assurance that these dogs are kid-friendly.
The dogs are also exposed to all regular household sounds and surfaces to ensure that they are confident when they leave. Most puppies have their tail docked and claws removed by a vet at 3 to 4 days of age. If you are looking for naturally-kept puppies, they are the right choice for you. Every litter then undergoes a deworming schedule, veterinary checkups, and their first vaccination and microchip before leaving. Ultimately, these guys give you the best Rottweiler experience.
Mountain High Kennels Details
3. King's Rottweilers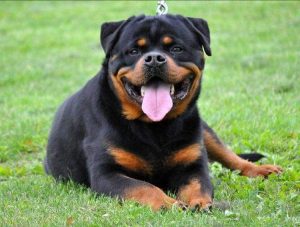 King's Rottweilers are high-end and ethical breeders of imported show-quality European Rottweilers. They focus on dogs from the top European and German Rottweiler bloodlines. The dogs are all health tested, and puppies come with both health and confirmation guarantees. In addition, they have grown their program so much that they now include males and females from every top European and German bloodline. So if you're looking for the Rottweilers, here is where you will get them.
King's Rottweilers Details
4. Schwarzberg Rottweilers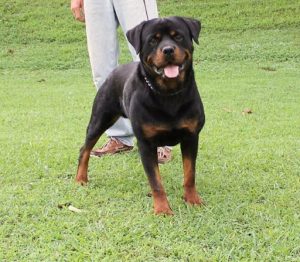 At Schwarzberg Rottweilers, they strive to produce the total breed, a dog that is not only a wonderful family pet but can compete in the show ring. A Rottweiler can accomplish any task that they have been asked to do. At Schwarzberg Rottweilers, the German Rottweiler standard is the only standard. They now have some of the finest German Rottweilers. They produce the whole breed with brains, beauty, and working ability. They allow them to remain natural. The dogs are trained and can hence make the perfect pets. The puppies each undergo health checks and vaccinations.
Schwarzberg Rottweilers Details
5. Vom Hause Jaras Rottweilers
Vom Hause Jaras Rottweilers works from a place near Columbus, Ohio. VHJ has been around for the past 12 years, and it produces good quality, pedigree-packed, and show-worthy puppies. Whether you are looking for a pet or a show dog, they will help you with any questions or concerns you may have. They offer a Rottweiler Stud service to females with high show quality. They train the puppies to be social. The children hold dogs while their nails are chopped. Their ears and feet are checked, and they are walked on a leash by children regularly. These Rottweilers are also taken outside and encouraged to interact with others.
Vom Hause Jaras Rottweilers Details
6. Quarter Woods Rottweiler
Last on this list of Rottweiler breeders in Ohio is 'Quarter Woods Rottweiler.' They are a code of Ethical Rottweiler breeders. Their focus is to breed well-tempered, healthy dogs. Health is their prime focus, and all their dogs are OFA certified. That means they check the hips, the elbows, the Hearts, and the eyes of each dog. Even if the dogs are imported, they do the extra step and redo all the health checks another time. Their Rottweilers are intelligent and bred to be family companions. They are bred to have the desire to work and please. The Quarter Woods Rottweilers have produced Seiger Champions, AKC champions, and obedience, and Schutzhund titled Rottweilers.
Quarter Woods Rottweiler Details
Rottweiler Dog Breed Info
If you're still debating whether or not the Rottweiler is the dog for you, here are some carefully curated notes on the dogs' characteristics and nature.
Temperament and Personality
A well-trained Rottweiler balances his protective nature and aggressive side well. It has an intimidating presence that is enhanced by his dark brute-like appearance. The Rottweiler is smart, sharp, and highly trainable. It is a good-natured dog and reserves its loving side for family and familiar people, including children.
Related: Are Rottweilers Dangerous?
Health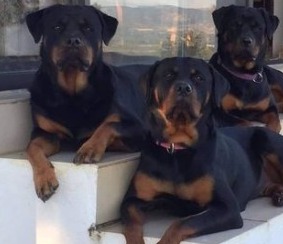 Rottweilers are relatively healthy. However, like most breeds, Rottweilers are also prone to certain illnesses.
Such illnesses include:
Hip Dysplasia
Osteochondritis Dissecans
Entropion or Ectropion
Osteosarcoma
Parvovirus
Diabetes
Obesity
Arthritis
Heart Failure
Overheating
Aortic Stenosis
Allergies
Hypothyroidism
Panosteitis
Gastric Dilation-volvulus
As a safety measure, ensure that you have the required health certificates, including those of the parent breed of your dog's bloodline.
Grooming and Maintenance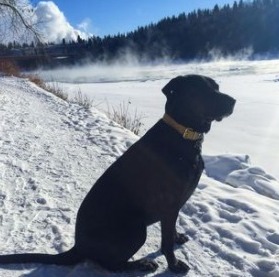 It is in the owner's best interest and the dog to fence the yard to ensure that the dog doesn't get aggressive with strangers or other neighborhood pets. It is also precautionary to put them on a leash while taking them outside the house for a walk or other places to meet unfamiliar places. Rottweilers come with varying energy levels, so make sure you tell the breeder if you need a moderately active dog. Their exercise and playtime depend excessively on their energy levels and the amount of food they consume.
They also require a lot of mental stimulation and positive reinforcement during their training. The Rottweiler remains one of the best dog breeds to maintain. They have a short and flat coat, which means that they require only an occasional bath. The Rottweiler has deep muzzles that trap saliva, so wiping it frequently with a towel keeps them clean. Ensure that you trim their nails and brush their teeth regularly.
Related: Why is My Rottweiler Growling and Are Rottweilers Good Dogs?
Conclusion For The "Best Rottweiler Breeders in Ohio"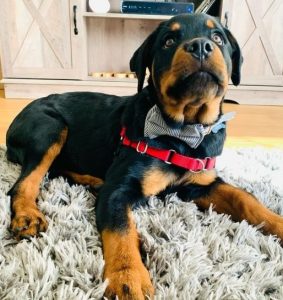 We've given you a variety of places from where you can adopt a Rottweiler, along with listing down various reasons why you should consider adopting. Should you decide that Rottweilers are the dogs for you, you now have various breeders to choose from in Ohio itself. When you are ready to want one of these dogs to be a part of your family, you can contact any of the above-mentioned breeders in Ohio, USA.
If traveling to these Rottweiler breeders in Ohio is a distance for you, check out our recommendations from other states:
If you're looking to learn more about the Rottweiler dog breed, watch "10 Reasons Why You Should Have a Rottweiler" down below: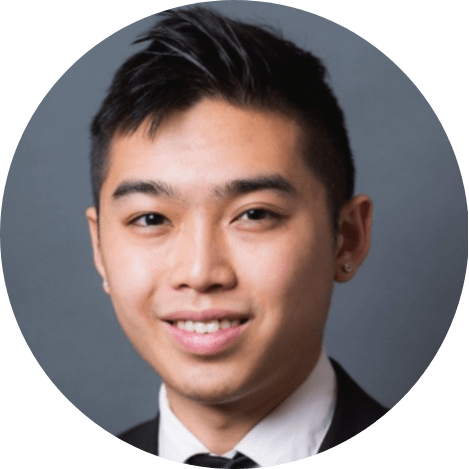 Andy is a full-time animal rescuer and owner of a toy doodle. When he's not saving dogs, Andy is one of our core writers and editors. He has been writing about dogs for over a decade. Andy joined our team because he believes that words are powerful tools that can change a dog's life for the better.
Why Trust We Love Doodles?
At We Love Doodles, we're a team of writers, veterinarians, and puppy trainers that love dogs. Our team of qualified experts researches and provides reliable information on a wide range of dog topics. Our reviews are based on customer feedback, hands-on testing, and in-depth analysis. We are fully transparent and honest to our community of dog owners and future owners.