If you're in search of the best Cane Corso breeders in Ohio, then you must know about their unique athletic abilities. When it comes to agility, athleticism, energy levels, and speed, the Cane Corso outdoes most other breeds. Therefore, this robust dog requires his share of exercise as well as companionship and personal interaction. Like all mastiffs, socialization is an absolute prerequisite to encourage the correct temperament. Due to their rising popularity, you'll see many Cane Corso puppies for sale in Ohio.
Unfortunately, irresponsible Cane Corso breeding programs result in aggressive or unstable temperaments that pose a danger to people and animals around them. Although the Cane Corso wasn't bred for dog-fighting, it's worth noting that its aggression can be a problem. This is one of the main reasons why you have to choose a reputable Cane Corso breeder.
Other articles you might like: Poodle Breeders in Ohio and Aussiedoodle Breeders in Ohio.
Cane Corso Puppies For Sale in Ohio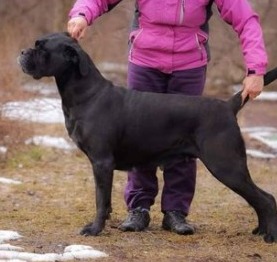 Being a working dog, the Cane Corso thrives when it has tasks to perform. This breed needs a strong alpha pet parent and a large yard to expend its energy. It does well outdoors, needs plenty of exercises, and must be trained in obedience. If you cannot provide your Cane Corso with basic requirements, it could get bored, leading to them becoming destructive.
However, if you ensure that you can meet this Italian Mastiff Basic needs and are keen to welcome one into your family, you need to look no further, especially if you live in Ohio. You can contact any of the Cane Corso breeders in Ohio below.
1. Americana Cane Corso Ohio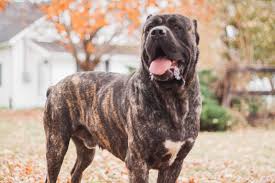 First on the list of Cane Corso breeders in Ohio is 'Americana Cane Corso.' Situated in Central Ohio, Americana Cane Corso is a boutique kennel that offers the best Cana Corsos to become your companions. Besides being endowed with the best physical traits, their dogs are trainable, confident, smart, and fearless. 
Their Cane Corso puppies also balance their protective and loving nature with loyalty. The breeder attains these qualities through their breeding program by focusing on dogs they feel meet the original Cane Corso conformation standard.
Americana Cane Corso Details
2. Fyreland Cane Corsos Ohio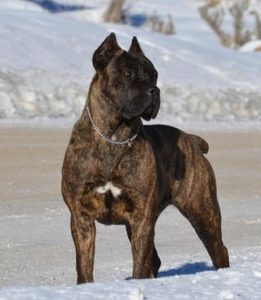 In Central Ohio, this breeder is committed to improving the breed by breeding for excellence in temperament, conformation, and health. For them, it's vital to breed only conformationally correct dogs that are health tested. Fyreland Cane Corsos have been involved with this huge breed since 2006. They are  CCAA members, which offers a lot of useful information to prospective first-time owners. At Fyreland, the breeders consider the dogs as family members and raise the puppies in their homes.
Fyreland breeds their dogs with the utmost concern and care. Their well-socialized puppies grow around children and other dogs. They value temperament because they understand that while the breed needs proper training and socialization. The breeders are cautious about their Cane Corsopuppy placement because their goal is to ensure each puppy ends up in the perfect home.
Fyreland's major priority is to give their Cane Corso puppies in Ohio to those pet parents who love animals, especially dogs, particularly the Cane Corso. For this reason, they ensure that puppy placement takes place in the most responsible and loving homes. They're always ready to accept back puppies that need rehoming and expect puppy owners to maintain contact with them throughout the puppy's life.
They only place puppies as companions or show quality. They don't place "breeding rights" on any Cane Corso puppies. At Fyreland, companion puppies receive the same love and treatment as show prospect ones. A written warranty covers companion puppies for genetic defects, and the breeder expects all companion puppies to undergo spaying or neutering.
It's worth noting that the breeder focuses on health, temperament, and conformation rather than color. They believe color is solely cosmetic. While they produce a range of AKC-accepted Cane Corso colors, they don't guarantee anybody that particular color will be accessible. They base their placement decision on whether the Cane Corso puppy will be a good match for that home.
Fyreland Cane Corso shows their dogs in the AKC shows because they feel that breed preservation is crucial. Their dogs' health is a significant aspect for the breeders, so they do their best to ensure their Cane Corso puppies for sale stand the best chance to be as healthy as possible. They test their dogs for elbows, hips, and knees. All their puppies undergo vet examinations numerous times before they leave for their new homes. Moreover, their new owners receive an accompanying health certificate from the vet.
All their Cane Corso puppies in Ohio undergo tail docking, vaccination, and deworming. Furthermore, they're microchipped with a 2-year warranty. Fyreland Cane Corsos emphasize socialization to new owners and help them get set up with reputable training clubs nearby.  The breeders take dog ownership and raising puppies seriously. That's why they do whatever is necessary to raise healthy, happy, and well-socialized puppies. They even get the new pet parents to join reputable training clubs nearby.
Fyreland Cane Corsos Details
3. Alcor Cane Corso & Handling OH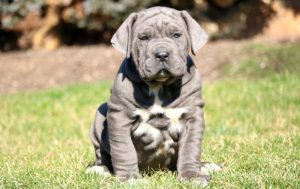 Alcor has been breeding Cane Corsos for more than 20 years. That makes them one of the original Cane Corso breeders in the United States. Situated outside Dayton, Ohio, Alcor focuses on antique-style puppies while emphasizing large bone, muscular size, excellent movement, stability, and protective temperaments. The breeder has bred dozens of Italian mastiff champions through its handling program. Altor also offers quality Corsos for sale. They have promising juveniles and outstanding puppies who become true companions, sires, and dams or show prospects.
Whether you're seeking a puppy, a family dog, or a champion, a Cane Corso has just what you need. Their extensive experience has enabled the breeder to develop consistent and distinguished breeding lines to develop huge boned, large, structurally sound dogs and puppies. Highlighted sentences are repeating the same idea.
Alcor Cane Corso & Handling Details
4. Shipley Cane Corso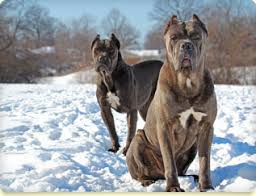 The breeder takes pride in their dogs' temperament. Therefore, their Corsos have a great temperament around your family, kids, and friends while still maintaining the ability to protect your home against intruders. These Cane Corso breeders have grown popular in Ohio because they don't compromise when it comes to their Cane Corso bloodlines. The fact that they're extremely selective has allowed them to preserve what a Corso is supposed to be – large, protective, and docile around children. They pay attention to health, looks, and temperament.
At Shipley Cane Corso, they raise all their dogs in a home with a loving family. Moreover, they're responsible for their puppies and care about their dogs. Buying a Corso from Shipley means owning a huge, beautiful dog with an excellent pedigree and comes with 2-year health and a temperament guarantee.
Shipley Cane Corso Details
5. Cane Corso Excellence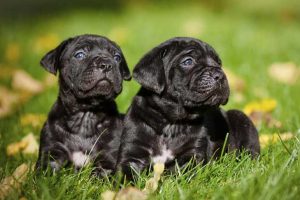 Last on the list of Cane Corso breeders in Ohio is 'Cane Corso Excellence.' Cane Corso Excellence does not spare any effort to preserve and improve the breed following countless research hours on pedigrees and health issues. Moreover, a lot of thought and careful planning goes into breeding, during which the breeder holds the best puppies back from each litter he produces, enabling him to watch them develop and grow. That further helps the breeder improve their genetics and health, temperament, and conformation for future generations.
At Cane Corso Excellence, numerous generations of Cane Corsos exist, allowing prospective owners to acquaint themselves with them while seeing their type and temperament. The breeder offers one year of fundamental obedience and training classes for specific breeds to successfully pair puppies with their new families.
The breeder believes in raw feeding, which according to him, offers the pups the best start. Raw feeding also helps ensure they feed on a species-specific diet, which resembles what they would consume in the wild. At Cane Corso Excellence, they are constantly seeking ways to improve their Cane Corso's diet by adding to and eliminating particular foods as they discover more about raw feeding and each dog's varying needs.
Cane Corso Excellence Details
Conclusion For Cane Corso Breeders in Ohio
If you're seeking a smart and trainable dog that's confident and assertive, perhaps you should consider the Cane Corso. Just ensure you're well-informed on how to care for the breed and have the necessary space, energy, and time to give it.
For instance, you will need to socialize your Cane Corso puppies since they have protective instincts and guard their family, humans, and animals against unfamiliar persons. That makes it imperative that they get considerable exposure to people and learn to identify good people's everyday behavior and distinguish it from abnormal behavior.
Without sufficient socialization, they're likely to become terrified of strangers, possibly leading to defensive biting. If you're looking to buy a Cane Corso in Ohio and are ready to have one, this list will come in handy. We that you were able to contact some breeders and get your next puppy!
If traveling to these Cane Corso breeders in Ohio is too far, you can check out our recommendations from other states:
To learn more about the Cane Corso dog breed, watch "Cane Corso: Man's Best Friend" down below:
Garrett loves animals and is a huge advocate for all Doodle dog breeds. He owns his own Goldendoodle named Kona. In addition, he volunteers at the Humane Society of Silicon Valley, where he fosters dogs and helps animals. Garrett enjoys writing about Doodles and believes that dogs can teach humans more about how to live than humans can teach a dog.
Why Trust We Love Doodles?
At We Love Doodles, we're a team of writers, veterinarians, and puppy trainers that love dogs. Our team of qualified experts researches and provides reliable information on a wide range of dog topics. Our reviews are based on customer feedback, hands-on testing, and in-depth analysis. We are fully transparent and honest to our community of dog owners and future owners.