Cane Corsos are athletic, powerful dogs best suited to qualified pet parents with huge, secure fenced yards. If you can provide adequate space, training, and exercise, this breed might be for you. However, the dog's intelligence, protective nature, and athletic ability can prove challenging for novice owners or those accustomed to less strong-willed breeds. However, dog owners love Cane Corso's and they are the 32nd most popular dog breed. It's no surprise that there are lots of Cane Corso puppies for sale in Florida.
With that being said, Cane Corsos require ample socialization and training to ensure its physical and mental health. In Florida, you can find many reliable Cane Corso breeders. We created a list of reputable Cane Corso breeders to help you find a new puppy.
We understand the hassle and how challenging it is when trying to find the right Cane Corso puppy. It's not easy especially when you want your Cane Corso to have a specific coat type, size, or color of your choice. This is where PuppySpot becomes useful.
PuppySpot is a marketplace with not only Cane Corso puppies for sale but breeders for a variety of dog breeds. You can search for your Cane Corso puppy using PuppySpot's tools and filter out by age, color, or any of the specifics. They only list puppies that are for sale today, so you also don't have to wait on a long waitlist.
Additionally, they also screen all Cane Carso breeders to USDA standards and AKC standards to ensure that you aren't supporting a puppy mill. Our team at WeLoveDoodles highly recommends checking out PuppySpot for your Cane Corso puppy. We bought one of our puppies from them and have had a great experience. All puppies come with a health guarantee and a health inspection. If you want to save time from screening breeders and want a puppy as soon as possible, you should check out PuppySpot.
Update: PuppySpot has given our readers $100 off a new Cane Corso puppy with coupon code WLD100.
PuppySpot Cane Corso Details
2. Costa Bel Cane Corso Florida
Located in South Florida, this breeder assesses temperaments and tests every Cane Corso's health. The breeder prioritizes their dogs' welfare, so they operate in a way that serves the best interest of their dogs and puppies. For this reason, they don't ship any of their Cane Corso puppies. Instead, they hand-deliver puppies going outside the local area. The other option is self-pickup by the new owners. The new family will incur any travel costs associated with the delivery of a puppy.
Costa Bel Cane Corso's goal for breeding is for the preservation and betterment of the Cane Corso breed. It's worth noting that this breeder doesn't breed frequently and always maintains puppies for working and exhibition purposes from all litters. Furthermore, they choose pairings carefully to produce healthy litters and enhance the future of this breed. All dogs that participate in the breeding program undergo thorough health testing besides being well-socialized and temperament tested.
Costa Bel Cane Corso Details
3. Siciliano Cane Corso FL
The breeder loves and enjoys breeding Cane Corso puppies in Florida. All their dogs reside in their home where they provide outdoor facilities for the dogs to run and enjoy the outdoors. Their Cane Corso puppies for sale undergo vaccination, veterinarian checks, and have health certificates. You'll discover the breeder breeds even-tempered Cane Corso puppies which are raised together with children who range from toddlers to teenagers. Their dogs receive expert obedience training and some have proceeded to become service dogs.
The breeders' puppies also exhibit great temperament around the pet owner's friends and family while still capable of protecting the home against intruders. Dogs from Siciliano Cane Corso undergo great caring, temperament, and health testing. Furthermore, the breeder registers the dog's DNA, so you can be certain that the lineage is 100% accurate. The breed favors the dominant gene to produce dominant-colored litters. This Cane Corso breeder considers the pedigree when breeding a Cane Corso that's affected by the dilute gene (blue coats) to prevent dilute breeding across multiple generations; this could yield health issues.
Prenatal Care
The breeder spends countless resources and hours getting ready for a Cane Corso litter. A lot takes place before the pairing, from parentage procedure (Sire and Dam health testing) to veterinary support. The breeder makes unique diet plans, developed from excellent research, for the Cane Corso puppies and dams. The breeder also organizes all the necessary medical supplies for whelping.
Siciliano Cane Corso Details
4. Numenor Kennels Florida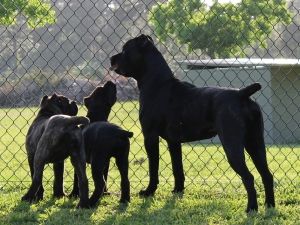 Situated in Central Florida, Numenor Kennels is committed to breeding Cane Corso puppies. The dogs are very special to the breeders and are considered a vital part of the family. This breeder gives the dogs considerable attention, socialization, and love. In turn, their dogs exhibit devotion and love to their forever families.
The breeder also takes pride in their dogs and strives to breed the finest Corso puppies in Florida. The breeder's main aim is to breed for temperament and health while striving to sustain a line of dogs that typify the Cane Corso. Here, all puppies obtain the highest care level and they always receive attention and love.
Numenor Kennels Details
5. Blue Ridge Cane Corsos FL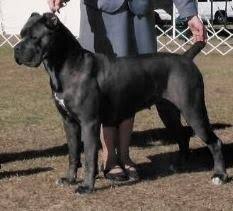 Blue Ridge Cane Corsos is home to the Grand Champions and various multi-champions. Their dogs come from some of the oldest working lines and shows, with most having their GGC and various temperament titles. The breeder strives to create conformationally correct and healthy Corsos with exceptional temperaments on their 51/2 acre land. When initiating the breeding program, the breeder took time to learn all they could about the dog breed and establish how they could improve and promote the breed.
This Cane Corso breeder in Florida waited five years before they produced their first litter and carefully bred only the best genetics that produced intelligent, healthy, and calm potential working and show Corso puppies. Moreover, the dogs undergo socialization and spend considerable time with the breeder's friends and family.
Since Cane Corsos are powerful with dominant personalities, these dogs aren't for everyone. At Blue Ridge Cane Corsos, all of the dogs' potential new families are screened thoroughly to make sure a happy transition takes place from the breeder to the dog's new home. It's worth noting that the breeder sells their puppies with two-year health guarantees.
Blue Ridge Cane Corsos Details
6. Garritani Cane Corso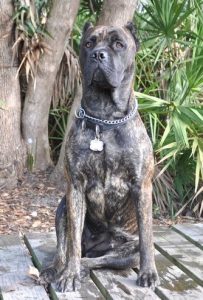 Garritani is home to Grand Champions where all their dogs are family members. The breeder has produced Champions and Grand Champions who've earned different working dog titles. Garritani participates actively in AKC conformation as well as obedience training. The business owners have had various kinds of dogs and rescued animals. This Cane Corso breeder shares their home with their puppies who are devoted and affectionate. The breeder conducts the following for their Cane Corso puppies in Florida.
Ear Cropping
This procedure has raised some debate over the procedure, which some groups consider cruel. The breeder, however, asserts that such ideas are the result of misinformation and the lack of knowledge on the canine. Ear cropping plays a huge role in maintaining a dog's well-being. This procedure produces erect ears, thereby preventing the parasite and bacteria infiltration that could result in severe ear infections or worse.
On the same note, the dogs' heavy-hanging ears offer a flap that covers their ear canal, preventing sunlight and air from infiltrating the ear. Subsequently, this leads to trapped moisture as well as the development of a breeding ground for bacteria and parasites.
Temperament Testing
All Cane Corso puppies for sale in Florida at Garritani undergo temperament testing at the dogs' 49 days of age. The goal of the testing is to ensure that the puppies end up in homes that match their temperament; proper placement of puppies is important to the breeders. Testing occurs on the dog's 49th day, once the puppy is complete neurologically.
Garritani Cane Corso Details
7. Breedmaster Dog Training
Breedmaster Dog Training is situated outside Ft. Lauderdale, Florida. You can discuss dog training with the breeder. The breeder's goal is to enhance the industry to prevent dogs from suffering needlessly. The business's owner, Larry has identified the need to teach people how to train dogs effectively, properly, and permanently. Larry understands that dog owners want breeders they could trust and depend on to offer dog products, services, and information on dogs. With more than 40 years of combined experience, Breedmaster doesn't merely train dogs and the owners. The breeder has broadened its services to include breeding Cane Corsos. 
Crate Training
When used properly, a crate offers an effective tool for training and managing your dog. If your dog learns to be content in a crate, you'll offer a safe place to call home and sleep in at night. Crates are particularly beneficial when initiating a new dog into a household. Your puppy will need to attend a 4-6 week camp at Breedmaster. Throughout this period, your puppy will undergo proper introduction to crate training and be placed on a consistent watering/feeding schedule. Upon graduating from camp, the breeder teaches you everything you require to transition the puppy from crate-trained to crate elimination.
Advanced Obedience
All breeds can learn how to be obedient. However, new owners might find it difficult to train some breeds. It's worth noting that the ability to learn fundamental obedience is intrinsic in all dogs. However, some breeds might need more creativity or patience to train than others. Remember, dogs that demonstrate anxious or fearful behaviors need careful handling. Breedmaster trains all dog breeds that learn how to sit, come, and heel by their owners' side.
Off-leash Obedience
This term refers to when your dog heeds basic commands, such as sit, without a leash. The breeder uses a stimulation collar to offer light correction and get a dog's attention. Before a dog becomes eligible for this training, your dog should recognize basic commands while on a leash. Your dog should be at least 6-7 months to undergo this training. The advantage of this training is that you can take your dog anywhere confidently, knowing that your dog can manage any circumstance in the absence of a leash.
Apprentice Program
Breedmaster offers this program where you learn to be a dog trainer. This program suits those who enjoy learning, are patient, and can work with various learning styles. In this program, you'll play an important role in the breeder's family. While there, you'll obtain hands-on practice dogs of various sizes. Note that people must meet a list of qualifications to participate in this program.
Breedmaster Dog Training
Conclusion for the Best Cane Corso Breeders in Florida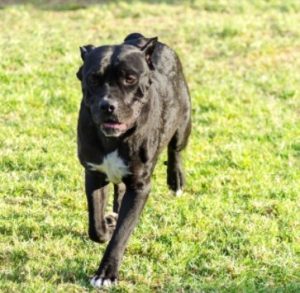 Don't let the mightiness of this dog breed fool you. Cane Corso's might appear intimidating but they're actually sweet and loving with proper socialization. Like all dogs, Cane Corso puppies love your attention. We hope this guide helped you find the best Cane Corso breeders in Florida. These are reputable and trustworthy breeders.
If you're planning to find Cane Corso puppies for sale in Florida from unknown breeders, make sure to do your research and avoid any potential puppy mills. Once you bring home your Cane Corso puppy, get ready for the responsibilities you're about to endure and the everlasting memories you'll cherish.
If you're unsure if the Cane Corso dog breed is the perfect fit for your home, there are other breeders in Florida for you to consider:
For other states, you can check out our Cane Corso breeder recommendations if Florida is out of the way:
In case you're unsure about this dog breed, watching this Cane Dorso video might change your mind: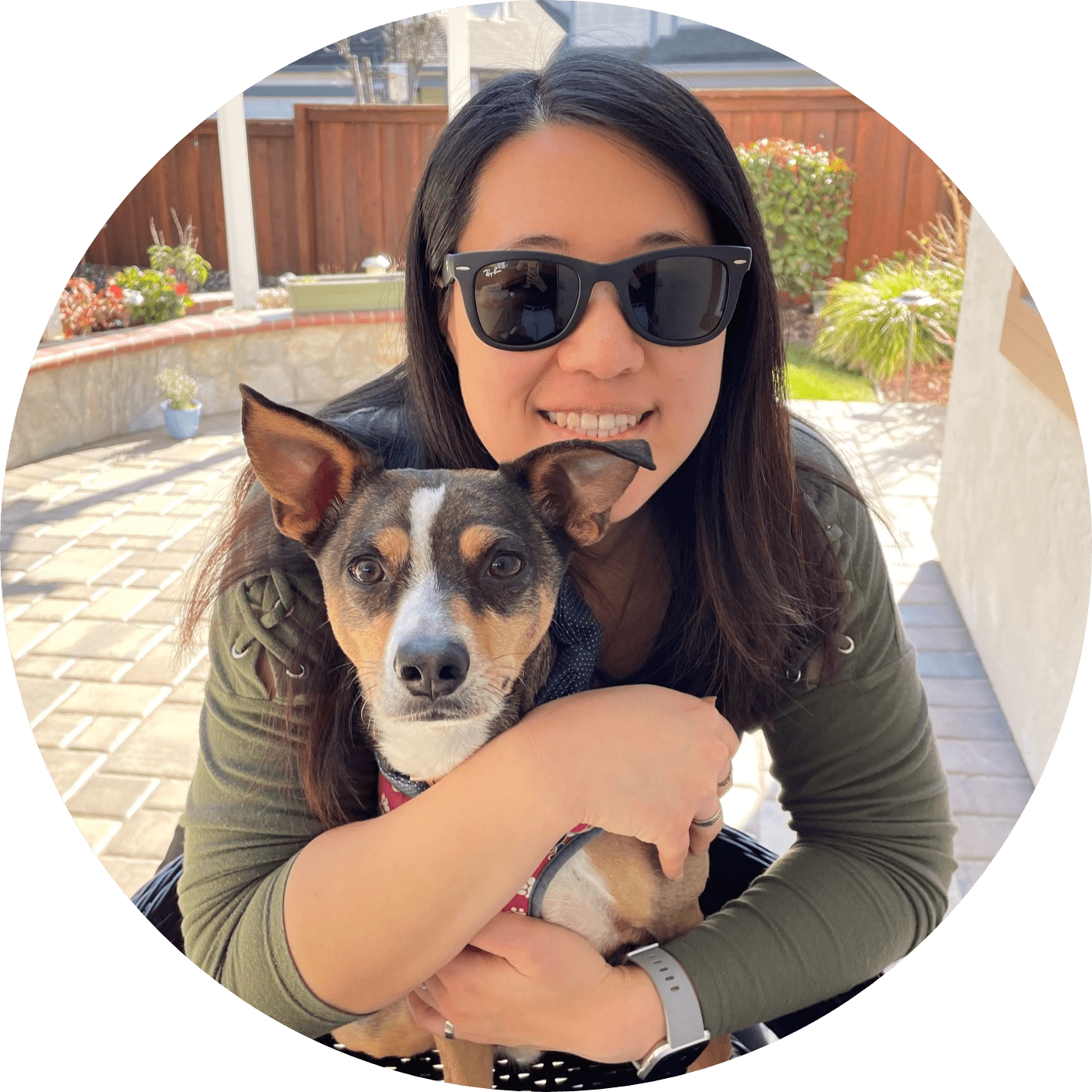 Dr. Sabrina Kong graduated from the Royal Veterinary College in England in 2016 and has been working at a small animal clinic in Northern California since then. She grew up in the Bay Area and got her bachelor's degree from Cal Poly San Luis Obispo. She also became a Certified Canine Rehabilitation Practitioner through a program at the University of Tennessee.
When she isn't in the clinic taking care of her four-legged patients, she enjoys traveling and trying new foods with her friends and her three-legged dog, Apollo. She adopted Apollo from her clinic when he was a puppy with numerous health issues. Dr. Kong truly cares about taking care of animals.