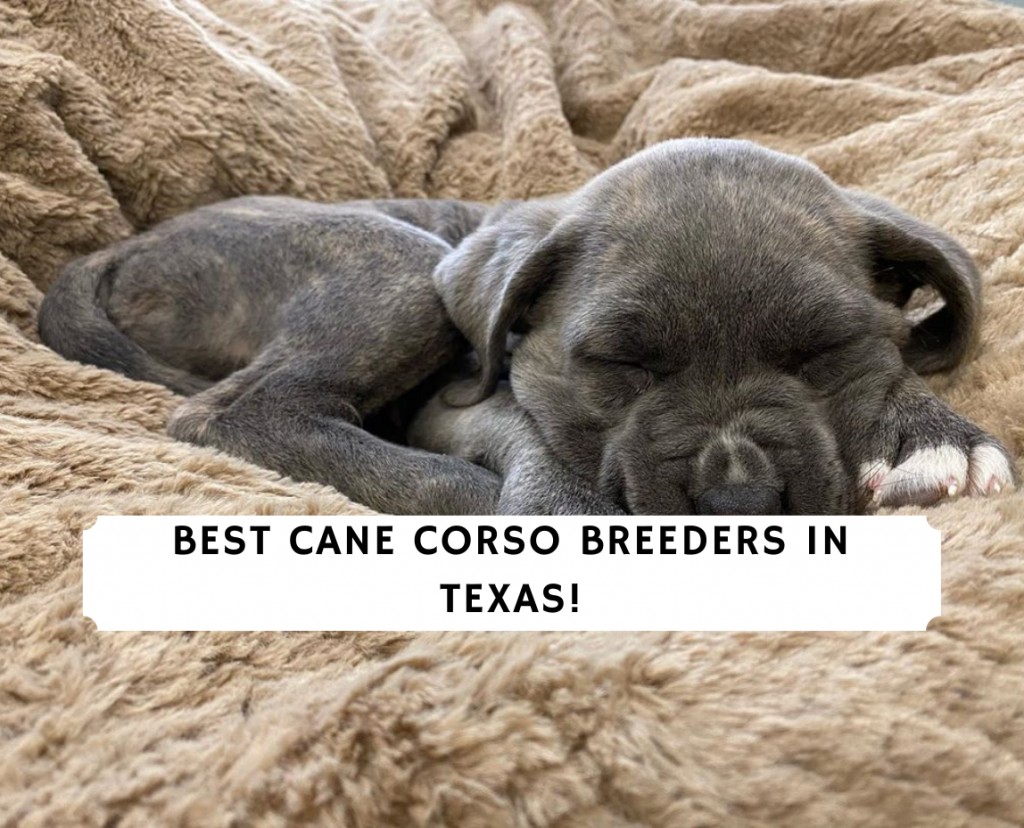 Choosing to add a Cane Corso to your family is a big decision. This dog breed is strong and intimidating, but if they are well-trained and socialized, they can be a wonderful addition to any home.
They are protective and loyal dogs that will not hesitate to do what is necessary to ensure the safety of their owners. However, one of the keys to having a well-adjusted, good personality, mild temperament, and healthy Cane Corso is to find a reputable breeder.
This can be difficult depending on your state or region. There are many Cane Corso breeders in Texas and some of them are better than others. We have done the research and put together a list of places where you can find the best Cane Corso puppies in Texas that we believe are reputable breeders that care about the health of their dogs. It is imperative to research the breeder you choose for yourself as well. If a breeder appeared to be a puppy mill, they were not included on our list.
Other articles you might like: Dachshund Breeders in Texas and German Shepherd Breeders in Texas.
Finding the best Cane Corso breeders in Texas can be a pretty difficult task because you don't know how to trust. Oftentimes you're overwhelmed, stuck, and uncertain on who to choose. However, PuppySpot makes everything simple and easy. It's a beginner-friendly platform for future dog owners filled with reputable and ethical Cane Corso breeders.
If you're searching for a Cane Corso companion then check out this website because you're in for a treat. Not only will you likely find your desired puppy but you can utilize PuppySpot's filters to find specific features such as the age of a dog, the color, and much more. Whether you want a purebred dog, mixed dog breed, or hypoallergenic dog, you can sort the listings on PuppySpot's marketplace to find exactly what you want. If the Cane Corso puppy that you want isn't located in Texas, then PuppySpot will fly them out to you.
Dog breeders on here are reputable breeders in case you're suspecting puppy mills. PuppySpot requires all their Cane Corso breeders to go through a screening process before being approved for a listing that is USDA and AKC approved. We got one of our puppies from PuppySpot and had nothing but a great experience. All their Cane Corso puppies for sale come with a health check, health guarantee, and AKC paperwork. We highly suggest that you check them out.
PuppySpot is giving our blog readers an exclusive promotion code. Save $100 on a Cane Corso puppy with the promotion code "WLD100".
Cane Corso Breeder Information
2. Senza Tempo Cane Corso Texas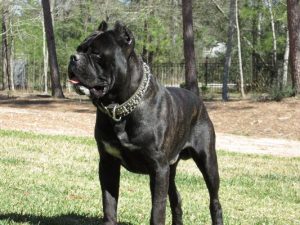 Senza Tempo Cane Corso is a self-proclaimed hobby breeder that is located just outside of Austin, TX. Even though they have labeled themselves as hobby breeders, this organization has poured their heart and soul into their breeding program and their dogs.
The breeding Cane Corso dogs have been sourced from other reputable breeders from around the country. Their goal is to build a line of Cane Corsos that are not only true to the original Cane Corso bloodline but also have other health features.
Their main goal is to produce Cane Corso puppies in Texas that are stable in temperament enough to be family dogs but also maintain breed conformation and muscle type. They also want to keep the protective instinct in the dog while keeping them trainable. The Cane Corso puppies that come from Senza Tempo are easy to train and loyal. They are also show quality if the new owners want to pursue that route.
This Cane Corso breeder in Texas does require an application to be considered to purchase a puppy from their program. This application is thorough and can be denied if they don't think you can care for a dog. Filling out an application doesn't mean you will get a puppy even if you can afford one.
In addition, the breeder is very clear that none of the Cane Corso puppies come with breeding rights. They also let applicants know that they will pick the puppies in order that the deposits are received. The website doesn't say how much the puppies cost or what the deposit is and the breeder prefers not to publicly state this information. This information is given if you ask or if your application is approved.
Cane Corso Breeder Information
3. Royal Guardian Cane Corso Texas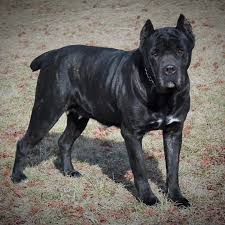 A true family endeavor, Royal Guardian Cane Corso Texas is in the business for the love of the dog breed. They consider all of their dogs as members of the family and even involve their young son in the family business.
They have a very select breeding stock to help them reach their goal of staying true to the original Italian Cane Corso breed. Many of their females are retired and enjoying a laid-back life as family pets. Royal Guardian currently only has two breeding females so you can only expect them to have a few litters per year.
However, they do have two litters that should be coming in the next few months. If you are interested in a Royal Guardian Cane Corso puppy you will need to be aware of the process they require.
The first a prospective owner needs to do is to complete a consultation. This is done over the phone where they ask you basic questions to see if you're prepared for a puppy. They want to start building a relationship and get a feel for what you are looking for in a Cane Corso to determine if your family could be a good fit.
If the consultation goes well, you can then proceed to the Cane Corso puppy application. If your application is approved and you decide you still want to move forward with purchasing a puppy, you will then be asked to place a deposit to be put on the reservation list. Once the Cane Corso puppies in Texas are born you will make your selection and the placement will happen.
The breeders will deliver to your home if you are in Texas or the surrounding states as this is part of what they offer. They want to help get you and your Cane Corso puppy off on the right foot. However, there is an extra charge for this type of delivery.
Cane Corso Breeder Information
4. Corinthian Cane Corsos
The very opposite of a hobby breeder, Corinthian Corsos is a serious dog breeder that is active on the show circuit. They are dedicated to the advancement of the dog breed and are very selective when it comes to dogs allowed in their breeding program. Corinthian Corsos wants to continue on with the breed standards of the original Italian Cane Corso.
While this breeder is not located in Texas, they are in Oklahoma and they do sell to Texas residents. They are within driving distance to many parts of North and Central Texas. They don't limit Cane Corso puppy purchases to those in the immediate vicinity and will allow anyone in the continental United States to buy a puppy from them. We included them since they are one of the best Cane Corso breeders that are actively showing their dogs.
There is a puppy application that is required for making it onto the reservation list. Filling out an application is not a guarantee that you will be able to buy one of these puppies. If they determine that you are not a good fit based on the information you provided, then your application will be rejected.
Cane Corsos are not for every family so Corinthian Corsos take placement very seriously. Because these are powerful dogs, they can be relinquished and misunderstood because they are intimidating. Every family has to be the right fit and prepared to care for a puppy or they will end up in a shelter or rescue. Texas is known as the state with one of the highest euthanasia rates because people can't care for their dogs.
If you are serious about buying a puppy from them, you can contact them or fill out the application to get these details. They would be happy to give you this information and answer any other questions you may have about their program.
Cane Corso Breeder Information
5. Phantom Cane Corsos Texas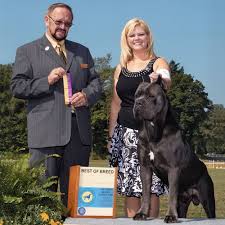 Phantom Corsos is one of the top breeders not only in Texas but around the world. Their dogs have won championships including Westminster Best of Breed. This is a breeding operation that is serious about producing top-quality Cane Corsos in Texas that are true to the Italian standards of the breed.
Phantom Corsos is a rather large operation with multiple males and females. This means that they typically have a litter available. However, there is a waiting list and you typically have to wait a few months.
If you are interested in being placed on this waiting list then you will first need to fill out their puppy application. This is a very thorough application that asks you questions about your lifestyle and what you are looking for in a Cane Corso puppy. The application will be used by the breeder to determine whether or not this breed is a good fit for you.
They breed for body conformation but also for temperament. This is important in such a powerful breed. Making sure they are well-rounded and stable will ensure that they live long healthy lives and do the job they were meant to do – protect their people.
They do reserve the right to deny any application for any reason. If you have any questions before you submit your application the breeders are happy to answer them. They are responsive to email, social media messaging, text, or phone calls.
Cane Corso Breeder Information
Choosing a Cane Corso Breeder in Texas
The Cane Corso is a powerful and protective breed. They are proud and when they are bred by reputable breeders in Texas can make great additions to the family. It is important to make sure you are purchasing a puppy from a responsible and ethical breeder that puts the health and well-being of the dog first.
A reputable breeder should not only allow home and facility visits, but they should also encourage them. They should want to show you where the dogs live and where the Cane Corso puppies grow up.
They should also offer pedigrees and health guarantees for their dogs. We encourage you to ask questions and do your research before committing to a breeder. A Cane Corso is a joy to have in the family but a poorly bred dog can be a liability.
Conclusion for Best Cane Corso Breeders in Texas
According to the American Kennel Club (AKC), the Cane Corso is the 34th most popular dog breed in the world. Thus, you'll find tons of Cane Corso puppies for sale in Texas, but that doesn't mean they all come from reputable breeders. You want to make sure you buy a healthy and happy puppy or you may end up paying money in the long term due to genetic issues. Please do your best to not purchase a dog from a puppy mill by asking them questions, viewing the facility, and reviewing the health tests.
Other articles you will like: