When Charles M. Schulz, the famous comic strip, Peanuts' creator, said, "Happiness is a warm puppy." Before scrolling down the list of German Shepherd breeders in Ohio, here's what you should know about this extraordinary dog breed.
German Shepherds are a selfless dog breed and they love their humans unconditionally. Rin Tin Tin, the German Shepherd, showed that in the countless films he acted in. Also known as GSD or the Alsatian Wolf Dog (the UK from WWI up to 1977), German Shepherds are recognized globally. According to the AKC, German Shepherd puppies are the #2 most liked in the United States. It's not surprising you find tons of German Shepherd puppies for sale in Ohio. 
Other articles you might like: German Shepherd Rescues in Ohio and Doberman Breeders in Ohio.
German Shepherd Puppies For Sale in Ohio
There are several good German Shepherd Breeders in Ohio. We specifically looked for GSD breeders in Ohio who health and genetic tested their dogs. Additionally, we looked for breeders who socialized their puppies from an early age and started early training. Hopefully, our list helps you narrow down your research and save you time finding a puppy.
1. VOM BUFLOD German Shepherds
First on the list of German Shepherd breeders in Ohio is VOM BUFLOD German Shepherds. These are specialized GSD breeders based in Waynesville, Ohio. They are experienced and passionate about this breed and care for them like they were family. All their German Shepherd puppies receive their first vaccinations and are dewormed. You will also receive the necessary certificates at the time of adoption to prove your puppy is healthy. Additionally, Vom Buflod will provide their 20-year veterinarian reference if needed.
You can get all the help you will require to adopt a GSD puppy over with their helpline. VOM BUFLOD German Shepherds will also provide trainers to train your puppies if you need obedience training. Their German Shepherd puppies for sale in Ohio are hip and elbow certified. These breeders directly interact with their clients and do not encourage middlemen or salespersons. Feel free to reach out to them today if you have any questions.
VOM BUFLOD German Shepherds Details
2. Reginhard German Shepherds
This is a family-owned kennel that breeds German Shepherd puppies in Fredericktown, Ohio. Their Sires and Dams belong to German and Czechoslovakian working GSD bloodlines and have a few litters per year. The kennel name, Reginhard, translates to "Mighty" or "Brave" in German, which reflects the GSDs temperament and character.
The Reginhard German Shepherds kennel primarily deals with the working lines of German Shepherds. Their puppies make loving companions and train well. Additionally, they help pet parents select the puppy that is best suited to their temperaments and life-styles. All their German Shepherd puppies in Ohio thrive in families that lead active lives and want to invest their time understanding training complexities. Reginhard German Shepherds is not a large-scale breeder, so you may have to wait on a waitlist.
Reginhard German Shepherds Details
3. Wisecup Shepherds Ohio
Wisecup Shepherds also is a family-owned business. They emphasize commitment and assure you to assist you with the entire process of adding a new member to your family. They breed top-quality German Shepherd puppies in Sabina, Ohio. They urge their buyers to be well-informed about this breed's needs and qualities before getting one. They readily commit to helping buyers find the successful fit.
Wisecup Shepherds Details
4. Peter's Elite Shepherds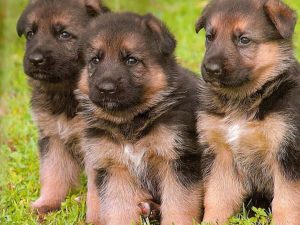 Last on the list of German Shepherd breeders in Ohio is Peter's Elite Shepherds. This is a small kennel located in Medina, Ohio. They have 4 acres of land for the dogs to play and exercise, along with a swimming pool, as they believe swimming is the best exercise for this breed. They breed high-quality German Shepherd puppies for sale and assure the buyers with support through the process. This kennel believes that German Shepherds are not only active but also loyal and kind to their families.
Peter's Elite Shepherds Details
More Information About German Shepherd Puppies
The German Shepherd is a large-sized dog breed. Males stand at 24 to 26 inches, while females are 22 to 24 inches at the shoulder. Max von Stephanitz founded this breed for its confidence, loyalty, intelligence, and courage and called it Deutsche Schäferhunde. These dogs are strong, agile, graceful, and fast. Additionally, they have mound foreheads and strong jaws. Their long black snouts and their large upright ears are their distinguishing characteristics, as are their luxuriously bushy tails that reach their hocks. Without a doubt, they can be called the royalty of the canine world.
GSD puppies in Ohio are usually bicolor, with black being standard with tan, cream, red, silver, and other combinations. German Shepherd puppies have double coats with thick undercoats as well as thick outer skin. Despite looking like wolves and being fiercely protective guard dogs, this dog breed has a kind and gentle heart and can be loving guardians to their family's children. One must remember that they do not warm up to people they do not know.
Apart from Rin Tin Tin proving the German Shepherd skills as an on-screen actor, these dogs can perform several tasks because they are versatile. That accounts for them being one of the most popular breeds in the police and armed forces globally. Their services are also employed to detect drugs, and they also make perfect rescue and guide dogs.
German Shepherd Dog Breed Info
Some factors that make German Shepherds a unique and singular breed of dogs are.
Exercise
GSD puppies are technically herding dogs, have high energy levels, and are a very active breed. They can rightly be called high-octane dogs. For that reason, they need to be exercised much more than Pugs, Shih Tzus, and other small breeds. They thrive when they are mentally challenged as well. These dogs will sit with you on the couch only if they have exercised enough for the day. German Shepherd puppies are always eager to play games with their human and canine friends.
Adaptability
German Shepherds are highly adaptable. For that reason, they can be trained to live in apartments only if necessary. For those pet parents who live in apartments and love their GSDs, all they have to do is teach their pet to get used to the environment. Further, as German Shepherds are intelligent, quick learners, and aim to please their owners, you can easily train them. That applies to both puppies and adults. Most importantly, GSDs need to be trained to use their "inside bark" on the "Quiet" command.
If you tend to be away from home for long periods, you will need to get someone to puppy-sit your German Shepherd as they do not do well when left alone for long stretches and develop separation anxiety. 
Friendliness
German Shepherds are also called "velcro dogs" because they follow their humans everywhere. They love bonding with their family and showering it with affection. Additionally, they are caring towards children and love to be around them. This breed socializes easily with strangers who are close to their family. They will chew whatever they can get hold of and bark when they are bored. However, German Shepherds are not necessarily friendly towards other dog breeds unless properly trained.
Trainability
German Shepherds are highly trainable pets. Being eager to learn and please, you can teach them many commands. They are exceedingly intelligent creatures and obedient by nature. However, they have a slight tendency to be mouthy because herding is a behavior passed on to them. Therefore it is important to train your puppy from an early age.
Grooming
German Shepherd puppies in Ohio generally tend to shed all year round. Regularly brushing your GSD's hair two or three times weekly can reduce the amount of hair shed. A lint remover will prove to be a handy tool, as will a rake and an undercoat rake. The first will keep your clothes and furniture surfaces free of dog hair. Also, your German Shepherd's coat will look healthy and shiny. 
Nutrition
A veterinarian can sort the nutrition needs of your German Shepherd puppy. GSD puppies tend to grow faster than many other breeds, which is why they require special care. Regular high-quality meals with low-calorie intake are suitable for them. They do not gain weight quickly, yet overfeeding can cause them to become obese, especially as they get older, which can lead to Arthritis. It is vital to limit the number of dog treats you feed them.
Conclusion For German Shepherd Breeders in Ohio
Although German Shepherd puppies, there is no denying that this is a loving breed that will shower you with love and loyalty for the 12 to 14 years that it will be with you. We hope this guide will help you bring home a new friend from this list of German Shepherd breeders in Ohio! We highly recommend that you don't support puppy mills or backyard breeders just because they have lower prices. You may up paying much more in medical bills later down the line.
If traveling to these German Shepherd breeders in Ohio is out of the way, you can check out our recommendations from other states:
Do you want to learn more about the German Shepherd dog breed? Watch "5 Things To Know Before Getting a German Shepherd" from Lucy Lane the Queen of Balmain down below:
Garrett loves animals and is a huge advocate for all Doodle dog breeds. He owns his own Goldendoodle named Kona. In addition, he volunteers at the Humane Society of Silicon Valley, where he fosters dogs and helps animals. Garrett enjoys writing about Doodles and believes that dogs can teach humans more about how to live than humans can teach a dog.
Why Trust We Love Doodles?
At We Love Doodles, we're a team of writers, veterinarians, and puppy trainers that love dogs. Our team of qualified experts researches and provides reliable information on a wide range of dog topics. Our reviews are based on customer feedback, hands-on testing, and in-depth analysis. We are fully transparent and honest to our community of dog owners and future owners.