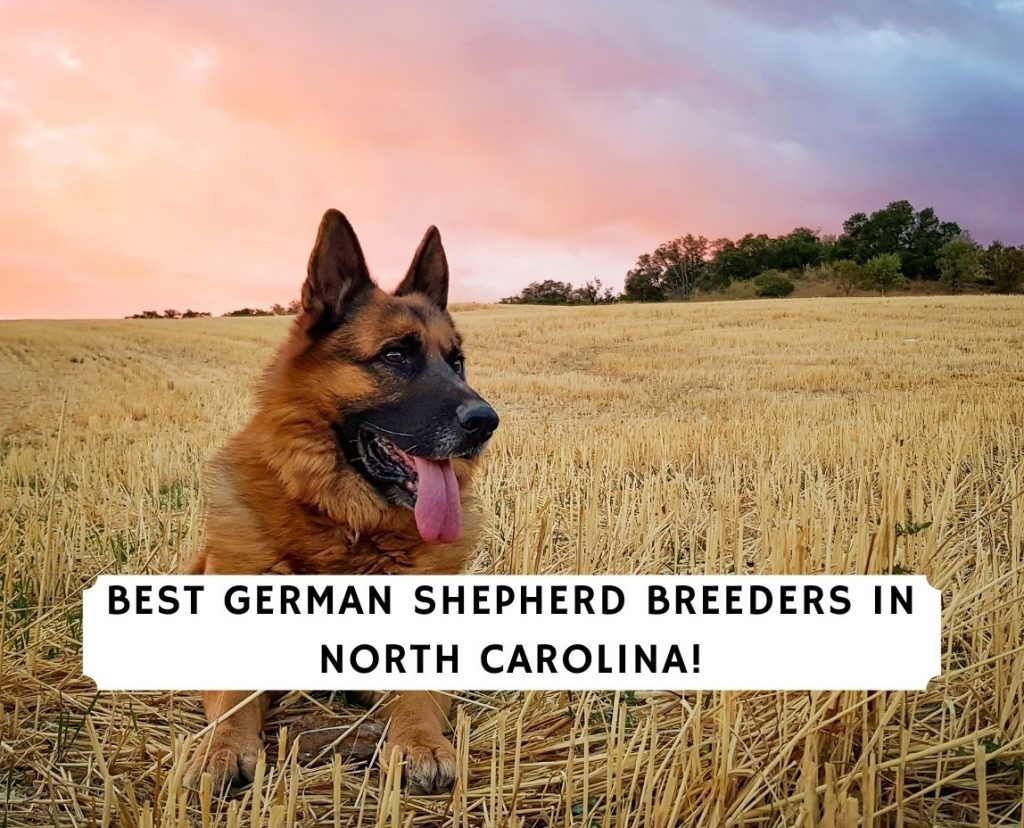 If you're here searching for the best German Shepherd breeders in North Carolina, then you probably know how affectionate and loyal this dog breed is. German Shepherds are man's best friend. They are a large dog breed, that can grow up to 26 inches in height and weigh close to 100 pounds. Don't let the German Shepherd's size fool you because they're one of the kindest and loyal dogs once you get the experience of raising them.
One of the hardest tasks as a potential new puppy owner is finding a reputable breeder. We'll we've done our own independent research to help you find a German Shepherd puppy in North Carolina.
Other articles you would like:
German Shepherd Puppies For Sale in North Carolina
Obedient, watchful, and courageous are just a few words that describe the German Shepherd. If you're looking for a guard dog, search and rescue dog, a guide dog, or a companion pet, the German Shepherd is a great option. In this list, we break down the top 10 German Shepherd breeders in North Carolina.
1. Coldwater German Shepherds of North Carolina
First, on the list of German Shepherd breeders in North Carolina is Coldwater German Shepherds. Coldwater German Shepherds is a small kennel in the Northern Piedmont area. It is the home of working line German Shepherds and the Kaltwasser line of GSD. The family-operated kennel selects their breeding stock from Czech Republic, Dutch, West German, and DDR working lines of German Shepherds. The dogs undergo extensive health evaluations to determine they are of excellent temperament, robust character, nice structure, good minds, and willing to please attitude.
The kennel owners, Robert and Janette, possess over 40 years of experience in breeding and veterinary practice. Janette is the go-to person for evaluation, breeding, working, training, and titling German Shepherds. Robert, on the other hand, handles the veterinary care of the German Shepherds. The two breeders say their puppies have plenty of motivation for training and working. Their past German Shepherd puppies in North Carolina have become police K9s, sport dogs, guide dogs, and companion dogs. A German Shepherd puppy for sale from Coldwater will cost you $2,200.
Coldwater German Shepherds of North Carolina Details
Location: 8262 Coldwater Rd., Stokesdale NC 27357
Phone: (336) 908-3237
2. Trinity German Shepherds & K9 Training
Trinity German Shepherds & K9 Training is the brainchild of Gena. Gena traces her love for German Shepherds to her early years. A little over 30 years ago, Gena purchased Max, a German Shepherd, whose love and loyalty never wavered through her life's rollercoaster. Max was not only a friend to Gena but a dear companion to her husband and children. It is through the wonderful experience Gena and her family had that the dream to breed German Shepherds was born. On her website, Gena states that every dog is a member of her family.
The German Shepherds are born and raised in her home in Monroe, North Carolina, where they are socialized and handled from the first day. Gena puts a lot of emphasis on playing, training, and working the dogs as they grow older. Aside from breeding, Gena also provides many levels of training for her puppies. A German Shepherd puppy for sale from Trinity will cost you an average of $3,000.
Trinity German Shepherds & K9 Training Details
3. Julio Hernandez K-9 NC
In a past life, Julio Hernandez was a U.S. Army veteran with decades of experience operating in harsh terrains across the world as a soldier and private security contractor. It is during this period in his life that he realized a crucial lesson – life is too short to not live out your passion. This realization shaped his perspective on life and birthed the German Shepherd breeding business Julio has today.
Today, Julio is counting over 2 decades of experience in training, breeding, and showing dogs. This has informed how he breeds and trains one of the best German Shepherds in North Carolina. Julio doesn't seem to have puppy prices on his website. Don't let this discourage you though. Julio has an open door for prospective dog owners like you to get in touch with him if you're looking for a puppy or want training for your GSD.
Julio Hernandez K-9 Details
4. Northeast Cape Fear German Shepherd Dogs
Northeast Cape Fear German Shepherd Dogs call Beulaville, North Carolina, home. The breeding business is owned by 4 passionate dog lovers – Anita, Dylan, Ryan, and Kaleb. This breeding operation has over 24 years of experience breeding German Shepherds. They take great pride in breeding German Shepherds with wonderful temperaments, sound, and easily trainable. Although the breeders have a kennel facility, they say their German Shepherds spend plenty of time out and about on their large property. When the German Shepherd puppies are born, the breeders look after them in their puppy raising kennels.
The puppy kennel's roof seems insulated with adjustable heat lamps inside the runs to ensure the pups have the best room temperature. Additionally, the breeders say the kennels are cleaned at least twice with water and bleach to maintain hygiene. If the kennels are soiled more, they clean them more than two times. Similar to many breeders on this list, the breeders don't ship their German Shepherd puppies outside of North Carolina. They encourage adopters to pick up the puppy from the kennel so you will have to fly in or drive.
An AKC-registered German Shepherd puppy from this breeder will cost you $1,278.65. The registration is limited meaning if you decide to breed the dog, you cannot register the puppies with AKC. The four breeders associate themselves with Strickland Kennels in Tabor City. They state they breed, raise and train Chesapeake Bay Retrievers, Golden Retrievers, and Labradors with the kennel.
Northeast Cape Fear German Shepherd Dogs Details
5. Raven Hill Kennel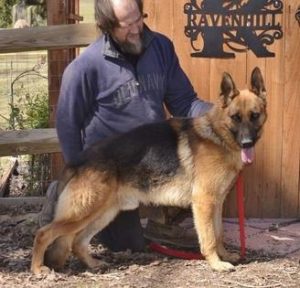 Raven Hill Kennel is owned and run by JoAnn. JoAnn started off breeding German Shepherds in 1976 and grew to include Russell Terriers in 1989.  The accredited breeder only breeds AKC German Shepherds for showing or working. If you're looking for a companion dog, this may not be the ideal breeder for you. JoAnn, over the years, has adopted very strict breeding guidelines that enable her to produce high-quality German Shepherds. All her breeding dogs undergo genetic testing for proof of progeny lines. To accept a dam or a sire into the program, JoAnn must be able to trace at least 16 generations back.
The breeder in North Carolina is very selective in how and when she breeds the German Shepherds similar to many breeders on this list. This simply means that you will not find puppies or litters waiting to be bought. You may wait longer than with other breeders but it will be worth it. JoAnn prices her German Shepherds as per the breeding. Male German Shepherds will range from $1600 to $1800. Female German Shepherds will cost anywhere from $1400 to $1800.
Raven Hill Kennel Details
6. Summerwood Farm North Carolina
Summerwood Farm has been in operation for over 13 years. They say they are the largest professional German Shepherd breeders in North and South Carolina. The Farm's kennel, now known as Von BachHaus, traces its humble beginnings to Attila. Attila is the kennel's most titled German Shepherd and part of the first litter the breeder produced. Both Attila's parents were German Titled and came from renowned pedigrees; Today, the kennel strives to protect and continue breeding high-quality German Shepherds you or anyone will come across.
The kennel prices its German Shepherd puppies for sale in North Carolina at $2,000. The breeders understand that life may not go how you planned it out. If, for any reason, you want to return your German Shepherd – the breeder has their doors open. After a health and wellness exam, the kennel will assume care for the GSD. Once the kennel finds a suitable home, they will refund you 50 percent of what you paid for the pup. Aside from breeding, the kennel offers stud service at $750.
Summerwood Farm North Carolina Details
Conclusion For The Best German Shepherd Breeders in North Carolina
Whether you're looking for a companion, show, or working dog – you can't go wrong with calling up breeders on this list. We recommend you conduct your due diligence, dig deeper when you meet the breeders, and take time before you decide. Hopefully, you will bring home a companion from one of the German Shepherd breeders in North Carolina to begin a new chapter of your life.
If traveling to these German Shepherd breeders in North Carolina is too far, we have recommendations from other states for you to check out:
To learn more about the German Shepherd dog breed, check out "5 Things Yo Know Before Getting a German Shepherd" down below:
Garrett loves animals and is a huge advocate for all Doodle dog breeds. He owns his own Goldendoodle named Kona. In addition, he volunteers at the Humane Society of Silicon Valley, where he fosters dogs and helps animals. Garrett enjoys writing about Doodles and believes that dogs can teach humans more about how to live than humans can teach a dog.
Why Trust We Love Doodles?
At We Love Doodles, we're a team of writers, veterinarians, and puppy trainers that love dogs. Our team of qualified experts researches and provides reliable information on a wide range of dog topics. Our reviews are based on customer feedback, hands-on testing, and in-depth analysis. We are fully transparent and honest to our community of dog owners and future owners.