German Shepherds are the 2nd most popular breeder in the United States according to the American Kennel Club. It's no surprise that you will see tons of German Shepherd breeders in Illinois. One of the hardest decisions you will have to make is finding a reputable breeder that is not a puppy mill or backyard breeder. On average, German Shepherds live 10+ years, so you'll want to make sure you are getting a healthy and happy puppy. The breeder you select does matter!
Other articles you may like: Golden Retriever Breeders in Illinois and Poodle Breeders in Illinois.
Best German Shepherd Puppies For Sale in Illinois
We've done our own independent research to find some of the best German Shepherd breeders in Illinois. We specifically looked for breeders that socialized their puppies, verified their health, and offered good customer support. We always suggest you do your own research, but our list should help you narrow down your choices!
1. Vom Ragnar German Shepherds Illinois
Vom Ragnar is a German Shepherd breeder with distinction located in Harvard, Illinois. They are one of the fastest-growing breeders of German Shepherds in the world that strives to breed healthy dogs with the best bloodlines.
For years, their main goal has been to breed and train the best West German show line dogs. Their dogs have won many competitions in the United States and abroad so many of their German Shepherd puppies for sale in Illinois come from championship bloodlines.
They not only breed German Shepherds but also offer training programs for German Shepherds to people. They specialize in basic and advanced obedience training as well as protection work training. If you have a German Shepherd puppy and you are finding them hard to train, you can give them a call.
All their German Shepherd puppies are registered with the American Kennel Club (AKC). They treat their puppies with love and care. The main colors that they breed are black and red. Additionally, their dogs are raised and socialized in a home environment with children and other dogs.
Vom Ragnar German Shepherds Details
2. Mittelwest German Shepherds IL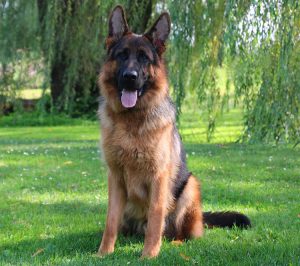 Mittelwest is a world-renowned breeder of German Shepherd puppies from high-quality pedigrees. Their main objective is to produce the best German Shepherd litters for sale all over the world. They strive to breed top German Shepherds with great temperaments that are also as healthy and intelligent as possible. They focus on elements like attentiveness, self-confidence, courage, and willingness to obey commands.
All German Shepherd Mittlewest puppies are AKC-registered. This breeder proudly offers a lifetime warranty on all German Shepherd puppies they sell. Additionally, their dogs have won awards in competitions around the world. This is a highly reputable German Shepherd breeder that only has a few litters per year.
Mittelwest German Shepherds Details
3. Regis Regal German Shepherds
Regis Regal is a family-owned and operated business that has been breeding German Shepherd puppies in Illinois since 1987. They raise, train, and board dogs in their state-of-the-art facility located in Spring Grove, Illinois. They specialize in breeding West German Sieger dogs that are healthy, strong, courageous, and have excellent temperaments. Regis Regal's world-class German shepherd bloodlines come from the two best kennels in the world. For what it's worth, they are one of the oldest German Shepherd breeders in Illinois that we could find.
Regis Regal breeds their German Shepherds to become security dogs, rescue dogs, detection dogs, companion dogs, and special needs dogs. Recognized as one of the top German shepherd breeders in the United States, this breeder has participated in and won competitions all over the world.
Regis Regal German Shepherds Details
4. White Star Kennel Illinois
Located about 2 hours away from Chicago, Illinois, White Star Kennel offers high-quality purebred German Shepherd and Labrador Retriever puppies at affordable prices to loving homes. They aim to breed healthy puppies that will go on to become great companions to their future owners.
White Star Kennel offers a three-day health guarantee on their puppies. The German Shepherd puppies for sale in Illinois are regularly checked by a licensed veterinarian and are dewormed before going to their new families. This breeder loves its dogs, treats them like family, and socializes with them from a young age.
White Star Kennel Details
5. My BodyGuard Dogs Illinois
My Bodyguard Dogs is another quality dog breeder in Marengo, Illinois. All German Shepherd dogs are purebred from German lines. This breeder follows the standard for conformation set in Germany. All their dogs have their hips and elbows certified, and they all have great temperaments and character.
My Bodyguard offers a wide range of dog training services, from puppy training to various levels of obedience training. This training is available for all dog breeds, so you can bring any dog you have. Their dogs go on to become rescue dogs, detection dogs, guide dogs, and family dogs.
My BodyGuard Dogs Details
More Information About German Shepherd Puppies in Illinois
The German Shepherd dog is one of the most popular and easily recognizable dogs in the world. They are the second most popular breed in the United States, behind the Labrador according to the AKC. Although previously officially known as the "Alsatian wolf dog" in the United Kingdom after the First World War, the name was changed back to German Shepherd in 1977.
The German shepherd has a distinct wolf-like appearance. It has a double-coated fur that is usually dark or red-brown with a black saddle. They are medium to large-sized dogs. They have brown eyes, erect ears, a long neck, and a long bushy tail. You'll see tons of other German Shepherd puppies around Illinois.
These dogs are extremely intelligent and agile – they are very good swimmers and fast runners (running up to 48 kilometers per hour!). The German Shepherd is a breed of working dog that originated in Germany around 1899 and was founded by a man named Max von Stephanitz. They were initially bred to herd and protect sheep. However, in both the First and Second World Wars, they served in the German army as messenger dogs, guard dogs, and rescue dogs. They were especially associated with Nazi Germany during the Second World War.
Although herding sheep was the major reason they were bred, nowadays, German Shepherds are used for a lot more things. These intelligent, strong, obedient, and versatile dogs have a great sense of smell, making them one of the most popular breeds of dogs for police work, military work, search-and-rescue, narcotics, and explosives detection. Additionally, they are also used as guide dogs and security dogs. In some places, German shepherds are still used as herd dogs for sheep.
Most of the health issues the German shepherd might suffer from are hereditary. They are a result of inbreeding, which was practiced early in the breed's life. Hip dysplasia is quite common and may lead to arthritis later in the dog's life. This is why it's really important to purchase a German Shepherd puppy from a reputable breeder in Illinois. They might also suffer from musculoskeletal disorders. Additionally, their dog food should have adequate levels of vitamins A and D to promote a healthy musculoskeletal system.
The average height of a German shepherd is about 24 inches, while its average weight is about 70 pounds. Male German Shepherds can weigh up to 88 pounds! Their litter size is around four to nine puppies and their average lifespan is 9–13 years. They shed a lot throughout the year, so they require constant grooming of their coats.
What Makes the German Shepherd Special?
Intelligence
The German Shepherd is one of the most intelligent dog breeds in the world. They have a powerful sense of smell, which enables them to track and detect scents. This is why they are very popular detection dogs and rescue dogs.
Loyalty
The loyalty of a German Shepherd to its owner is never in doubt. Once you establish a bond with them, they will never leave your side. They are also very protective of the family they belong to. They will always protect their owners when in danger.
Temperament
German Shepherds are generally friendly dogs. Although they are not immediately friendly with strangers, they are not usually aggressive towards people. They can be nice and playful, and so are good with children.
Activity
German Shepherds are a very active breed of dogs. If you are an active person or want to start an active life, you should have a German shepherd by your side. Since they require regular exercise, they can come along with you on jogs, walks, and even swimming.
Trainable
German Shepherds are easy to train. They listen to instructions and are obedient. They can be taught to perform both basic and advanced tasks. Additionally, German Shepherds are always eager to learn and eager to please. This is why they are popular as police dogs and military dogs.
Pet Friendly
German Shepherds are also friendly with other pets. They will do very well in a multi-pet household if trained right. You won't have to worry about them disturbing your cat or bird.
Conclusion for the Best German Shepherd Breeders in Illinois
German Shepherds are very special dogs. Their intelligence, strength, versatility, superior sense of smell, and loyalty make them perfect to perform so many tasks. If you are looking for a dog that would care for and be a loyal guard to you and your loved ones, then you should consider getting a German Shepherd puppy in Illinois.
However, be sure to get your German Shepherd from a breeder with integrity and strict adherence to ethical dog breeding. This way, you are guaranteed to get the best out of your German buddy.
For other dog breeds in Illinois, check out our other breeder recommendations:
For other locations similar to this list of German Shepherd breeders in Illinois, check out:
To learn more about the German Shepherd dog breed, watch this video:
Garrett loves animals and is a huge advocate for all Doodle dog breeds. He owns his own Goldendoodle named Kona. In addition, he volunteers at the Humane Society of Silicon Valley, where he fosters dogs and helps animals. Garrett enjoys writing about Doodles and believes that dogs can teach humans more about how to live than humans can teach a dog.
Why Trust We Love Doodles?
At We Love Doodles, we're a team of writers, veterinarians, and puppy trainers that love dogs. Our team of qualified experts researches and provides reliable information on a wide range of dog topics. Our reviews are based on customer feedback, hands-on testing, and in-depth analysis. We are fully transparent and honest to our community of dog owners and future owners.