Rottweilers are a powerful breed of dog that originated in Germany. These dogs do have a bad reputation partially due to irresponsible breeders and bad owners. If you have decided that a Rottweiler is the dog breed that you want to add to your family then it is best to find a reputable breeder in your state to purchase from. There are several Rottweiler breeders in Texas who monitor for temperament, personality, and adherence to the purebred standard.
Rottweiler puppies for sale in Texas have become quite popular in recent years. We have done our own research and found breeders in Texas that fit the description of reputable breeders. These breeders pay attention to temperament, confirmation, and health when they add a dog to their breeding programs. They also go through a careful process of matching Rottweiler puppies to the right family. There are no breeders on this list that we consider to be puppy mills, however, it is wise to do your own research and request a visit before you place a deposit.
Other articles you would like: Doberman Breeders in Texas and Dachshund Breeders in Texas.
1. Von Warterr Rottweilers Texas
Von Warterr Rottweilers is a breeding operation that is the result of two different programs merging together to create one breeding program. They are located in Quinlan, Texas, and promote the breeding of healthy, well-balanced Rottweilers that have a good temperament and meet purebred standards. This is a large program with a large number of females and males. There are many litters per year that come out of Von Warterr Rottweilers.
Buying a Rottweiler puppy from Von Warterr starts by filling out the client questionnaire. They use this to determine whether or not interested parties would be a good fit for one of their Rottweiler puppies in Texas. The puppies are not sold on a first come first serve basis. The breeders match each puppy to the perfect family based on temperament and other important factors.
The cost of these Rottweiler puppies for sale in Texas varies depending on the gender and whether or not you want a companion pet quality or show quality puppy. It is somewhere in the ballpark of $2,000 for pet quality while the show/breeding quality is between $2,700 and $3,500.  They do ship the Rottweiler puppies which can cost an additional $400.
Rottweiler Breeder Information
2. The Texas Rottweiler Ranch
The Texas Rottweiler Ranch is a breeding program that has several years of experience. The owner has had Rottweilers for 35 years as pets and has successfully raised them around her own children and grandchildren. The breeding program has been expanded recently to add more championship pedigree Rottweilers. She breeds for both temperament and health as well as head size.
The price of these Rottweiler puppies for sale varies based on gender. The males are $2500 and the females are $2000. There is a deposit required of $500 which is non-refundable. It can be transferred to another Rottweiler litter if your desired gender is not available. They offer a health guarantee for all their Rottweiler puppies in Texas that covers genetic conditions only. You will sign a puppy contract as well that prevents breeding.
Rottweiler Breeder Information
3. Baronhaus Rottweilers Texas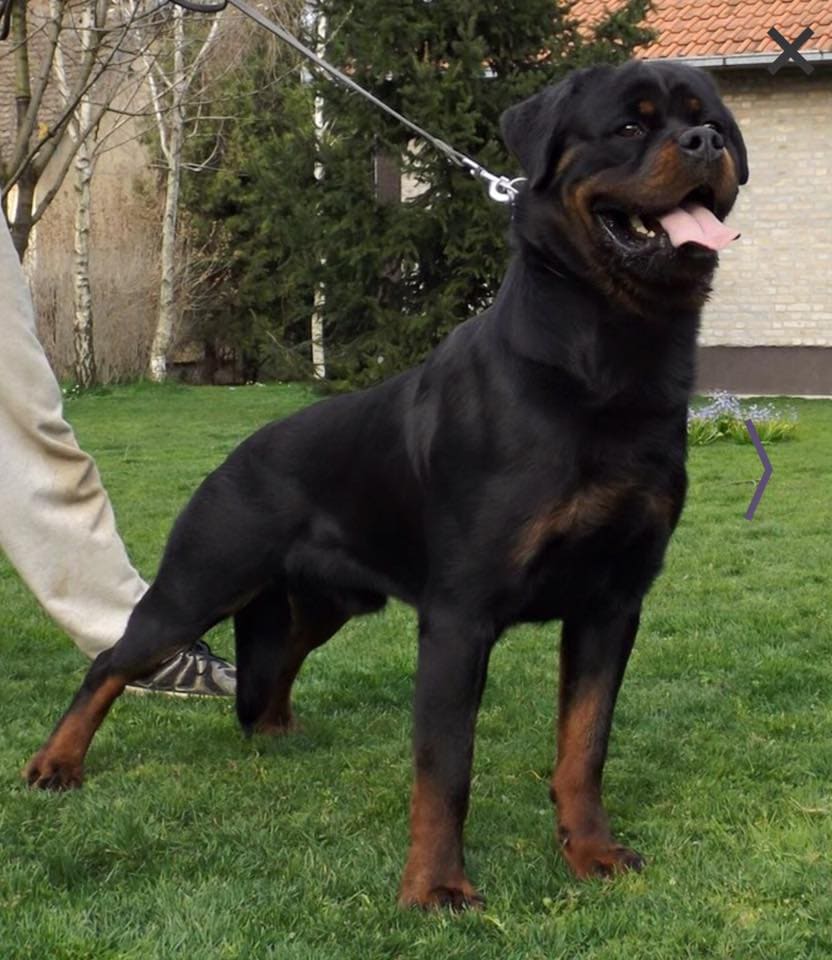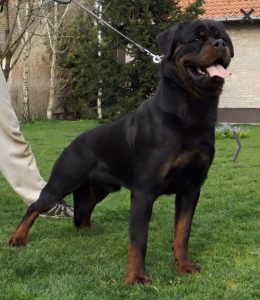 Baronhaus Rottweilers has been in business since 1996 and strives to have healthy and well-rounded Rottweiler puppies both physically and mentally. Even though they have been breeding Rottweilers since 1996 they have many more years of dog breeding experience. Their small breeding business started with Toy Poodles. After a few years of that, they wanted to look into other breeds and decided that Rottweilers were what they wanted to breed. For what it's worth, they are one of the oldest Rottweiler breeders in Texas that we could find.
Now after 24 years of breeding Rottweilers they are still sure this is the breed for them. The dogs do live in kennels, but they have heating and air conditioning, outside runs, and their own compartments, as well as their own exercise space. Their kennel building is close to the main house and is looked after several hours per day. Baronhaus takes pride in the quality of the Rottweiler puppies they breed in Texas, but what they love the most is how many friends they have made all over the country. They strive to build relationships with the people who take their puppies home.
If you are interested in owning one of these Rottweiler puppies you are encouraged to call to find out details of the availability. They also have a Facebook page that is regularly updated as well. The best way to get more information is by telephone.
Rottweiler Breeder Information
4. River City Rottweilers TX
River City Rottweilers is a breeder in the Hill Country of Texas just south of San Antonio. They are not a licensed breeder by the state of Texas due to the number of female dogs they have. While being licensed is always a positive attribute, it is not necessary for a breeder to be ethical and reputable.
Their breeding adults and puppies are registered by the AKC, and their puppies come with hip and health guarantees. They also offer a lifetime of breeder support for you and your Rottweiler. They want the new owners to feel confident with their purchase and know they have support while raising their Rottweiler puppy. Many Rottweiler breeders in Texas will not offer lifetime support because they know it can be a challenge and take a lot of time.
There is a deposit required to reserve a Rottweiler puppy. You will need to get this information by emailing the breeder as well as the total cost of your Rottweiler puppy for sale. You can also follow them on Instagram to see the latest photos and updates from River City Rottweilers.
Rottweiler Breeder Information
5. Von Heidelberg Rottweilers Texas
Von Heidelberg Rottweilers in Houston, Texas, is an elite breeder. They focus on show dogs and breeding quality dogs but sometimes have companion Rottweiler puppies available. They focus on health, conformation, breed standards, and temperament. Von Heidelburg has been in the business of breeding Rottweilers for two decades and has had many of their dogs trained to participate in shows as well as search and rescue teams.
The bloodlines that they breed are strictly German and European. The females in their breeding program are only bred with European bloodlines that are imported. This breeder is serious about making sure the homes the puppies go to are ready and able to care for a puppy that will grow into a massive adult dog. They stress the importance of asking yourself questions about your lifestyle and why you want to get one of their Rottweiler puppies in Texas.
For more information about purchasing a puppy from Von Heidelberg Rottweilers, it is best to call them or contact them via Facebook for current litters and pricing information. There isn't very much information on their website about the upcoming litters or the puppies which is why it is best to contact them directly.
Rottweiler Breeder Information
6. Prairie Valley Rottweilers Texas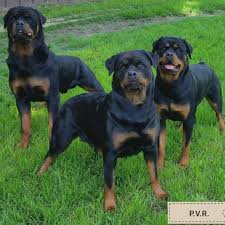 Prairie Valley Rottweilers is a small Rottweiler breeder in Whitney, Texas, that simply loves this dog breed. They have three females in their program and two males. Prairie Valley has a few litters every year and they are careful to not over breed the females. As the older females retire they are going to be bringing more young females into the breeding program. However, they want to keep the program small so they can keep breeding dogs as members of the family. They also want to be able to raise the Rottweiler puppies in their home as well instead of a guardian home. This is why they only have one puppy litter at a time.
Prairie Valley does not sell breeding quality or show quality puppies. All of their Rottweiler puppies for sale in Texas are strictly companion pets. There is no pricing information on the website but if you are interested in information about an upcoming litter you are able to call or email the breeder. There will be a deposit for a puppy, but each breeder handles reservations differently. If you are local you could also request a visit to see where the Rottweiler puppies are and how the adults are kept.
If you are interested in more information about the adults in the breeding program they have profiles for each adult on their website. We highly suggest that you check out their website to learn more about their Rottweiler breeding program.
Rottweiler Breeder Information
Conclusion for Rottweiler Breeders in Texas
Rottweilers are the 8th most popular dog breed in the world according to the American Kennel Club (AKC). Thus, you find tons of Rottweiler breeders in Texas. It's important to note that not all breeders are the same and there are several puppy mills and backyard breeders that won't be genetic or health testing their Rottweiler puppies in Texas. We hope that you found the right breeder for your next puppy!
Other articles you will like: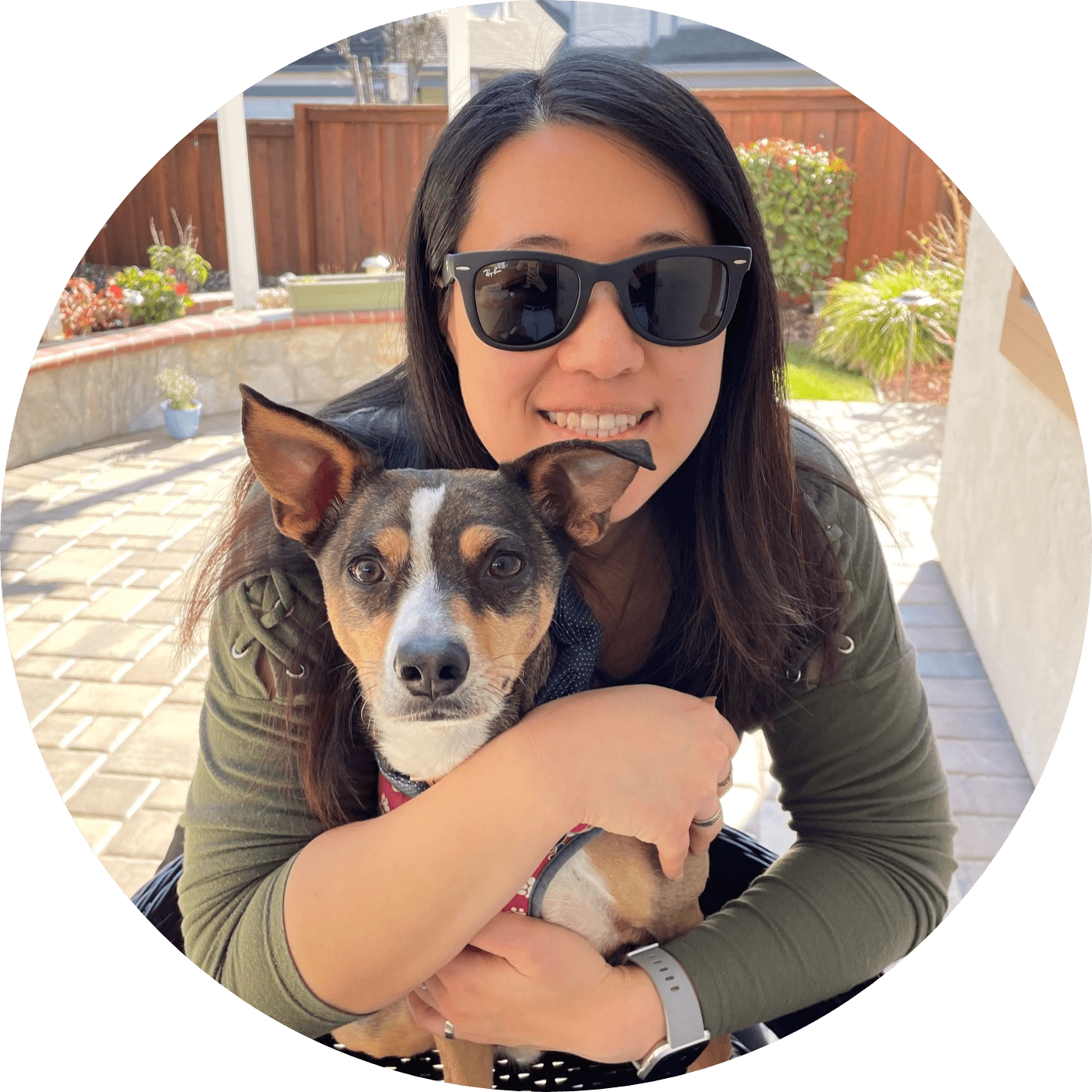 Dr. Sabrina Kong graduated from the Royal Veterinary College in England in 2016 and has been working at a small animal clinic in Northern California since then. She grew up in the Bay Area and got her bachelor's degree from Cal Poly San Luis Obispo. She also became a Certified Canine Rehabilitation Practitioner through a program at the University of Tennessee.
When she isn't in the clinic taking care of her four-legged patients, she enjoys traveling and trying new foods with her friends and her three-legged dog, Apollo. She adopted Apollo from her clinic when he was a puppy with numerous health issues. Dr. Kong truly cares about taking care of animals.