With its medium build and strong body, Boston Terriers have the appearance of being determined and lively. With their black and white coat markings, you'll know a Boston Terrier when you see one. In fact, according to the American Kennel Club (AKC), Boston Terriers are the 21st most popular dog breed. It's one of the reasons why you'll see so many Boston Terrier Breeders in Texas popping up.
One key aspect to keep in mind if you're considering buying a Boston Terrier puppy for sale in Texas is that this dog breed doesn't have a tolerance to heat. Especially if they're out and about, running and playing outside in the heat, they may start to cough and wheeze. This is of particular importance in caring for your pet in warmer climates.
Other articles you might like: Golden Retrievers Breeders in Texas and Australian Shepherd Breeders in Texas.
Breeders for Boston Terriers in Texas
Whether you've been set on adding a Boston Terrier into your life ever since you were little or have just recently begun exploring how one could fit into your lifestyle, they're a great dog breed for a variety of situations. However, one of the most difficult aspects of owning a puppy is finding a reputable breeder in Texas that will sell you a happy and healthy puppy.
When you're moving your search through the Texas region, you've got a lot of options to purchase a Boston Terrier. To help you get started on your search for your future Boston Terrier friend, here we share a quick list of some of the top breeders for Boston Terriers in Texas. With a brief summary of the breeder, you'll also find their contact information and their website should you be interested in learning more.
1. Boston Terriers of Texas
The team at Boston Terriers of Texas breeds their dogs to be of high quality and disposition. When the puppies are first born, they receive care, attention, and nurturing to help them grow strong and healthy. As they play around with other Boston Terrier puppies and dogs, they are socialized to learn how to get along and interact with others.
Owners Brandon and Renita live on a ten-acre area where their Boston Terrier puppies in Texas can have space to roam and grow. With about ten years of breeding experience, this team has plenty of testimonials and reviews. They're confident in the care of their puppies and ensure you'll purchase a healthy puppy and will live a long life.
Each Boston Terrier puppy is also given vaccinations and deworming practices to support its health record. When you're ready to welcome your new Boston Terrier puppy home, it'll come equipped with a blanket, registration papers, a starter bag of puppy dog food, a first toy, and a basket for them to ride in.
If you're interested in one of their Boston Terrier puppies for sale in Texas, you can put down a security deposit of $350 to hold your spot. You can even pay online for your convenience. Their availability varies so be sure to connect with Brandon and Renita first to express your interest.
Boston Terrier Breeder Information:
2. Gary's Texas Boston Terrier Puppies
With a lifelong experience of raising Boston Terrier puppies in Weatherford, Texas, owner Gary Lance has a passion for these dogs. Raising these beautiful dogs is a hobby he's able to continue in his life. As a small hobby breeder, his operation is small which provides a lot of time and attention to every puppy.
Gary spends particular attention on the pregnant mom dogs to ensure her health and well-being are taken care of. By providing a quiet and comfortable space for the moms, they can be healthy as well as deliver happy Boston Terrier puppies.
Each of their Boston Terrier puppies comes with a health record that includes veterinary care, vaccination shots, and heartworm prevention care. They also come with a health guarantee so you can be confident in your four-legged friend. Each puppy is also AKC or CKC registered and comes with all the required paperwork and records.
Boston Terrier Breeder Information:
3. VP Ranch Boston Terrier Puppies Texas
With a large farm and space to grow, puppies at VP Ranch Texas are loved and cared for like family. Offering both Boston Terriers and French Bulldogs, the team at VP Ranch in Pilot Point, Texas, doesn't kennel their dogs and they are properly socialized.
Dedicated to quality, several of their Boston Terrier dogs are champions and come from high-quality bloodlines. In addition, their selection process for families is intentional, as they want the best homes for their Boston Terrier puppies. Your personality and living environment will factor into which puppy they choose for you. Each of their Boston Terrier puppies in Texas is seen by a veterinarian at Panther Creek Animal Hospital and is provided great care including vaccinations.
If you're interested in one of their Boston Terrier litters, you can express your interest by contacting them as well as submitting a $500 deposit to hold your place on the waitlist. You can indicate whether you want a boy or a girl puppy and prices are dependent on the litter and dog. Their waitlist may or not be open at a certain time as well, so be sure to watch their notifications if you're interested. If there is availability, you can schedule a visit after the puppy is 6 weeks old. Their Boston terrier puppies can be welcomed into your home at 8 weeks old.
Beyond puppies, the family at VP Ranch Texas also raises Boer Goats and Arabian and Half Arabian Mares for a full ranch experience. This amount of activity ensures that the puppy you take home is well socialized and ready for your family.
Boston Terrier Breeder Information:
4. Boston Terriers by 4N Texas
On a spacious and lively ranch, Boston Terrier puppies are bred with love and care. Since 2005, the team at Boston Terriers by 4N Texas has been breeding and caring for Boston Terrier puppies to share with other loving families. They're intentional about their placement process to ensure that the puppies are welcomed into responsible and compassionate homes.
In addition to the traditional black and white coat varieties, 4N also offers Boston Terriers in other colors like chocolate or blue. With their variety of coat colors, you can be sure to find a puppy you absolutely love.
Each of their puppies comes fully CKC or AKC registered and is up to date on their vaccinations. They're available for sale after they are 8 weeks old. To make a reservation for one of their Boston Terrier puppies, you can submit a down payment to hold your space for when you go pick them up. If there is no availability, you can be put on a waiting list and be notified when the next litter comes.
Their photo gallery on their website also shares adorable photos of this beautiful breed and what you can expect when you pick one up for yourself. This breeder is located in Vista, Texas which is about 50 minutes south of Fort Worth, Texas.
Boston Terrier Breeder Information:
More Information about Boston Terrier Puppies
A cross between an English Terrier and a Bulldog, the Boston Terrier retains characteristics reflecting both breeds. Since its origins, the Boston Terrier has been a popular and well-loved pet and companion. In 1893, the breed was recognized by the American Kennel Club, with a particular emphasis on its traditional markings and temperament. 
The Boston Terrier belongs to the terrier, mastiff, and bulldog family so its personality should be no surprise. Their medium size brings them to a weight of 10 to 25 pounds and a height of 15 to 17 inches tall.
Its black-and-white tuxedo coat is a tell-tale sign of the breed, making them appear elegant and clean-cut. In addition, the short and fine coat makes grooming a breeze and requires only occasional brushing and washing.
Their temperament follows their ancestors as well-mannered, playful, and sometimes stubborn, particularly around strangers or other new dogs. However, they learn easily and are relatively clever dogs.
How to Choose a Boston Terrier Breeder in Texas
Breeder Reputation: First, you need to do a significant amount of research to find the best Boston Terrier breeder in Texas. It's important to find previous testimonials and reviews to gauge a breeder's reputation. It's difficult to breed these dogs successfully so I would not go with any brand new breeder.
Health Testing: One of the best ways to ensure you're getting a healthy Boston Terrier puppy in Texas is to verify that the breeder has done health testing on the parent dogs. This includes screening for common genetic diseases. In addition, the breeder should do health checks on the hips, joints, heart, and other areas of the dog's body.
Health Warranty and Lifetime Support: Most reputable Boston Terrier breeders in Texas will provide a health warranty because they believe in the health of their puppies. They usually will give you a 1 or 2-year health warranty against all genetic diseases. In addition, some of the very good breeders will provide you with lifetime support if you have any questions.
Conclusion for Boston Terrier Breeders in Texas
If you're looking to add a Boston Terrier to your home in Texas, you've got options. As you explore what kind of pet will fit your lifestyle and family well, be sure to do your research. Connect with potential breeders like these to ensure you move forward with a puppy that's right for you. Using resources and other helpful information here, you can be confident in your new four-legged friend.
With their elegant look and playful personality, Boston Terriers can be a great addition to your life. Start with the Boston Terrier breeders on our list to help you with your research. Ask questions, get to know the organization you purchase from and prepare to welcome home a lively and active puppy.
Other articles you might like: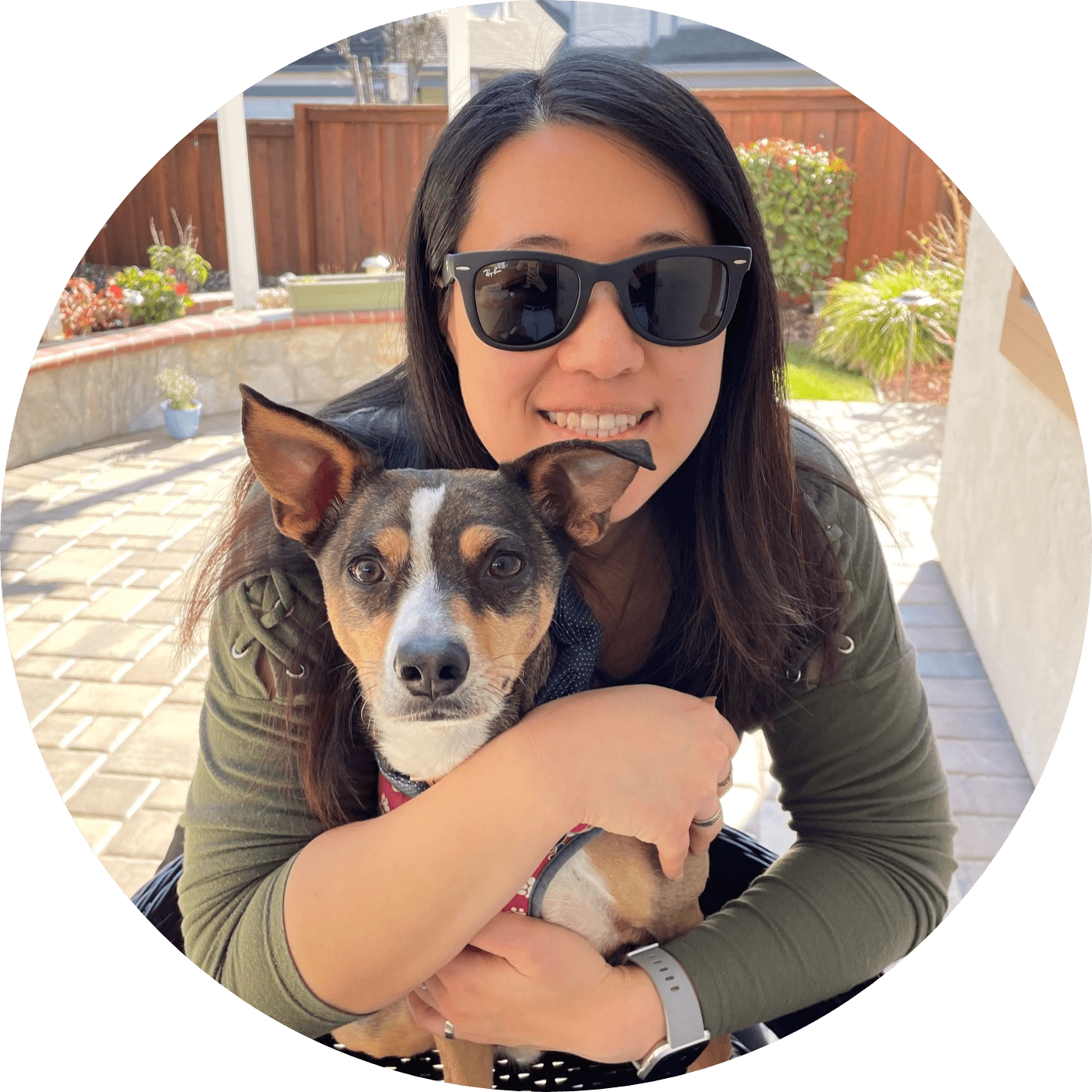 Dr. Sabrina Kong graduated from the Royal Veterinary College in England in 2016 and has been working at a small animal clinic in Northern California since then. She grew up in the Bay Area and got her bachelor's degree from Cal Poly San Luis Obispo. She also became a Certified Canine Rehabilitation Practitioner through a program at the University of Tennessee.
When she isn't in the clinic taking care of her four-legged patients, she enjoys traveling and trying new foods with her friends and her three-legged dog, Apollo. She adopted Apollo from her clinic when he was a puppy with numerous health issues. Dr. Kong truly cares about taking care of animals.