From movies to purses to windowsills, Chihuahuas can be found anywhere. This bright and peppy dog breed is a small dog with a big attitude. With a terrier-like temperament, these dogs can be spunky and really add some life to your home in Texas. Ranked 33 in terms of popularity by the American Kennel Club (AKC) Chihuahua puppies for sale in Texas have grown in popularity.
Whether you're drawn to them for their small size or bold personality, or both, Chihuahuas can make great additions to homes with the care and love to spend on them. We've compiled a great list of the 8 best purebred Chihuahua breeders in Texas. We've done our own independent research to help verify that there are no puppy mills on our list.
Other articles you might like: Shih Tzu Breeders in Texas and French Bulldog Breeders in Texas.
Breeders for Chihuahuas in Texas
If you're looking for a Chihuahua in the Texas region, you've got some options when moving forward with a breeder. To help you get started on your search for the right Chihuahua for your home, here we share some of the top breeders you'll find in the state of Texas for Chihuahuas. This list contains a short description of the operation and easy contact information if you're interested in learning more about that particular breeder. 
PuppySpot is the #1 breeder on our list because you can get a Chihuahua puppy today from an ethical breeder without having to wait a long time! Since PuppySpot is a network of highly reputable breeders, you won't have to wait for a little or on a long puppy waitlist just to get a dog. In fact, they have several Chihuahua puppies that are available for sale today. You can sort by coat color, male or female, coat type, coat color, and age. They make it extremely easy to find the perfect puppy for your home.
In order to be a highly reputable breeder on PuppySpot, you have to pass a thorough 100 point inspection which includes being a state-registered and licensed breeder. This entire process is backed by the American Kennel Club (AKC), so you know you will be getting an ethically sourced and healthy Chihuahua. If the puppy that you want is not located in Texas, PuppySpot can fly it out to you and you'll get it sooner than if you went with an individual breeder. We had a great experience using them and highly recommend that you check them out before scrolling down!
Chihuahua Breeder Details
2. Water-Hill Kennel Texas
As the oldest Chihuahua kennel in the United States, the team at Walker-Hill Kennel has been raising Chihuahuas with excellence and consistency. Since 1963, they have been breeding these tiny dogs with dedication and intention. Since their beginnings, they've kept the same line of female dogs that have given birth to healthy and happy Chihuahua puppies in Texas for decades.
Each Chihuahua puppy is raised on their own ranch where they're provided space to run and interact with other dogs. They strictly do not keep them in cages or kennels all day long. They also focus on the quality and health of the dogs, seeking to remove any genetic concerns or problems that may arise in the breed.
With their commitment to caring for Chihuahuas, the team is passionate about sharing the breed with loving families. They also share helpful resources about the Chihuahua breed as well as other interesting insights that can be helpful for families as they take their new puppy home.
If you're interested in learning more about their availability and to be put on the waiting list, you can reach out to them to inquire about an upcoming litter. They are one of the best and oldest Chihuahua breeders in Texas that we could find.
Chihuahua Breeder Details
Location: 1340 VZ County Road 2502, Canton, Texas 75103
Email: annamcd1@hotmail.com
Phone: 9903-848-8201
Website: Water Hill Chihuahuas Texas
3. Hill Country Chihuahuas Texas
The team at Hill Country Chihuahuas takes great pride in breeding small Chihuahuas. They love sharing this bright and lively personality with loving families who are willing to care for a puppy. Hill Country's website shares adorable photos of their Chihuahua puppies available in Texas that will make you fall in love with the breed even more.
With a dedication to placing the right Chihuahua puppies with the right families, the team at Hill Country also are intentional about choosing homes and families. They've been breeding Chihuahua puppies in Texas since 2004 and look forward to sharing them with others.
While they don't have a waiting list, they do update their website quite frequently with new and upcoming litters where you can inquire about a Chihuahua puppy. There you'll find puppies and their date of birth, as well as when they can be purchased to go home with you. As a licensed Chihuahua breeder in Texas, they are dedicated to serving families with excellence and quality puppies.
Chihuahua Breeder Details
4. Loucan's Chihuahuas Texas
Chihuahuas found at this small breeder in Texas have coats that are smooth and long and come in a variety of colors and patterns. As breeders, the team at Loucan's Chihuahuas is dedicated to improving the dog breed and sharing the delight of Chihuahuas with other families.
Raised in the context of their own family, their Chihuahua puppies in Texas are socialized and trained to interact with others. Each puppy is cleared by a veterinarian and is certified healthy before going to its forever home. In addition, each Chihuahua puppy also has its first round of vaccinations and preventative care completed. They also offer a health guarantee, so you can be confident in the longevity and health of your new Chihuahua puppy
Their website shares current and upcoming litters where you can explore Chihuahua puppies if you're interested now or in the future. You'll also need to complete a puppy application and complete their contract to ensure you are serious about your inquiry. A deposit is needed in order to hold a Chihuahua puppy once you've expressed interest. This is a smaller Chihuahua breeder in Texas located near Houston.
Chihuahua Breeder Details
5. Heart of Texas Chihuahuas
As passionate pet owners, the team at Heart of Texas Chihuahuas breed and raise this tiny dog breed with love and compassion. Each Chihuahua puppy is raised in their own home with a focus on ensuring they are healthy, happy, and well-adjusted.
Each of their Chihuahua puppies in Texas comes with a one-year health guarantee as well as up-to-date vaccines and other helpful information about their records. New owners are also provided new puppy care instructions to help make the adjustment smooth and easy. If you're interested in purchasing a Chihuahua puppy from them, a $200 deposit will hold your place until time for pick-up.
On their website, you can also browse through their available Chihuahua puppies for sale and you can inquire about them as well. Get to know the parents, too, with photos and other helpful information you may be interested in. 
Chihuahua Breeder Details
6. Chihuahuas-Wee-Love
The team at Chihuahuas-Wee-Love sure does love this dog breed. They specialize in long coat Chihuahuas and love to see their unique personalities in puppies. As the owner, Linda, offers a wide range of helpful advice in raising puppies and other resources, including inventing her own pet product. Their goal is to raise quality Chihuahuas for fitting homes with good temperaments and personalities. With over 35 years of experience in breeding, handling, and grooming, Linda is passionate about caring for dogs.
If you're interested in purchasing a Chihuahua puppy from them, you'll need to be approved through a screening process, which ensures you're a good fit for a Chihuahua. Each puppy comes with a healthy puppy guarantee which states exactly what you can expect from welcoming your new furry friend.
Depending on the size, parents, and its quality, puppies range in price from $1,250 to $2,250. As you welcome home your new Chihuahua in Texas, you can be confident in their health with up-to-date vaccinations, initial health certificate, and registration. You'll also get a puppy care package that includes things like a dog bed, dog food, and other treats that you'll want as you adjust to having a puppy at home.
Chihuahua Breeder Details
All About the Chihuahua Dog Breed
If you've ever seen a Chihuahua or played with one, you'll know that they come with a lot of energy and are very vocal about it. Their bark is less menacing than it is sharp and alert. As part of the toy family, the Chihuahua is one of the smallest breeds of dogs, even though their personality may not show it. Most Chihuahuas are 6 pounds and a height of 6-9 inches tall doesn't limit their personality. Originating in Mexico, Chihuahuas have a history with theories and legends within Central and South America that some support. Today, they're a fun and feisty dog breed that may just be a perfect fit for your lifestyle or family.
Chihuahuas are known for being passionate companions for their owners. This temperament may make it more challenging to introduce them to strangers or with other household pets. With an inclination for protection and attention, Chihuahuas may respond with boldness or timidness.
With healthy amounts of exercise, Chihuahuas enjoy an active lifestyle where they can walk and roam around. Their short coats are also easy to take care of and require minimal rushing and washing, usually only every couple of weeks. This coat also makes them not as sensitive to heat as other dogs, making them a great fit in the hot Texas heat.
How to Choose a Chihuahua Breeder in Texas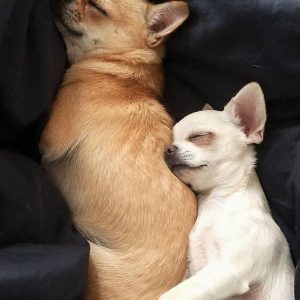 When looking for a Chihuahua puppy for sale in Texas, you'll want to consider these 3 tips:
Breeder Experience and Reputation: When looking for a Chihuahua puppy in Texas, always ask the breeder how much experience they have in breeding dogs. I personally wouldn't buy a puppy from the first litter of a new breeder because you won't know what the puppies will look like, the breeders won't know how to care for the puppies, and several other factors. In addition, always look for reviews or testimonials of past customers.
Health and Genetic Testing: While Chihuahuas may not be prone to many genetic and health issues, responsible breeders in Texas will always run testing on their dogs. They will check for genetic diseases as well as health check the joints, heart, patellas, and/or eyes.
Puppy Warranty: Reputable Chihuahua breeders in Texas will almost always offer a health warranty if they test their parent dogs. Typically, you will see a 1 or 2-year health warranty on the puppies for all health and genetic issues. Check with any potential breeder if they offer this warranty!
Conclusion for Best Chihuahua Breeders in Texas
Whether you're sold on a Chihuahua or are still considering your options, these breeders in Texas can be a great place to start your search for the right puppy for you. As you search and find a dog that matches what you're looking for, be sure to do thorough research and ensure that you've vetted their breeding operation and location. You don't want to buy from a puppy mill because you might not be getting healthy puppies.
With their bright personality and a strong sense of loyalty, Chihuahuas can be a great addition to your family and lifestyle. Start with the Chihuahua breeders on our list to find a puppy that you can trust. Ask questions, get to know the operation, and get ready to eagerly welcome home your new four-legged friend into your home.
Other articles you would like:
Garrett loves animals and is a huge advocate for all Doodle dog breeds. He owns his own Goldendoodle named Kona. In addition, he volunteers at the Humane Society of Silicon Valley, where he fosters dogs and helps animals. Garrett enjoys writing about Doodles and believes that dogs can teach humans more about how to live than humans can teach a dog.
Why Trust We Love Doodles?
At We Love Doodles, we're a team of writers, veterinarians, and puppy trainers that love dogs. Our team of qualified experts researches and provides reliable information on a wide range of dog topics. Our reviews are based on customer feedback, hands-on testing, and in-depth analysis. We are fully transparent and honest to our community of dog owners and future owners.