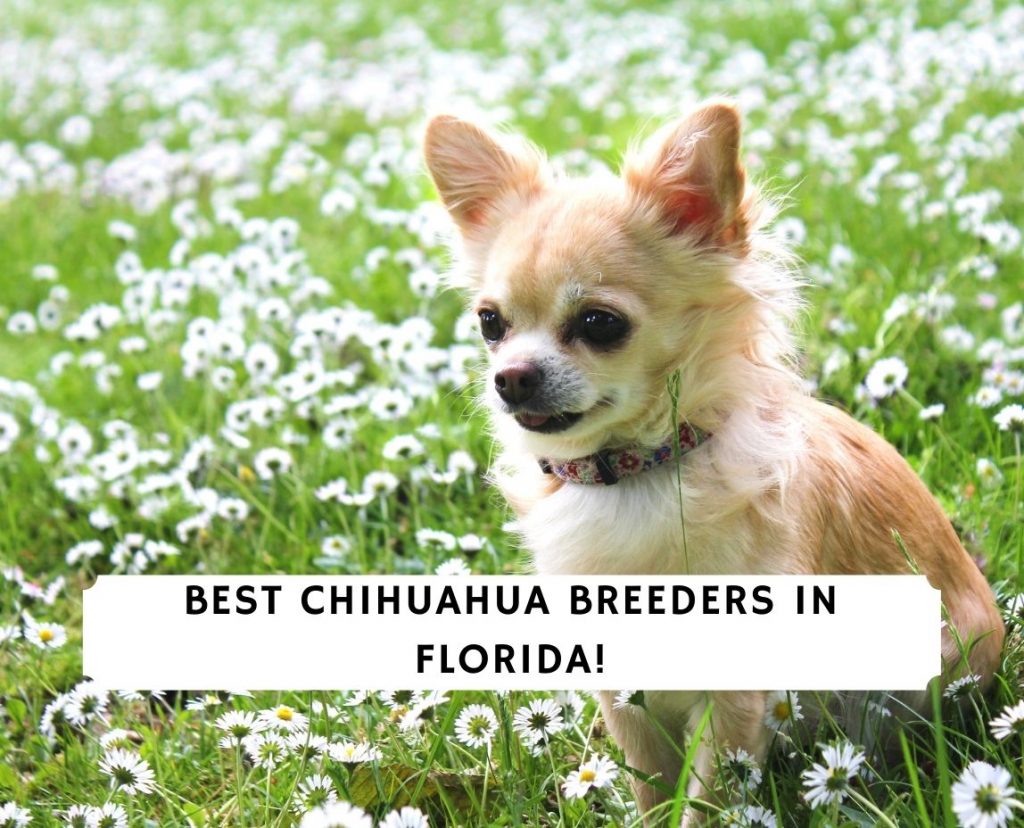 If you're in search of Chihuahua breeders in Florida, then you probably know that they're adorable and small. Chihuahuas are one of the world's smallest dog breeds, but they have a large personality. The Chihuahua name comes from a Mexican state.
Oftentimes Chihuahuas forget that they are pint-sized and will take on much larger dogs in the dog parks. For that reason, owners must supervise them constantly. However, in return, you'll get a loving, cuddly, and loyal puppy. It's no surprise that you'll find many Chihuahua puppies for sale in Florida, but it's important to find a reputable breeder.
Check out these other articles: Beagle Breeders in Florida and Yorkie Breeders in Florida.
Chihuahua Puppies For Sale in Florida
There are many great Chihuahua breeders in Florida and we've compiled this list for you to help you with your research. It's important to buy these dogs from only reputable breeders because how they were bred before being purchased can make all the difference between a perfect pet and a nightmare. When possible, avoid puppy mills and backyard breeders because they won't health test, socialize, or even care for the adult parent dogs. We always recommend that you visit any breeder in person.
1. Uey's Chihuahua Florida
First on the list of Chihuahua breeders in Florida is Uey's Chihuahua. Located in Summerfield, Florida, near the Villages, Uey's is a Chihuahua breeder and rescue center. They have been breeding Chihuahuas since 1992. Its breeder has a Health and Science degree from the University of Florida and understands this dog breed inside and out.
You will get healthy and happy Chihuahua puppies in Florida from sires and dams who have good temperaments and are socialized. You can get the choice of your color at Uey's Chihuahua too. All the Chihuahuas here, which includes the parents, have been home-raised and never stuck in a kennel. Uey's Chihuahuas also sells adult Chihuahuas and rescued ones, if you are looking for those. They care very much about their dogs and treat them with love. Prospective Chihuahua owners may visit and check out the dogs' living conditions. At Ueys Chihuahua, you can get all types of sizes of this dog breed, including the teacup Chihuahua.
All of their puppies learn to socialize from a young age and are trained well. Uey's Chihuahua is particular about their dogs' health, so they get them genetically tested. Their new puppies are de-wormed and get all their shots to protect them from Distemper, Parvo, and Rabies. If you register yours with AKC, you get one month's health insurance for your new furbaby.
Uey's Chihuahua also teaches new Chihuahua parents the proper ways to care for and train Chihuahuas. They do not ship the puppies for sale, but instead, they meet you at the airport and hand-deliver. You can see their past and current litters and the sires and dams' photographs on their website.
Uey's Chihuahua Details
2. Wee Puppy Paws
Wee Puppy Paws is located in South Florida and is another reputable Florida Chihuahua breeder. They breed and train many small breeds of dogs, like the Chihuahua and the Maltese. They also breed 'designer' dog breeds, like the Malchie and the Morkie. Wee Paws has been in this field since 2006, which makes them experienced breeders. They have also recently started offering rescued dogs, who live in their building, have their pond, and area to run around in.
Wee Puppy Paws take pride in being able to provide love and care to all their dogs. All of their Chihuahua puppies in Florida are bred to have great health, temperaments, and personalities. Their home has a lot of space for the dogs to play in. They have a pond, beach, and even a tiki hut. For this breeder their dogs are family. Their Chihuahua puppies are bred according to the Continental Kennel Club (CKC) standards. They are checked regularly by a licensed veterinarian and are given their first shots and dewormed before going to their new homes. Feel free to visit them today.
Wee Puppy Paws Details
3. Hollywood Chis
Hollywood Chis is a popular Chihuahua breeder located in Orlando, Florida, and has many celebrity customers. They hold 5 World Records and 1 Guinness World Record. They have been breeding quality Chihuahua puppies for over 16 years, and they specialize in breeding healthy and happy puppies with great temperaments. Both their adults and puppies live in their homes and are treated with love and care.
Hollywood Chis breeds their dogs according to AKC standards, and they sell Chihuahuas of different colors. All their Chihuahua puppies in Florida get their first shots and are dewormed before being sold. In case you want to become a parent of a Hollywood Chis puppy, you need to reserve one in advance. Once you get the perfect pup for you, you can even order designer clothes and accessories for your new furbaby at Hollywood Chris. This breeder offers local pickups in Florida and paid nanny service to most airports in the United States. You can see their puppies and their sires and dams photographs on their website.
Hollywood Chis Details
4. Golden Kennel LLC
***12/6/2021 We can no longer recommend this breeder. Feel free to read more information here.***
Golden Kennel has been breeding top-quality puppies for years. All of their dogs come from excellent pedigrees with sweet temperaments and great looks. Their puppies are socialized early and grow up in an environment full of love and care. Located in Brooksville, Florida, Golden Kennel raises and trains many dog breeds including the Chihuahua. Fun fact, this Chihuahua breeder is one of the most popular dog breeders in Florida. Their dogs have won many awards in competitions all over the country. Some of their dogs have gone on to become service dogs due to their select and planned breeding program.
All of their Chihuahua puppies for sale in Florida come with a one-year health guarantee against genetic hip and heart problems. They specialize in matching the right puppy to your home and help you pick out the one that is right for you. Golden Kennel welcomes visitors to their facility to see the place and feel the environment in which the dogs live. They also offer boarding services for your puppies and will train them for you too. You can check out their litters and other photographs on their Facebook page and other social media platforms. It's also worth noting that they are registered members of the AKC.
Golden Kennel LLC Details
Location: 9203 Weatherly Rd, Brooksville, FL 34601, United States
Contact: (407) 764-0115
5. Eva's Chihuahua, Edensecretcats
Last on the list of Chihuahua breeders in Florida is Eva's Chihuahua, Edensecretcats. This breeder has been breeding top-quality Chihuahuas for confirmation shows for the last 20 years. They also breed Himalayans exotic shorthair cats. Their Chihuahuas are well known and have competed and won in events all around the world. Though they do this as a hobby and they have gained a reputation for breeding happy and healthy Chihuahua puppies with great temperaments. Additionally, they abide by AKC breeding rules, and they treat their Chihuahua puppies in Florida with love and care.
Eva's Chihuahua, Edensecretcats Details
Chihuahua Dog Breed Info
Intelligence: Though they might not look it, Chihuahuas are pretty intelligent dogs. They are good at sensing danger. If trained well, they can be used to perform some tasks such as hunting small rodents.
Temperament: Chihuahuas are known for being pretty feisty dogs. They bark a lot and they might be stubborn sometimes. Despite this, they can be playful and friendly to those they consider friends. They are also fun to be around.
Trainable: Chihuahuas are very easy to train. If they are trained well from birth, they will listen to instructions and can be taught to perform both basic and advanced tasks. They are always eager to learn and can even be taught tricks. That is why they are popular as conformation dogs.
Portable: Chihuahuas are the smallest recognized breed of dogs globally, so they are easy to carry around with you. You can just put it in your handbag, and you are good to go. If you are looking for a dog that is not too tiny and is not too large, you should get a Beagle.
Grooming: Contrary to popular belief, the long-coated Chihuahuas shed less hair than the short-coated breed. They also require minimal grooming and no trimming. The short-coated breed, on the other hand, sheds more and requires regular grooming.
Loyalty: Chihuahuas are very loyal and brave dogs. Despite their size, they will try to protect their owners even to the point of being aggressive to strangers.
More Information About Chihuahua Puppies in Florida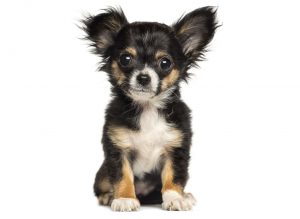 Chihuahua puppies' coats can either be short-haired or long-haired and come in virtually any color or combination. They have short legs, large, round eyes, and large, erect ears. Chihuahuas puppies in Florida tend to have short legs, large, round eyes, and large, erect ears. They have well-rounded skulls known as "apple-head" or "apple-dome", and the variation has a flat-topped head, larger ears, and long legs and is known as the "deer-head" Chihuahua. Both the variations have long or short-haired coats and come in different colors. However, the American Kennel Club (AKC) only recognizes the apple-head. 
The  American visitors to Chihuahua discovered it in the mid-19th century. This breed is thought to be a descendant of the now-extinct Techichi, a small dog the Toltec people of Mexico kept as long ago as the 9th century CE. These dogs were bred mainly as religious sacrifices, as food, or as companions. Nowadays, Chihuahua's are mostly bred for companionship and are very popular as lap dogs. They are also bred as show dogs and partake in conformation shows. In some parts of Mexico, though, they are used as ratters to hunt small rodents such as rats and squirrels.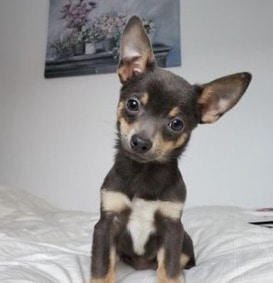 Chihuahuas are very small, which means they are very delicate. They are vulnerable to injuries and attacks from larger animals. As with other dogs with large eyes, Chihuahuas can suffer from eye infections and injuries. The puppies can also be at risk of low blood sugar. Collapsed trachea is common with the breed as well. Other common ailments are heart disorders, luxating patella, obesity, and hydrocephalus.
Chihuahuas require expert attention in areas such as birthing and dental care. They have weak teeth, so constant dental care is critical. All Chihuahua puppies have moles (a soft spot in their skull), and great care is needed with them until the crown can fully form. Chihuahuas can develop separation anxiety, so it's not advisable to leave them for long hours frequently.
The average height of a Chihuahua puppy is about 6-10 inches, while its average weight is about 4-6 pounds. Their average lifespan is 15 years, though they can live up to 20 years. Also, their litter size is 2-5 puppies. Chihuahuas are one of the most popular and most recognizable dogs in the United States.
Conclusion For Chihuahua Breeders in Florida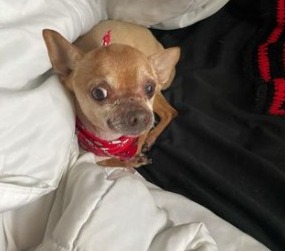 Chihuahuas are great pets to have. They are loyal to a fault, fun to be around, and generally friendly dogs. They are intelligent dogs that are easy to train and they also have great personalities. If you are looking for a small dog to love unconditionally, you should be able to bring home a companion from this list of Chihuahua breeders in Florida.
If traveling to these Chihuahua breeders is too far, you can check out our recommendations from other states:
To learn more about the Chihuahua dog breed, watch "Chihuahua | Dogs 101" from Animal Planet down below: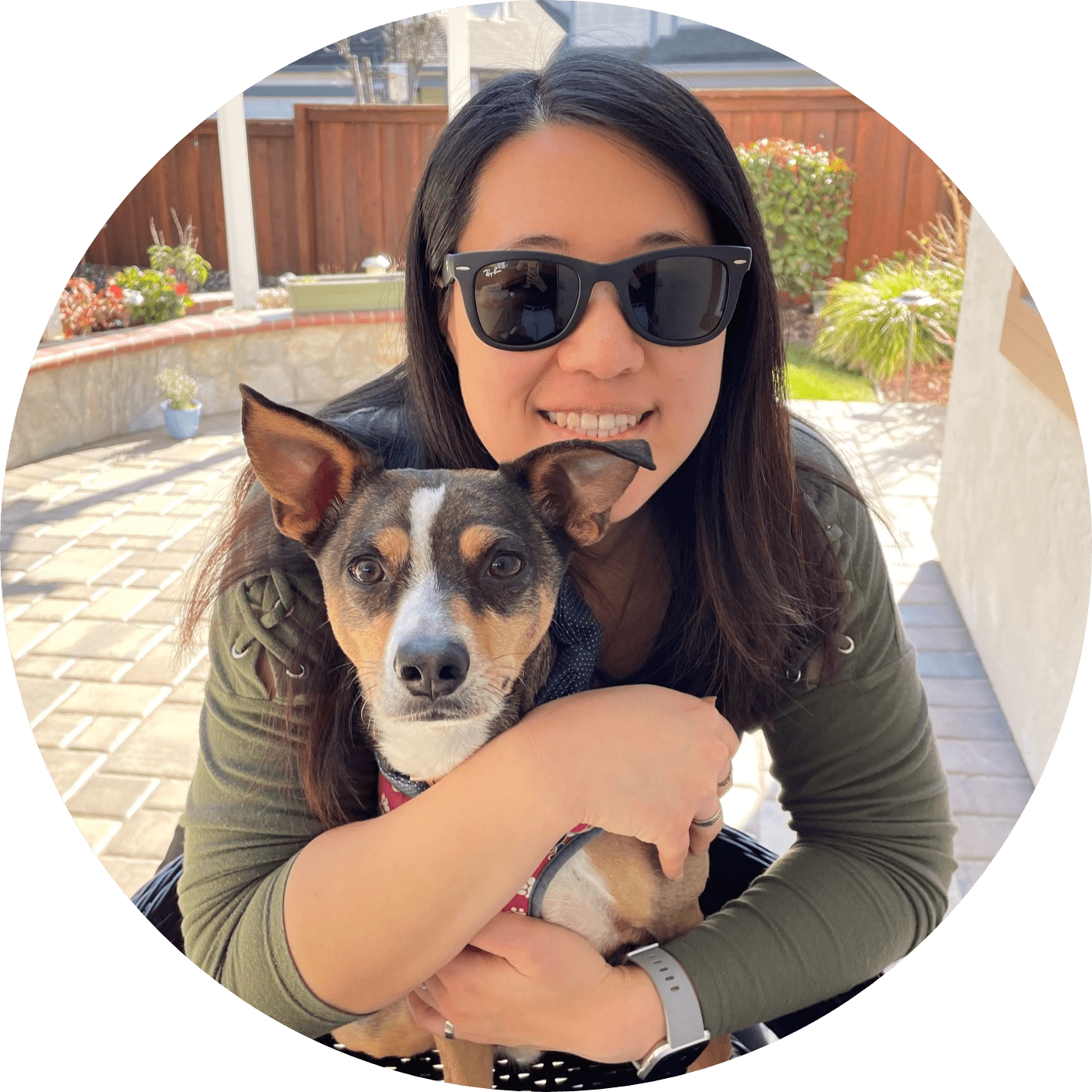 Dr. Sabrina Kong graduated from the Royal Veterinary College in England in 2016 and has been working at a small animal clinic in Northern California since then. She grew up in the Bay Area and got her bachelor's degree from Cal Poly San Luis Obispo. She also became a Certified Canine Rehabilitation Practitioner through a program at the University of Tennessee.
When she isn't in the clinic taking care of her four-legged patients, she enjoys traveling and trying new foods with her friends and her three-legged dog, Apollo. She adopted Apollo from her clinic when he was a puppy with numerous health issues. Dr. Kong truly cares about taking care of animals.