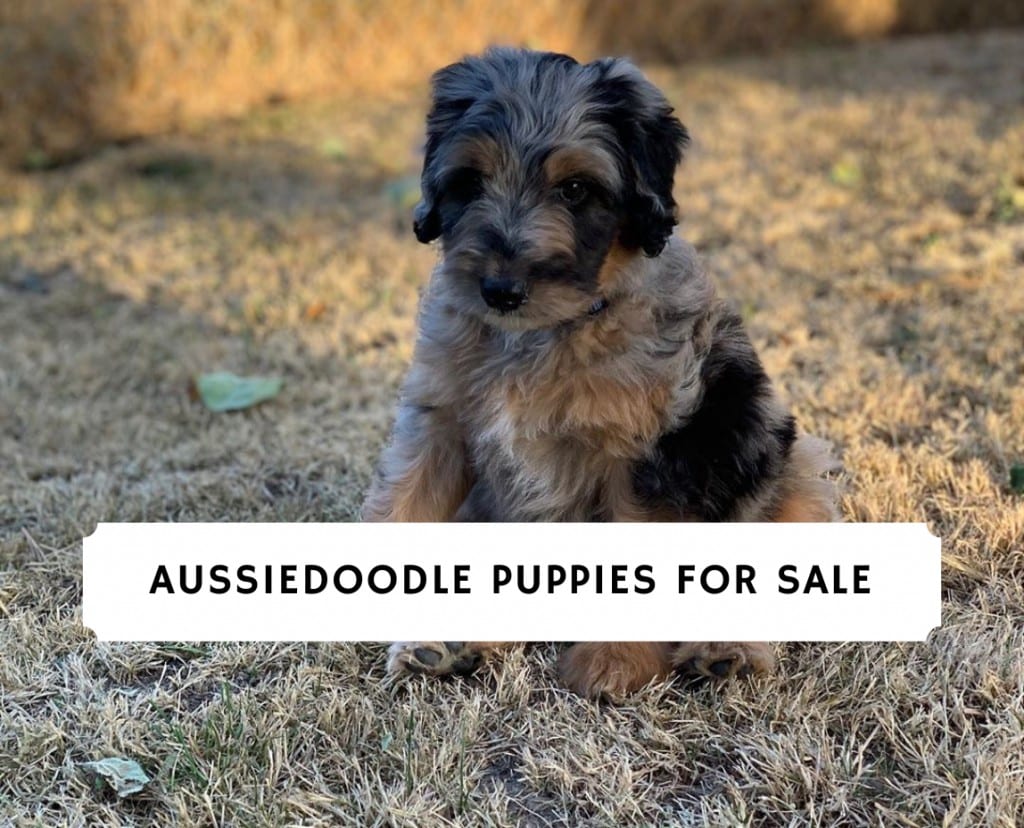 The Aussiedoodle is a cross between the Poodle and the Australian Shepherd. This active dog is playful, loyal, and incredibly smart. They are known as the "Einstein" of doodles and fit well in homes that can provide lots of exercise and attention. Moreover, they are basically a nonshedding and hypoallergenic version of the Australian Shepherd.
Aside from being family dogs, they also make excellent therapy dogs because of how quickly they bond with their humans. For these reasons, the Aussiedoodle has become one of the most popular doodle dogs in the entire world. However, not all Aussiedoodle breeders are the same and you need to choose someone who is reputable and trustworthy.
If you're looking for Aussiedoodle puppies for sale in the United States, we've got a great list for you. We have compiled a list of the most reputable Aussiedoodle breeders that you can reach out to. We've done our own independent research to find breeders who health test their dogs, have tons of years of breeding experience, and are reputable.
We always recommend that you ask any potential breeder several questions. In addition, you should always view their breeding facilities in person to verify they are an ethical operation. However, if you're not local, several of these Aussiedoodle breeders can ship their dogs.
Other articles you might like: Mini Goldendoodle Breeders and Mini Labradoodle Breeders.
PuppySpot is the #1 Aussiedoodle breeder on our list for three main reasons. First, they are a large network of very reputable breeders that is backed by the American Kennel Club (AKC). Second, they have Aussiedoodles puppies for sale today, which means that you won't have to be put on a waitlist and contact tons of breeders. Lastly, PuppySpot ships all around the United States because they have their own private airlines. Thus, it doesn't matter what you state live in, they will safely transport your Aussiedoodle puppy to you. They have sold over 220,000+ puppies and have a solid reputation.
We bought one of our puppies from PuppySpot and had a really awesome experience. We reviewed their "100 points" breeder inspection checklist that verified each breeder was licensed and registered. Additionally, their filter system made it easy to select an Aussiedoodle puppy based on their size, age, gender, and coat color. Instead of contacting multiple Aussiedoodle breeders to find a perfect puppy, we were able to select one that was available today without the long waitlist. We highly recommend checking them out.
Aussiedoodle Breeder Contact Details:
2. Prairie Hill Puppies
Prairie Hill Puppies has been breeding quality doodles since 2013. They specialize in Bernedoodles, Sheepadoodles, and Aussiedoodle puppies. Their Aussiedoodle puppies come in mini and standard sizes. In addition, their breeding stock is OFA certified, DNA tested and AKC registered to ensure your Aussiedoodle puppy is going to be healthy and of the highest quality. Before you put a deposit down on an Aussiedoodle puppy, you should always verify their health testing.
Prairie Hill Puppies lists all their upcoming Aussiedoodle puppy litters on their website. Generally, an Aussiedoodle puppy costs between $1500 to $2500. The price is dependent on how big or small you would like your Aussiedoodle as well as their coat color.
You will need to put down $515 as a deposit for your future Aussiedoodle puppy. This Aussiedoodle breeder offers a 2-year health guarantee and lifetime support for all their puppies. To kick off the process, you will need to fill in an online application that takes less than 10 minutes. Generally, the breeder replies in 24 to 48 hours. If you don't hear back from them within this time frame, you can reach them on their cell number.
Prairie Hill Puppies is open Monday to Fridays and you can schedule an appointment to view their facilities. If you're not local, you can contact them about their options for shipping puppies.
Aussiedoodle Breeder Contact Details:
3. Lakeside Farm Aussiedoodle Puppies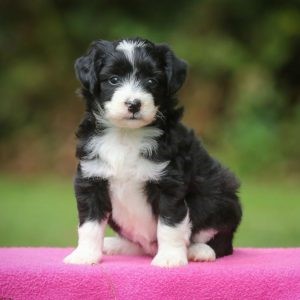 Lakeside Farm Aussiedoodle Puppies is a family-run business in Southern Illinois. They specialize in mini and toy Aussiedoodle puppies, so if you're looking for a smaller size this could be your breeder. Their puppies are ICA-registered and come with a 1-year genetic health guarantee and lifetime support. To book a spot on a future Aussiedoodle puppy litter, you need to put down a $300 non-refundable deposit.
This Aussiedoodle breeder regularly updates their website on new and upcoming Aussiedoodle puppies so you can easily find a litter you would like and book. Puppy reservations usually fill up fast so you will need to act quickly after you have received all the information you need from the breeder. You can reach them through the mobile number below or through their website contact form.
The price estimate for one of their Aussiedoodle puppies for sale starts at $1225. If you're not an Illinois local, don't worry. Lakeside Farm Puppies can ship your Aussiedoodle puppy to wherever you are for an additional charge.
Aussiedoodle Breeder Contact Details:
4. Northwest Aussiedoodles
Northwest Aussiedoodles specialize in F1 and F1B Aussiedoodles. Their Aussiedoodles come in 3 sizes: toy, mini, and standard. To reserve a puppy, they require $300 as a deposit which will be applied to the total puppy purchase.
Aussiedoodle puppy prices depend on size and coat color. Standard Aussiedoodle puppies for sale range between $1800 and $2000, mini Aussiedoodles range between $2000 and $2200, and toy Aussiedoodle puppies range between $2300 to $2500.
Northwest Aussiedoodles offers ground and flight transportation if you're not local to Idaho. Ground shipping does not include Hawaii and Alaska. Ground shipping is unavailable during winter and rates vary depending on how far you live. For flight transportation, the Aussiedoodle breeder has a flight nanny on stand-by. Pricing varies based on the airline prices.
Aussiedoodle Breeder Contact Details:
5. Spirit of the Dog Aussiedoodles
Spirit of the Dog Aussiedoodles is located in Rutherfordton, North Carolina, between Charlotte and Asheville. The breeder specializes in F1B and F2B standard Aussiedoodle sizes. They have a holistic Aussiedoodle breeding program that gives their puppies the best start to life in their forever home. They strive to ensure every Aussiedoodle puppy is healthy, has an ideal temperament, and is well socialized especially around children.
The Aussiedoodle puppies are well socialized and introduced to a variety of people, places, sounds, and sights to ensure they feel comfortable wherever they go. This also helps all of their puppies transition easily to your home.
Spirit of the Dog Aussiedoodles has a smooth application and purchase process. Generally, the application process will take less than 15 minutes and a response is usually given within 72 hours. To reserve an Aussiedoodle puppy for sale, the breeder requires a non-refundable deposit of $300.
Their Aussiedoodle puppies cost between $1400 to $1800. Flight and ground transportation options are available if you don't live in North Carolina.
Aussiedoodle Breeder Contact Details:
Toys and Teacups Aussiedoodles have been raising tiny designer doodles for over 15 years. They specialize in Chihuahuas, Yorkshire Terriers, Cavapoos, Pomeranians, and Aussiedoodle puppies. Their Aussiedoodle puppies come in toy sizes so they will be on the smaller end of the spectrum and weigh less than 25 pounds.
Toys and Teacups treat their Aussiedoodle puppies like family. They ensure all their breeding parents pass health, genetics, and temperament testing. In addition, all their breeder dogs are AKC or CKC registered purebred dogs. They strive to ensure that your Toy Aussiedoodle puppy is healthy, well-socialized, and of ideal temperament.
Each Toy Aussiedoodle comes with a 1-year health guarantee and lifetime support. Their Aussiedoodles puppies for sale are priced at $2000. Ground and flight shipping options are available to every state of the United States. The breeder uses Delta Pet's First Class which costs an extra $400. This, of course, depends on airline pricing and timing. The breeder advises interested buyers to wait at least 9 weeks before flying their new puppy home due to airline regulations and the puppy's well-being.
Aussiedoodle Breeder Contact Details:
Is an Aussiedoodle Puppy right for me?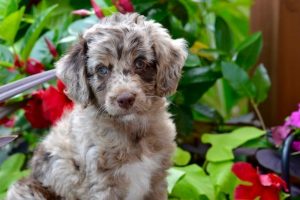 Aussiedoodle puppies are incredibly smart dogs that love everyone. They love to be up and about engaging in activities that offer physical and mental stimulation. Just like a child, getting an Aussiedoodle is a life-long commitment to pet ownership.
Check out why or why not an Aussiedoodle might be the best doodle for you. You want to make sure that you'll be able to care for the life of an Aussiedoodle. If any of these reasons don't sound appealing to you, then you want to consider another dog breed.
Aussiedoodles need daily exercise. Smart dogs like Aussiedoodles get bored easily. They want to do something that will stimulate them and provide an outlet for their energy. Physical and mental exercise is required on a daily basis.
Aussiedoodles need to be groomed. Since they have nonallergenic and low shedding coats this means that you will need to groom an Aussiedoodle puppy every 6 to 12 weeks. Their hair continuously grows and can grow long just like their parent breed. You can either groom your own Aussiedoodle puppy or take it to a professional groomer near you.
Aussiedoodles are happy-go-lucky dogs. This doodle is a lover, not a fighter. Generally, they love other animals and humans if they are socialized well. They can easily fit in a home with cats and other dogs. That being said, they aren't a bodyguard and typically can't provide security.
How to Choose an Aussiedoodle Puppy For Sale in the United States
All Aussiedoodle breeders on this list are a good starting point. We have carefully researched them and they have shown tremendous expertise, care for the Aussiedoodle breed, and have proven testimonials to back it up. These Aussiedoodle breeders have gone over and above what is required from a dog breeder.
You can start with a breeder in your state or in nearby states. This will allow you to be able to visit their facility and get insight into how they breed and care for their Aussiedoodles.
You're not limited by where you live though. Many Aussiedoodle breeders offer ground and flight shipping to every state in the United States. It doesn't matter whether you're in the Midwest, Southern, Northern or Eastern states – these Aussiedoodle breeders will deliver your Aussiedoodle puppy in the best way possible.
Throughout the process, we recommend you stay in touch with your breeder. Most Aussiedoodle breeders will give you videos and picture updates to see how everything is coming along. Some Aussiedoodle breeders also have a 24/7 puppy camera where you can log in and check on the Aussiedoodle mama and litters.
Frequently Asked Questions
How much should I pay for an Aussie Doodle?
The playful and intelligent Aussiedoodle is a cross between the Poodle and the Australian Shepherd. These are the "Einstein" of Doodles and require plenty of exercise and mental stimulation. The Aussiedoodle is one of the best family dogs, and their "jobs" often include being therapy dogs.
 If you're searching for the best Aussiedoodle puppy from a reputable breeder that health tests their dogs, you'll be looking at prices ranging from $1399 at PuppySpot to around $5749.
What is the rarest color of an AussieDoodle?
The Aussiepoo or Aussiedoodle is a cross between an Australian Shepherd and Poodle. This small to medium-sized doodle dog breed is typically multicolored, non-shedding Australian Shepherd, and hypoallergenic. 
Their coats are fluffy, and they shed significantly less hair due to the Poodle genetics. We Love Doodles explains that there are several variations of Australian Shepherd coat colors that, including the following:
Blue merle Aussiedoodle
Red merle Aussiedoodle
Black and red. 
Black Aussiedoodle
Chocolate Aussiedoodle
Most of the Australian Shepherd coats have white and tan markings.
The rarest color includes the red phantom, red tri-color, red tuxedo, and red merle Aussiedoodle.
We Love Doodles explains that the merle coloring is a dominant trait which is why so many Aussiepoo's are multicolored in a merle pattern. That said, it's difficult to predict the coat coloring because of the infinitely many combinations between the Poodle and the Australian Shepherd.
Is there a Toy Aussie doodle?
Yes, there are three sizes of the Toy AussieDoodle, with the Toy Aussiedoodle being the smallest, weighing in between 15 to 20 pounds when fully grown. 
They typically stand around 15 inches tall. This breed cross is between a Toy Poodle and a mini Australian Shepherd and is one of the most popular sizes after the AussieDoodle.
How much do F2 Doodles cost?
F2 Aussiedoodle pups may be harder to predict traits and cost less than the backcrosses. Breeder reputation, location, age and gender of pups, and size and color will all come into play when determining cost. Prices usually range from $ 1,500 to $5,000.
What is a phantom Aussiedoodle?
A phantom Aussiedoodle is a Doodle that features a solid base color with sharply defined markings of a second color appearing above each eye, on the sides of the muzzle, on the throat or chest, on all four legs and feet, and below the tail. 
Phantoms or Dobie markings can have any combination of acceptable colors and are rare. These types of Doodles have two different colors with the second coloring on specific areas of the body. The secondary color is similar to the markings on a Yorkie, Dobie, or Manchester Terrier. 
The primary color will cover most of the body, such as the legs, head, and body of a phantom Goldendoodle, with the secondary color showing up above the eyes, on the muzzle, chest, and lower parts of the legs, and very often inside the ears and under the tail.
Conclusion for Aussiedoodle Puppies for Sale in the United States
Aussiedoodles are one of the fastest-growing doodle dogs in the entire world. There are several Aussiedoodle breeders throughout the United States, but they are not all equal. Reputable puppy breeders will genetic and health test their dogs, provide a puppy warranty, and have a solid reputation throughout their community.
Always avoid puppy mills that are selling cheap Aussiedoodles because they may have genetic or health issues that will cost you more money down the line. Bringing an Aussiedoodle puppy home is pure joy. We hope this list helps you in your search for an Aussiedoodle companion dog or therapy dog.
Other articles you might like: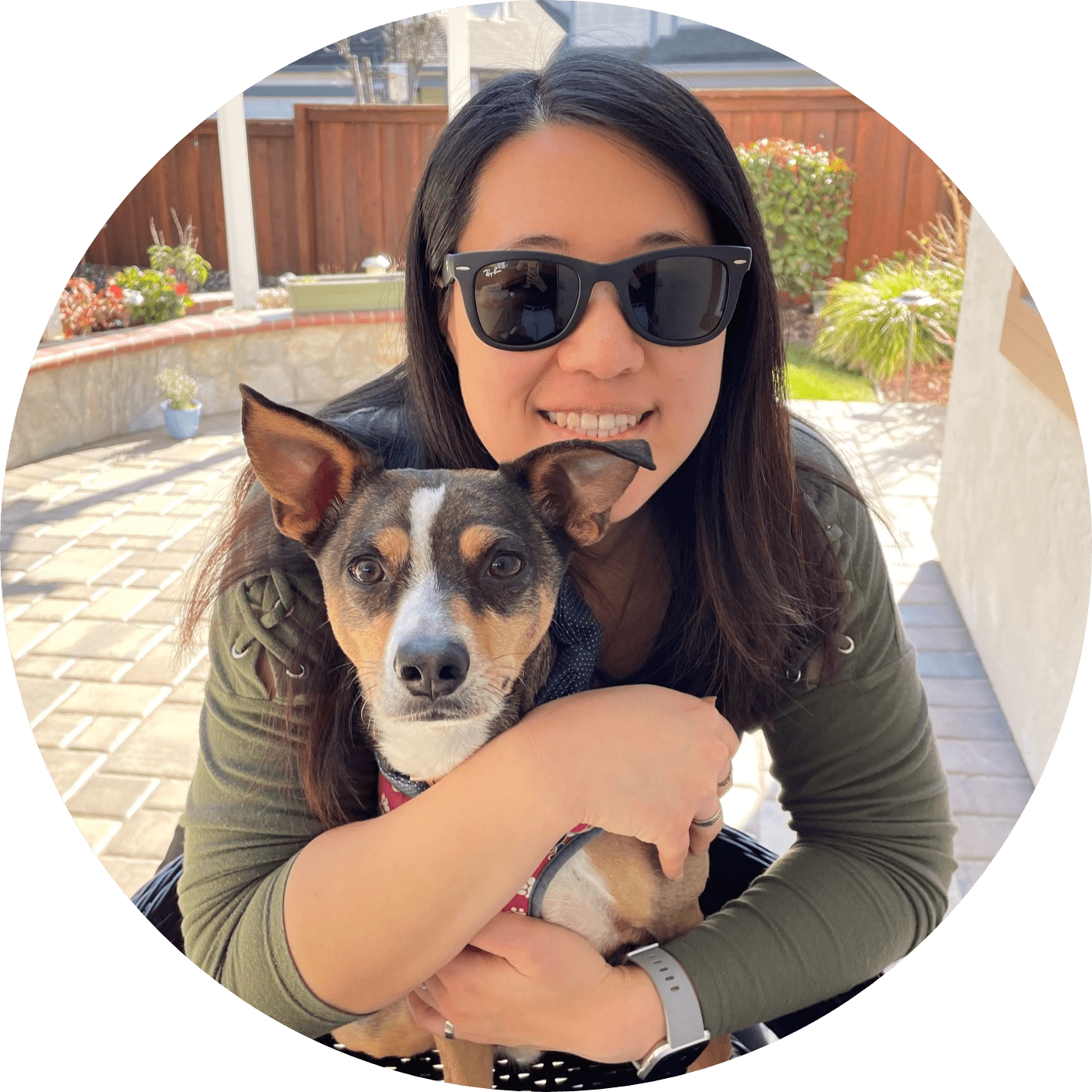 Dr. Sabrina Kong graduated from the Royal Veterinary College in England in 2016 and has been working at a small animal clinic in Northern California since then. She grew up in the Bay Area and got her bachelor's degree from Cal Poly San Luis Obispo. She also became a Certified Canine Rehabilitation Practitioner through a program at the University of Tennessee.
When she isn't in the clinic taking care of her four-legged patients, she enjoys traveling and trying new foods with her friends and her three-legged dog, Apollo. She adopted Apollo from her clinic when he was a puppy with numerous health issues. Dr. Kong truly cares about taking care of animals.