This list of Toy Aussiedoodles for sale in the United States will help you bring a healthy companion sooner than ever. Have you ever wanted a dog that stays small and cute forever? These days toy, miniature, and also referred to as 'designer,' dogs are gaining popularity for their compact sizes. Even fully grown, these dogs will not outgrow their puppy-sized body. With a loving and adorable dog breed, you get the puppy size, appearance, and temperament all in one dog. One such Poodle mix is the Aussiedoodle. Let's get to know more about them.
Before scrolling down this list of Toy Aussiedoodles for sale, we think you might like similar dog breeds: Best Mini Goldendoodle Breeders in the United States and Best Mini Labradoodle Breeders in the United States.
Toy Aussiedoodle Breed Information

Origin: The Toy Aussiedoodle is a mixed breed from the Mini Australian Shepherd and the Mini Poodle. (Height: 10 Inches, Weight: 4 to 6 Pounds, Lifespan: 10 to 12 Years)
Temperament: They are loving, intelligent, and friendly dogs and get along with family members, young and old humans, and other pets. Training these dogs is very easy; some breeders provide basic training to the puppy, but special training programs can take that task off of your hands. Since these are toy puppies, their fragile bodies and bones are vulnerable to rough handling. If you have children or pets at home, it is better to go with medium-sized Aussiedoodles.
Exercise: They need equal amounts of mental and physical exercise to stay healthy. Just like all puppies, they likely to get bored of repeated activities.
Coat: The Aussiedoodle has the Poodles' hypoallergenic coat, which means lesser worries for allergy-prone families. Their coat can be curly or wavy and comes in multiple colors like sable, blue merle, red merle, black and red tri, black and tan, or sometimes a solid color.
Grooming: Your Toy Aussiedoodle will need a visit, once every 12 weeks, to the grooming salon to trim their hair.
Health Issues: Toy Aussiedoodles may deal with Cushing's Disease, Pancreatitis, Cataracts, Hip Dysplasia, Progressive Retinal Atrophy, Epilepsy, Autoimmune Thyroiditis, Sebaceous Adenitis, Multiple Drug Sensitivity, and Eye Problems throughout its lifetime.
Price: Toy Aussiedoodles are generally more expensive than medium-sized Aussiedoodles and can range from $1,500 to $5,000.
Toy Aussiedoodle Breeders in the United States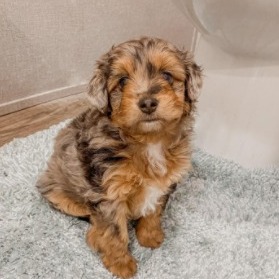 If you're interested in the Toy Aussiedoodle dog breed, our team at WeLoveDoodles compiled this list of Toy Aussiedoodles for sale to help you. Remember to do additional research if you're planning to purchase from an unknown Toy Aussiedoodle breeder.
Before scrolling down this list of Toy Aussiedoodles for sale, check out our product recommendations: Best App-Controlled Dog Door and Best Hypoallergenic Dog Foods.
PuppySpot works as a facilitator between breeders and dog owners and ensures you get the full joyful experience of owning a toy Aussiedoodle.
You don't need to worry about whether it's a puppy mill or a backyard breeder. Only those Aussiedoodle breeders who are USDA-licensed and score on the 100 criteria are welcomed on board. Moreover, the breeders are interviewed and visited physically for complete satisfaction.
PuppySpot delivers on its promise of finding a healthy and happy dog for owners without the hassle of hunting high and low for a dependable breeder.
With an overall rating of 4.6 stars and a truckload of 5 stars from more than 10,000 customers, PuppySpot indeed has earned a spot in the hearts of puppies and their new families. To date, they have also sold over 225,000 puppies to families all around the United States.
When you order a toy Aussiedoodle puppy from here, you're going to get one that has been examined from nose to tail, de-wormed, and vaccinated. You can easily sort by coat color, gender, and size. You'll want to sort by Miniature and look at the parent dogs' weight to make sure you are truly getting a toy Aussiedoodle.
PuppySpot has generously given our readers a $100 coupon code when you use WLD100 at checkout.
PuppySpot Aussiedoodles Details
2. Crazy Patch Ranch
First on the list of Toy Aussiedoodles for sale is "Crazy Patch Ranch." Crazy Patch Ranch is a small program where they breed and raise dogs in-home to complete family exposure. Their website that their owner Teagan Zavita also conducts horse training. Genetic testing is conducted, before breeding, to make sure only the healthiest puppies are born. Besides health factors, they pay attention to the puppy's temperament. Puppies are dewormed at 3, 5, and 7 weeks and first puppy shots are given at eight weeks of age. They do differently from the others because they feed their puppies a steady diet of Wellness Brand food, which they provide more details of on their website.
Crazy Patch Ranch Details
3. Signature Doodles
A rural farm where the puppies get a lot of play before they go off to their forever homes. Signature Doodles are also quick to start crate training once the puppies reach five weeks of age. Their best feature is the lifetime support that makes it easier for first-time dog owners in need of extra guidance and support when raising the puppy. Prior visitations are not always guaranteed and are only allowed for those on the waiting list with a completed application. They also make health test results of the parent dogs available on their website. A guardian home program is for people interested in adopting puppies without waiting on the long list.
Signature Doodles Details
4. Happy Hollow Ranch
Located on a family ranch in Texas, the Happy Hollow Ranch raises gypsy horses, gypsy cross horses, miniature Australian Shepherds, and Miniature Aussiedoodles. Their puppies are on the PurinaPro Plan and use NuVet Plus supplements. They recommend you change only after a month after the puppy has settled to avoid too many environmental changes affecting its health. However, we couldn't find information about grooming, training, and health issues on their website.
Happy Hollow Ranch Details
5. Lakeside Farm Puppies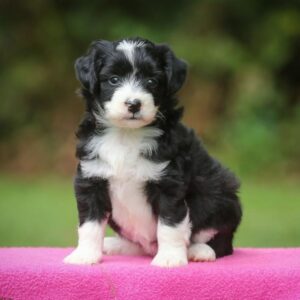 If you want healthy and social dogs, then this breeder could be the right choice. Family-owned farms provide the puppies plenty of space, clean air, and loving company to spend their first few weeks before heading to their families. Lakeside Farm also breeds and raises Toy Aussiedoodles that have an ICA registration. The puppies are vaccinated and dewormed on schedule. Records of these, along with a health certificate from the vet, are made available to you. They also provide a one-year genetic health warranty and an additional supply of food with purchase. Patrons have only praised them in reviews.
Lakeside Farm Puppies Details
6. Steindoodles
Owners Riley and Hannah Steiner have a relaxed program of breeding dogs and taking care of them. They do this along with their work at their family dairy farm. So, you can relax knowing your puppy is in experienced hands. Intending to breed the healthiest dogs, they conduct ENS (Early Nerve Stimulation), genetic tests, and OFA for hip dysplasia. At Steindoodles, they put the puppies on a diet of brand food from Life's Abundance. They also provide you with a two-year guarantee on the puppy's genetic health, the clauses of which are listed in detail on their website. Once your puppy is ready, you can choose from multiple pick-ups, delivery, and shipping options. Steindoodles also runs a guardian program like that of Signature Doodles, for which you can fill an application on their website.
Steindoodles Details
7. Northwest Aussiedoodles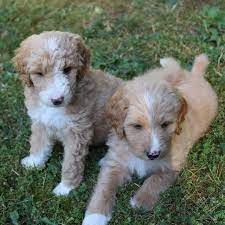 They have various Australian Shepherds and Aussiedoodles (toy, mini and standard sizes) listed on their website. All their puppies are given their shots and dewormed as necessary. Northwest Aussiedoodles also delivers your puppy wherever you want them to. Their prices aren't fixed and may change depending on the color, coat, and eye color at birth. You will have to pay a deposit to secure your puppy.
Northwest Aussiedoodles Details
8. Awesome Doodle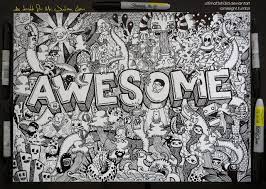 Awesome, Doodle is a group of breeders spread across the US. They aren't like a puppy farm or breeder; they take a more personalized approach. The puppies are all raised in their homes like pets. They include a group of families that breed and raise Aussiedoodle, SheepaDoodle, and Bernedoodle puppies. They provide a puppy cam view of the puppies if you are matched with one where you can see your puppy for the entire day. A DNA test for both the puppies and the parents is conducted, and all results from tests are made available to you. You also get a 2-year health guarantee for the puppies. They also provide delivery options for pick-up. The best thing about them is they provide lifetime support for their puppies. Whether it is a doubt, help with diet and exercise, or problems adjusting to the dog, they are ready to help you out with all of it. Even if you want to rehome your puppy they can be counted on.
Awesome Doodle Details
Price: Not available
Location: Multiple Locations
Website: Awesome Doodle
9. Mini Aussiedoodle Puppies
Mini Aussiedoodle Puppies test their puppies for genetic and health issues with PawPrints Genetics and EmbarkVet. They aim to breed child-friendly, therapy puppies that can help families come together. The puppies are trained with the basics before they are placed and one day training when your puppy arrives home, but they also have an optional service where you could enroll your puppy for a unique VIBE training. There, your puppy learns to respond to basic and extra demands like relaxation, responding to name, crate training, and much more. However, if the waitlist is too long, they too have a guardian home program and another option to allow the adoption of retired dogs.
Mini Aussiedoodle Puppies Details
10. Lancaster Puppies
You can find all varieties of breeder and puppy listings on their site, with testimonials and details about breeders available.
Lancaster Puppies Details
Price: Toy Aussiedoodle prices range between $750 and $1,100.
Location: Multiple Locations
Website: Lancaster Puppies
11. Gooddog.com
Last on the list of Toy Aussiedoodles for sale is "Gooddog.com." This is more like an aggregator where you can find all kinds of breeders and pick the one that suits your needs best. They help you compare different options based on price, color, coat, waitlist, and much more.
Gooddog.com Details
Tips For Buying Toy Aussiedoodles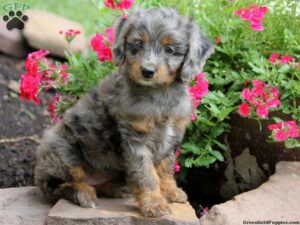 Get the F1 or F1B Toy Aussiedoodle because they get the most health benefits from cross-breeding. There are different Aussiedoodle generations to keep in mind. F1 is a first-generation Aussiedoodle, while F1B is the result of a first-generation Aussiedoodle bred with a purebred Poodle or Australian Shepherd.
What Should You Look For in a Toy Aussiedoodle Breeder?
Here are a few things you should be taking care of when you are finalizing on your breeder:
Detailed History of Parents
Vaccination History
Training and Milestones
Health Certificates and Tests Conducted
Diet
Exercise
Health Guarantee
Conclusion For "Toy Aussiedoodles For Sale"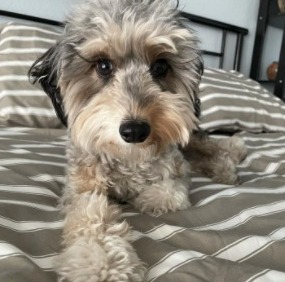 Even with all these precautions, you can never fully be prepared to bring a dog home. The only suggestion we believe works is to find a trusted breeder who provides support to ease the dog into the house and keeps in touch through its lifetime. At the end of the day, you need to care for your puppy and if you need to be ready for that kind of commitment.
For more articles with mentions of the Aussiedoodle, you can check out:
To see this toy Doodle breed in action, watch "Gracie's Toy Size AussiePoo Puppies at 7 Weeks Old" from Awesome Doodle down below: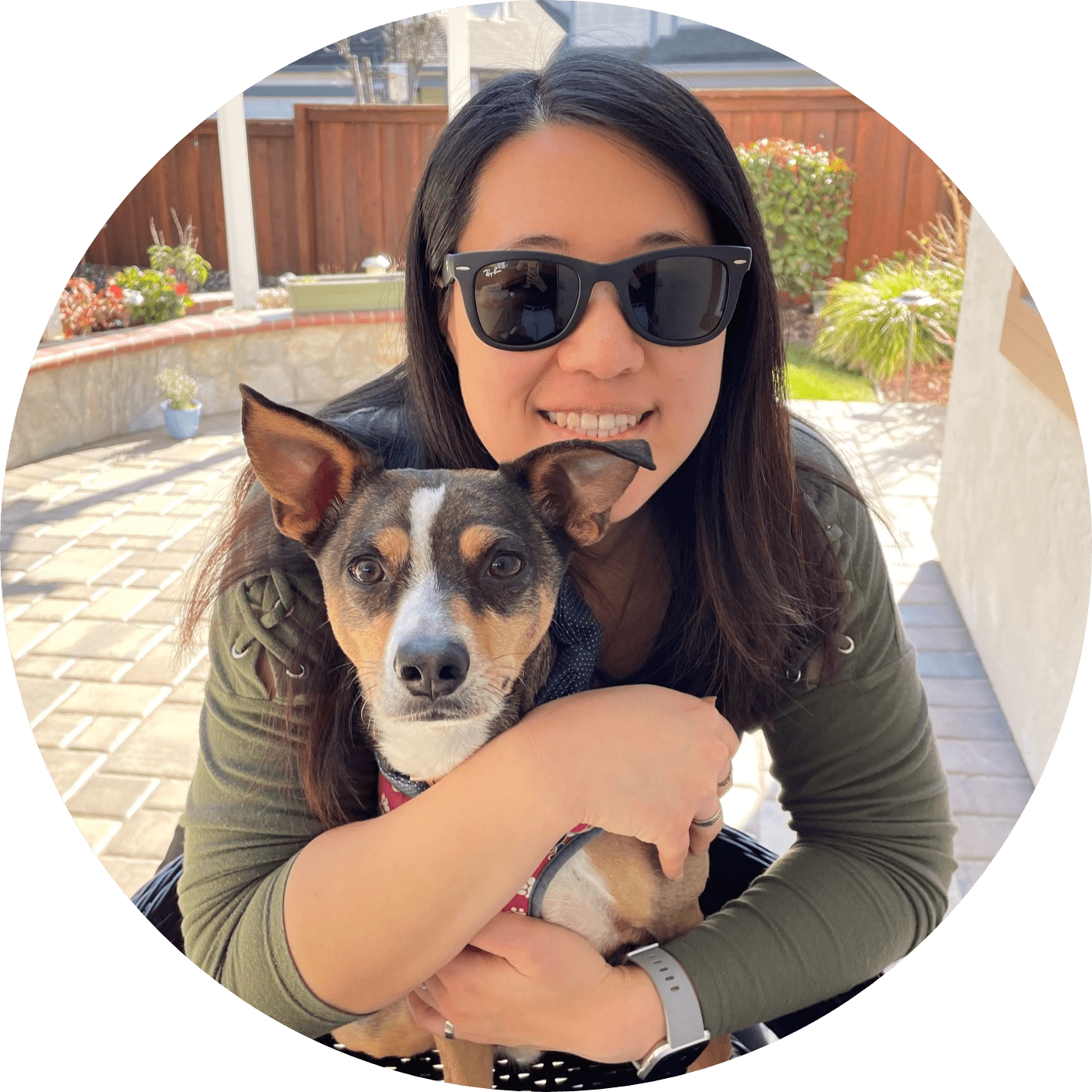 Dr. Sabrina Kong graduated from the Royal Veterinary College in England in 2016 and has been working at a small animal clinic in Northern California since then. She grew up in the Bay Area and got her bachelor's degree from Cal Poly San Luis Obispo. She also became a Certified Canine Rehabilitation Practitioner through a program at the University of Tennessee.
When she isn't in the clinic taking care of her four-legged patients, she enjoys traveling and trying new foods with her friends and her three-legged dog, Apollo. She adopted Apollo from her clinic when he was a puppy with numerous health issues. Dr. Kong truly cares about taking care of animals.