If you're searching for Mini Aussiedoodle puppies for sale, you've come to the right place. This article is going to give you a list of breeders located in the United States. Our team will provide descriptions of each breeder and their goals, so hopefully, you will be able to find the puppy of your dream.
Before scrolling down this list of Mini Aussiedoodle puppies for sale, you might be interested in these similar breeds: Best Australian Shepherd Breeders in the United States and Best Mini Goldendoodle Breeders in the United States.
What is a Mini Aussiedoodle?
The Mini Aussiedoodle is a crossbreed between a Mini Poodle and a mini-Australian Shepherd. The result is a family friend, fun, loving, and loyal companion to add to your household. Originating in the late 1900s, these dogs are relatively new to the spectrum. They were initially bred for companionship, agility, and competitive obedience. In recent years they have made great companions in many American households. They are 12 to 18 inches in height and 15 to 25 pounds. They typically live up to 16 years due to their small size. These dogs come in many beautiful colors and sometimes with two different colored eyes.
They have a thick wavy coat that needs to be maintained regularly. Due to them being crossbreed, they tend to have fewer health problems than their parents. The beginning stages of life are essential for all Aussiedoodles. They require plenty of mental and physical stimulation and socialization. Your puppy must stay with its mother until eight weeks of age, or it could cause separation anxiety in later life stages. Therefore, looking for the proper breeder is essential. Everybody wants a trusted a reputable person when it comes to a new home addition. Ensuring the puppy's health and adaptability is a must. Is the Mini Aussiedoodle the right dog for you?  If you're unsure, feel free to check out our list of Doodle breeds or Poodle mixes.
Best Mini Aussiedoodle Breeders in the United States
There is a lot that goes into looking for the right breeder. Things such as making sure your puppies received the proper stimulation and growth. One needs to make sure they received adequate socialization and health care as well. All these things can be exhausting to research and look for. This article is here to give you an overview of 10 different breeders for you to decide if they are right for you.
Get started in advance with our dog product recommendations: Best Dog Foods For Joint Health and Best Outdoor Dog Bed.
Premier Pups is a unique breeding facility in that it prepares not only the puppies for their new home but also the owners. Every puppy receives a vet inspection before it goes home. They give a 10-year guarantee for their puppies. These breeders claim to breed with integrity and commitment. These are beneficial in raising puppies. With puppies ranging from $2,000 to $4,000, these high-end dogs are ready for their new home today.
Edit: Premier Pups is offering our customers a very generous $250 off coupon code when you use "WLD250" at checkout. This is an exclusive coupon that you won't find anywhere else!
Premier Pups Details
2. Amos and Oak Doodles
First on the list of breeders for Mini Aussiedoodles for sale is "Amos and Oak Doodles." Amos and Oak Doodles are a wonderful farm located on 5 acres in North Central Arkansas. This breeding program is on the smaller side of the scale. It is family-owned and operated and growing its business fast! They genetically test their puppies for coat, health, and temperament so people can pick out the puppies best suited for them! They start all the puppies with Early Neurological Stimulation and raise them using the Puppy Culture method. Their prices typically range from $2,000 to $3,000. This modern breeder would be one to consider when picking out your new puppy.
Amos and Oak Doodles Details
3. Shady Oak Doodles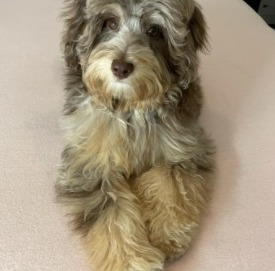 With prices ranging from $3,500 to $6,000, these high-end dogs would make a perfect family friend. Shady Oak Doodles is an interesting breeder. Instead of one breeder and one farm, it is three different families or households raising the puppies. The parents are health tested to ensure healthy puppies. Raising puppies in individual homes allows for better socialization and stimulation. These breeders guarantee a lifetime of support to help you grow your new furry friend.
Shady Oak Doodles Details
4. Awesome Doodle
This organization is a growing group of families across the USA. They specialize in raising Aussiedoodles, along with other Doodles. They emphasize that they are not puppy brokers or puppy farms. They ensure each dog is a family member and receives the proper stimulation it requires. All dogs are health tested to ensure healthy puppies. The puppies are raised in stimulating family environments that prepare them for their new home. They have prices that range in the thousands and locations all over the United States.
Awesome Doodle Details
5. Littleton Ranch Puppies
This ranch breeds well-bred Mini Aussiedoodles as well as other Doodles. This is a family-owned and operated business. They strive to ensure that each puppy receives proper stimulation and health care. This family-owned and operated business guarantees they will give you a great family friend. Each parent dog is health tested and ensures healthy puppies. Nobody wants to take an unhealthy puppy home. This business is here to help you even after your puppy goes home with you. They have prices ranging in the thousands and have puppies ready for their new home.
Littleton Ranch Puppies Details
6. Sand Lake Kennels
Sand Lake Kennels is a fantastic choice for your next furry friend. Privately owned and operated, this kennel is not technically a kennel. It is not a breed far that throws puppies in a barn and leaves them to grow up. The owner of this organization breeds the puppies in her very own house. They are raised with an abundance of love and care. The puppies can adventure inside and outside for proper stimulation. Raising a puppy in your home allows for them to adapt better to their new homes. Each parent dog is well taken care of and up to date on vaccinations. The price ranges into the thousands for these puppies.
Sand Lake Kennels Details
7. Lavender Farm
This unique farm breeds Mini Aussiedoodles and teddy bear doodles. They use a holistic approach to raising puppies and include essential oils into the puppy's regimen. Each puppy is love and cared for and receives individual and group stimulation. They feed all their dogs holistically or naturally. They claim that toxic exposure is close to none for their fur babies. Each puppy receives Early Neurological Stimulation and all its proper health care. With prices ranging from $3,000 to $4,000, these puppies are ready for their new home.
Lavender Farm Details
8. Precious Midwest Puppies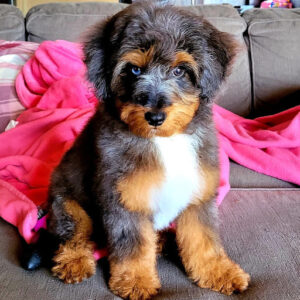 These breeders ensure that all their dogs are current on all immunizations, have proper grooming, exercise, and regular vet care. They take this business very seriously and make sure that each puppy is ready physically and mentally before going to their new home. They aim to make healthy and happy puppies that can adapt well to their new environments. Located on a farm in Kansas, these breeders ensure the puppies have plenty of room to play. Most puppies range in the thousands and are ready for their new home.
Precious Midwest Puppies Details
9. Hornbacks Kennel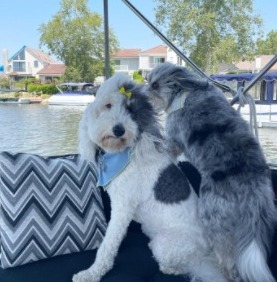 This is a family-run kennel that has been around since 2000. These breeders go out of their way to make sure the dogs and puppies are cared for. This business dedicated its time and energy to raising top-notch Mini Aussiedoodles. They genuinely enjoy taking care of the puppies and raising them. This is not your typical mill that raises the puppies like cattle. To them, the puppies are family until they go to the right home. They have prices ranging into the thousands for these well-cared dogs.
Hornback's Kennel Details
10. Crockett Doodles
The last breeder on the list of Mini Aussiedoodle puppies for sale is "Crockett Doodles." This is a relatively widespread organization. Rather than one base farm, they have puppies at many locations throughout the United States. Initially started in South Carolina, this business has grown fast! They sell all sorts of Doodles, including the Mini Aussiedoodle. Their care teams are specialized in raising properly stimulated puppies. Each parent receives a health check and proper care. Raising puppies in a family-oriented home properly stimulated them for their future home. These puppies range from $2,000 to $4,000.
Crockett Doodles Details
Conclusion For "Mini Aussiedoodle Puppies For Sale"
There are many options for you to get your new furry friend! The Aussiedoodle is a cross between an Australian Shepherd and a Poodle. It is a fun, family-friendly, obedient, and loving companion. They would make a great addition to any household. It is exhausting to look for the right breeder to be your new furry friend from. There are plenty of things to observe when picking the correct breeder. Ensuring the puppies receive proper stimulation, nutrition, growth, and health care is vital to picking out a puppy. The list in this article is designated to give a general description of different Mini Aussiedoodle breeders.
For more articles with mentions of the Aussiedoodle, check out:
To learn more about the Aussiedoodle, watch "Aussiedoodle Dogs 101" from Animal Insider down below: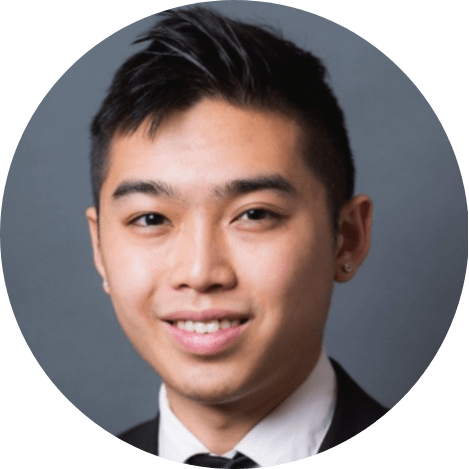 Andy is a full-time animal rescuer and owner of a toy doodle. When he's not saving dogs, Andy is one of our core writers and editors. He has been writing about dogs for over a decade. Andy joined our team because he believes that words are powerful tools that can change a dog's life for the better.
Why Trust We Love Doodles?
At We Love Doodles, we're a team of writers, veterinarians, and puppy trainers that love dogs. Our team of qualified experts researches and provides reliable information on a wide range of dog topics. Our reviews are based on customer feedback, hands-on testing, and in-depth analysis. We are fully transparent and honest to our community of dog owners and future owners.