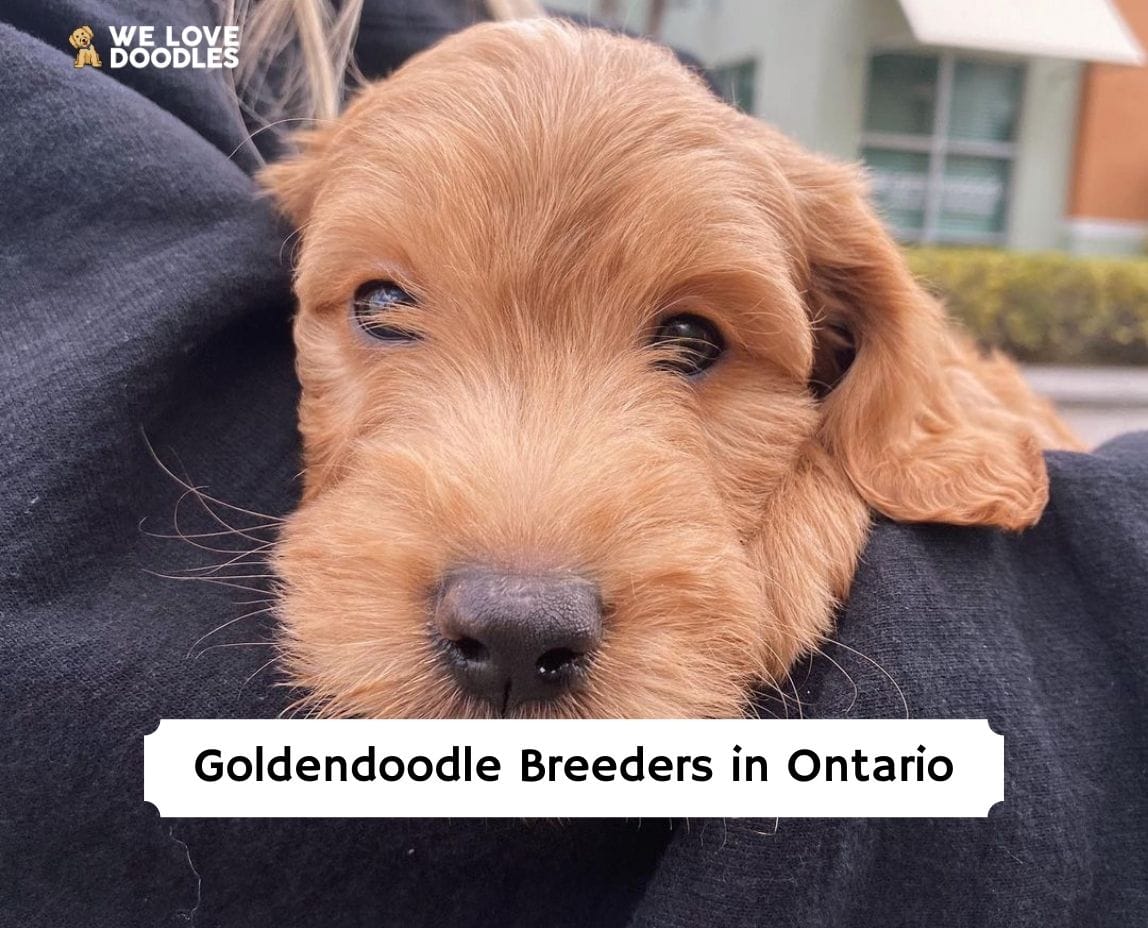 If you want to add a Goldendoodle to your family, you have come to the right place. In this article, we are going to go over the 12 best Goldendoodle breeders in Ontario. All of these breeders are responsible, respected, and loved for their beautiful and well-mannered Goldendoodles.
Goldendoodle puppies in Ontario have become so popular over the last few years. These designer dogs are taking over Canada due to their coats that are mostly hypoallergenic and nonshedding. Additionally, they have the temperament of a Golden Retriever making them an extremely happy and nonaggressive dog breed.
Due to the Goldendoodle's popularity, there are tons of puppy mills and scammers around Ontario. We excluded these people from our list, but we highly encourage you to do extra due diligence. Get to know the Goldendoodle, ask them about health guarantees, and make sure that they are genetic testing their puppies.
Other articles are you will like: Bernedoodle Breeders in Ontario and Sheepadoodle Breeders in Ontario.
Best Goldendoodle Breeders in Ontario

1. Ridge & Valley Goldendoodles
Ridge & Valley Goldendoodles is one of the best Goldendoodle breeders in the country. Their Goldendoodles are bred on a paradise of 84 acres of natural beauty. Because of how much space these Goldendoodles are bred on, the puppies are super healthy and happy.
There are many Goldendoodle varieties at Ridge & Valley Goldendoodles. So, you are guaranteed to find a great puppy for yourself. The Goldedoodle breeder makes great efforts to ensure that the Goldendoodles are placed in responsible families that will care for the Goldendoodles properly.
Goldendoodle Breeder Information
2. Doodle Creek
Second on our list of Goldendoodle breeders in Ontario Doodle Creek. This breeder stands out because it is considered one of the most famous breeders in Ontario. Their team is comprised of experienced employees who all love and care for their Goldendoodles.
Goldendoodles bred and raised at Doodle Creek enjoy 33 acres of land. All of the property has been renovated for dogs specifically, complete with heated kennels. Because of how much care goes into these dogs, all Goldendoodle puppies raised at Doodle Creek are happy and healthy.
Goldendoodle Breeder Information
3. GoldenBelle Doodles Kennel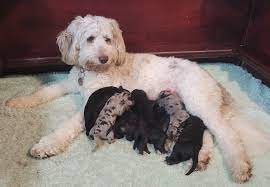 Some of the healthiest Goldendoodles are raised at GoldenBelle Doodles Kennel. This kennel specializes in playful, healthy, and intelligent dogs. Their Goldendoodle puppies in Ontario are all fed one of the highest quality diets to ensure they are as healthy as can be.
In addition to Goldendoodles, GoldenBelle Doodles Kennel also breeds Australian Bernedoodles and Bernedoodles, which are dogs mixed with Poodle and Bernese Mountain Dog.
Goldendoodle Breeder Information
4. Cross Hill Doodles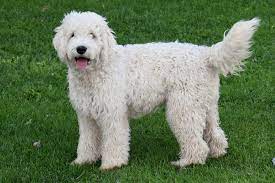 Cross Hills Doodles specializes in a lot of pet breeds, but the most popular is the Goldendoodle. Since this breeder handles so many animals, the animals are raised on a farm so that each animal gets the right amount of care and space necessary for healthy and happy growth.
This breeder offers both standard and medium-sized Goldendoodle puppies for sale. They also have various color options, ensuring you get the best Goldendoodle based on your personal needs and preferences.
Goldendoodle Breeder Information
5. Fayral Kennels
Fayral Kennels loves Goldendoodles just as much as you. As a result, their goal as a breeder is to breed Goldendoodle puppies that are best suited for families and dog lovers. All of their puppies are carefully taken care of to ensure they get the healthiest and happiest experience possible.
One thing that's unique about Fayral Kennels is that they are a small kennel that offers the same amount of care and knowledge as large-scale kennels. You can trust this Goldendoodle breeder to treat your puppy like your own.
Goldendoodle Breeder Information
6. Goldendoodles of Niagara
Goldendoodles of Niagara is considered one of the most experienced breeders on our list. These pets are trained from a very early age about routines and human companionship. All of their dogs are provided more than adequate space to grow and are given proper times for bathing, cleaning, eating, sleeping, and even walking.
Both dames and sires are genetically screened to ensure the healthiest of pups. Even the puppies themselves are vaccinated before you get them to ensure that they are as healthy as can be.
Goldendoodle Breeder Information
7. Sunny View Doodles
Sunny View Doodles breeds highly intelligent and happy pups. Although most of their breeds are Goldendoodles, there are a variety of variants of Goldendoodles, as well as other doodle breeds.
We love Sunny View Doodles because they treat all of their puppies as their own dog. What this means is that all the puppies bred by this breeder are brought into their own home and are a part of the family. This allows you to trust that their Goldendoodle puppies are great dogs to have in the home.
Goldendoodle Breeder Information
8. Sonny Doodles on Fifth
Sonny Doodles on Fifth is another great breeder to check out. The puppies raised with this breeder are actually raised within the breeder's home. In fact, the puppies sleep in their bedroom and go on vacation with them, ensuring that the puppies are well-acclimated to humans.
Because Sonny Doodles on Fifth views puppies as part of their family, they are diligent about only placing their dogs in homes that are serious about taking on the responsibility of a puppy.
Goldendoodle Breeder Information
9. Elm Tree Doodles CA
Elm Tree Doodles is a small home-based breeder. Even though they are home-based, this breeder offers excellent care for their dogs and puppies. The number one priority is to raise puppies that are both healthy and well-mannered.
Elm Tree Doodles specializes in mini and medium golden doodles. So, this isn't the breeder for you if you want a standard size, but their Goldendoodle puppies for sale in Ontario are absolutely adorable and healthy.
Goldendoodle Breeder Information
10. Willow Lane Farms Ontario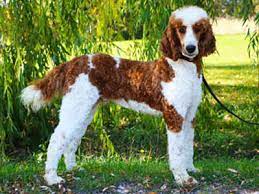 Willow Lane Farms has been a well-respected Goldendoodle breeder for decades. Their dogs are known to have tons of freedom to exercise, play, and become well socialized with humans and dogs. They are open to allowing other families in the community to see their dogs, which guarantees their puppies are well taken care of and adjusted to humans.
Willow Lane Farms offers many types of Goldendoodles. The three most common coat types are flat, wavy, and curly coats. It is up to you to decide which Goldendoodle is best for your home.
Goldendoodle Breeder Information
11. Portia's Miniature Goldendoodles
So far, all of the Goldendoodle breeders we have looked at specialize in full or medium-sized Goldendoodles. If you are interested in miniature Goldendoodle puppies for sale in Ontario, you might be interested in Portia's Miniature Goldendoodles.
Portia's Miniature Goldendoodles is a home-based breeder. Because these dogs are raised in a home just like yours, you can expect your puppy to be wonderful around people and highly affectionate.
Goldendoodle Breeder Information
12. Mini Goldendoodle Puppies Ontario
The last breeder on this list is another breeder that specializes in miniature Goldendoodle specifically. Mini Goldendoodle Puppies is another home breeder in Ontario that breeds caring, affectionate, and loving puppies specifically for family purposes.
If you want a miniature Goldendoodle to be your family pet, Mini Goldendoodle Puppies may certainly well be the breeder for you.
Goldendoodle Breeder Information
How to Select the Best Goldendoodle Breeder in Ontario
Before bringing any dog into your home, you should thoroughly investigate the breeder you are selecting. The breeder is responsible for ensuring that your dog is healthy and well-acclimated to people. Similarly, it is your responsibility to make sure that the breeder you select fulfills their responsibility.
Of course, it can be difficult to select a good breeder if you aren't experienced in the dog industry. Here are three things you can do to make sure you are selecting a responsible breeder.
Read Reviews
Always read reviews. Reviews are very telling about how breeders treated their customers, as well as how healthy and well-acclimated their dogs are to humans, other dogs, and home life. Only trust breeders that have good reviews from other customers.
Ask Questions
Although you should always be respectful towards your dog's breeder, don't be afraid to ask questions and get to the bottom of how your breeder takes care of their dogs. Any good breeder will expect a questioning and be happy to answer any question you may have.
Visit the Breeding Location
Many breeders will actually allow you to visit their breeding location and meet the dames and sires, assuming that the dames and sires are in their possession. Visiting the breeding location allows you to see for yourself how the dogs are treated and how they react to people.
Conclusion For Goldendoodle Breeders in Ontario
We hope that this article helps you pick out a Goldendoodle breeder for your Goldendoodle puppy. Any one of the Goldendoodle breeders above is responsible and reputable, ensuring that the Goldendoodle puppy you get is healthy, happy, and a great addition to your home.
One last note: Always make sure you are ready for a lifelong commitment before buying a puppy. The puppy will grow and be in your care for the rest of its life. So, adopt, don't shop, for your future Goldendoodle!
Other articles you would like: