If you're searching for Bernedoodle breeders in Ontario, then here's what you need to know. Bernese Mountain Dogs are beautiful, loving, and intelligent dogs. But, unfortunately, they aren't known for being healthy because of their large body.
For this reason, expert breeders decided to breed the Bernese Mountain Dog with the Poodle to help extend its lifespan, resulting in the Bernedoodle.
Today, Bernedoodles are a designer breed known for being intelligent, loving, and healthy. They are great for families because these dogs are patient and intelligent, even with children. However, they need a lot of room to roam because of their large size.
Before scrolling down this list of Bernedoodle breeders in Ontario, check out these recommendations: Best Border Collie Breeders in Ontario and Best St. Bernard Breeders in Ontario.
Bernedoodle Puppies For Sale in Ontario
If you consider buying a Bernedoodle for your family, it's important to look for reputable breeders in Ontario. Reputable breeders are those that ensure the parent and puppies are all well taken care of, resulting in healthy and well acclimated dogs.
Below, you are going to find the best Bernedoodle breeders in Ontario. Each of these breeders is highly respected in their fields and loves Bernedoodles just as much as you do.
Bernedoodle Mentions: Best Dog Food For a Bernedoodle and How Much Does a Bernedoodle Cost?
1. Willow Brooke Bernedoodles
Willow Brooke Bernedoodles breeds registered Bernese Mountain Dog females with registered Poodles to produce healthy, loving, and affectionate Bernedoodles.
Certified veterinarians test all parent dogs and puppies produced by Willow Brooke Bernedoodles to ensure safety and health. Willow Brooke Bernedoodles offers two different sizes of Bernedoodles.
The standard is between 75 and 95 pounds, and the medium size is between 45 and 65 pounds. To get a Bernedoodle puppy from this breeder, you must fill out an application.
The Willow Brooke Bernedoodles site offers all the information you need to know about Bernedoodles as a breed. They also offer a lot of information about their location and how to get in touch with them if you have any questions or concerns.
Willow Brooke Bernedoodles Details
2. Maple Breeze Kennels Bernedoodles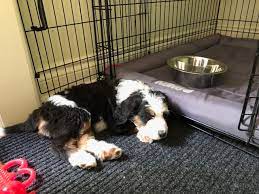 Maple Breeze Kennels Bernedoodles is another fantastic breeder in Ontario. These Bernedoodles are bred to be fantastic companion dogs in families. To ensure health, all dogs are tested and registered.
All dogs are carefully selected at Maple Breeze Kennels, which is named because of the towering Maple trees along with the property.
Then, puppies are sold to families after a diligent selection process. This selection process ensures that the dog is specifically a right fit for your family.
To get a Bernedoodle from Maple Breeze Kennels, you must fill out their online puppy application form. This application form allows Maple Breeze Kennels to match you with the best Bernedoodle puppy based on your needs and wants.
Maple Breeze Kennels Bernedoodles Details
3. GoldenBelle Doodles
If you specifically want a Bernedoodle for your family home, GoldenBelle Doodles is a great breeder to select. GoldenBelle Doodles is a reasonably small breeder that is run by a family.
This family operation ensures that the Bernedoodles are bred to fit in perfectly with families. At the same time, GoldenBelle Doodles has a lot of experience breeding Bernedoodles specifically.
For the last few years, this breeder has been known to breed healthy, well acclimated, and attractive Bernedoodles. The breeder also sells other doodle varieties.
To apply for a puppy from GoldenBelle Doodles, you must fill out the application. The application requires a $500 reserve. Fill out this application today if you are interested in buying a Bernedoodle from this fantastic family breeder.
GoldenBelle Doodles Details
4. Karah Kennels
Karah Kennels is another family-based breeder that specializes in Bernedoodle puppies. In addition to Bernedoodles, Karah Kennels breeds hybrid doodles, including Bernedoodles, Goldendoodles, and Mini Goldendoodles.
If you have children in your home, you can trust that Karah Kennels' puppies are well adjusted to children. That's because this family breeder has seven children in the home that help to care for the puppies.
As a result, Karah Kennels' puppies love children. But, much like all of the other Bernedoodle breeders, you need to fill out a puppy application to get one of these dogs.
This form allows you to get in touch with the breeder. You can also send a quick message if you aren't entirely sold on purchasing a dog but want to know more about the breeder.
Karah Kennels Details
5. Canadian Chocolate Labradoodles and Bernedoodles
As its name suggests, Canadian Chocolate Labradoodles and Bernedoodles specializes in Chocolate Labradoodles and Bernedoodles.
This includes American and Australian Labradoodle lines. All puppies raised in this breeding facility are home-raised, resulting in well-socialized puppies.
This breeder breeds full tricolor Bernedoodles in black or sable. All dogs also come with all the vaccines and medications they need. To apply for one of their Bernedoodle puppies, you'll need to fill out the adoption application.
Canadian Chocolate Labradoodles and Bernedoodles Details
6. LMT Bernedoodles
LMT Bernedoodles is passionate about the breed. Their puppies are bred using Standard Poodles and Bernese Mountain Dogs, resulting in F1 Bernedoodles. All adults bred are family pets, ensuring healthy parents and healthy puppies.
All of the Bernedoodles bred by this breeder are our bred for their intelligent personalities and easygoing nature. They are kept as indoor dogs, but they have 28 acres to run and play on. This makes LMT Bernedoodles dogs highly socialized and behaved.
If you are interested in purchasing a Bernedoodle from LMT Bernedoodles, you can download the puppy contract and puppy deposit form. These forms will tell you everything you need to know about formally buying one of these gorgeous puppies.
LMT Bernedoodles Details
7. Halton Hills Doodles
Halton Hills Doodles specializes in Bernedoodles, Australian Labradoodles, and Sheepadoodles. All the puppies bred here are designed for family life specifically.
The parents are well tested to ensure the puppies come out healthy. The puppies are also part of the breeder's families, resulting in perfectly acclimated family dogs upon purchase.
Halton Hills Doodles offers F1 Bernedoodles, F1B Bernedoodles, and Mini and Medium Bernedoodles. In other words, they offer practically every Bernedoodle on the planet.
All of their Bernedoodles are tricolor as well. To be on the waitlist with Halton Hills Doodles, you will need to place a deposit and complete the corresponding application.
Halton Hills Doodles Details
8. Riverview Bernedoodles
Last on the list of Bernedoodle breeders in Ontario is "Riverview Bernedoodles." Currently, Riverview Bernedoodles is not offering any Bernedoodle puppies due to an emergency C-section performed on a mother puppy.
However, this certainly is a Bernedoodle breeder to keep on your list if you aren't buying the puppies just yet. This breeder has a fantastic reputation for loving the puppies and ensuring they are healthy and well cared for.
Riverview Bernedoodles Details
Choosing The Right Bernedoodle Breeder in Ontario
Whenever you purchase your own Bernedoodle, it's imperative to select a reputable breeder. Only by selecting a reputable breeder can you trust that your Bernedoodle puppy is happy, healthy, and well acclimated for home life.
Although you might be able to save a couple of dollars by choosing less than respected breeders, the purchase will come back to bite you in the bud. The puppies may be unhealthy, or they may not be well adjusted with children and other people.
As a result, always select a reputable Bernedoodle breeder. Reputable Bernedoodle breeders always require an application deposit and provide their puppies with top-notch veterinary care.
These breeders also are open to answering any questions about their facilities and dogs. Ensure that you question the breeder carefully and ask if you can see the facilities or parent dogs.
This can allow you to see how the puppies are raised and whether or not the breeder cares for the parent dogs. The last thing to remember is that you should not purchase a Bernedoodle unless you are ready for a lifetime commitment.
Likewise, you should not be shopping for a dog. Instead, you should be adopting one. This means that you need to be prepared for puppy and dog ownership's financial and time commitments.
Bernedoodle Guides: Bernedoodle Pros and Cons and Best Bernedoodle Generations.
Conclusion For The "Best Bernedoodle Breeders in Ontario"
Since you should be adopting a Bernedoodle, not shopping for one, it's important to select the best Bernedoodle breeder based on the dog's experience, skill, and love.
Any breeders above are excellent if you want a Bernedoodle to call your own. These breeders have been tested and approved by many Bernedoodle owners like yourself.
They also take extreme caution to ensure all dogs within their care get the best veterinary and family care possible. So, you can trust that the Bernedoodle puppy you get is healthy and happy to be in your home. If you decide to go with a breeder who is not on this list, make sure that you consider the breeder carefully.
Don't be afraid to ask questions to confirm whether or not the breeder is in it for the dogs or money. If you suspect the breeder is in it for money, find a different breeder instead.
For more guides similar to this list of Bernedoodle breeders in Ontario, check out:
Before you buy a Bernedoodle from a breeder in Ontario, learn more about the breed by watching "Bernedoodle Dog Breed Guide" down below: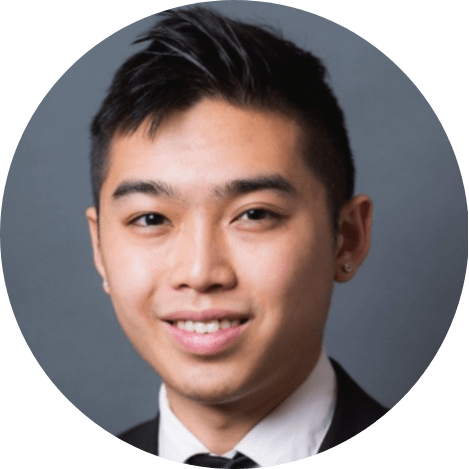 Andy is a full-time animal rescuer and owner of a toy doodle. When he's not saving dogs, Andy is one of our core writers and editors. He has been writing about dogs for over a decade. Andy joined our team because he believes that words are powerful tools that can change a dog's life for the better.
Why Trust We Love Doodles?
At We Love Doodles, we're a team of writers, veterinarians, and puppy trainers that love dogs. Our team of qualified experts researches and provides reliable information on a wide range of dog topics. Our reviews are based on customer feedback, hands-on testing, and in-depth analysis. We are fully transparent and honest to our community of dog owners and future owners.