Minnesota might not have a long history with Labradoodles. However, we are confident that once the dog breed catches on, the monumental rise in popularity will hit the North Star State.
As you may see on our list of Labradoodle puppies in Minnesota, there is not a wide range of breeders available. It is always our aim only to include reputable breeders on our site, and to never include breeders that look like they are running puppy mills. 
Some breeders have jumped on the doodle craze and breed not only Labradoodles but also Goldendoodles, Bernedoodles, Double Doodles, and others. Ideally, you want a breeder that focuses on raising a minimal amount of breed types. 
As Minnesota is easily accessible to Wisconsin, Iowa, and North Dakota, you can also look at our Labradoodle breeder lists for those states. You'll want to ensure that you have a healthy and happy Labradoodle puppy with an excellent temperament. Labradoodle puppies bring joy to your family for many years to come so we always suggest you find breeders who health test, genetic test, and allow you to see their breeding facilities.
Other articles you will like: Best Crate for a Labradoodle and Labradoodle vs Goldendoodle.
1. Blueberry Cottage Labradoodles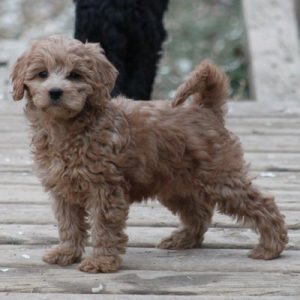 Heather, from Blueberry Cottage Labradoodles, has lived in Minnesota since 2015 but originally came from Connecticut.  The allure of a 120-acre family farm enticed her to stay in the North Star State. Located only about a two-hour drive from Twin Cities, Minnesota, or about a three-hour from Madison, Wisconsin, Blueberry Cottage Labradoodles is very conveniently located for picking up your new fuzzy fur-baby.
Heather provides a three-day general health warranty for her Labradoodles puppies in Minnesota, and a two-year health guarantee against hip and elbow dysplasia, PRA, EIC, DM, and vWD. In the case of any of these occurrences, Blueberry Cottage Labradoodles Minnesota will provide a refund, or a replacement Labradoodle puppy, up to the original puppy price, for any corrective surgery is required.
Labradoodle Breeder Information:
Contact: Heather
Location: 2 hours from Twin City, Minnesota
Email: heather@blueberrycottagelabradoodles.com
Facebook: Social Media
Labradoodle Puppy Information:
Generation: Multigenerational Labradoodle puppies
Size: Miniature, Medium and Standard Labradoodle puppies
2. Labradoodles on the Lake Minnesota
Labradoodles on the Lake are breeding F1 (first generation) Labradoodles, which are the offspring of their AKC registered Labrador Retriever, and AKC registered Standard Poodle. As a small hobby breeder, their Labradoodle puppies for sale in Minnesota are currently advertised for $1200, including the $250 deposit to reserve your Labradoodle puppy. Note that this breeder will remove the dewclaws, but does not dock tails.
Labradoodle Breeder Information:
Labradoodle Puppy Information:
Generation: F1 Labradoodle puppies
Size: Standard Labradoodle puppies
More Information about Labradoodle Puppies in Minnesota
The intentional first breeding of a Labradoodle was in the state of Victoria on the southern tip of Australia in the last 1980s. The Royal Guide Dogs Association of Australia was looking for an intelligent therapy dog that would also have a hypoallergenic coat to suit their allergy-prone members.  The Labrador Retriever, already known as an excellent service dog, and the Poodle, known for both intelligence and a fleecy coat, was a winning combination.
Today, many Labradoodles are bred as multigenerational, which means that a Labradoodle was bred to another Labradoodle. This is to ensure the standardization of the breed, in particular with the size of resulting puppies and the coat's hypoallergenic qualities. A first-generation, or a second-generation, Labradoodle could still throwback the Labrador Retriever's coat rather than the preferred fleecy coat of the Poodle heritage. Dog owners in Minnesota would prefer a Poodle coat because it is nonshedding and hypoallergenic.
The Worldwide Australian Labradoodle Association (WALA), and the local Australian Labradoodle Association of America (ALAA), aim to further the standards of the breed and ensure ethical breeding practices amongst their members. If you're looking for Labradoodle breeders in Minnesota, we highly suggest you find one from those organizations.
Is the Minnesota winter good for a Labradoodle?
Minnesota is known for extremely chilly winter weather and your Labradoodle will likely love being outside and frolicking in the snow or playing tag with the kids and joining in while sledding. 
Labradoodle coats provide excellent insulation but, cold temperatures in Minnesota below 40 degrees Fahrenheit could pose a threat. Make sure you keep an eye on them and don't allow them outside for too long. In addition, you don't want to have them sleeping outside in this weather. Very old or very young Labradoodles will only be able to tolerate cold temperatures for a shorter period.
How big will my Labradoodle get?
Like their Poodle ancestor, Labradoodles come in three main sizes from breeders: Miniature, Medium, and Standard.
Miniature Labradoodles are generally 14-16 inches in height and weigh about 15-25 pounds.
Medium Labradoodles are typically 18-20 inches in height and weigh 30-45 pounds.
Standard Labradoodles are usually 21-24 inches in height and weigh 50-65 pounds.
Breeders may also advertise toy, mini, micro, or teacup Labradoodles, which are generally under 14 inches in height and weigh 15-20 pounds at the most.
How long do Labradoodles live?
You can expect a Labradoodle to live for about twelve to fifteen years.  Ensuring that you purchase your Labradoodle puppy in Minnesota from a reputable breeder with health checked the parents, having your dog on quality pet food appropriate for its size and metabolism. 
Maintaining an active lifestyle will all assist with having your Labradoodle live a happy and long life. Annual veterinary checks are also highly advisable regardless of your dog's fitness so that any medical issues that crop up can be attended to early.
Is an Australian Cobberdog the same as a Labradoodle?
There has been a desire by some breeders to get away from the term 'Labradoodle' as some feel that the breed should have its own unique identity and not be linked to the Labrador Retriever or Poodle heritage. 
As well, there is an aspiration to stick more closely to the breed standard and differentiate from any 'designer breed' connotations. Thus, the term Cobberdog was established stemming from 'cobber', an informal term for a friend in Australia. 
Can I get a Labradoodle puppy from outside of Minnesota?
Yes – many Labradoodle breeders outside Minnesota will arrange to have their puppies transported all throughout the continental United States or even abroad. We recommend that you still do due diligence and ensure that a Labradoodle breeder is reputable. Members of the Worldwide Australian Labradoodle Association and the American Australian Labradoodle Association are a great place to start, and you can also look for breeders in other states right here on our site. 
How can I get a Labradoodle puppy from outside of Minnesota?
Ideally, you would drive to pick up your new Labradoodle puppy. Not only is driving generally cheaper, it is also less stressful than flying and will give you more opportunity to walk with the Labradoodle breeder and ensure that you are getting a puppy with the right temperament for your family. 
In this case, we recommend picking a breeder within a comfortable driving distance of your home. If this is not possible, or your heart is set on a Labradoodle puppy further away, then the next best option is to fly and pick up your new puppy yourself. Small Labradoodles puppies can often go in a soft-sided pet carrier and be with you for the duration of the flight. 
If you intend to ever fly with your Labradoodle anywhere in the world make sure to read all of their rules and regulations.  Unaccompanied dogs will need to be in a crate in the cargo hold, which though it is deemed safe, can be more of a stressful situation for your new puppy.
Conclusion for LabradoodlePuppies in Minnesota
As we have shown, there are not a lot of Labradoodle breeders in Minnesota, but keep checking back on our site as we aim to update this breeder list and keep it current. We intend to watch out for new and reputable breeders coming onto the scene. In the meantime, consider contacting one of the breeders on our list if you would like to get your own lovable, hypoallergenic Labradoodle puppy to call your own.
Other articles you would like:
Garrett loves animals and is a huge advocate for all Doodle dog breeds. He owns his own Goldendoodle named Kona. In addition, he volunteers at the Humane Society of Silicon Valley, where he fosters dogs and helps animals. Garrett enjoys writing about Doodles and believes that dogs can teach humans more about how to live than humans can teach a dog.
Why Trust We Love Doodles?
At We Love Doodles, we're a team of writers, veterinarians, and puppy trainers that love dogs. Our team of qualified experts researches and provides reliable information on a wide range of dog topics. Our reviews are based on customer feedback, hands-on testing, and in-depth analysis. We are fully transparent and honest to our community of dog owners and future owners.