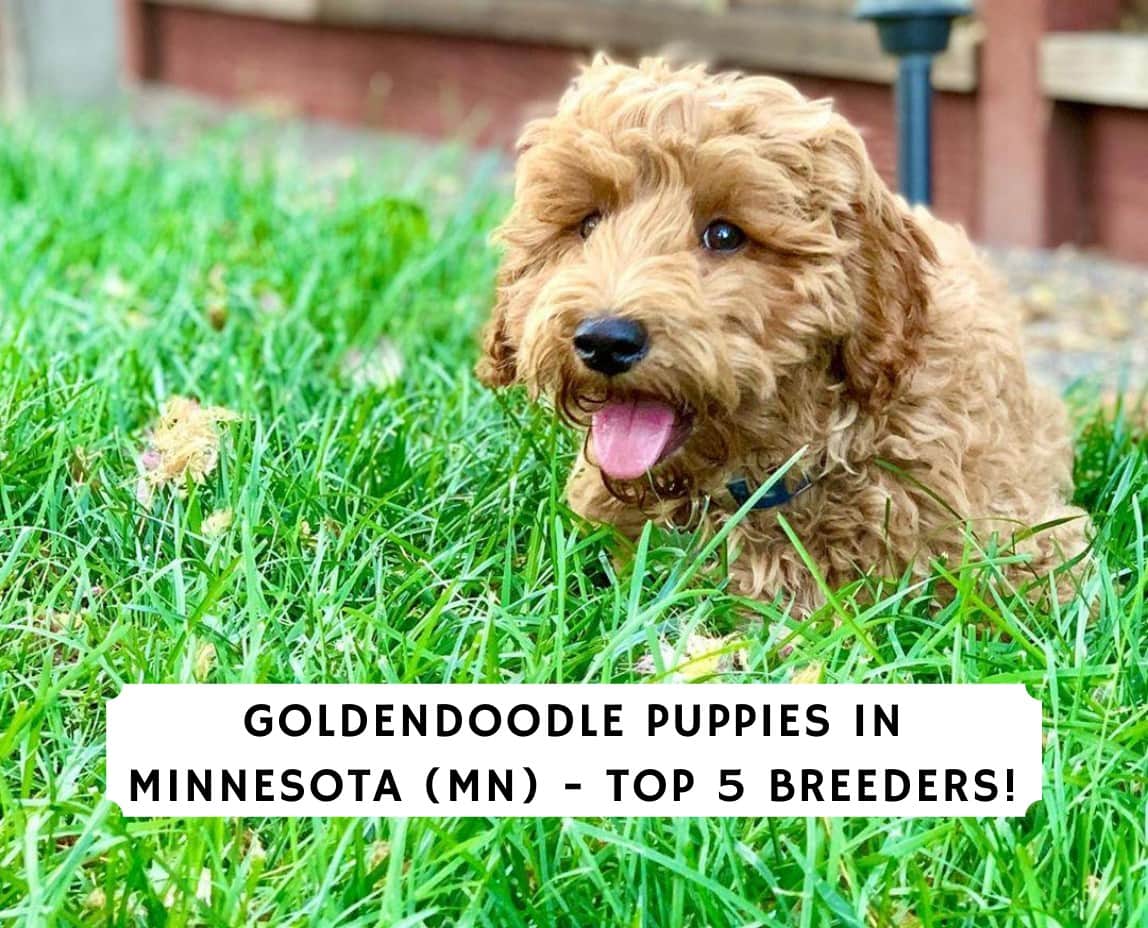 Popularly known as designer dogs, Goldendoodles offer much more than cuteness. Goldendoodles have hypoallergenic and non-shedding genetic traits from the Poodle that does well for aspiring pet owners allergic to dander. This also comes in handy for dog owners who don't want to be walking around in dog fur or constantly picking up the vacuum to clean.
Goldendoodle puppies are also quite sporty and love outdoor adventures. Whether you're up for a swim, hike, run, or long walks – Goldendoodles are a perfect companion.  They're also willing to be a snuggle and cuddle buddy to laze around on the sofa or bed with. It's like having a real-life teddy bear next to you!
With many Goldendoodle puppy mills popping up in Minnesota and across the United States, it can be tiresome and overwhelming to find a responsible Goldendoodle breeder. We're here to help you find Goldendoodle puppies in Minnesota by doing much of the research for you. We have created a list of the top 6 Goldendoodle breeders in Minnesota to help you in your search for your new Goldendoodle puppy. We used the Goldendoodle Association of North America (GANA) as well as did our own independent research.
Finding the right Goldendoodle breeder in Minnesota isn't easy and traveling a long distance to pick up your puppy can be a hassle. With PuppySpot, you'll avoid many unnecessary obstacles like waiting for a Goldendoodle and having to screen multiple breeders.
Here's why we recommend PuppySpot as one of the top breeders on this list. PuppySpot is a marketplace for trustworthy dog breeders since they're all strictly screened, registered in their state, and USDA-approved. Their process for finding breeders is even backed by the AKC. Finding Goldendoodle breeders in Minnesota on your own will be tough and knowing whether these breeders have puppies or not is another question. When you find a Goldendoodle breeder of your choice, you more than likely have to wait on the breeder's list until the arrival of your puppy.
With PuppySpot's Goldendoodle listings, you can buy a puppy today and know that it's not coming from a puppy mill or backyard breeder. All their Goldendoodle puppies come with a health guarantee and health check. We highly recommend checking out PuppySpot if you're searching for Goldendoodle breeders in Minnesota. You can easily sort by coat color, size, generation, and gender. We got one of our Goldendoodles from them.
Goldendoodle Puppy Information:
Goldendoodle Breeder Details:
2. Sister Doodles MN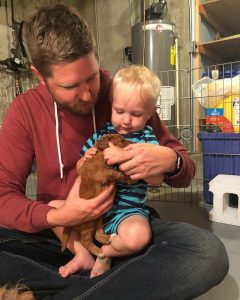 Sister Doodles is a Goldendoodle breeder that is located on a farm just 2 miles from Humboldt in Northern Minnesota. They specialize in breeding Aussiedoodle and Goldendoodle puppies. They raise their parent dogs in their Humboldt home and care for them daily.
Sister Doodles MN offers a 1-year health guarantee against genetic illness and injury. They price their Goldendoodles starting from $2,000. This is a relatively good price for a Goldendoodle breeder in Minnesota.
If you're not able to pick up your new Goldendoodle puppy from Humboldt, they offer flight and ground transportation options. Sister Doodles MN can fly into your nearest airport and hand-deliver your puppy or they can meet you at the Minneapolis airport. Alternatively, they can drive to meet you which are very convenient options if you're not local.
Goldendoodle Puppy Information:
Generation: F1B Goldendoodle puppies
Size: Miniature Goldendoodle puppies
Goldendoodle Breeder Details:
Location: Kittson County, Minnesota
Address: 1842 360th St. Humboldt, MN 56731
Telephone: 218-988-2116
Website: www.sisterdoodles.com
Email: sisterdoodles@yahoo.com
3. Brooke Marie's Goldendoodle Love in Minnesota
Brooke Marie's Goldendoodle Love in Minnesota believes that for puppies to be family-oriented, they need to grow in a puppy-oriented family.
Brooke Marie's Goldendoodle Love specializes in breeding Goldendoodle puppies and Bernedoodle puppies. Their F1B  Goldendoodles sizes are Mini, Medium, and Standard. Their dogs receive obedience training and care in their homes.
Each of their Goldendoodle puppies comes with a 2-year health guarantee and a complete veterinarian exam an average of 2 days prior to the puppy's departure. Brooke Marie's Goldendoodle Love requires a $500 non-refundable deposit for every Goldendoodle puppy and offers a discount to families in need of a service dog, non-profit community service, or those in the full-time military or police service. This Goldendoodle breeder in Minnesota actually cares about their puppies.
They prefer puppies picked up by their owner. If the owner cannot come in person, they can send the puppies by flight with a nanny as a carry-on or via a hand delivery. The starting price for a Goldendoodle puppy is $2000.
Generation: F1B Goldendoodle puppies
Size: Mini, Medium, Standard Goldendoodle puppies
Location: Brown County, Minnesota
Address: 13215 110th Street, Hanska, Minnesota
Telephone: 612-201-3553 or 507-241-0446
Website: www.goldendoodlesminnesota.com
4. Doodle Nation MN
Doodle Nation is a cage-free breeder based in Pine County, Minnesota. Doodle Nation specializes in breeding F1 and F1B standard Goldendoodle puppies. All their dogs live in their home full-time and find joy running through their acreage in Bruno, MN.
Their Goldendoodles puppies undergo Early Neurological Stimulation within the first 2 weeks to ensure they get the best start to life. In addition to this, they expose the pups to car training, sound therapy, and early potty training to ensure they fit right in their forever homes.
Doodle Nation MN is licensed and inspected by the Minnesota Board of Animal Health. They also double up as a task force member in the Minnesota Breeder of Excellence. Each puppy comes with a 1-year health guarantee against genetic illnesses. This is a great Goldendoodle breeder in Minnesota.
Goldendoodle Puppy Information:
Generation: F1, F1B Goldendoodle puppies
Size: Standard Goldendoodle puppies
Location: Pine County, Minnesota
Address: Bruno, Minnesota
Telephone: 612-227-2073
Website: https://doodenation.us
Email: info@doodlenation.us
5. Timber Rock Goldendoodles Minnesota
Timber Rock Doodles are a Goldendoodle breeder based in the southeast area of Minneapolis & St. Paul in Minnesota. They specialize in F1, F1B, and multi-generational dogs that are medium and standard in size.
Their aim is to provide premium quality, healthy, happy, and exquisite hybrid Goldendoodle litters. All their parent dogs and puppies are loved and cared for in their home and come with early socialization.
Timber Rock Doodles price all their puppies at $2500 regardless of size, color, or gender. They require a non-refundable deposit of $500 to book a spot on the reservation list. Each Goldendoodle puppy comes with a 24-months warranty against genetic illnesses.
As a rule of thumb, they don't ship puppies except in exceptional cases. A puppy owner needs to come for their new puppy in Dakota County, Minnesota.
Goldendoodle Puppy Information:
Generation: F1, F1B to Multigen Goldendoodle puppies
Size: Medium, Standard Goldendoodle puppies
Location: Dakota County, Minnesota
Address: Rosemount, MN
Telephone: 651-261-6018
Website: www.timberrockdoodles.com
Email: timberrockdoodles@yahoo.com
6. Island Farm Goldens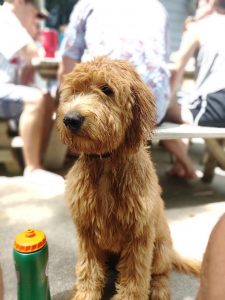 Island Farm Goldens has been breeding dogs for nearly 45 years, and they are located in Le Sueur, Minnesota, which is about half an hour north of Mankato and about an hour away from the Twin Cities. Throughout the duration of their breeding history, they have mostly bred Golden Retrievers, but for the last 20 years they have also bred Goldendoodles. For what it's worth, this is one of the oldest Goldendoodle breeders in Minnesota on our list. The owner's name is Peyton, and he's one of the most responsive breeders when we contacted him.
They have multiple litters of F1 and F1B Goldendoodles per year. The F1B doodles typically are redder in color compared to the F1 Doodles that tend to be more of a chestnut color. Their dogs have been known for being the best of both traits with the laid back and friendliness of a Golden Retriever and the smarts and hypoallergenic side of the Poodle. They have always sold them as family first dogs but do receive compliments on their dogs being good hunters as well.
Before each puppy leaves for their forever family around 7 to 8 weeks old they are given their first shots, treated for worms, microchipped, and also vet checked instead of giving a health guarantee. They do an in-person visit at 6 weeks where buyers get to meet the puppies and pick their new family member. Their pricing for Goldendoodle puppies in Minnesota starts at $2,000. They are a state-licensed and state-registered breeder in accordance with the MN Board of Animal Health. We have nothing but good things to say about Island Farm Goldens! We highly suggest that you reach out to them if you're looking for a Goldendoodle puppy.
Goldendoodle Puppy Information:
Goldendoodle Breeder Details:
Goldendoodle Puppies in Minnesota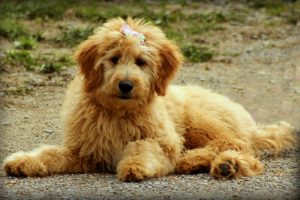 The Land of 10,000 lakes is perfect for Goldendoodles. It offers a perfect balance between indoor and outdoor adventures that Goldendoodles love especially swimming in lakes.
With a climate of chilly winters and warm summers, aspiring Goldendoodle owners need to ensure that their Goldendoodles have all the warmth they need during the winter and coolness in the summer.
To ensure warmth, pet sweaters are highly recommendable. To ensure coolness in the summer, trimming the fur and offering enough water throughout the day is best. Goldendoodles are becoming popular throughout the state of Minnesota due to their nonshedding and hypoallergenic traits.
How to find a Goldendoodle Breeder in Minnesota
The key to finding a good Goldendoodle breeder in Minnesota is research and asking the right questions. When you conduct your own research, you know what questions to ask to sift the wheat from the chaff. In general, you need to verify that the breeder has done health checks on the parent Goldendoodles. In addition, you should check the Goldendoodle breeder in Minnesota offers a genetic health guarantee on their puppies of at least 1 year. This provides you with some type of insurance and ensures that the breeders care about their dogs.
Where do you find a Goldendoodle Breeder in Minnesota?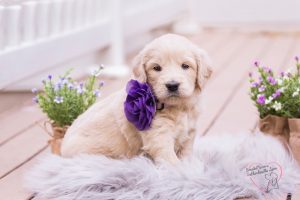 Start with our list! Our list comprises the top 5 Goldendoodle breeders in Minnesota that uphold high breeding standards. 
If you're not satisfied with any of them, check for more breeders on the Goldendoodle Association of North America website, Good Dog, or Minnesota Pet Breeders Association. There are several different websites out there that have a list of Goldendoodle puppies in Minnesota.
Conclusion for Goldendoodle Breeders in Minnesota
If you're looking for the perfect dog breed for you or your family, consider Goldendoodles. They are safe for people with dog allergies, wickedly smart, friendly, and have great temperaments. They are suitable as companions, family members, and fitness buddies.
If you're in Minnesota, speak to one of the Goldendoodle breeders on the list and start your journey to owning a Goldendoodle.
Other articles you might like:
Garrett loves animals and is a huge advocate for all Doodle dog breeds. He owns his own Goldendoodle named Kona. In addition, he volunteers at the Humane Society of Silicon Valley, where he fosters dogs and helps animals. Garrett enjoys writing about Doodles and believes that dogs can teach humans more about how to live than humans can teach a dog.
Why Trust We Love Doodles?
At We Love Doodles, we're a team of writers, veterinarians, and puppy trainers that love dogs. Our team of qualified experts researches and provides reliable information on a wide range of dog topics. Our reviews are based on customer feedback, hands-on testing, and in-depth analysis. We are fully transparent and honest to our community of dog owners and future owners.