Here's what you need to know if you're searching for the best Cavapoo breeders in British Columbia. The Cavapoo is a mixed dog breed derived from the crossing of the highly intelligent Poodle and the friendly Cavalier King Charles Spaniel.
The above combination is a Pointer to what your adorable Cavapoo will look like as they are very loving, playful, and outgoing.
Cavapoos are generally very affectionate with family and awesome around kids; they make excellent family companions. A Cavapoo designer breed for a family pet is a great one as they are ideal even for a family with dog allergies.
Cavapoos are hybrids and have no breed standards: however, committed and ethical breeders produce healthy dogs with no genetic concerns. Find out the names and contacts of reputable Cavapoo Breeders close to you in British Columbia highlighted in this article.
Before scrolling down this list of Cavapoo breeders in British Columbia, check out these other recommendations from our team at We Love Doodles: Best Labrador Breeders in British Columbia and Best Golden Retriever Breeders in British Columbia.
Cavapoo Puppies For Sale in British Columbia
The Cavapoo is filled with friendliness and sweetness; they make a perfectly loyal companion and play partner. Cavapoo's life span is usually between 12 to 15 years when they are well-bred and nourished in a great environment and not a puppy mill. The names and contact details of deliberate and trusted Cavapoo breeders in British Columbia are highlighted below.
Cavapoo Guides: How Much Does a Cavapoo Cost and Best Cavapoo Names.
1. Van Isle Cavapoos And Cavaliers

Van Isle Cavapoos and Cavaliers is not a backyard breeder but a reputable and intentional breeding program in Nanaimo, British Columbia. As their name implies, they specialize in breeding healthy and top-quality Cavapoos and the Cavalier King Charles Spaniels.
Their goal is to offer their puppies the best life possible and provide their clients with healthy puppies that thrive as excellent family companions. Van Isle's passion and commitment to their dogs drive their incredible production and well-planned program.
Their parent breeds come from one of the finest bloodlines and are screened for health before mating for healthier Cavapoo puppies. Van's puppies are born and raised in their home, except in emergencies, are they born at their vet's hospital.
Van Isle's puppies leave for their new home after eight weeks dewormed, vet checked, and updated on all appropriate vaccination shots. Van cares so much about their dogs and will only place them in loving and committed forever homes.
It is important to note that Van Isle doesn't ship their puppies as they only allow them to be picked up from their home as they would love to meet prospective clients. Van Isle puppies go to their new owners with a huge take-home package containing a toy, blanket with littermate scent, litter box, and other items depending on availability.
They also offer lifetime support to all their clients and their puppies, as you can contact them anytime to ask anything concerning your dog. Van's adoption process is easy and hassle-free; visit their website today for more information or fill out the adoption form to get on their waitlist.
Van Isle Cavapoos And Cavaliers Details
2. Timberland Acres

Timberland Acres is a small hobby-breeding program located in Prince George, British Columbia, renowned for responsible breeding. They are called the "Fur family" as their house is the home of many amazing and adorable designer and pure breed dogs.
Timberland Acres specializes in breeding loving mini Poodles, Cavalier King Charles Spaniel, Golden Retrievers, Golden Doodles, and the lovely Cavapoo. Timberland Acres' passion for their dogs is reflected in their intentionally planned breeding program following high standards.
Their breeding stocks are well-screened for health and beauty before crossing to produce an exceptional litter. All Timberland puppies are bred and raised in their loving and warm home nestled in the woods.
Timberland Acres puppies are well socialized as they are handled daily from birth and excel in all spheres where they find themselves. Their entire puppies are updated on vaccination shots, dewormed, and vet checked thoroughly before joining their new families.
Timberland Acres' puppies are very dear to them, and they look to place them with committed families. The adoption process at Timberland Acres is transparent and hassle-free, with lots of tips for easy transitioning. Visit their website today or contact them on the phone for more information about available puppies.
Timberland Acres Details
3. Pinewood Cavapoos

Pinewood Cavapoos is a reputable breeding program located in Northeast Washington, about 45 minutes from the British Columbia border. Jennifer is a passionate dog lover with lots of experience and a dedicated and intentional breeder behind the Pinewood Cavapoos.
Pinewood Specializes majorly on Cavapoos; however, occasionally, they have a purebred litter of Poodles or Cavaliers. They have over a decade of experience in breeding which is reflected in their deliberately planned program to breed high-quality litters.
Pinewood's commitment to excellence has set them apart from other Cavapoo breeders as testimonies from clients have shown their best services. They breed for sound health, awesome temperament, and exceptional beauty in all their dogs.
Their breeding dogs are treated with utmost love and respect; they are screened for health and cleared of genetic concerns before mating. All their puppies are always whelped and raised right in their home with no exceptions and handled daily from birth to aid great socialization and stress-free transition.
The adoption process at the Pinewood Cavapoos is transparent and straightforward, the best customer experience possible. You can get Jennifer easily by mail, but you can also contact her on the phone or visit their website. When you purchase a dog from Pinewood Cavapoos, you are getting a healthy, adorable home-raised puppy that has
Started on litter box training
Gone through regular deworming
Started on its first vaccination shots
Veterinarian checked
A good start in socialization and enrichment
Introduced to crate training
Introduced to clicker training
Health record, health sheet from vet's screening
A picture of your puppy's parent
NuVet information and sample
Puppy food sample
Toys and a home-made puppy blanket
Lifelong support
Pinewood Cavapoos Details
4. Howdee Kennels

Howard and Dee Van Beek are the brains behind the Howdee Kennels located a mile from the British Columbia Canadian border on Hammer Road, Lynden, Washington. They are responsible in-house breeders specializing in breeding different pure breeds and designer dogs.
Their breeds include Cavalier King Charles Spaniels, Toy Poodles, Maltese, Shih Tzus, Maltipoos, ShihPoos, and Cavapoos. The Howdee Kennels breed for sound health, good temperament, great appearance, all-round lovability, and structure.
Howdee's puppies are born and home-raised in a loving family environment where they are nourished and loved daily. Their breeding program is deliberately planned with a high ethical standard to produce the best dog possible. Their sires and dams used for studs are well-screen for health and temperament before mating to have healthier litters.
Their dogs leave for their new homes dewormed, updated on all necessary shots, vet checked, and are covered with a genetic health guarantee. Howdee sends all their puppies home with the required paperwork and health records, a free bag of Life's Abundance puppy food, a blanket, and a stuffed toy.
The adoption process at the Howdee Kennels is transparent and second to none, with excellent customer services as a priority. Contact Howard and Dee Van Beek on the phone or visit their website to fill out the adoption form and get on the waitlist for their upcoming litter.
Howdee Kennels Details
5. My Cavapoos

My Cavapoos is a responsible breeding program located close to the British Columbia Border on East Cooper Lane, Colbert, Washington. Alma and Francisco are passionate dog lovers and owners of My Cavapoos with over 20 years of breeding experience. They specialize in breeding the Cavapoo whelped from a purebred Cavalier King Charles Spaniel and a purebred Poodle.
My Cavapoos' goal is to breed and raise high-quality, healthy, and beautiful Cavapoo puppies with excellent temperaments. This is evident in their well-planned breeding program, with their parent stocks thoroughly screened before mating.
Their Cavapoo puppies are whelped and raised in their home in a loving and conducive environment. The entire My Cavapoos' puppies leave for their new homes updated on necessary vaccinations, regularly dewormed, vet checked, and covered with a health guarantee.
They offer the most transparent and stress-free adoption process possible with experienced hands available to help clients with the smooth transitioning of their dogs. Visit the My My Cavapoos website today or contact Alma and Francisco on the phone for more information on how to get on their waitlist.
My Cavapoos Details
Conclusion For "Best Cavapoo Breeders in British Columbia"
The combination of the Poodle and the Cavalier King Charles Spaniel resulted in the adorable and fun-loving Cavapoo. They are ideal for people who don't really like big pets as they weigh between 9 to 25 pounds and are between 9 to 14 inches tall.
It is highly recommended that you contact a reputable and trusted breeder for your new pet to ensure a healthy and premium quality dog. British Columbia is the home of some ethical Cavapoo breeders; find their names and contacts highlighted in this article.
For more guides similar to this list of Cavapoo breeders in British Columbia, you can check out:
Before you bring home a Cavapoo from a breeder in British Columbia, you can learn more about the breed by watching "Cavapoo Dog Breed Guide" down below: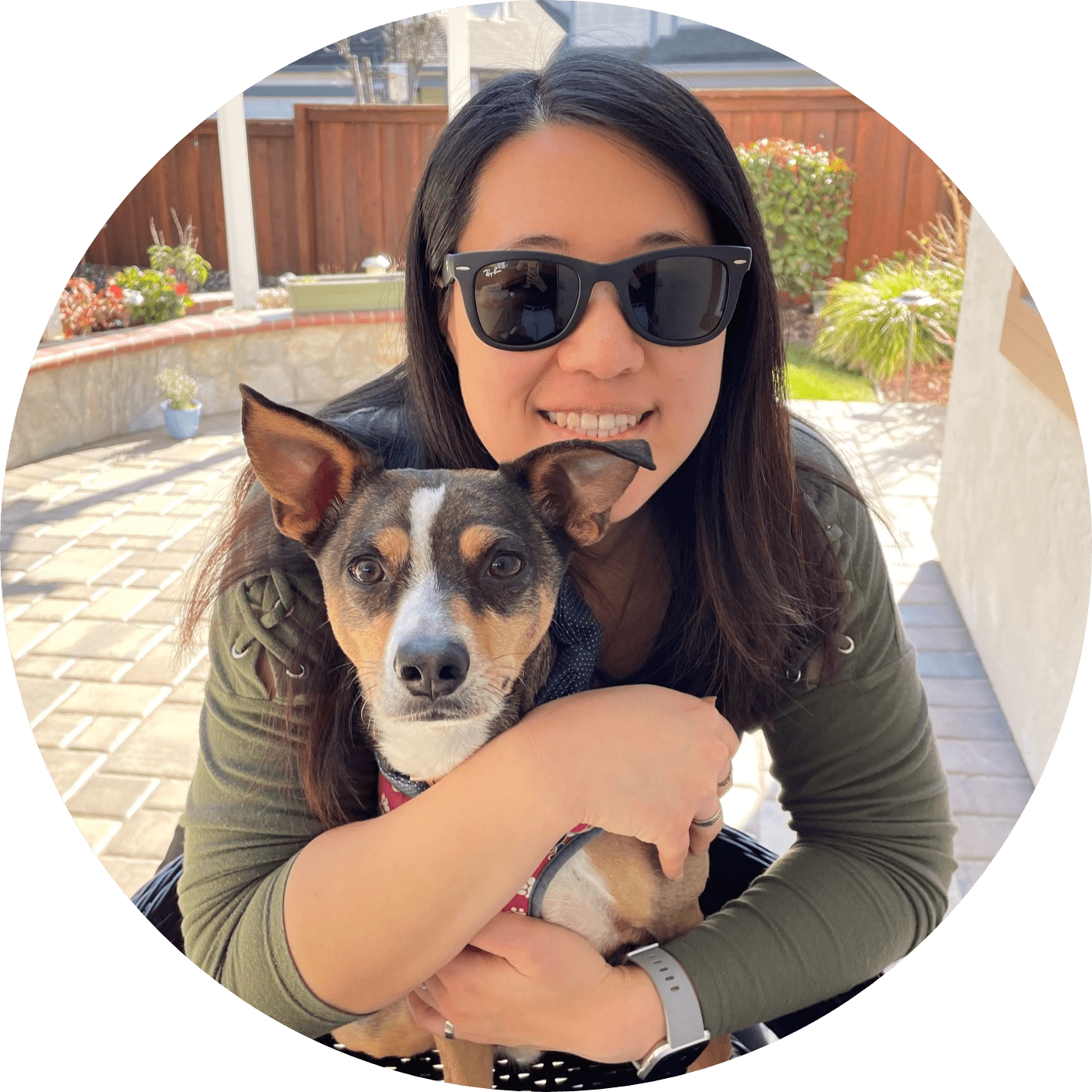 Dr. Sabrina Kong graduated from the Royal Veterinary College in England in 2016 and has been working at a small animal clinic in Northern California since then. She grew up in the Bay Area and got her bachelor's degree from Cal Poly San Luis Obispo. She also became a Certified Canine Rehabilitation Practitioner through a program at the University of Tennessee.
When she isn't in the clinic taking care of her four-legged patients, she enjoys traveling and trying new foods with her friends and her three-legged dog, Apollo. She adopted Apollo from her clinic when he was a puppy with numerous health issues. Dr. Kong truly cares about taking care of animals.