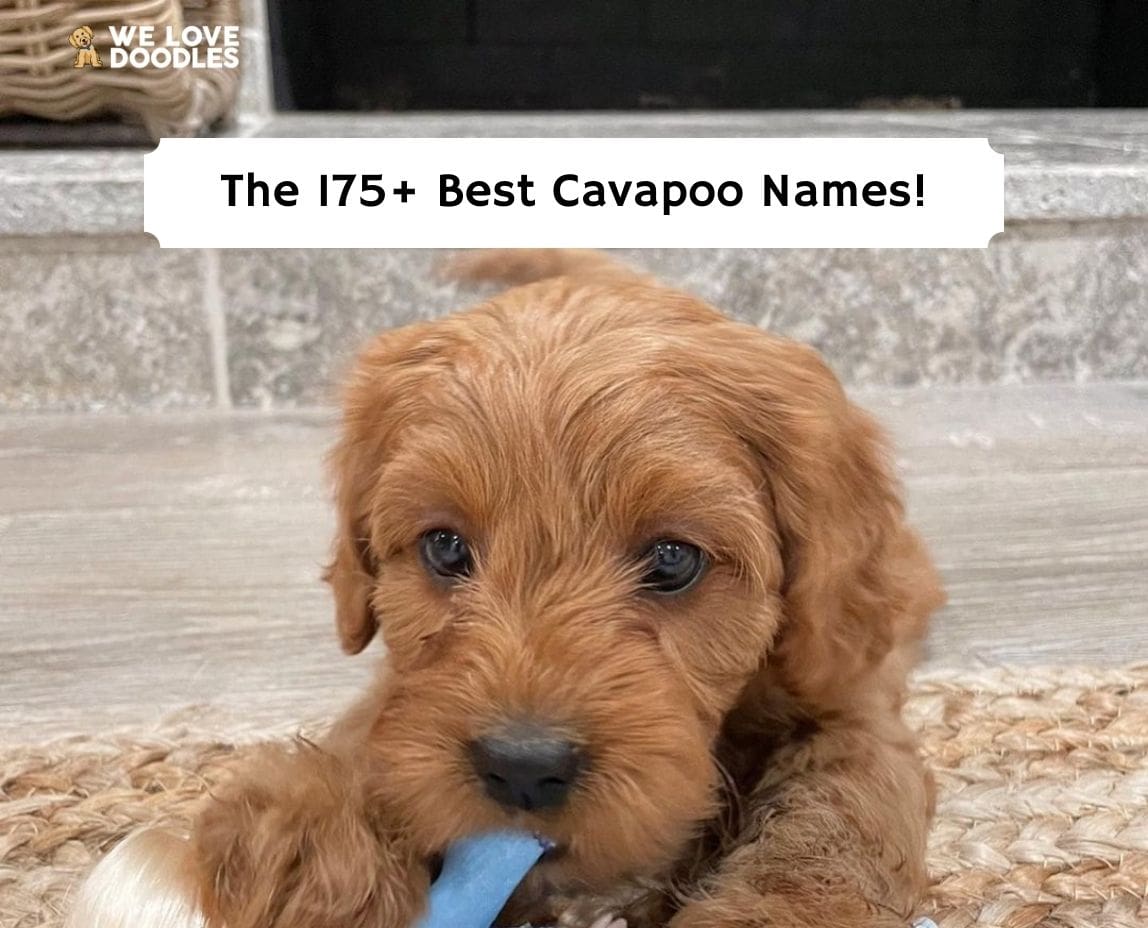 Cavapoos are a fantastic breed for pet dogs. These cute and curly-haired pups are a mix between the elegant Cavalier King Charles Spaniel and the glamorous Poodle. Cavapoos are petite and come with curly hair and a positive attitude.
These dogs are friendly, loyal, and love to play. Cavapoos are a great dog for families and anyone who wants an adorable puppy pal.
If you have the good fortune of getting a Cavapoo puppy, you may be facing a tricky challenge: naming your new dog. Naming a dog can be challenging, as the name needs to suit both their personality and unique appearance.
To help, we've put together a list of all the very best names for Cavapoos. Whether you want a name that matches their curly hair or their cute personalities, this guide to good names for Cavapoos will help inspire you.
Check out these other articles: Cavapoo Pros and Cons and Cavapoo Puppy Insurance Guide.
Best Appearance-Based Cavapoo Names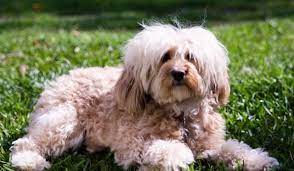 Most Cavapoos look gorgeous: their sweet dark eyes peeking out of a thick coat of soft, golden curls is sure to win you over. If you adore your pup's eye-catching appearance, you may want to name them after their best physical traits.
We've gathered all the good Cavapoo names that reference the breed's looks, including appropriate names for all the different Cavapoo varieties of fur color and appearance. Here are some of the best names based on a Cavapoo's physical qualities.
Curly – the best name for a puppy covered in ringlets.
Golden
Bear
Teeny – most Cavapoos are only nine to 14 inches tall.
Copper
Brandy
Topaz
Bronze
Ginger – this is a good name for a Cavapoo with light brown, fawn-colored fur.
Tiny
Rusty
Blondie – while some Cavapoos have a golden coat of fur, some Cavapoos have an even lighter shade of hair, making Blondie an appropriate moniker.
Amber
Goldie
Maple
Butterscotch
Caramel
Dandelion – a small, golden-haired Cavapoo is certainly the embodiment of a fluffy yellow flower.
Ruffles
Penny
Toast
Honey
Toffee
Buttercup
Coffee – some Cavapoos are born with a darker fur color, often resembling the color of chocolate or, you guessed it, coffee.
Pretzel
aria-level="1″>Teddy – let's face it, Cavapoos are sentient teddy bears.
Cute Cavapoo Names For Girls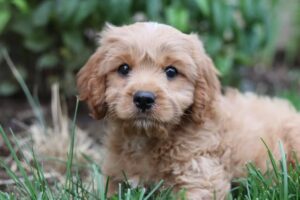 If you have a sweet little girl Cavapoo pup, congratulations! Your playful and adorable Cavapoo is about to be your best gal pal. With such a pretty lady dog, you'll want to pick a name that's just as cute as they are. Here are some of the best cute Cavapoo names female dogs will appreciate.
Daisy
Bailey
Molly
Coco – this popular pet name is especially beloved by the French and Spanish.
Roxy
Chloe
Gigi – a classic French name that will reflect your pup's poodle style.
Heidi
Lulu
Minnie
Bitzy
Ellie
Millie
Missy
Belle – Belle means "beautiful," making it the perfect name for your gorgeous Cavapoo.
Diamond
Poppy
Annie
Abby
Zoe
Lucy
Winnie – this is a shortened version of Winnifred, which means "gentle friend."
Rosie
Maggie
Sadie – this name means "princess," an ideal name for a pampered pet.
Charming Cavapoo Names For Boys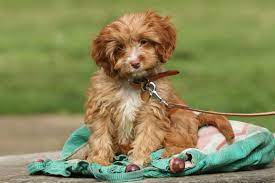 Male Cavapoos are loyal and attention-seeking dogs, and you will instantly fall in love with your outgoing and charismatic Cavapoo. If you have a male Cavapoo, you may want a playful and sweet name to match your handsome puppy's attitude. Here are some of the best Cavapoo names male dogs will wholeheartedly support.
Max
Oscar
Cooper
Rudy – this shortened version of Rudolph means "famous wolf," which is a nice nod to your pup's ancestry.
Charlie
Bentley
Bo – with this name your dog will be joining the ranks of the Obama family's beloved pet dog, who was also named Bo.
Ollie
Boomer
Wally
Hank
Cody
Dexter
Archie
Levi
Sammy
Bowie – this classic Scottish name means "blond," an apt name for a Cavapoo with golden curls.
Zeke
Oliver
Otis
Luke
Jack
Buster – whether as a nod to your favorite Hey, Arthur! character or the youngest brother on Arrested Development, Buster is a fun pop-culture name.
Ziggy
Toby – Toby is short for Tobias, which means "God is good."
Cavapoo Origins: British Names for Cavapoos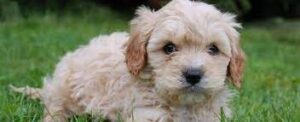 When thinking of Cavapoo dog names, you may want to honor your dog's heritage. With Cavapoos, you'll have two different cultures to choose from. The first option is to honor the Cavalier King Charles Spaniel side of your dog's family.
Since the Cavalier King Charles Spaniel was originally bred in the United Kingdom, giving your dog a British or English name would be a cute nod to their background. Here are some of the best English Cavapoo names.
English Cavapoo Names for Males
Silas
Alfie – this is a playful and pet-appropriate diminutive of Alfred, a popular English name.
Miles
Emmett
Cole – Cole can sometimes refer to "coal-black," so if your Cavapoo has that classic brown and black fur pattern, this could be the perfect name.
James
Everett
Hayes
Ellis – this is a Welsh name. Since Wales is part of the United Kingdom, a Welsh name can be a creative spin on referencing your dog's heritage.
Wyatt
Archer
Blake
William – if your dog has royal airs, consider naming them after the heir to the British throne.
Sawyer
Julian
Wilder
Kit – Kit is a popular British nickname for Christopher, and is a cute and sassy name for a dog.
Harrison
Graham – Graham is both an English name and a fun reference to a graham cracker, which is a similar color to many Cavapoos.
Wesley
Holden – for literature fans, Holden is a great Cavapoo name. It is appropriately English and alludes to the classic character Holden Caulfield from Catcher In The Rye.
Bennett
Parker
Hudson
Beckett
English Cavapoo Names for Females
Eloise – Eloise is an English variation of Heloise, one of the most tragic and beloved romantic figures of history.
Marigold
Hazel – this is a cute English name that will pair well with a Cavapoo that has light or medium brown fur.
Lottie
Ivy
Etta
Eleanor – whether a reference to Eleanor of Aquitaine or Eleanor Roosevelt, this is a strong female name.
Avery
Wren – it can be a quirky play on words to name your dog after another type of animal, such as Wren, a species of bird.
Clover
Evelyn
Harlow
Willow
Madeline – Madeline is a well-liked name, especially in reference to the titular children's book character in Madeline.
Mae
Harper
Lily
Olive
Audrey – if your female Cavapoo has a glamorous personality, what better person to name her after than Audrey Hepburn?
Rue
Edith
Scarlett – This is a great name for a Cavapoo with reddish-brown fur.
Jane
Ella
Juliet – Juliet is a romantic and classic name that works perfectly for a sweet and endearing dog.
Cavapoo Origins: German Names for Cavapoos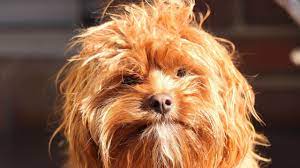 If you want to honor your Cavapoo's heritage, you could also choose to give them a name that recognizes their poodle ancestry. Although the poodle is the national animal of France, it is a common misconception that the poodle breed originated out of France.
The poodle was first bred in Germany. The name "poodle" comes from the German word "pudel," which means "to splash in the water." If you name your Cavapoo a German name, you will impress all your friends with your extensive knowledge of your dog's genetic background. Here are some of the best German names for Cavapoos.
German Cavapoo Names for Males
Milo
Albert – many famous German men were named Albert. Examples include Albert Einstein and Prince Albert, the husband of Queen Victoria.
Johann
Hugo
Frank – Frank means "Frenchman," so this is a particularly clever German name for a dog that is German but often mistaken to be French.
Otto – Otto von Bismarck is famous for having united 39 states into the unified Germany that we know today.
Henry
Leo – Leo means "lion," an appropriate nickname for a fluffy, curly-haired Cavapoo.
Conrad
Alaric
Louis – this is a classic and regal name for your male Cavapoo.
Ivo
Raymond
Rupert
Frederick – Frederick is a popular male German name. You could also call your Cavapoo Freddie for short.
Axel
Bruno – this German name means "brown," which can be a subtle reference to your dog's appearance, as opposed to more obvious names like Brownie or Chocolate.
Emerson
Ryker
Ansel
Wolf
Wolfgang – this is a dignified and traditional German name. Think of Mozart, after all!
Harry
Wilbur – you might be thinking of Wilbur the pig from Charlotte's Web, but Wilbur is also a sweet name for a male dog.
Walter
German Cavapoo Names for Females
Alice
Liesl – if you love The Sound of Music, it could be fun to name your Cavapoo after the eldest daughter in the film, Liesl.
Amelia
Elke
Adelaide
Gretchen
Matilda
Rosamund
Ada
Frida
Willa
Nixie – this whimsical German name means "water nymph." If your female Cavapoo loves to play in the water, this would be the perfect name.
Romy
Johanna
Lorelai
Zinnia
Ida
Clara
Elsa – this is more than just the name of the beloved character in Frozen. It is also a popular name in Germanic culture.
Giselle
Gertrude
Bernadette – Bernadette means "brave as a bear," which is a charming name for a spunky and outgoing Cavapoo.
Zelda
Wilhelmina
Greta
Conclusion for Cavapoo Names
We hope that you enjoyed our list of Cavapoo names for your new puppy! Remember, when naming your dog, always choose something that is to pronounce and ideally short. You're going to be saying your Cavapoos name several times per day – whether you like it or not. Also, don't name your Cavapoo with the same name as a close friend or family member. Both your dog and the human will get confused. We hope that you enjoy the name of your new puppy!
Other articles you would like:
Garrett loves animals and is a huge advocate for all Doodle dog breeds. He owns his own Goldendoodle named Kona. In addition, he volunteers at the Humane Society of Silicon Valley, where he fosters dogs and helps animals. Garrett enjoys writing about Doodles and believes that dogs can teach humans more about how to live than humans can teach a dog.
Why Trust We Love Doodles?
At We Love Doodles, we're a team of writers, veterinarians, and puppy trainers that love dogs. Our team of qualified experts researches and provides reliable information on a wide range of dog topics. Our reviews are based on customer feedback, hands-on testing, and in-depth analysis. We are fully transparent and honest to our community of dog owners and future owners.