Cavapoo breeders in London may be hard to find if you're not sure where to begin your search. We've put together a guide to assist you in finding a Cavapoo that will be a beloved lifetime member of your family.
A Cavapoo is a delightful dog that's produced when you mix a Miniature Poodle and a Cavalier King Charles Spaniel. The adults can weigh anywhere from 10 to 25 pounds and they'll take on the traits of their parents, which can be unpredictable.
For instance, some puppies have the kinky, wiry hair of their Poodle parent while others' hair will be straight and fluffy. No matter your dog's appearance, he or she was bred to be intelligent, friendly, and easy to train.
Before scrolling down this list of Cavapoo breeders in London, check out these related articles: Best Cockapoo Breeders in London and Best Dog Rescues in London.
1. UK Pets
UK Pets is a platform that allows UK families to find dogs, cats, bunnies, and other critters to join their families.
While you may have your heart set on adopting a Cavapoo, we would encourage you to take a look at the resources available in the UK Pets digital library. You can learn more about breeds, puppy care, training, and other aspects of dog ownership by exploring the site.
When you're ready to adopt, select "dog," "Cavapoo," and your postcode, then hit the search button. You'll be presented with a list of all the available puppies in your area, their pictures, and the price to adopt. Your dog can cost as much as a few thousand pounds or as little as a few pounds to rehome him or her.
Click the puppy's picture and you'll be shown additional pictures and more information about the dog. His or her location, birthdate, vaccination and microchip information, and other details will be displayed for you to consider. A brief bio will also be shown so that you can learn a bit more about your puppy's history.
Remember that some dogs on UK Pets are listed by breeders but others are listed by individuals. The breeding rights, vet records, socialization, and other details will vary from dog to dog. Do your research and interview the seller before you exchange money with a dog's seller.
UK Pets Details:
2. Perfect Pups Ltd
Perfect Pups Ltd specializes in doodle breeds, and they're one of the top Cavapoo breeders in London. While Cavapoo puppies may not be available all the time – this is a small-scale breeder – you're free to contact the business for information about upcoming litters.
When puppies are available, they'll be listed on the website and identified by the color of their collar. You can view pictures and prices of each dog, and the breeder will answer any questions about your puppy before you place a 20 percent deposit. Each dog will be priced according to his or her sex and other characteristics.
Your dog will be vet-checked, vaccinated, wormed, and microchipped before joining your family. Dogs come with Kennel Club registration papers – should you have questions about the next steps for registration just ask the breeder. Puppies come with five weeks of pet insurance and will be sold as companions. You'll be required to spay or neuter your puppy at an appropriate age.
Perfect Pups Ltd Details:
3. Puppy Choices
Puppy Choices is another classified-type platform that makes it easy for would-be Cavapoo owners to find Cavapoo breeders in London.
The site primarily features purebred dogs and their breeders, but from time to time you'll find Cavapoo puppies available for adoption. Check back frequently as new puppies are added daily.
Puppy Choices was launched fairly recently in 2018 with the goal of allowing reputable breeders to sell puppies to responsible owners. Your breeder will have been screened by the Puppy Choices team but you're welcome to interview the breeder to ensure your values are aligned.
The cost for your puppy is set by the breeder, and shipping or delivery options may be available. With that in mind, don't limit your Cavapoo breeder search to the immediate London area. In most cases, delivery options will be noted on the puppy's biography but you may need to contact the breeder.
Breeding rights for dogs are offered on a puppy-by-puppy basis. Before you exchange money, determine whether you'll need to sign an agreement stating that you'll have your dog altered. Puppies will be vet-checked, vaccinated, and wormed before going home with you.
Puppy Choices Details:
4. Rosedale Doodles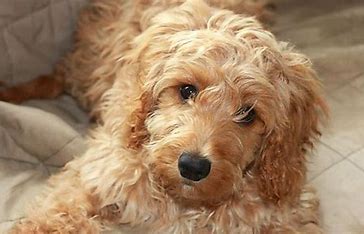 Rosedale Doodles is a bit of a drive from London – around four hours. But the kennel is one of the best Cavapoo breeders in the London area. The team specializes in Cavapoos, Cavapoochons, and Cockapoos. The Cavapoos produced by Rosedale Doodles are F1 puppies.
Litters are planned each year so check the website for the dates of upcoming litters. There is a waitlist for dogs, but deposits are not accepted. Put your name on the list as soon as possible to ensure that you'll be called when a new litter is born. Lists are created within 12 months of the expected litter date.
Cavapoos are typically sold for £2500 but this may vary based on a puppy's characteristics. Your dog will have been to the vet for a checkup and for all age-appropriate wormers and shots before going home to join your family.
You may make arrangements to visit your puppy once the litter has gone through the selection process. However, call in advance to ensure this is a possibility. The kennel limited traffic allowed to come through the kennel in an effort to protect puppies from disease.
Rosedale Doodles Details:
5. Castellan House Kennels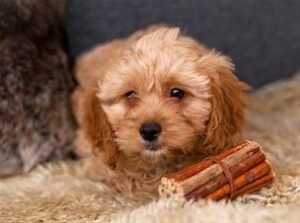 Castellan House Kennels rotates the breeds they produce, and Cavapoo puppies are sometimes available from this kennel. If you've not got your heart set on a Cavapoo, check out the Pugs, Cavaliers, Toy Poodles, and other puppies available at Castellan.
Take a look at the "available breeds" link to see who's waiting for a new home and bring home a Cavapoochon or Mini Schnauzer today.
You'll be required to wait until your puppy is at least eight weeks old before you can pick him or her up from the London area breeder.
In the meantime, your dog will visit a vet for a nose-to-tail checkup and for vaccinations, wormers, and a microchip. All appropriate vet records and KC registration papers will be handed to you upon the pickup of your puppy.
Please note that this breeder is located in Blaenffos, Wales. It's an approximately four-hour drive from London and the breeders may make arrangements to meet you. Be sure to ask about transport or delivery, this is a convenient option but may cost an additional fee.
Castellan House Kennels Details:
6. Craigslist
Craigslist is the world's largest internet classifieds. What began as an American site in the late 1990s is now a global marketplace with sub-sites around the globe. London's Craigslist is a fantastic place to find reputable Cavapoo breeders in London, so if you can't find a breeder on the list above that you love, check with this classifieds site.
To find your puppy you'll need to either search "Cavapoos" across the entire site or use the "pets" link in the community section. Your search results will be listed in text form but you can choose to view a grid or a map, too. Most breeders will post pictures and prices of puppies so they'll be directly visible on the list of search results.
Should you choose to shop Craigslist, keep in mind that not everyone on the site is a breeder. Some sellers are individuals who are rehoming pets, and others are shelters that are offering Cavapoos for adoption.
The price, background, medical history, and breeding restrictions will vary from dog to dog, so be sure to interview the seller prior to exchanging money.
When you pick up your puppy you'll receive his or her vet records. Should your seller not offer this paperwork, we'd urge you to reconsider purchasing a Cavapoo from that individual.
For your safety, bring a friend with you to pick up your puppy or for an initial meet-and-greet. Craigslist does not screen posters so consider your personal safety first.
With that in mind, it is a good idea to view the facility in person, if possible. This will give you a better idea of the conditions in which your puppy was raised. Also, be aware of scammers.
Craigslist Details:
FAQs
What breed is a Cavapoo in the UK?
In the UK, a Cavapoo is a mixed breed between a Miniature Poodle and a Cavalier King Charles Spaniel. They are typically 12-13 inches tall, but their size will largely depend on the parent dogs. Ask the breeder you are purchasing your puppy from for a better estimate of their size.
What is the life expectancy of a Cavapoo?
Cavapoos typically live between 10-15 years, with an average of 12 years. Purchasing a Cavapoo puppy from a reputable breeder is the first step to ensuring a healthier dog that will live a longer life. From there, these dogs will live longer if they live an active lifestyle, spend time with their owners, and eat quality dog food.
Is a Cavapoo high maintenance?
Cavapoos aren't necessarily high-maintenance dogs. They are clever dogs that are energetic and enjoy playing. They also like to spend time with their owners and may develop separation anxiety when left alone for too long. However, the intelligence in both parent breeds makes the Cavapoo easy to train. They also enjoy socializing with other dogs. A Cavapoo's coat is higher maintenance and requires regular brushing and grooming.
Conclusion For "Best Cavapoo Breeders in London"
The best Cavapoo breeders in London raise mixed-breed puppies in healthy, clean, and safe environments. Dogs are cared for medically and socialized with other animals and, when possible, with children, too.
If you're a Londoner who's considering adding a Cavapoo puppy to your home, get in touch with one or more of the breeders listed in our guide. Interview your favorite kennel, then purchase a puppy or put your name on a waitlist to bring home a new furry, healthy companion.
For more guides similar to this list of Cavapoo breeders in London, check out these guides:
Before you bring home a Cavapoo from a breeder in London, you can learn more about the breed by watching "Crockett Doodles: All About Cavapoos!" down below:
Garrett loves animals and is a huge advocate for all Doodle dog breeds. He owns his own Goldendoodle named Kona. In addition, he volunteers at the Humane Society of Silicon Valley, where he fosters dogs and helps animals. Garrett enjoys writing about Doodles and believes that dogs can teach humans more about how to live than humans can teach a dog.
Why Trust We Love Doodles?
At We Love Doodles, we're a team of writers, veterinarians, and puppy trainers that love dogs. Our team of qualified experts researches and provides reliable information on a wide range of dog topics. Our reviews are based on customer feedback, hands-on testing, and in-depth analysis. We are fully transparent and honest to our community of dog owners and future owners.