If you're wondering when to spay a Cavapoo, you've come to the right place. Dog parents face many major health decisions regarding their fur babies. Deciding whether to spay your dog is one of the first you'll face as a new puppy owner. Decisions are easier to make when you have all the facts. We've compiled some information to help you navigate the decision to spay your Cavapoo.
Before scrolling down this guide, "When to Spay a Cavapoo," you can check out these other related content from our team at We Love Doodles: What You Need to Know When Spaying or Neutering Your Doodle and Common Signs Your Dog Needs to Be Neutered.
Introduction to Spaying a Cavapoo
Cavapoos are cute, cuddly, playful, intelligent, and friendly. It's no wonder if you've chosen one to be your companion. But, these babies are more than just cute little toys. Their health needs to be managed much like a human baby. This article will explore the importance of spaying your Cavapoo and the best time to schedule the procedure.
Related: When to Spay a Goldendoodle?
Should I Spay My Cavapoo?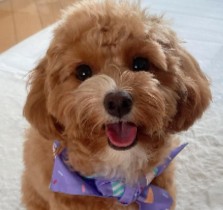 Yes, your Cavapoo should get spayed. Licensed breeders are the only dog owners who should consider leaving their female Cavapoo unspayed. Licensed breeders trained in ethical breeding practices ensure the stability of each breed's genetics. And they know how to avoid unwanted health and temperament issues.
Related: When to Spay a Cockapoo?
Pet Owner Requirements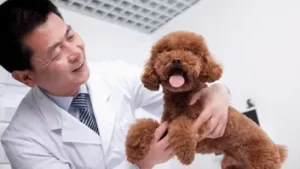 Most localities require dog owners to have their pets spayed or neutered. Many dog owners will not be permitted to acquire a dog license without proof of spay or neuter. Licensing an unspayed or unneutered dog is often more costly. Spaying your Cavapoo is still the right thing to do. Even if your local authorities do not require it, keep reading to find out why.
Pros of Spaying a Cavapoo
Spaying your Cavapoo prevents the occurrence of a heat cycle.
A heat cycle consists of a multitude of nuisances:
Bloody discharge that can stain your floors and furniture
Excessive licking in the genital area
Humping other pets, people, pillows, furniture, and anything else she can
Flirting with and rubbing on other dogs
The hormonal attraction of male dogs within scent range
Spaying prevents pregnancy. It also protects you from worrying about a pregnancy due to fluctuations in the heat cycle. There are many health benefits, too.
Spaying can prevent various reproductive health issues:
Breast cancer prevention (as long as spaying occurs before two to two and a half years of age)
Reproductive tract and organ cancer prevention
Reproductive tract and organ infection prevention (some reproductive tract and organ infections can be fatal)
A spayed Cavapoo will be a more emotionally-balanced Cavapoo. Spaying prevents hormone fluctuations that cause mood swings and behavioral disturbances in female dogs.
Related: When to Neuter a Cockapoo?
Cons of Praying a Cavapoo
There are also some cons to spaying your Cavapoo. You should know all the facts to make the best decision for your fur baby. So, it would be best if you also understood the negative effects that spaying can cause. The spay process is major surgery. Negative effects of anesthesia are a possibility, as with any surgery.
There is also a risk of post-op infection. But, vets are highly trained to look out for any issues and will know how to respond appropriately. Spayed dogs are at a higher risk for obesity and hypothyroidism. This risk means you will need to monitor your pet's eating habits and weight to prevent obesity and monitor for signs of hypothyroidism.
Spayed dogs are also at higher risk for hemangiosarcoma. Hemangiosarcoma is a type of cancer that can become fatal if a tumor ruptures. A female dog's entire reproductive system naturally prevents this type of cancer. However, this type of cancer can also affect unspayed dogs, as the exact causes are unknown. Many other issues can arise if your Cavapoo is spayed too young.
Related: When to Neuter a Bernedoodle?
When Should I Have My Cavapoo Spayed?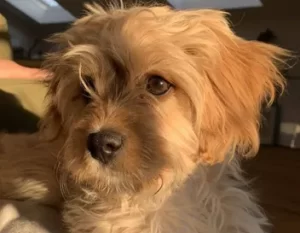 Spaying is considered to be safe, and it becomes even safer if the procedure is done at the right time. The best age to have your Cavapoo spayed is between six and nine months old. This is the age at which puberty begins. Spaying before six months of age is not advised.
A dog's growth process can be hindered if they are spayed too young. Puppies under six months of age may also have an increased risk of adverse reactions to anesthesia. Some professionals suggest waiting for one heat cycle before spaying.
This wait will ensure your puppy has had the chance to produce enough estrogen for optimal health and continued growth. Other professionals suggest that six months is an adequate development time for your puppy to be safely spayed.
Spaying before two years of age will decrease your fur baby's chance of developing breast cancer. Most people have their dogs spayed or neutered before one year of age. Consult your trusted veterinarian, breeder, or canine specialist before deciding. More information is always helpful in any decision-making process.
Related: Can a Neutered Dog Still Mate?
How Much Does It Cost to Spay a Cavapoo?
The cost of a spay varies. Some claim to have had their puppies spayed for as little as $50. Others claim it cost them upwards of $500. The exact cost will depend on the veterinarian you choose.
You can call your local animal hospitals, clinics, and private vets for more accurate pricing. There are also low-cost spay and neuter services available. Please note that spaying costs more than neutering. Spaying is a much more complicated procedure than neutering.
What to Expect When Spaying Your Cavapoo
Spaying is a common procedure to perform for veterinarians even though it is major surgery. This means your Cavapoo will be under experienced hands during their spaying operation. It may be hard, but don't worry about the procedure too much. The procedure is safe when it is done by a licensed professional.
1. Pre-Op
Fasting is an important factor in anesthetic safety and efficiency. You will likely be advised to refrain from feeding your Cavapoo for a time following the procedure. Your vet will likely tell you to remove food and water bowls by midnight before your dogs' scheduled surgery day. Then, you will likely drop your baby off at the vet.
This is where anxiety is likely to creep in. Remember, you don't need to worry because your pet is in good hands. Your pet will be put under general anesthesia before the procedure begins. Then, the vet will perform what is essentially a hysterectomy. They may also clip your puppy's nails for you while they're under the anesthesia.
2. Recovery
Your puppy will wake up at the vet's office when the procedure is over. But she will still be loopy and "out-of-it" (so she won't be afraid). You'll pick your baby up from the vet at the time requested.
Ask ahead so you know when you can expect to pick your baby up. The vet will prescribe pain meds and possibly antibiotics to prevent infection. You will also be asked to restrict your pet's activity and prevent wound licking for about ten days.
3. The Cone of Shame
You may need to use the dreaded cone of shame if you notice your girl is licking her incision. Some alternatives to the cone include a human t-shirt. Put their front legs through the shirt's armholes, and tie the bottom around their rump to their abdomen. Another choice is a pool noodle necklace or a cone-alternative bodysuit. You can buy that at most pet supply stores.
Conclusion For "When to Spay a Cavapoo"
Deciding whether to spay your Cavapoo puppy can be difficult. But, spaying is a routine procedure, and it offers many benefits to your puppy and the entire dog population. Spaying after six months and before two years of age is best.
If you find this guide, "When to Spay a Cavapoo," helpful, you can check out these other Cavapoo-related content:
Before spaying your Cavapoo, you can learn more by watching "When is the Best Time to Spay or Neuter Your Dog" down below: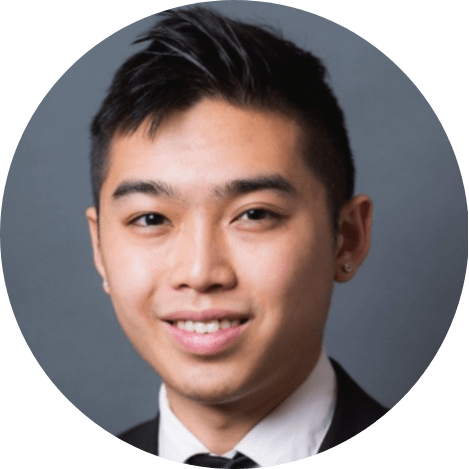 Andy is a full-time animal rescuer and owner of a toy doodle. When he's not saving dogs, Andy is one of our core writers and editors. He has been writing about dogs for over a decade. Andy joined our team because he believes that words are powerful tools that can change a dog's life for the better.
Why Trust We Love Doodles?
At We Love Doodles, we're a team of writers, veterinarians, and puppy trainers that love dogs. Our team of qualified experts researches and provides reliable information on a wide range of dog topics. Our reviews are based on customer feedback, hands-on testing, and in-depth analysis. We are fully transparent and honest to our community of dog owners and future owners.