Have you recently come to realize that your dog's paw pads are conjoined? It's normal to panic a little when we find that something is up with our dogs but that's only because we love them so much. In this article, we'll discuss doggy paw pads in detail and whether or not you should be concerned about your furry friend's paws.
When born with this condition, dogs with conjoined or cloven paw pads go on to live normal lives with little to no discomfort. If you're still worried about your dog's cloven pads, then you must consult a veterinarian to allay your fears. We've recapped everything you need to know.
Before you scroll down to this guide, "Conjoined Paw Pads (Cloven Paws): Should You Be Concerned," check out: My Dog Keeps Swallowing: What Does This Mean? (2023) and What Should I Do If My Dog's Ears Are Cold? (2023).
Paw Pads and What They Do
Adipose (fat) tissue and elastic fibers make up every dog's paw pad. The thickest type of canine skin, which is strongly pigmented and thick, covers the pads. While other, more well-cared-for dogs may have smoother paws, those that spend a great deal of time on rough surfaces may have stronger, thicker, calloused paws.
This incredible bodily component shields dogs while they stand, walk, run, and leap; the cushions take the impact and support the bones and joints, and the thick skin guards against injury and difficult terrain. To release the tension on the soles of your dog's feet when they are running, your dog needs a cushion between their feet and the ground.
The digital, metacarpal, and metatarsal pads of the paw take on the bulk of this shock-absorbing duty. Your dog's paw pads absorb the shock when they jump around or start sprinting. This allows their bones and joints to stay protected from unnecessary stress.
Dogs can discern between various types of terrain because of the metacarpal pad, which also shields the feet from bitterly hot or brutally cold conditions. The carpal pad functions something like the human heels as a brake.
The carpal pad, which is shaped like a cone, doesn't meet the ground while the dog walks, but if your dog is sprinting or quickly changing directions, the carpal pads may make contact with the floor which will aid in braking and turning.
Types of Paw Pads
Webbed feet, hare feet, and cat feet are the three basic types of dog paw pads.
Webbed Feet
Although the majority of dogs have some level of webbing across their toes, only hunting, retrieving, and swimming breeds have fully webbed feet. It is clear why dogs with webbed feet have more skin between their toes, such as Newfoundlands and Portuguese Water Dogs, which are best suited for swimming.
However, some breeds, like the Dachshund, which was developed for burrowing out rodents, also have webbed feet.
Hare Feet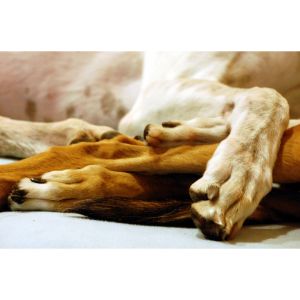 A paw with two extended center toes is referred to as hare feet, like its namesake. This paw type is common in breeds like Samoyeds and Greyhounds, who are known for their tremendous short-distance pace.
Cat Feet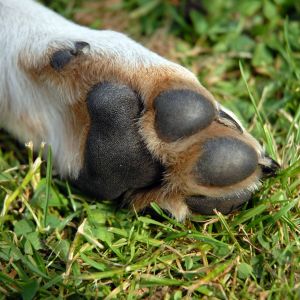 Compared to the other two basic paw types, the cat's foot is smaller and more compressed, and it is also more curved.
Since cats can climb practically anything yet always land on their paws, we may associate cats with excellent balance and speed. This paw type, which you find on working breed dogs like the Akita and Doberman Pinscher, is appropriately designed to improve steadiness and stamina.
Why Are My Dog's Paw Pads Conjoined?
Your dog is born with conjoined paw pads, but because it is not an illness, you shouldn't worry about it. A dog born this way is unlikely to feel discomfort. Even though it occasionally appears as though they are slipping, there shouldn't be any issues when walking or sprinting.
Should You Be Concerned If Your Dog's Paw Pads Are Conjoined?
Based on the extent of their issue, conjoined pad issues can range from a little discomfort to severe pain and impairment. Because they may not wish to step on their paws at all, this might make toilet training challenging. However, this is quite uncommon.
Here are a few signs that your dog may be in trouble and may need medical attention:
Walking problems brought on by foot discomfort in one or perhaps both feet.
Difficulty rising from a seated or lying posture or from a pause.
Regular paw pad licking.
Changes in behavior including being irritable and refusing to let you touch its paws.
Take your dog to the vet for a checkup if any of these occur to rule out more serious problems, such as an infection. Your veterinarian will be able to fix it if remedial action is required.
What are Cloven Paws?
The word cloven, which in this context relates to the design of a dog's paws, means "split" or "divided." It also refers to some cases of conjoined paws. Visually, this condition can be compared to a deer's hoof.
Although unusual, this condition is not unheard of in dogs. Some breeds, like the Basenji, commonly have cloven paws due to their genetic makeup.
How to Care for Your Dog's Paw Pads
Your dog's paws may be sturdy, but they still need a lot of care to stay healthy and in good condition. The general health of such a fragile region might be threatened by various things from a cut or scorching pavement to an excess of keratin, also known as canine hyperkeratosis.
In this section, we've discussed all of these dangers in detail and what to do to prevent them from harming your furry companion.
Excessive Licking
Some paw licking is appropriate, but excessive licking or chewing is a warning sign. This can indicate a dietary or environmental allergy. Speak with your veterinarian or a behaviorist to determine the potential causes of non-stop licking, which can also be compulsive behavior.
Swelling of the Toes or Feet
There are several potential reasons for swelling. Demodex (or Demodicosis) is a condition brought on by mites that can induce edema, loss of hair, and flaking. Swelling may also be a symptom of a bacterial infection or a punctured paw from a foreign item.
Ingrown, Broken, or Cracked Nails
Among the most frequent nail problems is nail trauma, which can vary from a fracture to the nail being torn entirely. To humans, a broken nail usually does not really seem to be a huge concern, but for dogs, it may be quite the opposite.
Dogs' nails, which are essentially claws that are a more crucial component of the foot, may be quite uncomfortable, and if left untreated, can result in infection and other problems. Because it may grasp onto things and cause the nail to break, the dewclaw is occasionally involved in broken nails. This is especially true when the nail is very long.
If your dog has a serious break, you should take him to the veterinarian as soon as possible so that he may get the appropriate care and prevent getting an infection. Additionally, an appointment is necessary to obtain painkillers and antibiotics for nails that have grown too far into the footpads.
Broken Skin on the Paw Pads or Crusty, Cracked Paws
The overproduction of keratin by a dog's body leads to canine hyperkeratosis. A keratin overproduction can result in hard, dry noses and dry, crusty paws, which can break and finally get infected. In order to cure hyperkeratosis, it's possible that your dog will need to take antibiotics or undergo topical therapy. Environmental factors are another potential contributor to dry, cracked paws in dogs.
If you discover cracked paws, try using a paw balm recommended by your veterinarian. After a stroll, wash your dog's paws with warm water, then dry them off with a towel.
Burns and Blisters
Your dog's fragile paws can blister on hot asphalt. On a sunny day, use your own hand to feel the pavement as you walk. If it's too hot for you, chances are your dog won't be able to walk on it for long either. After all, even if the skin of the paws is thick, they are nevertheless delicate and need lots of care. It is also prone to getting burns and blisters due to its sensitive nature.
Frequently Asked Questions
Why are my dog's paw pads conjoined?
Dogs can develop cloven paws due to a birth defect, but it's not a cause for concern.
How do you treat a dog's paw?
If your dog's paws are too dry or cracked, you can clean them off and apply a paw balm. Avoid using human products like moisturizers or lotions.
Why do dogs have an extra pad on their front paws?
The carpal pads on a dog's front paws help them absorb impact and break when moving fast.
Conclusion for "Conjoined Paw Pads (Cloven Paws): Should You Be Concerned"
If your dog has conjoined paw pads since birth, you need not be worried about it. It's unlikely that your dog is experiencing any sort of discomfort as a result of his condition.
However, there are some things that you must look out for to ensure that your dog stays in fit condition and we've discussed these above. Take your dog to the vet right away if you spot any of these signs.
If you find this guide, "Conjoined Paw Pads (Cloven Paws): Should You Be Concerned," helpful, check out:
Learn more about paw problems by watching "Dog Paw Problems: 7 Most Common Issues and What to Do About Them" down below:
Garrett loves animals and is a huge advocate for all Doodle dog breeds. He owns his own Goldendoodle named Kona. In addition, he volunteers at the Humane Society of Silicon Valley, where he fosters dogs and helps animals. Garrett enjoys writing about Doodles and believes that dogs can teach humans more about how to live than humans can teach a dog.
Why Trust We Love Doodles?
At We Love Doodles, we're a team of writers, veterinarians, and puppy trainers that love dogs. Our team of qualified experts researches and provides reliable information on a wide range of dog topics. Our reviews are based on customer feedback, hands-on testing, and in-depth analysis. We are fully transparent and honest to our community of dog owners and future owners.