Do Labs have webbed feet? The straight answer? Yes, they do. A Labrador's toes are interconnected by a skin-like membrane, making them webbed. Many pet parents will gloat over how their Labs are fantastic swimmers.
Several movies show Labradors as a water-loving breed. You'll even find Facebook, Instagram, and Twitter loaded with all sorts of pictures and videos of Labs playing in the water or swimming.
If you've ever wondered why they make great swimmers, their webbed feet are the secret. Webbed feet are commonly seen in animals such as capybaras, otters, beavers, and all sorts of birds, from ducks to penguins.
You may not have heard of dogs with webbed feet or paws, though. After all, the land is a dog's natural habitat, so why would an animal who lives on land need webbed feet? But, if you've never heard of such a thing before, let me be the first to assure you that, yes, some dog breeds do have webbed paws.
If you have a Labrador and you've never examined its paws, now's the time to take a quick lookie. It is not all that obvious, like with the ducks. However, if you try and move its toes away from one another, you will see that they are adjoined together.
Before scrolling down this guide "Do Labs Have Webbed Feet," check out these other helpful articles: Are Golden Retrievers Considered Labs and When Do Labs Stop Growing?
How Do the Webbed Paws of a Labrador Look Like?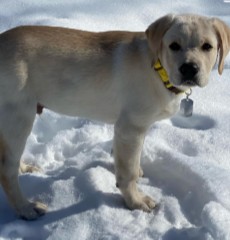 Now, this is a bit of a tricky question to answer. Why? Because it's different for different Labs. You see, some Labs will have a lot of skin between their toes, while some may only have a little.
Some will have tufts of fur on their extra skin membrane, while others may not. Also, in some Labs, this webbing is darker than the rest of their body, and you guessed it—in others, it may not be so.
Having webbed feet doesn't make your Lab a weirdo, though. On the contrary, it's a hardly-noticeable trait. And if you enjoy swimming or other water activities, your Lab can make a great partner.
Related: Do Pitbulls Have Webbed Feet?
Why Do Labradors Have Webbed Paws?
Dating back to ancient times, Labradors used to be companions to fishers. In the early days, this meant that an average Labrador would spend a lot of time near the water. When their owner would catch something, their Labrador would fetch it from the water.
Due to their constant relationship with water, Labradors eventually learned to become strong and fast swimmers. And their paws adapted to paddling in the water. Those were not the only changes—their entire body adapted to a life of constant swimming.
Their coat and tail are also a sign of good swimming ancestry. That is why we see a great love for water in most Labradors even to this day. Some Labs even have jobs that lean on their swimming abilities.
Related: Best Dog Breeds With Big Paws.
How Well Does a Labrador Swim?
A Labrador is a great swimmer and can work miracles when in the water. However, not all labs are as good as the others. Generally, a Labrador loves the water.
It will play around in it—you can toss a ball or a frisbee into a pool, and your four-legged furball will leap across the expanse and dive deep under to fetch. So, yes, swimming comes almost naturally to most Labradors.
That said, don't be surprised if your Labrador doesn't love swimming. A fondness for swimming isn't a given because it has webbed feet. Some labs may even hate it.
Just like humans, some are excellent Olympic-level swimmers, while others don't even like stepping into the kiddy pool. Preference plays a huge role in this case. Early raising also affects how a Lab perceives water.
Training using water for discouraging negatives will instill a fear of water in your Lab, for instance. However, if your Labrador is a puppy and still growing, its preferences may change too.
If your dog grows up near a water source like a lake, a pool, or a beach, the chances are that it will be a great swimmer. Not all dogs are the same. This is why you shouldn't start with the mindset that states if Labradors are excellent swimmers, then mine should be as well.
Be observant as owners, and notice whether your dog even likes the water before throwing it in to swim. Takeaway: Most Labradors have webbed paws, making them potentially good swimmers. However, that doesn't mean they have to want to swim.
Related: Do Bernedoodles Like to Swim and Can Huskies Swim?
Facts About Swimming Labradors
Labradors can develop powerful muscles, which make them flawless in the water when added to their webbed paws. They are very active dogs packed with excellent energy levels, and their enthusiasm never fades.
A Labrador's coat is practically waterproof—it's coated in natural oils that make it hard for water to get past. Instead, the water will roll off of the double-layered fur coat, protecting your dog from feeling cold every time it goes into the water for a swim.
And while Labradors are great swimmers, you can't just leave a Labrador puppy in a pool of water and say, "swim" no more than you could do with a human baby. Labradors learn to swim properly only after a certain age.
Until then, they need to be observed when around water. After they cross the eight-week mark, only then is it safe for a Labrador to attempt swimming alone. However, when a puppy is learning, it must do so in shallow waters to avoid canine fatalities.
By the time your Labrador puppy is three months old, it will have grown enough muscle. After this, it may be safe to let it into deeper waters, depending on how well it has gotten at swimming.
Related: Can Maltipoos Swim and Can Pomeranians Swim?
Conclusion For "Do Labs Have Webbed Feet"
Do labs have webbed feet? Yes, they do. However, some Labradors have paws that may be more webbed than others. So, if your Labrador's paws are a little webbier than others, there is no need to be alarmed. It just means that it will be awesome in the water, on slippery slopes, or in muddy terrain. So, take it out and hone its talents.
If you find this guide, "Do Labs Have Webbed Feet," helpful, check out these other articles:
You can learn more about which dogs have webbed feet by watching "12 Dog Breeds with Webbed Feet" down below: