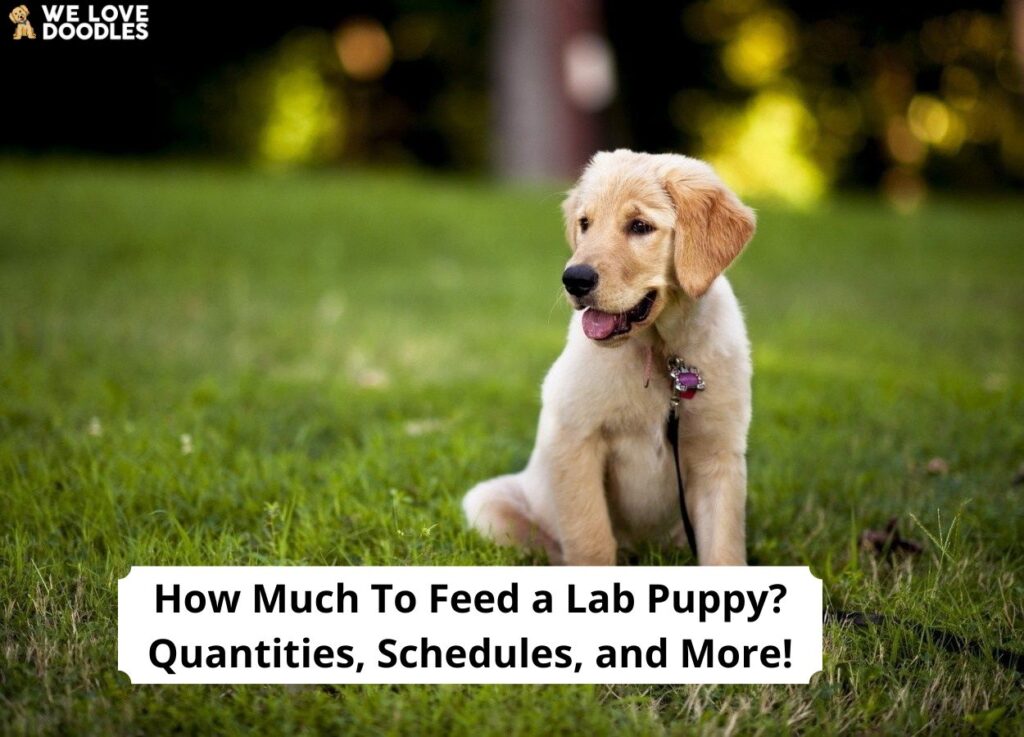 According to the American Kennel Club, the Labrador Retriever is the most popular dog breed in the United States.
This dog is naturally friendly, obedient, and affectionate, with high emotional intelligence. We are what we eat, and for this dog to grow into the Lab we know and love, you need to care for him from puppyhood up to adulthood.
However, there's so much more to feeding a Lab puppy than meets the eye. It's often a debate about how much to feed a lab puppy and what type of food this dog needs at a young age.
Lab puppies risk various health concerns once they become adults, including hip dysplasia, obesity, and joint problems. Consequently, the right nutrition and food are key to starting this dog in the right part.
Whether you're a newbie lab owner or a pro looking to change your dog's nutrition, this article dives deep into food for lab puppies, including the quantities, schedules, and much more. Without further ado, let's start!
Before scrolling down to the answer to this guide, "How Much To Feed a Lab Puppy," check out these other guides: Puppy Biting Guide and How To Potty Train a Puppy.
Labrador Feeding Chart by Age
| | | | |
| --- | --- | --- | --- |
| AGE | FOOD TYPE | CUPS PER DAY | MEALS PER DAY |
| 0-30 days | Mother's milk | n/a | Unlimited |
| 4-6 weeks | Softened Kibble + Mother's milk | n/a | Unlimited |
| 8-12 weeks | Puppy kibble | 2-3 | 3 |
| 3-6 months | Puppy kibble | 2-3 | 3 |
| 6-15 months | Puppy kibble | 2-3 | 2-3 |
The lab puppy feeding chart above summarizes your dog's feeding needs. Remember that dogs have different food and nutrition needs. Still, the above chart represents the weekly food requirements of a lab puppy.
This Labrador feeding chart is a general rule of thumb. We highly recommend that you consult a veterinarian as well as read the instructions on your dog food. Different types of dog food have different nutritional value.
Lab Puppy Nutritional Needs
How much a lab should eat depends on weight, age, daily activities, and genetic makeup. That said, what foods should your Labrador pup eat?
Meaty Protein
As with most active dog breeds, puppy labs require a large helping of protein in their nutritional intake.
Some recommended proteins include fish, beef, chicken, and other wild protein sources. Ensure you crosscheck the ingredients while making sure a meat source is present.
Proteins are critical for lab puppy muscle development, especially for sporty labs. Lab owners who feed their pups raw meat should handle the protein with care to prevent bacterial infection. Alternatively, you can mix wet puppy food with kibble while ensuring it's free of fillers.
Omega Fatty Acids
Omega Fatty Acids are in fat-rich proteins like salmon, tuna, and other rich seafood. Mackerel is an excellent omega-fatty acid source for puppy labs to enhance their cardiovascular health.
After all, Labrador retrievers are at more risk of heart disease than many other dog breeds. Thus, it's critical to prevent this condition in puppyhood to prevent future complications.
Additionally, omega fatty acids also help to improve puppy coat shine and luster. These fatty acids enhance appearance while preventing future skin irritations.
Whether your lab pup eats store-bought food sources or raw food, ensure the list of ingredients features omega-fatty acids. Labrador Retrievers are notorious shedders, and omega fatty acids help to preserve their coat quality.
Grooming a heavy shedder is a thankless and arduous task. Including a fatty-acid ingredient in every meal will reduce shedding to the bare minimum.
Fruits and Veggies
Labs like meat more than any other food type, but greens are critical for their development, particularly in early childhood.
Adding veggies and fruits to their food will aid digestion by introducing fiber into their diet and the micronutrients boost their immune system.
Vegetables and fruits form a part of the canines' diet, so giving your Lab some fruit and veg isn't out of place.
Organ Meat
Organ meat is essential for growing labs because of the high nutritional content in this food source.
Livers and kidneys are two organ meat types suitable for puppy labs. Ensure this meat is filler-free and freshly sourced, no matter the meat type. You can find organ meat in canned or wet food.
Alternatively, you can prepare the organ meat in your home after purchasing from the market. Still, ensure you handle the organ meat carefully to avoid bacterial contamination.
Glucosamine Foods
Labradors encounter joint issues as they grow older. To avoid risking elbow and hip dysplasia, buy foods with high glucosamine content. These foods include beef bones, chicken fish, and shellfish – if you're looking for a seafood alternative. Broth and bone soup are two excellent sources of glucosamine.
Lab Puppy Avoidable Foods
The foods above are a must for growing labs, while the foods below are ingredients to skip, including the following:
Wheat & Corn Fillers
It's funny how fillers make up the largest ingredients for commercial dog food. Companies want to profit and include large quantities of cheap, unnecessary ingredients that offer no benefit to your puppy lab.
Carbohydrates aren't bad for dogs, but feeding this nutrient to your pup will lead to obesity while providing little nutrition compared to protein sources like meat.
Weight issues affect Labradors easily, so be careful what food enters their bowl. If your puppy isn't the active type and frequently eats, ensure it receives significant protein amounts with little fillers.
Obese Labrador pups are likely to grow into unhealthy dogs, leading an unhappy life. Hip dysplasia is more likely to happen if the puppy is overweight.
Toxic Human Foods
Labradors like to eat what their owners eat, but not every food is safe for their consumption. For instance, these dogs are toxic to lime, avocado, grapes, garlic, tea, macadamia nuts, and chocolate.
Soda has xylitol; chocolate contains theobromines – both substances are poisonous to labs which you must avoid.
Preservatives & Artificial Coloring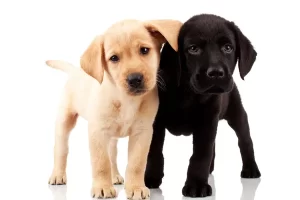 Commercial dog food isn't at the top of many recommendations list because of the significant amounts of colorings, artificial flavorings, and preservatives that are unhealthy for lab puppies. These ingredients contain zero nutritional benefits.
How Often to Feed a Lab Puppy in Cups Weekly
Below are the weekly eating requirements for how much to feed a puppy lab.
Week 1
Lab pups feed exclusively on mother's milk for the first few weeks of their lives. This milk is critical for the puppy's development and will affect the dog's health.
Mother's milk has colostrum which offers the pup germ-fighting and infection-combating protection essential to boost their immune system. The puppy needs these antibodies for the first few weeks as building blocks for future good health.
More importantly, lab mothers should nurse their pups for as long as possible. Unfortunately, some Labrador mums reject their pups, while others can't produce sufficient milk because of health issues. If this is the case, book a vet appointment to get supplements for your dog.
Week 2
Lab pups still depend on their mother's milk for their survival and development. You can tell the strong and weak puppies in the litter at this stage.
Ensure you help the smaller-sized pups reach the mother's teat for milk before the stronger puppies.
Alternatively, you can feed the weaker runts puppy formula to bolster their mass. It's hard work but one that gives the puppy the strongest and best start towards adulthood.
Week 3
Lab pups have stronger leg muscles which means additional fuel to move around and explore. Many puppies start teething and may begin eating fresh food or soft kibble. Still, you should let the mother wean them for some time.
Week 4
The first month brings new experiences as the puppy labs get the chance to experience other foods different from mother's milk.
While their diet is largely milk at this time, you can introduce softened food into their diet. Introducing this food in small amounts is vital as a drastic change can cause diarrhea.
Start with 3-part water to 1-part kibble ratio. It isn't uncommon for the puppies to refuse the food at first, so offer them a few times each day without forcing the food on them.
Week 5
Most puppy labs must have eaten real food and will be happy to eat it more often. Mother's milk isn't as crucial. The puppy is less dependent on milk, and the mother Lab can choose to feed the pups standing up.
Week 6
Your lab puppy should show greater interest in semi-solid food than its mother's milk at this stage. Stick to the new food diet if your puppy shows no adverse effects. The food mixture should be ¼ water and ¾ food.
Week 7
Seven-week-old labs have completely weaned even though hungrier pups might occasionally want some mother's milk. The mother Lab has the final say, but the milk isn't necessary as the semi-solid food should cater to the pups' nutritional needs.
Week 8
Mother's milk is ancient history, and the pup should be well acquainted with proper dog food. A two-month-old pup can eat two cups of puppy kibble daily, split into 3-4 meals.
Avoid free feeding your pup because monitoring its food intake is challenging. Moreover, giving the dog two cups of food at once will cause an upset stomach.
Week 9
The lab pup should have a feeding routine that works at this point. Nine weeks is prime time for an introduction to cooked meats. However, avoid feeding your puppy from the table.
Lab pups are extremely curious and will burn energy exploring their environment. Ensure you stick to the food routine to prevent the dog from putting on more weight than is required.
Week 10
The puppy is hungrier and will eat the food as soon as you set it down. Still, you might want to food-train your dog by leaving the food out at set times and clearing away any leftovers.
This habit will teach the dog to eat what's in the bowl and not play with its food. The tenth week is the time to visit the vet for his first appointment.
Follow the vet's instructions on food schedules. Remember that too much or too little weight can lead to future complications, so it's vital to get it right the first time.
Week 11
Two cups of food may not be enough at this point, and you might need to up the food intake to three cups if the dog is never satisfied after each meal. Week 11 is crucial because of the growth spurt for most labs, so extra food is essential.
Week 12
The puppy's food intake should go down to two cups, especially if you upped it to three at week 11. The dog should also settle down to three meals daily instead of four. Three meals aid digestion and reduce the likelihood of an upset stomach or significant changes in blood sugar levels.
Week 13
Stick to the new food routine and avoid feeding your lab pup between meals. This dog's curious mind will lead its nose to the scent of toxic scraps and dangerous foreign objects. Keep all foods out of sight, including monitoring the surroundings for inanimate items.
Week 14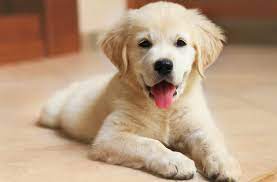 The milk teeth give way to proper canine fangs, so your pup will chew whatever he sees to reduce the pain. Dried kibble helps to reduce teeth discomfort, and you can provide specially designed chew toys for teething lab pups.
Frequently Asked Questions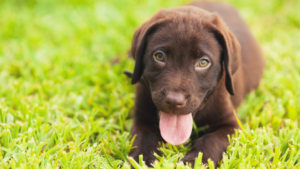 Below are common questions about how much to feed a lab puppy.
How Much Should a 70lb Lab Eat?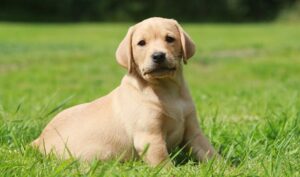 A lab puppy weighing 70lbs requires 3.5 cups of food per day.
How Much to Feed a Lab Puppy by Weight?
The food to feed a lab puppy will increase the larger the dog puppy's weight. While there isn't a clear-cut guideline on food intake, larger pups require more food than younger and smaller pups.
How Often to Feed a Lab Puppy?
Lab puppies require food 2-4 times each day. However, younger pups need mother's milk as often as possible and have no set meal times. Moreover, the food amount also depends on its activity levels, size and metabolism.
How Much to Feed a Lab Puppy in Cups?
A lab puppy should eat about two cups of food per day, split into three or four servings.
Conclusion For "How Much To Feed a Lab Puppy"
Labrador puppies require proper food to grow healthy and strong. Water is also an important fluid, especially after weaning, to make up for the hydration lack.
Ensure you feed your pup high-quality food, which allows you to provide less food with better nutritional results. Never self-medicate the puppy by giving supplements except with consultation with the vet.
Labrador pups will reward you with love and affection if you feed these dogs well. Ensure you have a schedule to prevent joint problems and obesity in the future!
For more Labrador-related guides, you can check out:
If you enjoyed this guide on how much should you feed your Lab puppy, you might want to take a look at the "10 Things Only Labrador Dog Owners Understand" video down below:
Garrett loves animals and is a huge advocate for all Doodle dog breeds. He owns his own Goldendoodle named Kona. In addition, he volunteers at the Humane Society of Silicon Valley, where he fosters dogs and helps animals. Garrett enjoys writing about Doodles and believes that dogs can teach humans more about how to live than humans can teach a dog.
Why Trust We Love Doodles?
At We Love Doodles, we're a team of writers, veterinarians, and puppy trainers that love dogs. Our team of qualified experts researches and provides reliable information on a wide range of dog topics. Our reviews are based on customer feedback, hands-on testing, and in-depth analysis. We are fully transparent and honest to our community of dog owners and future owners.